The equity markets' behavior in the first month of the year is signaling that this is going to be a challenging year for investors. By examining the behavior of the VIX indicator, representing the volatility of the S&P 500 index in the coming month, we can easily see that the obvious trend of volatility is upwards. It means that the trend that we got used to in the last seven years is taking a different direction. It is not clear yet that the new direction is going to be downhill from here, but it is more likely to assure that there would be more extreme trading days in the foreseen future.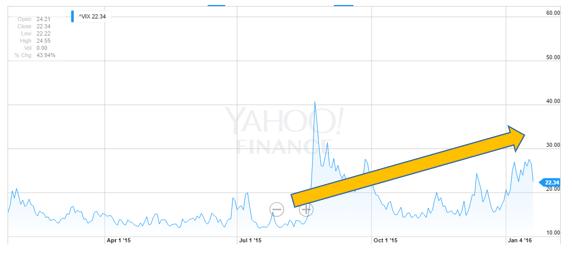 Not all investors are willing to live with this type of high volatility in their savings portfolios throughout a long period of time. In fact, I suspect that most of the investors who are counting on their savings to maintain a sound standard of living are getting distressed during these times of high volatility and rightly so. These types of situations, especially when carried out during a long period of time, can lead to decisions that might seem to be good for the short term, but could end up being devastating for the long-term prosperity of the portfolio.
In order to mitigate this risk of high volatility, people can allocate some of their savings to more conservative investment vehicles. One of those is the bond markets.
Investors in the bond markets in the recent years got used to relatively low yields. Based on the Treasury Yield 30 years (TYX), the current long-term yield is at 2.8%. But as the Fed's interest rate is expected to increase in the coming year, whether in four hikes or less, bond investors are expected to get a hit to their principal values. This is a risk that most will not tolerate.
An alternative to bonds with a potentially higher dividend return is preferred stocks. Preferred stocks have similar characteristics of bonds, as it pays a fixed dividend, and those of common stocks, as it represents ownership in a company. Preferred stocks are senior to common stock and usually have priority in the payment of dividends.
One could cherry pick a list of preferred stocks based on one's own screening methodology, but a preferred stock ETF can do the job for you in terms of screening and generating an exposure to the best U.S. preferred stocks.
SPDR Wells Fargo Preferred Stock ETF (NYSEARCA:PSK) as an example.
One good example of such an ETF is PSK. PSK is an ETF that seeks to replicate the Wells Fargo Hybrid and Preferred Securities Aggregate Index. This index is a modified market capitalization weighted index composed of preferred stock and securities that are functionally equivalent to preferred stocks. Among its major holdings are PNC Financial Services Group Inc. Series P, HSBC Holdings series 2, and BB&T Corp. Deposit Series E.
The ETF has a 0.45% yearly fees, which is slightly lower from the 0.59% average expense ratio in the preferred stock ETF category.
Based on the information in the SPDR website, SPK invests in 139 different preferred stocks where the majority of its allocation is to the financial sector followed by utilities and industrials.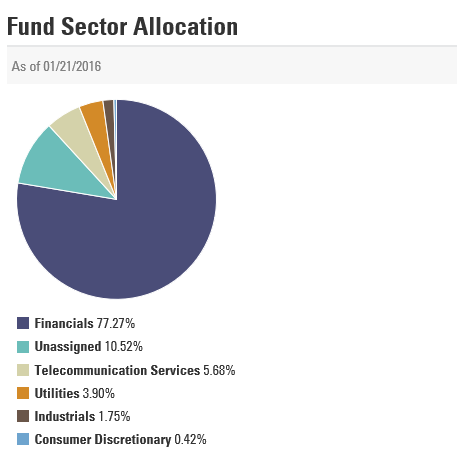 In terms of volatility, SPK has demonstrated a 5.05% average standard deviation in the last three years. This is relatively low compared to the 10.6% of the S&P 500, represented by the SPDR S&P 500 Trust ETF (NYSEARCA:SPY) and to the 11.44% of the iShares 20+ Year Treasury Bond ETF (NYSEARCA:TLT).
The next graph is showing the behavior of these three investment vehicles during the recent year. No doubt that PSK carries the lowest volatility out of these three.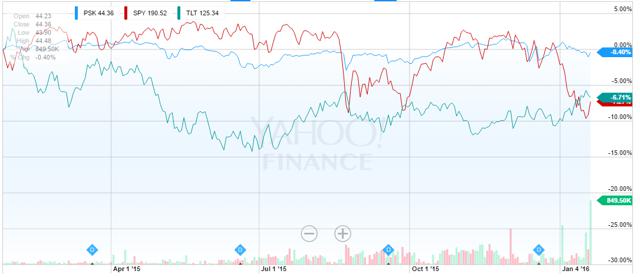 Click to enlarge
Beyond the element of volatility, PSK carried a $2.39 annual dividend in 2015. Based on the current $44.4 price, the built-in yield based on the 2015 distribution is now at 5.4%.
When looking at its price trend, we can see that PSK is trading within a narrow tunnel between the price of $43 and $45. Based on the next graph taken from finviz.com, we can see that there is a strong support at the levels of 43.5-43.6. These would be my entry buy-point. At $43.5, the yield will be close to 5.5%, which is a great return at a lower risk compared to any other individual stock or common stocks' ETF.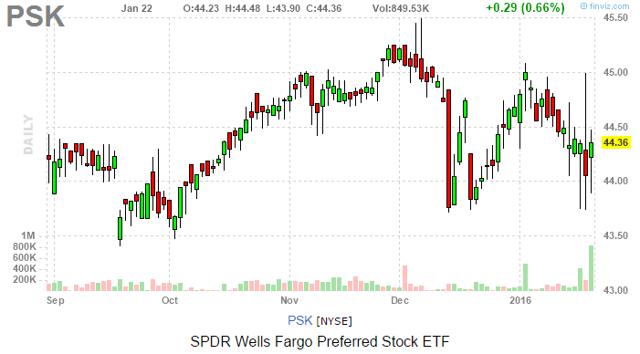 Click to enlarge
One should be aware though that the return of the ETF is not fixed and somewhat swings. Looking at the yearly return of the PSK, it was $2.83 in 2012, $3.90 in 2013 and $2.47 in 2014. While fluctuating, it is still a higher dividend yield at lower risk compared to common stocks.
Conclusions:
The short to midterm is expected to be extremely volatile in the equity markets. Many unknowns and the anxiety do not make a room to suspect that the sentiment would change overnight.
In order to add more diversification to the investment portfolio, I would like to add PSK at the levels of $43.5-43.6 as a preferred stock ETF adder to my existing portfolio.
As always I appreciate your feedback.
Happy investing.
Disclosure: I/we have no positions in any stocks mentioned, but may initiate a long position in PSK over the next 72 hours.
I wrote this article myself, and it expresses my own opinions. I am not receiving compensation for it (other than from Seeking Alpha). I have no business relationship with any company whose stock is mentioned in this article.
Additional disclosure: The opinions of the author are not recommendations to either buy or sell any security. Please do your own research prior to making any investment decision.