In a letter written in 1789 by Benjamin Franklin to Jean-Baptiste Leroy came the famous phrase that "In this world nothing can be said to be certain, except death and taxes."
Following on from our recent article on tax specialist H&R Block (NYSE:HRB) it seemed only fitting to take a look at Service Corporation International (NYSE:SCI) which is a provider of deathcare products and services. The company does business predominantly in North America and operations consist primarily of funeral service locations and cemeteries.

Click to enlarge
Although the shares sit a little higher than they did twelve months ago, they are still around 25% off their August high, which we believe should mean that now is an opportune time to invest in the company. So much so we opened a long position last week.
As macabre a topic as it is, the funeral industry is a lucrative and fragmented industry, and unless Google (NASDAQ:GOOG) manage to make us immortal in the future, it should grow in line with the population growth of the developed world.
We believe the company to be well-positioned for long-term profitable growth. At present management believes it has only captured 16% of the overall North American market. Being the largest company in the North American deathcare industry, we feel it is poised to benefit greatly from further market share gains. Also, an increased market size due the ageing of America led by the Baby Boomer generation could be another revenue driver.
According to the United States Census Bureau, there are 67 million Americans that are aged 60 and older presently. This number is then expected to grow to over 77 million by 2020, which we believe will naturally translate into an increased target market for its preneed options.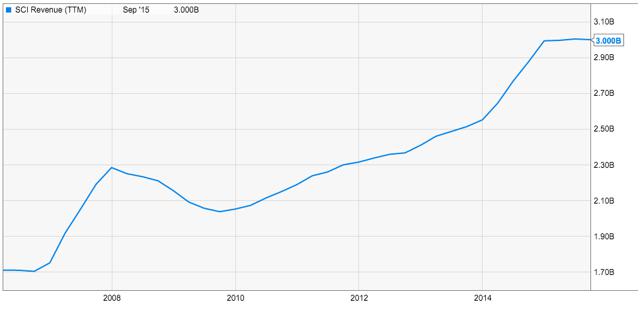 Click to enlarge
(Source: Ycharts)
We believe that this 14.9% growth in the over 60 age group should translate into revenue growth that keeps the upward trend, shown above, in tact for many years to come.
The company also fuels growth through acquisition. Due to the strength of the US dollar we see now as an opportune time for it to make further acquisitions in its international business, on top of its routine domestic acquisitions.
In a recent presentation the management team outlined its earnings outlook of 8%-12% annual growth for the next couple of years and we feel sure that the company will achieve it. We see this sort of growth as being a trigger to taking the share price much higher. It is also very encouraging to learn that free cash flow is expected to grow at a similar rate.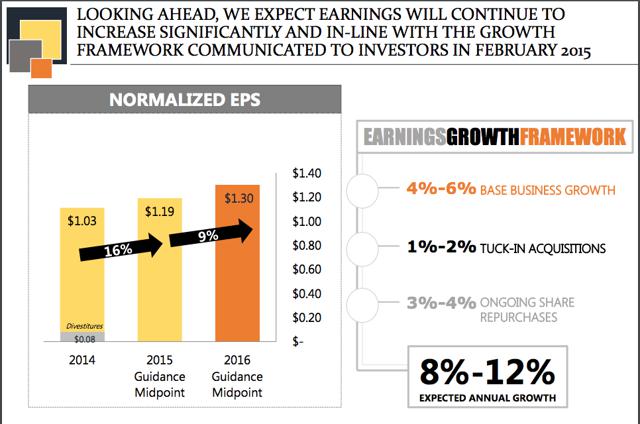 Click to enlarge
(Source: Company Presentation)
Like many companies in the personal services industry the company does generally exhibit lower levels of liquidity. While we do have a preference for investments to have strong liquidity, its current liquidity levels are manageable. Despite having over $3 billion of debt, its times interest earned ratio is a strong 3.5.
We see the share price being about fairly priced at present. Despite it being much lower than its lofty August heights, the price-to-earnings ratio it is currently trading at is about right when judged against its historical average.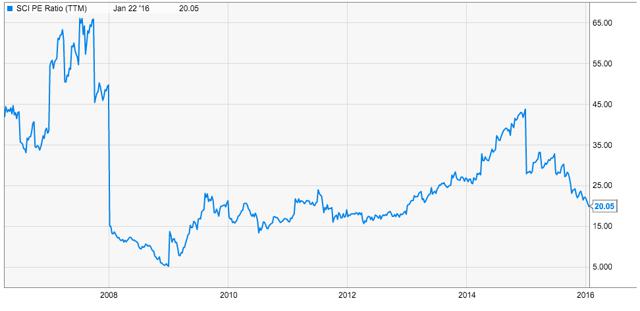 Click to enlarge
(Source: Ycharts)
We see 20 times earnings as being about fair now and into the future. It certainly is no stranger to trading higher, but it is this level that we are most comfortable with and fully expect to benefit from with share price returns.
Looking at its earnings per share guidance, management expects $1.19 in FY 2015 (expected in early February), increasing to $1.30 in FY 2016. We feel the shares are priced fairly now for earnings per share of $1.19 in February, but should the company produce a greater result we'd expect to see the share price rise.
Further a field we see a one-year price target of $26.00 based on earnings per share of $1.30 for FY 2016. This equates to a return of 8.3% from its last close price of $23.99. Factoring in the 2% dividend yield that it pays out and we would expect a one-year total return in excess on 10%. We believe the company will grow further into 2017 and achieve similar returns for shareholders.
Takeaway
This is an industry that unfortunately for its customers has a lot of growth ahead of it. The industry is highly fragmented and with Service Corporation International being the biggest player in the game we believe it has the best chance of bringing order to it and increasing its 16% market share considerably.
Disclosure: I am/we are long SCI.
I wrote this article myself, and it expresses my own opinions. I am not receiving compensation for it (other than from Seeking Alpha). I have no business relationship with any company whose stock is mentioned in this article.