Top 5 Recession-Proof Stocks for 2016
With oil prices down near $30 a barrel and the Dow Jones Industrial Average down close to 8% to start the year, it certainly looks possible the U.S. economy could head into a recession and a new bear market in stocks in 2016. Analysts from Bank of America and Morgan Stanley feel there's a 20% risk of a recession occurring in 2016, while the recession probability from stock market behavior is 50%, according to Bank of America analysts.
What's more: History shows that a recession occurs every 8 to 10 years. The last recession occurred in 2008, or 8 years ago (technically from Dec. 2007 to June 2009). Prior to the 2008 financial crisis, a recession occurred 7 years earlier from March 2001 to November 2001, and prior to that, a recession occurred in 1990.
Sometimes, I believe it's a good idea to play it safe and shift portfolio positions from higher-risk stocks (mainly, small and mid-cap stocks that don't pay a dividend, and whose performance and dividend are dictated by the economy) into safer stocks. You generally will want to avoid luxury-type stocks, such as Prada (OTCPK:PRDSY) and Michael Kors (NYSE:KORS), and casino stocks, such as Caesars Entertainment Corp. (NASDAQ:CZR) and MGM Resorts (NYSE:MGM).
And I believe now is the perfect time to add some "defensive" dividend stocks to your portfolio. The dividends can give you safe income for retirement - or you can re-invest the dividends to purchase more shares of stock.
Either way, here are my top 5 recession-proof stock picks for 2016. I think these companies will continue to grow and pay a dividend (or even increase dividends), as these businesses are not as sensitive to the economy as other stocks.
Even if we don't go into a recession in 2016, these stocks will still likely pay a dividend and perform better than most bonds, money market accounts and CDs. I selected these stocks mainly based on past performance during the 2008 recession, dividend track record, and earnings prospects for 2016 and beyond.
| | | | |
| --- | --- | --- | --- |
| Stock Symbol | Performance Last Recession* | Dividend Yield | P/E Ratio |
| PCG | -18.88% | 3.48% | 28.55 |
| NJR | 4.82% | 2.77% | 16.30 |
| MCD | .03% | 3.01% | 26.00 |
| AWK | -18.45% | 2.18% | 23.52 |
| WEC | -15.44% | 3.72% | 22.88 |
*During the period from Dec. 2007 to June 2009, the Dow Jones Index declined by 34.50%. Returns do not include dividends.
#5 PG&E Corp. (NYSE:PCG)
Founded in 1905, the Pacific Gas and Electric Company, also known as PG&E, is a natural gas and electrical utility company operating mainly in California; the company provides its customers with public utility services and services relating to the generation of energy, the transmission of electricity and natural gas, the generation of electricity and the distribution of energy, according to the company.
Utility companies like PCG tend to perform well during recessions, because people still need its services to survive, regardless of the state of the economy.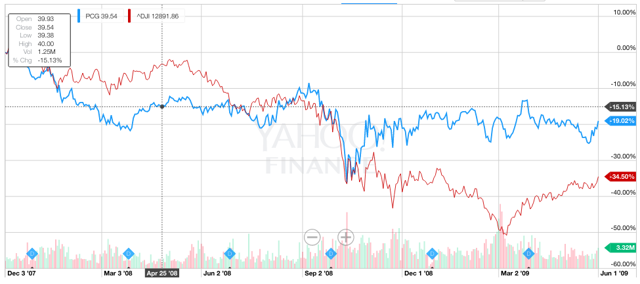 Click to enlarge
(Credit: Yahoo Finance)
While the stock declined 18.88% during the last recession, this significantly outperformed the Dow Jones Index, which fell by 34.50%, as you can see in the above chart.
You'll also see below that PCG has managed to increase its annual dividends paid each year since the recession, from $1.25 in dividends paid in 2007 to $1.82 paid today. Therefore, an investor who held PCG stock and re-invested dividends throughout the 2008 recession would have done quite well.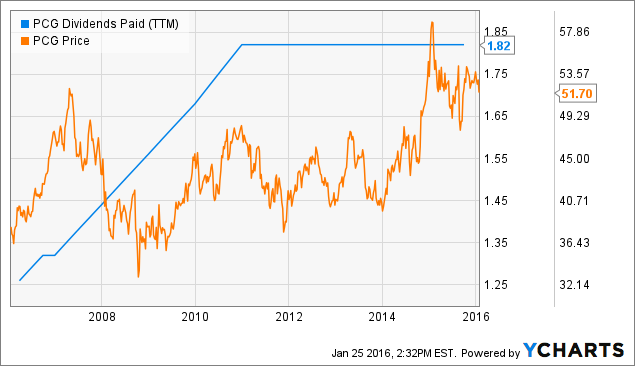 PCG Dividends Paid (NYSE:TTM) data by YCharts
With dividends re-invested, PCG's stock has an average annual return of 6.42% over the past 10 years. With $4.13 billion in annual EBITDA and $871 million in net income over the past 12 months, PCG should, at least, be able to maintain this dividend over the next several years.
#4 New Jersey Resources Corp. (NYSE:NJR)
New Jersey Resources is a provider of natural gas in northern and central New Jersey.
The company's subsidiaries include New Jersey Natural Gas, which serves more than 486,000 customers in the state, NJR Home Services, which provides home-appliance service, sales and installations, NJR Energy Services, which provides wholesale energy services, including natural gas supply, pipeline capacity and storage management, and NJR Clean Energy Ventures, focusing mainly on renewable energy projects such as solar energy.
In addition, the company recently began investing in natural gas storage and transportation pipelines; the company owns a 5.53 percent equity investment in Iroquois Pipeline and the Steckman Ridge natural gas storage facility in Western Pennsylvania.
During the 2008 recession, New Jersey Resources performed exceptionally, returning 4.82%, compared to the 34.5% loss in the Dow Jones Index; over the past 10 years, shares have increased by 127.8%, crushing the Dow's return of 45% and the S&P 500's return of 47.07%.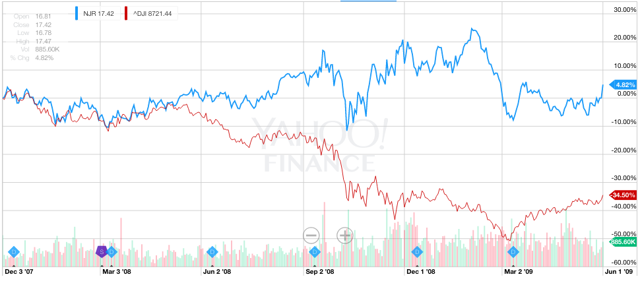 Click to enlarge
(Credit: Yahoo Finance)
As for dividends, this chart below says it all: New Jersey Resources was able to increase its annual dividends paid from $.46 per share in 2007 to the current annual payout of $.915.
Shares currently yield 2.77%, but with a payout ratio of 43.62%, it looks like the company has some room to grow its dividend. The company has publicly stated a goal of increasing its dividend 6% to 8% annually, and boasts 22 total dividend increases in 20 years.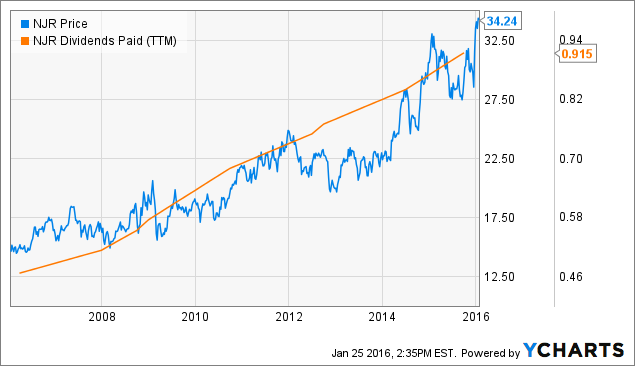 I also like New Jersey Resources because of the company's low debt balance, as it ended last quarter with just $921.08 million in total debt. With a market cap of $2.93 billion, it's one of the smaller companies on this list, but the company's dividend track record and low debt balance give me confidence in the company's chance of outperforming in 2016 and beyond.
#3 McDonald's (NYSE:MCD)
McDonald's is a company that really needs no introduction. All I will say is that McDonald's stock has been one of the best performing of the past year, with shares up over 30%, compared to a 8.58% dip in the Dow Jones. The company's all-day breakfast strategy (launched in October 2015) is really paying off, as it recently reported U.S. same-store sales growth of 5.7%. The company earned $1.31 per share in Q4 2015 on revenue of $6.34 billion, beating analyst estimates.
You'll see in the below chart the performance of McDonald's stock during the last recession: The stock was flat, but still significantly outperformed the Dow Jones.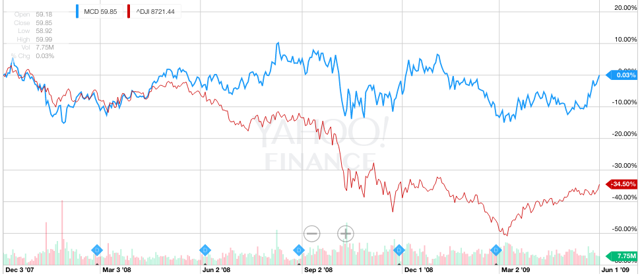 Click to enlarge
In addition, McDonald's dividend has grown from under $.75 a share in 2007 to $3.40 per share today. The stock has an impressive track record of 39 years of straight dividend increases, and boasts a 5-year dividend growth rate of 10.30%, according to GuruFocus.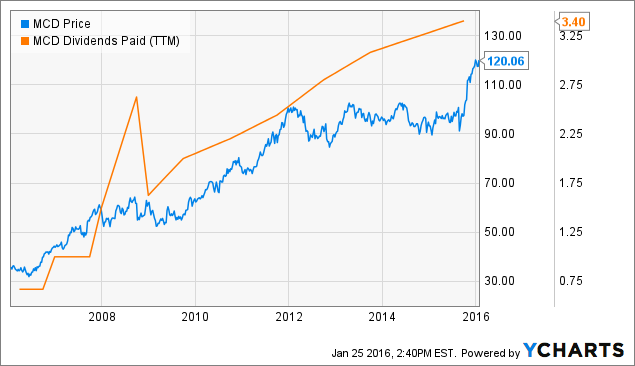 The stock also carries the highest yield on this list, at 3.72%; with a payout ratio of 73.64%, the company may have some wiggle room to increase the dividend in 2016. For these reasons, I expect McDonald's stock to outperform the market going forward and it should be a great stock to own during recessions.
#2 American Water Works Company (NYSE:AWK)
American Water Works is the largest publicly traded U.S. water and wastewater utility company, serving 15 million people in 47 states and Ontario, Canada. This is a dominant company in the water industry and AWK operates and manages more than 370 individual water systems across the U.S. It's a solid business to own during a recession for obvious reasons.
During the last recession, AWK lost 18.45% of its value, but still outperformed the Dow Jones by a wide margin.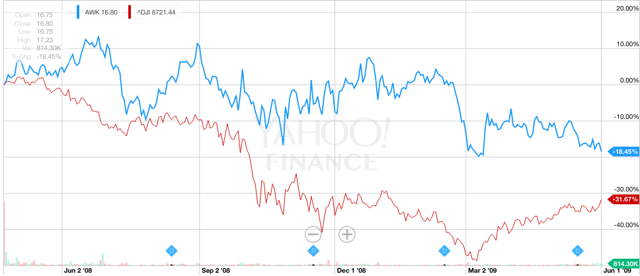 Click to enlarge
The stock's performance over the past 5 years is much more impressive: AWK has gained 130%, which is more than 4X the performance of the Dow Jones.
During the time period of 2010 - 2015, the company was able to increase its earnings per share 12.4% annually, while also growing the dividend 9.1% annually; the company forecasts 7% to 10% EPS growth over the next five years, according to a recent investor presentation.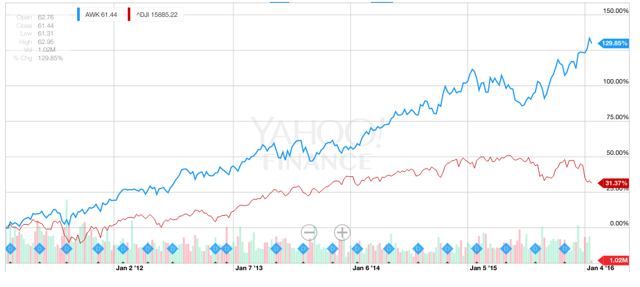 Click to enlarge
With millions of customers across the country, a business that shines during economic boom or bust, an annual dividend of $1.36, seven consecutive years of growth and a payout ratio of just 51.7%, strong revenue growth (5.9% YOY) and quarterly earnings growth (14.30% YOY), and a reasonable valuation (11.71 EV/EBITDA and 23.54 P/E), I expect AWK to outperform.
#1 WEC Energy Group (NYSE:WEC)
WEC Energy is an electric and natural gas delivery company that serves 4.4 million customers in the states of Wisconsin, Illinois, Michigan and Minnesota.
WEC's performance during the last recession wasn't the best on this list, as the stock declined 15.44% during that two-year time frame.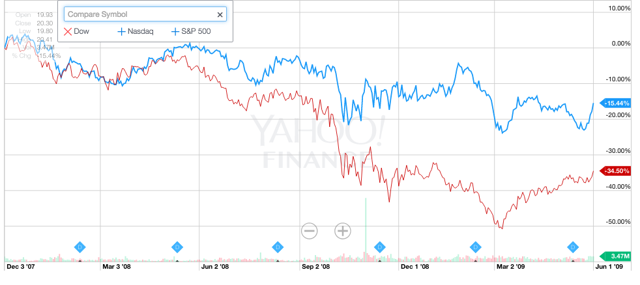 Click to enlarge
However, the returns over the past five years have been much better, as WEC has gained 81.98% compared to a 32.2% rise in the Dow Jones Index. The gains get even more impressive when you go 10 years out, as WEC has returned 160.63%, compared to a 45.5% gain in the Dow Jones.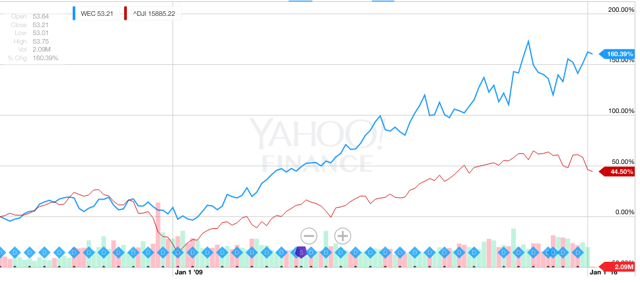 Click to enlarge
Including dividends, WEC's annual return over the past 10 years is 12.15%, which is better than the S&P 500's total return of 6.45%, and better than its electric utilities peers' return of 8.12%, according to Morningstar.
WEC's dividend track record is even more outstanding, as the company has increased its annual dividends paid from $.50 per share in 2008 to $1.675 last year; the stock has a 3-year dividend growth rate of 14.50%, according to GuruFocus. The last quarterly dividend declared on Jan. 21, 2016, saw a rise to $.495 per share, giving it an annual dividend rate of $1.98 per share; this is the thirteenth consecutive year of dividend increase for shareholders.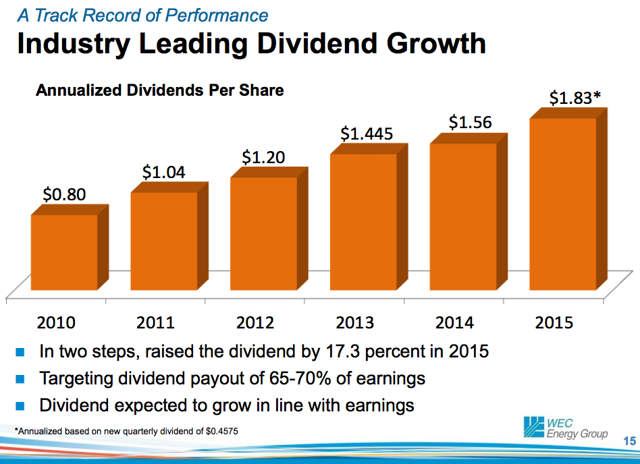 Click to enlarge
(Credit: WEC Energy Corporate Presentation)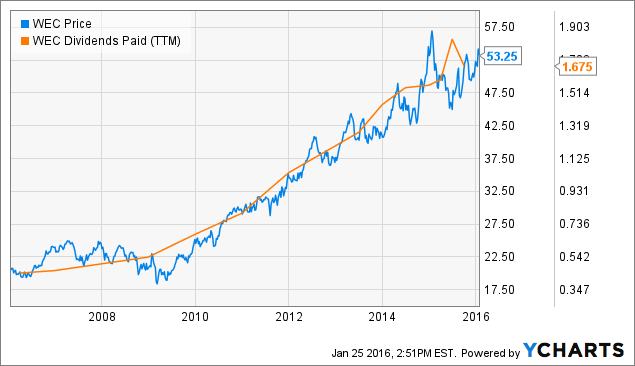 Fundamentally, the company is very solid, with operating margins of 22.35%, profit margins of 10.95% and a return on equity of 8.84%; following its recent $9.1 billion acquisition of Integrys, the company has tons of growth ahead, and is targeting 6% to 8% EPS growth in 2016; beyond 2016, EPS growth is expected at 5% to 7% annually, and the company projects dividend growth in line with earnings growth.
In conclusion, these are my top 5 recession-proof stocks to own in 2016, as I feel these picks will outperform peers, mainly due to strong business earnings and dividend increases. Other stocks to consider for this list include: AT&T (NYSE:T), Verizon (NYSE:VZ), Altria (NYSE:MO), and Dollar General (NYSE:DG).
Disclosure: I am/we are long WEC.
I wrote this article myself, and it expresses my own opinions. I am not receiving compensation for it (other than from Seeking Alpha). I have no business relationship with any company whose stock is mentioned in this article.
Editor's Note: This article discusses one or more securities that do not trade on a major U.S. exchange. Please be aware of the risks associated with these stocks.