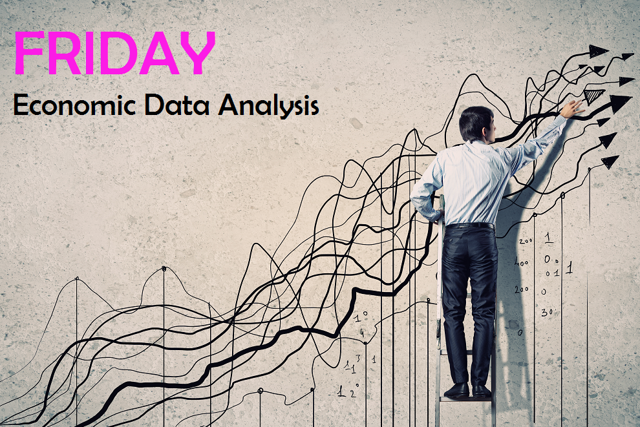 Click to enlarge
On January 22, in the calm before the massive snow storm in the Eastern US, three major economic reports hinted at some troubling times ahead from implications related to higher interest rates and lower commodity prices. Existing homes for sale on the market have reached a surprising new multi-year low, leaving many to wonder what the spring will look like for the housing sector. In case you missed it, here is a brief analysis of Friday's economic reports:
Chicago Fed National Index
It is known that December was a weaker month economically, but relative to November conditions have improved slightly according to the Chicago Fed National Index. The headline reading improved to -0.22 from -0.36 in November, which was revised lower from the initial reading of -0.30. Ultimately, this improvement is concentrated on the production component, as overall industrial production improved ever so slightly in December to a reading of -0.4 from a very steep -0.9 reading in November. Sales, orders, and inventories were slightly negative on a national scale, as was the component for consumption & housing. Interestingly enough, the only positive component was employment, which was unchanged from the previous month at a solid +0.12. However, judging by current employment trends it is not too farfetched to assume that this number will be quite dismal for the month of January. Even with this slight improvement in December, the 3-month average declined to -0.24 from -0.19 in November. Overall this report serves as a reminder that economic activity is subdued and when combined with low energy prices, this should keep inflation levels low for quite some time.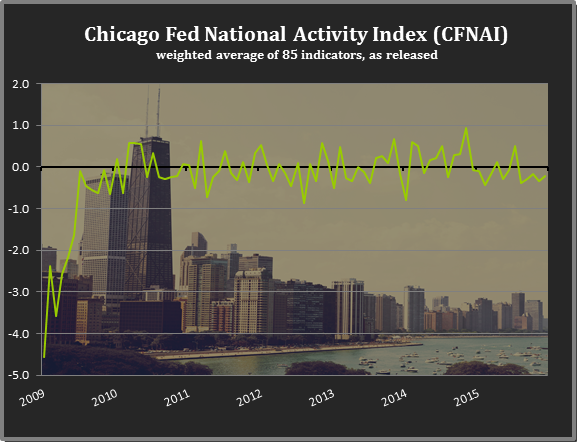 Existing Home Sales
Most housing reports are showing slight bounce backs in December, and the latest report from the National Association of Realtors is no exception to this rule. Existing home sales made a sizable recovery in December, rising by 14.7% to an annualized rate of 5.46 million homes, topping the high-end of the consensus forecast. On a year-over-year basis, sales have risen by 7.7% which is far stronger than the 3.8% increase noted in November. It should be noted that November was an unusual month in that data was skewed to the downside due to new documentation rules that ended up pushing a lot of planned sales into the month of December. When the two months are averaged together, this shows an annualized rate of 5.11 million sales, which is well below the average of 5.45 million from the six prior months. Total 2015 sales came in at 5.26 million, which comparatively speaking is much greater that the 4.94 million existing homes sold in 2014.
The December bounce was greatly impacted by a 16.1% increase in single-family homes, to an annualized rate of 4.82 million and a 7.1% gain over the prior year. The trends for condo sales have also made gains of 12.3% for the year and 4.9% for the month to an annualized rate of 640,000.
Low supply in the housing market has been a big negative for sales in the month, and is a major concern for this report. Overall, homes on the market declined to 1.79 million from November's 2.04 million. This resulted in the supply-to-sales ratio dropping to 3.9 months with is way below the 5.1 months noted in November and 4.4 months in December 2014. This is an 11-year-low for existing homes on the market and it warns that housing sales might run into major trouble going into the spring selling season. This is not all negative however; low supply is a positive for prices which are actually firming in this report. The median price of an existing home is up 1.9% for the month to $224,100 for a rather strong 7.6% increase over the prior year.
Overall, housing is showing some small signs of life, but the gains for new homes are most assuredly being held back due to a lack of supply. Price appreciation is strong positive and is well above the price changes for other products as well as wage growth.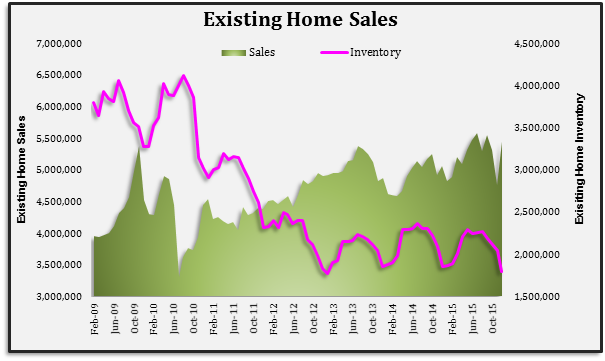 Leading Economic Indicators
Lastly, and always a big source of controversy, is some disappointing data from the Conference Board's Index of Leading Economic Indicators. In the month of December, economic indicators fell by 0.2% after experiencing an upwardly revised gain of 0.5% in November. The weakness can be traced to a massive drop in housing permits and weakness in manufacturing orders - both data points had negative implications for other components of the index. Additionally, interest rates were still favorable at the time and point to moderate growth in the coming months. There were also modest gains in the coincident index, by 0.1%, and a gain in the lagging index by 0.2%. For the longest time, strength in this data was driven by the Fed's near-zero interest rate policy. Now that the Fed is singing a different tune, and the stock market remains weak, it is likely that we could see some drastic volatility among these indicators in the early part of 2016.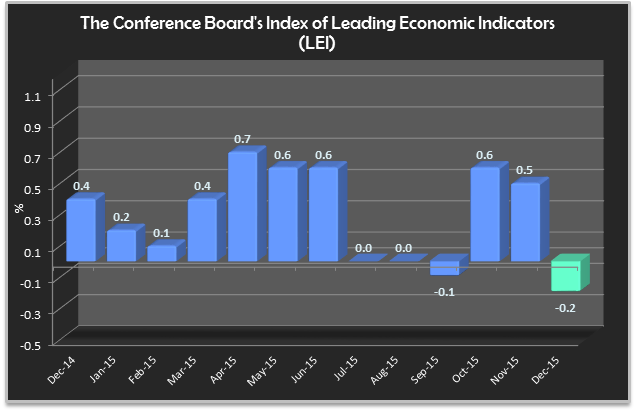 Disclosure: I/we have no positions in any stocks mentioned, and no plans to initiate any positions within the next 72 hours.
I wrote this article myself, and it expresses my own opinions. I am not receiving compensation for it (other than from Seeking Alpha). I have no business relationship with any company whose stock is mentioned in this article.