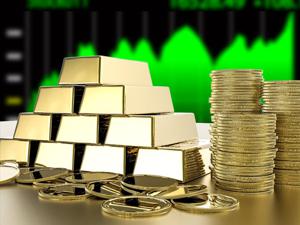 Barrick Gold (NYSE:ABX) is in turnaround mode this year as it has gained over 16% so far in 2016. The stock's impressive run on the market does not come across as a surprise as 2016 has been a good year for gold so far, and this will have a positive impact on Barrick's financial performance. More importantly, looking ahead, it is highly likely that gold prices will continue to be strong as the year progresses due to a number of factors.
In this article, we will take a closer look at how Barrick Gold is on track to benefit from better gold pricing and why the company's recent rally will continue.
2016 will be a good year for gold
Late last year, it was feared that the interest rate hike by the Federal Reserve will have a negative impact on gold prices. However, so far this year, the story has been entirely different as the price of gold has appreciated more than 3% in just a matter of weeks. This positive movement in gold prices is a result of the convergence of several factors, such as the weakness in the global equity markets and favorable demand-supply dynamics.
For instance, despite an expected increase in demand for physical gold this year, which will be triggered by buyers looking to park their funds in a metal that's considered to be a safe investment, the production of the metal will remain weak. In fact, it is slated that gold production will decline to the tune of 3% in 2016, leading to a drop in gold supply. As a result, on one hand, the supply of gold will decrease, while on the other, the demand will increase.
More importantly, demand for gold is expected to continue increasing going into the rest of the year due to the uncertainty around global economic growth. This is because of the yellow metal's characteristic nature of being a safe haven investment in difficult times, which is why its demand will likely go up this year as the World Bank has shaved its growth forecast for the year by 0.4 percentage points.
This is a key reason why the demand for gold has started picking up of late. In fact, after nine consecutive weeks of decline, the net long position in gold has increased as traders are now getting positive on the commodity, while shorts have retreated at the same time. Thus, there are a number of positives to consider in the gold market, which is good news for Barrick Gold investors. Now, Barrick is well-prepared to benefit from an improvement in gold prices as the company has improved its operating efficiency and has taken tough steps to reduce its debt. Let's take a look.
Barrick's improved operational efficiency will lead to better results
The good thing about Barrick is that the company has undertaken a number of initiatives to improve the operational profile, such as reducing the debt and lowering costs. In fact, despite the weakness in gold prices, Barrick has managed to bring its free cash flow into positive territory of late as shown in the chart given below: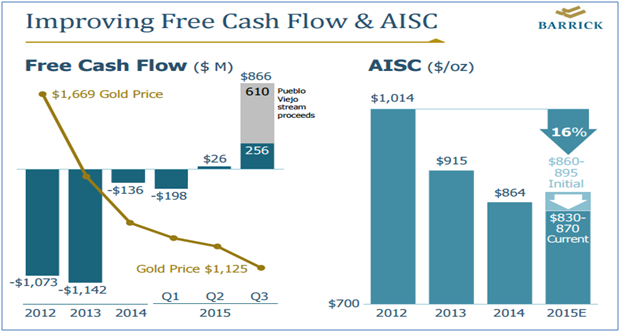 Source: Barrick Gold
As evident from the chart given above, the improvement in Barrick's free cash flow is the result of an impressive decline in the company's all-in sustaining costs. In fact, the company has exceeded its cost targets for the recently-concluded fiscal year, as shown above, by lowering the expected AISC range to $830-$870 per ounce for 2015 as compared to the prior forecast for a range of $860-$895 per ounce.
This rapid improvement in Barrick's cost profile is being driven by assets such as Cortez, where all-in sustaining costs are as less as $501 per ounce on the back of superior ore tonnage due to higher grades. Looking ahead, Barrick can lower the cost profile of Cortez further as it is now focusing on developing a new area to the south of Cortez where grades are high and targets are deeper.
Similarly, in areas where Barrick was struggling due to a higher cost base, it has taken steps to reduce the cost structure. For instance, at the Veladero mine, Barrick has been able to bring down its annual cost guidance to $950 per ounce from $1,000 per ounce. The company has been able to achieve this by optimizing the pit design so that it can mine higher grade ore. In fact, Barrick believes that its cash flow from this mine will double in the coming years.
Conclusion
Barrick Gold has got off to a good start in 2016, and I believe that the company will be able to sustain this momentum going forward as it is well-placed to take advantage of an improvement in gold prices due to a lower cost base. So, in my opinion, investors should continue holding on to Barrick Gold as it is primed to deliver more upside.
Disclosure: I/we have no positions in any stocks mentioned, and no plans to initiate any positions within the next 72 hours.
I wrote this article myself, and it expresses my own opinions. I am not receiving compensation for it (other than from Seeking Alpha). I have no business relationship with any company whose stock is mentioned in this article.