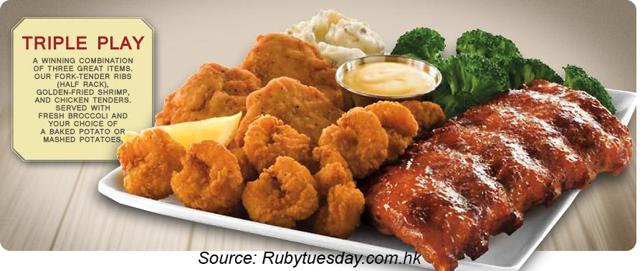 Ruby Tuesday (NYSE:RT) is a stock I've been pretty vocal on in the past. I started covering the company almost three years ago and since that time, I've been bearish. The company's turnaround plan continues to chug along at a very slow pace so in terms of the equity, I don't see a lot of upside potential. However, that doesn't mean that one cannot profit from RT's debt. The company has a significant bond issue that matures in 2020 that also happens to pay a very juicy yield so in this article, I'll highlight the company's debt as a way to play the turnaround that doesn't involve the equity.
The bond issue in question is the 7.625% bond that matures 5/15/2020 (781182AB6). The issue is well in excess of $200 million so it is sizable and should allow for decent liquidity. The par is $1,000 so retail investors should have no problem finding a lot size that fits their needs and with the current price of just $94.50, the current yield is north of 8%. That's what attracted me to this bond as RT is not going to go out of business but its bonds are being priced very favorably for buyers.
RT's interest expense is running about $5.5 million per quarter, certainly not insignificant, but not crippling either. Annual revenue around a billion dollars and an enormous amount of real estate backing up the bonds, RT is in a very favorable position in terms of paying back its debt when it is due or refinancing it. Either way, owners of the 2020 bond are almost assured to get their principal back when the bond matures as the value of the business - which is breaking even now - and the value of the real estate are more than enough to make it possible for RT to operate indefinitely. There was a time when I thought RT may go out of business but that was a long time ago and with positive EPS expected this year, those fears have evaporated. What's left now is a marginally profitable business with an expensive stock but for bond holders, that creates a great opportunity.
This bond matures in just over four years and at the current price, holders would pick up another $5.50 over that four years from the price moving to par. That boosts the yield by about $1.25 per year in addition to the $7.625 one receives in interest payments, bringing the total to more like 9% over the life of the bond. Given that RT's finances are back in order that seems a very juicy yield for a turnaround play that has already gotten through the worst of its reorganization.
To be clear, I'm not bullish on RT's stock. However, I also think the chance of it eventually defaulting on its bonds is infinitesimally low at this point. The company is generating a very small amount of earnings at this point and its real estate is still very valuable, meaning it has lots of ways it can finance both its interest payments and the eventual refinancing or paying down of the 2020 bond itself. For a 9%+ total yield over the life of the bond, there are scarce opportunities that are as low on the risk spectrum as this one. I think investors are pricing in that RT is going to continue to have significant financial trouble but I don't think that is the case. Ignoring or shorting the equity is the right thing to do but for the bond, I think it is a terrific opportunity for a high yield.
Disclosure: I am/we are short RT.
I wrote this article myself, and it expresses my own opinions. I am not receiving compensation for it (other than from Seeking Alpha). I have no business relationship with any company whose stock is mentioned in this article.