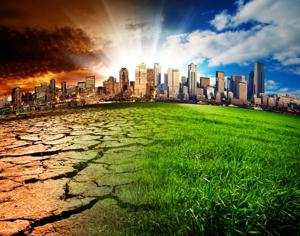 Welcome to the "Zombie Apocalypse." Remember October 2014? That's when the stock market freaked out over fears that we were all going to be dead within 60 days from Ebola. Well, ironically, we are still here; but the stock market on Wednesday broke through the "Ebola lows" set in October 2014. The best news is that most of us are still alive, but the second best news is that we saw a high-volume panic-selling capitulation day and subsequent intraday reversal on Wednesday that typically marks a stock market low.
What I want to see now is a high-volume reversal and then a series of retests on lower trading volume to confirm that the Wednesday low was really the low. Volatility will likely persist, but part of the problem we face now is that many financial advisors and investors do not know where to invest first, since market leadership remains very narrow. This is largely because of the market's infatuation with indexing and ETFs based on indices, which have effectively undermined fundamental investing, since fundamentals are nowhere to been seen on their FINRA-approved fact sheets and sales pitches for most of these ETFs.
Investors have been misled by the big "asset gatherers" who say that indices and ETFs are better, when in fact they are more expensive to trade, as a recent (August 24, 2015) study released by the Stanford Business School shows.
I like to describe the current market environment as a house party that has gotten too rowdy, so the police barge in, detaining selected guests, while other guests scatter. That is essentially how the stock market has been behaving. Investor confidence remains low, since (1) the indices and ETFs are not doing well, (2) the financial news media continues to try to scare investors, (3) the global growth environment has decelerated, and (4) the U.S. political environment remains uncertain.
Fundamental investors like me are outnumbered by very nervous investors, so the neighborhood has clearly deteriorated. However, in the meantime, I remain impressed with how stocks responded to their fourth-quarter sales and earnings announcements as well as their relative strength on down days. This "flight to quality" bodes well for us.
I suspect that the market will continue to be led by companies that (1) have better-than-expected fourth-quarter results, (2) issue positive guidance, and (3) are characterized by dividend growth. I expect that the dividend growth stocks will continue to lead the way, improving investor confidence, which should expand to include stocks that score rising quarterly earnings results along with positive 2016 guidance.
In the meantime, the S&P 500 dividend yield (2.28%) is still above the 10-year Treasury yield at 2.05%. This means that when all the dust settles, money should return to the stock market because it continues to yield more than 10-year bonds. However, as soon as a major energy stock follows Kinder Morgan (NYSE:KMI) and cuts their dividend, I suspect that the stock market will get nervous again, especially those high-dividend ETFs that are heavily invested in energy stocks. Last Friday, for instance, Chesapeake Energy (NYSE:CHK) eliminated its preferred stock dividend (it eliminated its common stock dividend last July) to conserve cash and pay down its debt. I expect more energy stocks to make dividend cuts to preserve cash and their credit ratings.
Last Wednesday, the Labor Department announced that the Consumer Price Index (CPI) declined -0.1% in December, which was below economists' consensus estimates of no change. Interestingly, energy prices declined -2.4% and food prices contracted -0.2% in December. The core CPI, excluding food and energy, rose 0.1% in December. In the past 12 months, the CPI has risen 0.7% and the core CPI is up 2.1% due largely to higher rents, healthcare costs, and service costs. The 0.7% rise in 2015 is the lowest full-year inflation since 2008. There is no doubt that deflationary forces are now spreading to the CPI.
Speaking of economic growth, the International Monetary Fund (IMF) on Tuesday cut its global GDP forecast to 3.4% and lowered its GDP forecasts for Brazil to -3.5% (down from -1%) and Russia to -1% (down from -0.6%). The IMF is expecting China's GDP to expand 6.3% in 2016, but that forecast may be subject to revision. For 2015, the IMF said world GDP grew 3.1% and it forecasts 3.4% GDP growth in 2016 and 3.6% in 2017. The fact of the matter is that the IMF is way too optimistic, since GDP growth so far in 2016 is well below 2015. I'd say 2% worldwide GDP growth in 2015 is much more realistic. As a result, I expect the IMF to be slashing its GDP forecasts for more counties in the upcoming months.
If you need something else to worry about, on Thursday the Labor Department reported that initial jobless claims rose by 6,500 to 285,000. Initial jobless claims have been steadily rising since late October when they bottomed at 256,000 and are now up 11.3%, reaching the highest level in seven months. Clearly, there have been a lot of layoffs in the energy patch; but with decelerating economic growth, more layoffs may be forthcoming.
Also, on Friday, the Conference Board announced that its leading economic index (LEI) declined by 0.2% in December as (1) weak housing starts and (2) falling manufacturing orders dragged down the LEI. Since Fed Chairman Janet Yellen is a labor economist, I suspect that she will be very reluctant to raise rates further if the labor market is deteriorating. Furthermore, a negative LEI may cause most other Fed officials to postpone any key interest rate increase. If the weak economic news persists, the Fed may have to do an "about face" and follow the ECB by creating a new stimulus program.
Oil Bounces off $27 to reach $32, But Deflation Remains
Crude oil briefly crossed below $27 per barrel last week on fears that 500,000 barrels of Iranian crude oil will be dumped on the global market now that their sanctions have been lifted. Since then, crude oil prices rose back above $32 after the Libyan oil terminals were attacked on Thursday. Still, the supply glut persists: The Energy Information Administration (EIA) reported on Thursday that crude oil inventories rose by four million barrels in the latest week.
The EIA also reported that gasoline inventories rose by 4.6 million barrels, so the prices at the pump should remain low. What is uncertain is just how much Iran will discount crude oil to try to steal business from Saudi Arabia and other OPEC members, so $25 per barrel oil may soon be forthcoming despite the fact that seasonal demand typically picks up in the spring.
Just so you can get an idea of how much discounting goes on in the crude oil business, sweet crude oil from North Dakota and the Permian Basin now sells for less than $20 per barrel according to Bloomberg last week, while the crude oil from the Eagle Ford Shale Formation is now selling for under $13 per barrel.
Interestingly, no one wants the sour crude oil from North Dakota anymore, so those wells should all be capped, especially since the transportation costs from trucks and trains in North Dakota can run as high as $15 per barrel. Since refiners can get sweet-to-intermediate grades of crude oil so cheap now, gasoline prices should continue to decline steadily, even though prices typically rise in the spring.
Deflation continues to spread in Europe. Germany's Federal Statistical Office on Wednesday announced that producer prices declined 0.5% in December and 2.3% in the past 12 months. In other words, German wholesale prices are declining and deflationary rates are accelerating. Even when excluding energy, wholesale prices still declined by 0.6% in the past 12 months, so deflation is not just related to energy.
Have a great week. I hope those of you in the Northeast can climb out from under the avalanche of snow.
Disclosure: *Navellier may hold securities in one or more investment strategies offered to its clients.
Disclaimer: Please click here for important disclosures located in the "About" section of the Navellier & Associates profile that accompany this article.