BB&T (NYSE:BBT) has long been the safe, steady choice in regional banking stocks. Indeed, the company's strategy of prudent lending and sticking to what it knows has served it well over the years. But it has also been a serial acquirer of smaller banks as a way to grow. While this conceptually makes sense it is also very expensive and BBT shares have failed to move for years now. I have been a big supporter of BBT in the past as I like the regional model and the way BBT executes it in addition to its sizable yield. But investors are only so willing to be patient and I, for one, am beginning to run out of that precious commodity. BBT's Q4 earnings were more cause for concern than optimism so in this article, I'll take a fresh look at BBT at its new multi-year low valuation to see if there is something here for the bulls or if it may be time to cut losses and move on.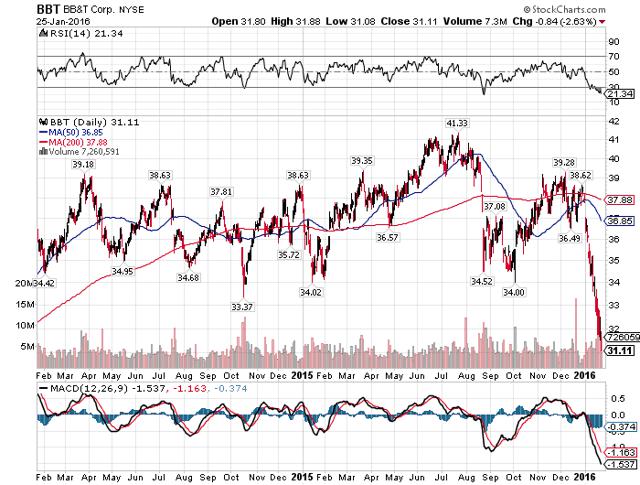 Click to enlarge
BBT's total revenue was up nicely in Q4, gaining about 7%. However, it was BBT's recent, sizable acquisitions that helped build the total, not organic growth, something BBT holders have been forced to get used to. Perhaps the biggest concern I've had with BBT in the past is that it seems to be unable to sustainably grow organically and that its acquisitions are the only way to a higher top line. The problem is that history is littered with the broken up carcasses of companies that tried to acquire their way to growth and while BBT is certainly not one of those, it does show that the strategy is certainly difficult to execute. Top line growth is great but buying and integrating other companies is very expensive and complicated.
BBT's NIM during the quarter was essentially flat once again at 3.35%, something that has been the case for several quarters now. It has become clear that BBT's NIM has bottomed - which is great - but it isn't rising either. BBT's level of 3.35% is fine amongst the regionals - again, sort of middle-of-the-road - but I was hoping we'd see NIM rising as cost of funds has continue to come down in 2015.
BBT's efficiency ratio during Q4 improved over Q3's number to 58.8% which is terrific and something you'd expect when synergies from countless acquisitions are realized. However, the problem is that there is always another merger coming in for BBT. The National Penn acquisition is set to close on April 1 and surely there are other mergers the company is working on we don't yet know about. That somewhat limits the savings that can be realized from prior mergers because there is waste and excess from the latest buys. BBT's earning assets aren't productive enough to produce earnings growth with its efficiency ratio in the high 50s. And with it also constantly buying more banks, its efficiency ratio is likely to remain elevated for the foreseeable future.
At 10.2 times this year's earnings, BBT isn't really that cheap despite the huge selloff we've seen. There are countless other franchises with much better growth prospects trading for less. It's not that BBT's business is impaired or something - it has a lot going for it and a very strong track record of lending prudently - it's just that it keeps buying and buying and that kind of thing is difficult to do well. I think we've seen the fruits of that struggle fail to materialize as BBT's share price has drifted for a long time. Indeed, the only real return BBT shareholders have gotten recently is the ample dividend.
The most troubling thing I see with BBT right now is that it is taking on tons of new assets and deposits but it isn't earning the same amount on those assets. BBT's returns by just about any measure are dwindling despite the fact that it should be gaining efficiencies on its larger asset base. Returns on average assets, average risk-weighted assets and on shareholder equity are all way down since last year's Q4. Ultimately, a bank exists to earn returns on its assets and BBT is going the wrong way. The company's efficiency ratio has deleveraged a full 3.2% since the end of last year and that is the biggest single reason why BBT's earnings have suffered; this is why at some point, BBT should try and optimize what it has instead of constantly adding more. I'm frustrated by the company's lack of progress despite the billions of dollars it has spent buying competitors in recent years; this isn't how it was supposed to have gone.
As much as I want to be bullish on BBT, I can't. The company has acquired its way into oblivion at this point and it is so unproductive with its assets compared to just a year ago that I'm not sure that it doesn't need a complete strategic overhaul. The strategy of buying tons of competitors hasn't worked so I see little upside for the stock, even from these depressed levels. It is still trading well in excess of many competitors and the simple fact is that there are better bargains to be had in the banking space. That being said, BBT is a rare 3.4% yield in the financial space that is littered with banks that slashed their dividends to nearly nothing just a few years ago. BBT's track record with its dividend is superb and as long as Kelly King is running the place, it will always be a priority. If you're looking for a dividend stock that has a high current yield and room for growth, you can do much worse than BBT. Just don't expect it to hit $40 again anytime soon.
Disclosure: I/we have no positions in any stocks mentioned, and no plans to initiate any positions within the next 72 hours.
I wrote this article myself, and it expresses my own opinions. I am not receiving compensation for it (other than from Seeking Alpha). I have no business relationship with any company whose stock is mentioned in this article.