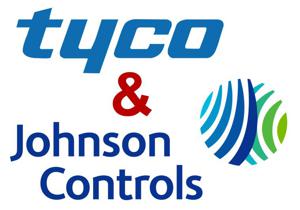 Today, Johnson Controls (NYSE:JCI) and Tyco International (NYSE:TYC) announced a merger between the two companies that, if carried through to execution, will result in a $32 billion industrial company that is focused on providing systems and services that enhance the energy efficiency of buildings and facilities in numerous industries. The combined company will also provide power management solutions, fire safety and security services and will be a global leader in the manufacture of automotive batteries as well. The mechanics of the deal seem a bit confusing at first glance, but, in my opinion, present a fair deal to shareholders of both companies over the long term once you actually work through it.
The first thing that caught my attention was a $3.9 billion cash consideration Tyco is to pay to JCI shareholders. I know every deal is unique, but if JCI is supposed to be the acquiring party, why is Tyco making such a hefty cash payment? Furthermore, the term used was $3.9B aggregate cash consideration. What does aggregate cash consideration even mean?
The second thing that I found initially confusing was the exchange offer from the JCI shareholder perspective. Tyco shareholders will receive a straight 0.9550 shares of the merged company for every share they own after a planned reverse stock split. No moving parts. No tax liabilities. Just a simple, straight forward exchange that will occur automatically. However, JCI shareholders are given the option to exchange one current share for either one share in the combined company OR $34.88 in cash (which is a taxable event). Since the price of JCI's stock was around $35.60 at the open of the market today, it seemed bizarre that the corporate officers who put this deal together somehow thought a share of JCI might actually be worth LESS in eight months than it is right now, especially if the merger was as good a deal as they were representing it to be. I was starting to actively wonder if JCI shareholders were actually getting a good deal. Ultimately, however, I realized that I was probably misunderstanding some aspect of the deal, which turned out to be the case. I kept looking it over and here's how I think it all pulls together:
The combined company would initially consist of four basic divisions: Batteries/Power Management; Fire Safety and Security (Tyco); Building Efficiency; and Automotive Seating. The JCI Automotive Seating division is scheduled to be spun off into a stand-alone company called Adient on October 3, 2016, and is expected to generate approximately $17 billion in revenue during FY 2016. (NOTE: JCI's Fiscal Year runs from October 1 to September 30, so the end of FY 2016 for our purposes is September 30, 2016.) The remaining three divisions are expected to generate approximately $32 billion in revenue between them during FY 2016. The combined JCI/Tyco will, therefore, generate about $49 billion in revenue for the year (although the merger itself will not take place until the END of FY 2016).
It's important to make note that the spin-off of the Automotive Seating division will not occur until AFTER the merger is complete. This means that shareholders of BOTH JCI and Tyco will receive significant ownership interest in the Automotive Seating division spinoff as a part of the merger deal - JCI shareholders will own 56% of the equity and Tyco shareholders will own 44%. (Another way to look at this is that JCI shareholders would be receiving equity equaling roughly $9.52 billion of revenue per year (i.e. 56% of $17 billion in revenue generated by Automotive Seating in FY 2016) and Tyco shareholders would be receiving equity equaling roughly $7.48 billion in revenue per year. (44% of $17 billion)) This is another part of the deal that struck me as odd on first reading: This spinoff was planned well before there was any notion of any merger, and now Tyco shareholders seem to be receiving 44% of a $17 billion/year company just for agreeing to this merger. The spinoff really only consists of JCI equity (there is no Tyco Automotive Seating division that is being consolidated with Adient) and Tyco shareholders are getting $7.48 billion worth of revenue equity for free (seemingly).
Shareholders would split the equity ownership of the remaining elements of the merged company (Batteries/Power Management; Fire Safety and Security; Building Efficiency) in the same ratios - JCI shareholders would own 56% of the equity in the new company and Tyco shareholders would own the other 44%. $32 billion in revenue would break down as $17.92 billion in revenue equity for JCI shareholders and $14.08 billion for Tyco shareholders. Since the merged company will consist of equity contributed by both companies, both sets of shareholders should be entitled to equity. JCI shareholders would receive $3.84 billion more in equity than Tyco shareholders, which would go part ways to offsetting the $7.48 billion in revenue equity Tyco shareholders received from the Adient spinoff, but there was still a $3.46 billion equity gap between the shareholder groups. ($7.48 billion revenue equity in Adient for Tyco shareholders minus $3.48 billion revenue equity premium JCI shareholders received above Tyco shareholders in the combined new company). This is where I think the $3.9 billion aggregate cash payment from Tyco to JCI shareholders fits in.
After working through the mechanics of the deal, the $3.9 billion cash payment looks like it was made to balance out the equity in Adient that Tyco shareholders will receive. I realize there is a difference between revenue, from which expenses and operating costs must be paid, and actual free cash like the $3.9 billion. Also, revenue from one company is not necessarily as valuable as revenue from another company with better margins. So it wouldn't be appropriate to make a straight "apples to apples" comparison of a $3.46 billion revenue equity gap to a similar amount of free cash in hand. However, depending on the margins you are able to generate, $3.9 billion is an amount that could be earned on $3.46 billion revenue over a period of a few years. Additionally, the 44% equity in Adient that Tyco shareholders will own will very likely eventually pay some sort of dividend, which would advocate for some additional free cash payment to JCI shareholders to whom the dividends were to have been paid over time.
At this point, I was feeling more confident that the values on either side of the deal can be shown to be reasonably balanced without too many mental gymnastics. However, I still had some difficulty figuring out HOW the $3.9 billion aggregated cash payment would be paid out to JCI shareholders.
My notes from the JCI/Tyco conference call announcing the merger this morning (Monday, January 25 2016 at 8:45 am EST) showed that someone had asked how many total shares the new company was likely to have. I did not write down the name of either the person who asked the question or the person who answered it, but the answer was roughly "somewhere around 940 million, but we don't have a firm number yet". Another person asked about the $3.9 billion and whether it would be an "either/or" situation for JCI shareholders- either take one share of the new company for one share of the old company, or take the money, but not both. The answer was that it would depend on how many shares were submitted for redemption and that shareholders could end up with both equity in the new company and cash.
The way I believe this is going to work, based on what I heard on the call this morning, is as follows: there will be $3.9 billion in cash available to JCI shareholders as a part of this merger. JCI shareholders will have the right, but not the obligation, to redeem some, all or none of their existing shares for $34.88/share in cash, which will retire one share of stock from the new company (a la buyback) and the $34.88 will be deducted from the $3.9 billion. At a redemption/buyback price of $34.88, there is sufficient capital to retire 111.8 million shares of the new company (or 111.8 million redeemed shares/940 million total shares = 11.9% of total shares), which would improve all remaining shareholders' equity by almost 12%. However, if the price of JCI is greater than $34.88 at the time of the actual merger (and I hope it is), then the incentive should be to retain the shares rather than take the cash payment. In this case, I believe, however, much cash is left over from the $3.9 billion after all voluntary redemptions are made will be distributed to the remaining JCI shareholders pro rata.
Per Yahoo! Finance, JCI currently has 647.9 million shares outstanding. For the sake of this example, let's say the price of JCI is $40.00 at the time of the merger and redemptions are light, with only $900 million from the $3.9 billion spent. This would mean 25.8 million shares have been redeemed ($900 million/$34.88 per share = 25.8 million shares redeemed) and would leave $3.0 billion to be distributed to the remaining 622.1 million outstanding shares (647.9 million JCI shares outstanding minus 25.8 million redeemed shares = 622.1 million JCI shares remaining), pro rata. $3 billion/622.1 million shares = $4.82 per share payout. So, either way, redemption or cash paid directly to shareholders, JCI shareholders actually make out much better than I originally thought when I first looked this deal over.
The only real drawback I see is the fact that Tyco has taken on an additional $4 billion in debt to cover the $3.9 billion payable to JCI shareholders. Tyco has a relatively light debt burden of about $2.2 billion at about 3.7% interest, so it isn't necessarily totally irresponsible to take on additional debt to finance a (transformational) transaction. However, I'm not quite as excited if it means the debt will carry forward into the new merged company.
Taken as a whole, though, I actually think this is not a bad deal for both Tyco and JCI shareholders. I will try to draft another article after the two companies hold their earnings calls later this week and look at the actual fit between the two organizations and the types of opportunities this merger may generate for a combined company going forward.
Disclosure: I am/we are long JCI.
I wrote this article myself, and it expresses my own opinions. I am not receiving compensation for it (other than from Seeking Alpha). I have no business relationship with any company whose stock is mentioned in this article.
Additional disclosure: The author is not a professional or licensed investment or financial advisor and the preceding article is intended for informational purposes only. It is not to be taken as "buy, sell, hold", or other specific investment or financial advice of any type. Before making any investment/financial decisions, investors are advised to conduct their own research to their own satisfaction and are solely responsible for the decisions and actions they take- the author bears no responsibility for any gains or losses of any investment decision made of any type based on this or any other article written by the author.