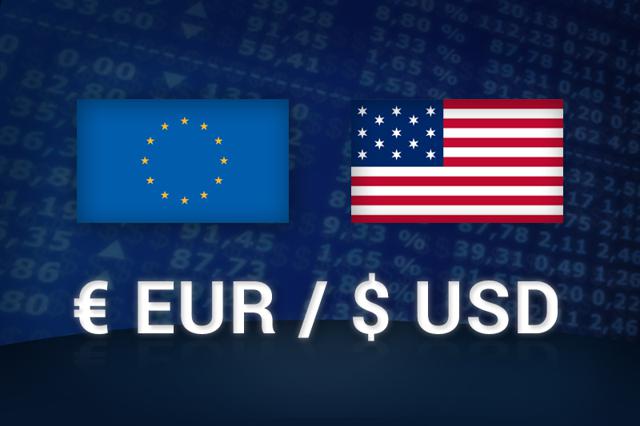 Click to enlarge
According to many market commentators the Euro (NYSEARCA:FXE) was supposed to reach parity with the US dollar in 2015, but the closest it got was 1.0458. Could 2016 now be the year we see parity for the first time in well over a decade for the world's most traded currency pairing?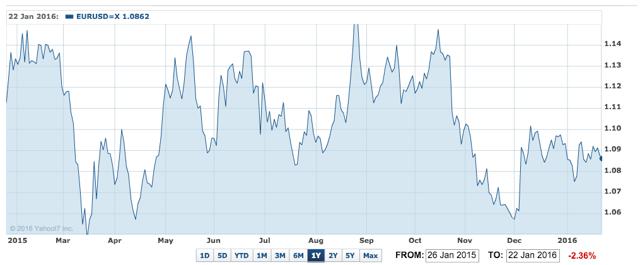 Click to enlarge
Source: Yahoo Finance
As you can see above it has been a turbulent twelve months for the pairing, with plenty of ups and downs for traders to profit from.
We believe that with monetary policy divergence between the United States and the European Union this year that there is a chance parity could occur. At the very least we do expect the Euro to slide down to 1.02 versus the US dollar.
We therefore see a real possibility of a 6% to 8% drop for the Euro versus the US dollar this year. It is for this reason that we believe shorting the Euro could prove to be a good move for FX traders.
As we previously mentioned, the pairing is quite volatile at times and we see this as a medium to long term move rather than a short term trade. We have a target of March in our minds, but acknowledge that it could in fact be much later in the year that it occurs. This really all comes down to the fact that the move will stem from macro events and when they ultimately happen is out of our control. Thus, we don't believe this is a wise trade for those that lack liquidity.
The catalysts that could bring about parity for the pairing are of course the big decisions coming from the Federal Open Market Committee and the European Central Bank this year.
On Wednesday the FOMC will meet, and while no action is expected by analysts at this particular meeting, recent data has cleared the way for interest rates to increase this year.
After Wednesday's meeting, March 15-16 will be the next time the FOMC meet, and for us the most likely meeting that rates will be increased further. Should rates rise then we would expect the US dollar to strengthen further against all the major currencies, the Euro included.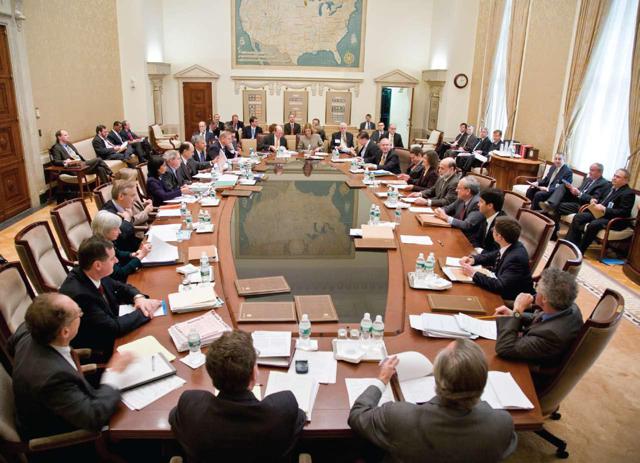 Click to enlarge
Source: FOMC
Back in the middle of December two-thirds of economists polled by Reuters believed that March would see interest rates rise in the United States. Recent positive job data coming out of the United States has supported this view. There could of course be a surprise on Wednesday, but at present very few economists believe there to be much chance of rate rises occurring then.
Over in Europe Mario Draghi, President of the European Central Bank, has indicated that the fading growth and inflation prospects that we're witnessing could force the European Central Bank to review its current policy stance in March. This to us hints at further easing coming in the next few months which could cause the Euro to lose a little of its value.
The combination of these two possible events in March is what we believe will send the Euro down towards parity. Whether it has the legs to reach parity is a matter of debate, but we see this year as being the year for it if its ever going to get down there.
Takeaway
We feel that the Euro will struggle to hold up against the US dollar in 2016 given the monetary policy divergence between the two economies, and that a move down towards parity is on the cards.
As the most likely time for each respective central bank to makes its decision falls in March, we see that being the month to watch. But, rarely things play out as planned, so we feel traders should be prepared to wait longer for such a move, as well as being prepared for the Euro to potentially climb a little higher before then.
Disclosure: I/we have no positions in any stocks mentioned, and no plans to initiate any positions within the next 72 hours.
I wrote this article myself, and it expresses my own opinions. I am not receiving compensation for it (other than from Seeking Alpha). I have no business relationship with any company whose stock is mentioned in this article.