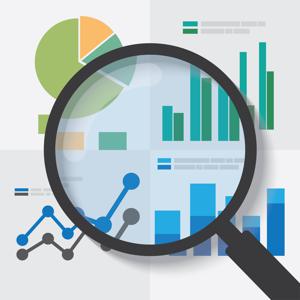 The new, often mysterious, world of finance and economics we find ourselves in post-crisis has been filled with strange phenomena that has had investors across the globe wondering how their portfolios may ultimately be affected. For instance, while the money supply has exploded, inflation has remained negligent. Economic growth has remained slow while equity markets have rocketed upwards. The list goes on.
What I'm going to discuss in this article is the growing inventory of American businesses, and how this could impact the U.S. economy of today.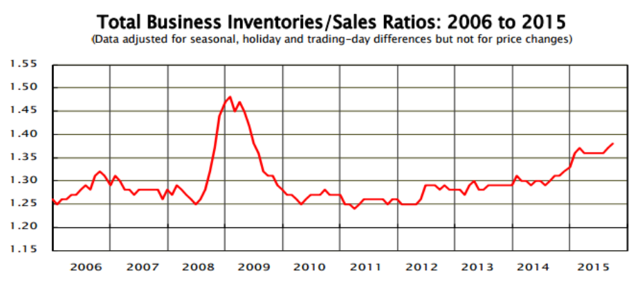 Click to enlarge
While you can't quite see it in the above chart, the inventories-to-sales ratio had been very consistently declining since the 90s, with short breaks in the trend around the early and late 2000's recession (as per the Federal Reserve). That trend broke in 2011, and the ratio has been moving upwards ever since.
What caused the reversal? I believe it is another unintended effect of the rapidly growing money supply in a disinflationary environment. As I'm sure those that have been following my past articles on the U.S. economy know, I'm currently very skeptical of exactly how the Fed's lenient expansionary policies are impacting the U.S.
Businesses will act in their best interest to maximize the profits they earn. Imagine you're running a retail business in an economy with low inflation, risks that inflation could skyrocket in the future because of loose monetary policy, and exceptionally low interest rates. What will you do to maximize the profits of your business? More than likely, you will buy as much cheap inventory as you can profitably finance with low-interest loans so that you're prepared when rising inflation and raising rates comes along some time in the future.
Low interest rates and sluggish inflation are fairly common things. Normally, the above process would help put upward pressure on prices and interest rates, which would then diminish the desire and ability for businesses to build inventory because consumers would buy up inventory more quickly as inflation begins to rise and higher interest rates would cause an increase in the cost of holding excess inventory. This time, though, the oversupplied money market and weak aggregate demand has put a wrench in the machine. Prices and rates are not raising, and firms are continuing to build their inventories faster than sales is picking up.
It should also be pointed out that much of this inventory growth is not a consequence of actual economic growth, as it is shown to be in the GDP figure. It is, in fact, companies "stealing" growth from the future. Now, instead of stimulating production and jobs in the future, consumer purchases will only deplete the overinflated inventories of the companies they are buying from. This distortion is one of the unfortunate side effects of exceptionally loose monetary policy, and it could lead to problems in the future; when businesses find themselves at capacity and stop buying inventory, leading manufacturing companies to cut production and jobs.
Disclosure: I/we have no positions in any stocks mentioned, and no plans to initiate any positions within the next 72 hours.
I wrote this article myself, and it expresses my own opinions. I am not receiving compensation for it (other than from Seeking Alpha). I have no business relationship with any company whose stock is mentioned in this article.