In January 2016 Bloomberg Commodity index hit 14-year lows. Today commodities are trading 30-50% below global marginal costs and most of the producers are losing money. This fact led to commodity producers shares sell-off - investors are punishing producers for being slow in output cuts required to stabilize and drive prices up. I believe that we are close to the turning point which will result in stock prices rebound, but I may be wrong. Still there are some companies which will earn decent returns for their investors in almost any possible scenario (at least if you buy at current depressed valuation). These companies are the ones with lowest production costs, strong balance sheet and liquidity profile as well as expertise to capitalize on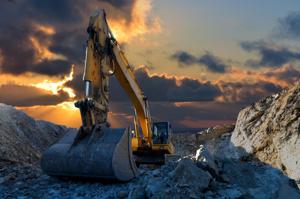 distressed quality assets purchases at bargain prices. One of these stalwart companies is Rio Tinto (NYSE:RIO).
It is hard to ignore recent commodity sell-off. Oil, iron ore, aluminium, nickel… should I continue? The reason behind it is both economical (significant excess of supply over demand) and speculative (macro trade on China and global growth decrease). Cost-cutting and currency depreciation kept marginal production hanging longer than expected but current prices still cannot support commodity output in the medium term at high enough levels to satisfy the demand. Though I don't push you to buy some ETF of commodity companies as the price rebound can take a while (year or two or in some cases longer). I think that the time is correct to start accumulating positions in future winners. It still can hurt as the market is irrational in the short term but will pay off handsomely in the medium and long term.
The company we are looking for should possess qualities which will allow it to benefit in almost any scenario expect maybe for global apocalypse (in this case you won't need any shares or money so…). Let's analyze possible scenarios and distinguish these qualities.
Key scenarios for commodity companies
Though every commodity market has different fundamentals the market dynamics are usually the same:
rising prices impose increased capital expenditures
it drives increased market supply
followed by falling prices (as there is not enough demand)
which triggers less capital expenditures, production cuts, M&A and bankruptcies
which means less supply and again rising prices. Go to point 1.
Therefore the best cure for low prices is low prices and for high prices is high prices. As for today we are in point 4 of the cycle:
commodities are trading 30-50% below marginal costs
most producers are losing money
substantial production cuts, project deferrals are in place
major debt defaults, bankruptcies and restructuring numbers are rising
extreme levels of commodities funds short positions
some sectors equity value is close to zero (e.g. US coal)
For each commodity market there are three possible futures scenarios:
two bizarre: let's name first - cartel and second - last man standing
the most probable: transformation and recovery
There is also a scenario when the world doesn't need some commodity at all (no more oil, steel, aluminium, etc. please) but I think SA readers don't consider it seriously (those who do can Google 'doomsday cult'). Ok, let's identify qualities of winners in each scenario.
Cartel scenario:
Key producers under pressure from their shareholders and other stakeholders will agree to curtail their production (like in 1994 did aluminium producers). Prices will rise above the level where ¾ of producers are profitable- to c. 1H 2015 level. The uncertainty will disappear and all the survivors' valuations will increase.
In this case the largest upside will be in commodity producers from the 3rd cost quartile who will have viable options to gradually repay their debt. 1st and 2nd cost quartile producer stocks will also rise.
Therefore:
Best bet: 3rd cost quartile companies with manageable debt at 1H 2015 commodity prices
Good bet: 1st and 2nd cost quartile companies with manageable debt
Bad bet: 4th cost quartile companies or companies with too large debt load
Last man standing scenario:
All the producers continue price wars till the moment when only one company shall stand. Though in real world such things just don't happen it seems that Mr. Market considers it the main scenario. All right, let it be. Ask yourself the following questions:
Who will be the last man standing? (my guess - the lowest cost producer)
How much it will take till the end? (my guess - up to 5 years maximum)
What will the company (last man standing) financials be after the end of the war?
Let me elaborate the last point. Whether there will only one company left it would have tremendous pricing power and opportunity to strangle any newcomer by targeting his markets (like Standard Oil did in its best days). I guess this Company value would be more than the whole industry capitalization today.
Therefore:
Best bet: lowest cost company with strongest balance sheet able to outsurvive any competitor
Bad bet: any other company
Transformation and recovery scenario:
IMHO, this scenario is most probable case as it occurred many times before. The scenario is very similar to the last man standing scenario expect for the war is finished faster with capitulation of high cost producers and companies with high debt load. In some cases (aluminium producers in China) I think the industry will experience consolidation and capacity curtailment in other demand would grow up to current supply. It will take some time but the end is clear.
Therefore:
Best bet: 1st and 2nd cost quartile companies with manageable debt which can sweeten the deal by paying dividends even at current depressed prices
Good bet: 3rd cost quartile companies with manageable debt
Bad bet: 4th cost quartile companies or companies with too large debt load
In every scenario the good or the best bet would be the Company must have the following qualities: production costs in 1st quartile across the industry and strong balance able to outsurvive any competitor. Whether we are talking about iron ore or aluminium Rio Tinto is the one.
Rio Tinto today - a quality asset at bargain price
Rio Tinto is mostly iron ore and aluminum and less copper, coal, diamonds and other minerals company: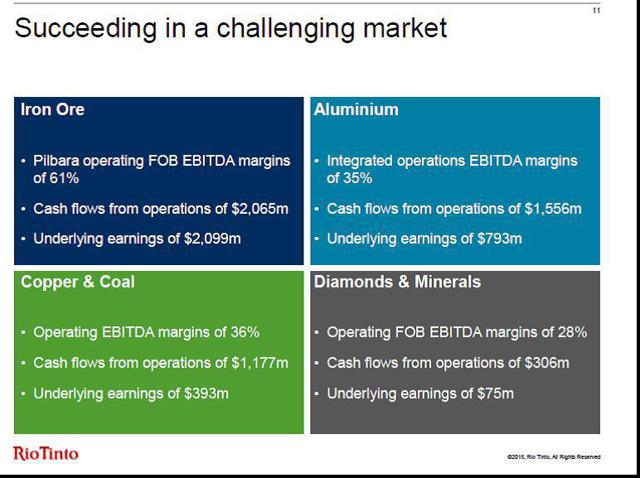 Click to enlarge
(Source: Rio Tinto 1H 2015 results presentation)
Rio Tinto is the most beautiful ugly among the miners. As everybody 'enjoyed' the sell-off Rio Tinto shares stood relatively strong: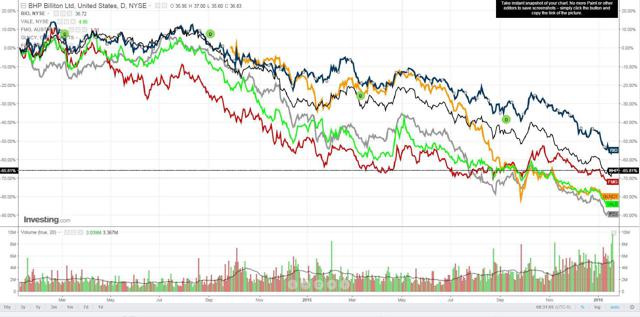 Click to enlarge
(Source: Investing.com)
The Company market capitalization is c. 43.5 USD billion (25 Jan 2016) and its net debt is 13.7 USD billion (last reporting date - 6 Aug 2015). Therefore the Company Enterprise Value is 57.2 USD billion. Is it a lot?:
Well it's pretty much the amount the Company invested in its business during last 5 years (57.7 USD billion = Cash flow from investing activities for period Jul 2010- Jun 2015)
It's c. 1/10 of the amount returned to shareholders in 2015 (via dividends and buy backs)
It's about 7.9x EBITDA for 1h2015 which amounted to 4'435 USD million
It is 1st cost quartile producer of iron ore and aluminium (see details below) and is one of few companies able to earn at today prices
It has strongest balance sheet and lowest net debt / EBITDA ratio compared to peers:

Rio Tinto net debt/EBITDA = 0.6x
BHP Billiton (NYSE:BHP) net debt/EBITDA = 1.1x
Vale (NYSE:VALE) net debt / EBITDA = 4.9x
Fortesque Mining Group (OTCQX:FSUGY) net debt / EBITDA = 4.4x

It can maintain its balance sheet strength by decreasing capital expenditures (see Rio Tinto presentation p. 15)
It can opportunistically purchase competitors assets at distressed valuations
Based on financials and operational metrics Rio Tinto looks beautiful. So the sell-off is all about the commodity market prospects. But as I discussed above it should not bother the shareholder as in each possible scenario Rio Tinto will be a winner and its shareholders will earn decent returns via combination of dividends and stock price appreciation (when prices will recover to 1H 2015 the Company full year EBITDA will amount to c. 9.0 USD billion and there is little chance that Company EV would stay at current level of 57.7 USD bn or 57.7/9.0 = 6.4xEBITDA)
The investment thesis is finished. You can continue reading about key markets the Company operates and its cost position on them or end here.
Iron Ore market and Rio Tinto position
Today iron ore prices are approximately at 2005-2006 years level in constant US dollars: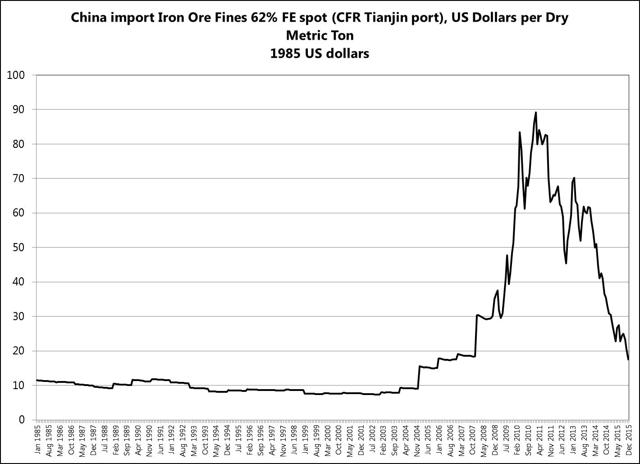 Click to enlarge
Source: (indexmundi.com adjusted for inflation)
We see on the chart iron ore prices started to decline in 2010. Key factors that drove the sell-off are still relevant:
Demand growth decreasing:

China iron ore consumption growth which was basically the trigger for iron ore price rally in 2004-2010 stopped
There is serious threat of further steel production from firstborn iron decrease in China due to ecological issues and increase of steel production from scrap
New iron ore consumers are yet to appear (candidates are India and/or Africa)

There is too much supply and it is growing

Miners overinvested and expanded capacity too much
There is strong pipeline of high quality iron ore projects waiting to be commissioned
Therefore the outlook for iron ore seems quite grim, don't you think? Next several years should be tough and some companies would go belly up but the agony would not last forever as today a lot of small miners are losing money on each ton produced. Only four noticeable companies are making money today - Rio Tinto, BHP Billiton, Vale and FMG. Please see iron ore cash curve from Rio Tinto presentation (four large squares are big 4 miners):

Click to enlarge
(Source: Rio Tinto 1H 2015 results presentation)
While the majors (Big 4) onslaught against minor players continue some cracks are starting to appear in their armor:
Vale and BHP are suffering Samarco closure
Vale and FMG ratings were downgraded and their financing costs are higher today
Aluminium market and Rio Tinto position
Aluminium prices today are close to historical minimums: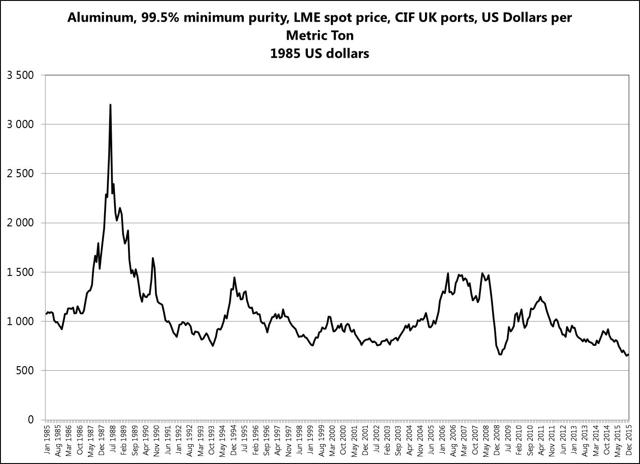 Click to enlarge
Source: (indexmundi.com adjusted for inflation)
While the industry enjoys growing demand, China built too much capacity for market to handle. What is important though is that at current aluminium prices of 1'500-1'600 USD per ton only the best producers (including Rio Tinto with smelting cost of 1'250-1'300 USD per ton) are making any money: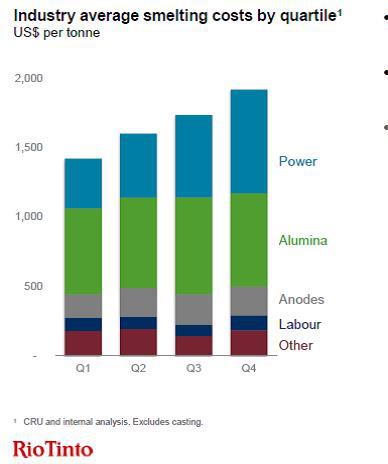 (Source: RioTinto aluminum seminar presentation)
The main issue is oversupply from China. Chinese producers are inefficient but supported by government credits in order to maintain jobs. In the meantime top producers started to close their least efficient facilities and increase the costs to compete (link 1 - Alcoa (NYSE:AA) production cut, link 2 - Rusal production cut).
It can take a while for situation to change but it will happen rather sooner than later. China's economy doesn't have a lot of resources today to sustain uncompetitive production and will have to cut the industry life support credit lines. When it happens some company like Chinalco will consolidate the industry quickly and halt excessive supply. Watch it happen.
Copper market and Rio Tinto position
Copper prices today are pretty healthy compared to period prior 2004: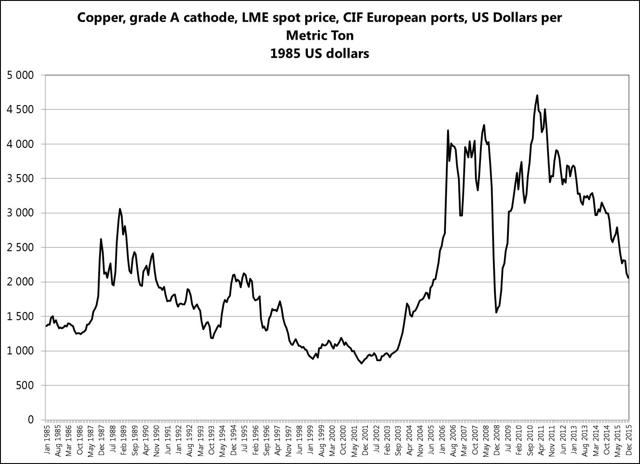 Click to enlarge
Source: (indexmundi.com adjusted for inflation)
I don't know a lot about situation in copper market and you need to form your own opinion here, but while doing it please consider the following facts:
According to different estimates 20-50% of copper producers are loss making at current prices
Copper demand was more resilient than generally appreciated in past 2-3 years
Global copper stocks at 7-year lows with LME stock on warrant of just 180kt (less than 3 days consumption)
Both Rio Tinto and BHP Billiton have positive outlook on copper and are looking at M&A opportunities with focus on copper (e.g. here)
As for Rio Tinto copper assets - they are not the best in the world but still are making money at today's prices - which is good: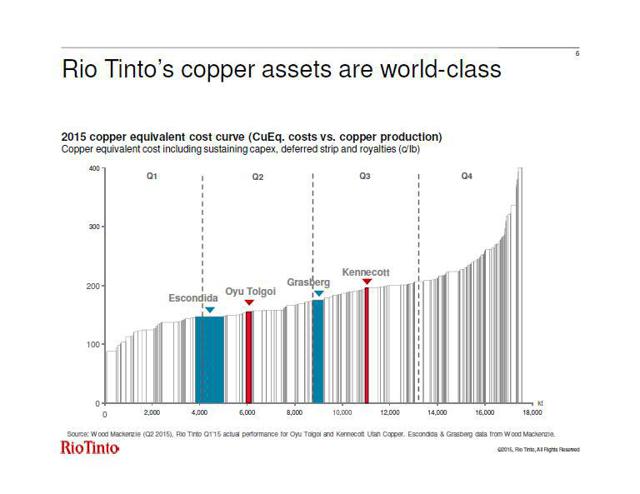 Click to enlarge
(Source: Rio Tinto Copper and Coal roadshow presentation)
Coal
Coal prices dynamics is pretty much the same as iron ore: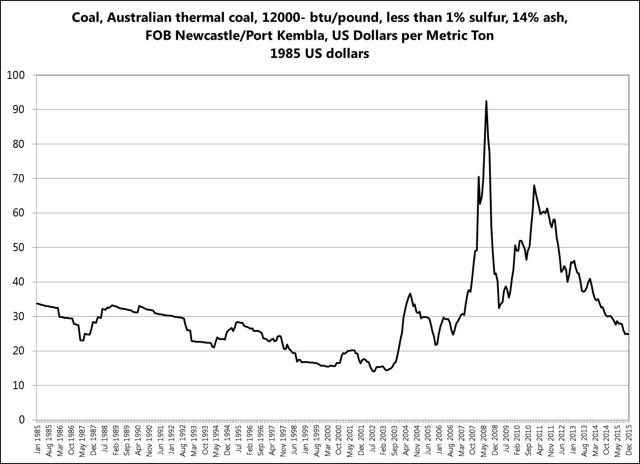 Click to enlarge
Source: (indexmundi.com adjusted for inflation)
The situation is tough. As coking coal is still relevant and after curtailments happening today will probably see some upside, energy coal is hit really hard with little chances for turnaround in near future.
King Coal will revive someday but I don't think it will happen fast. Fortunately Rio Tinto story is mostly about iron ore, aluminium and copper.
Is it time to buy or wait a bit?
I don't know but the history tells us that stocks begin rising well in advance to commodity prices rise. See how Alcoa stock prices performed vs aluminum prices: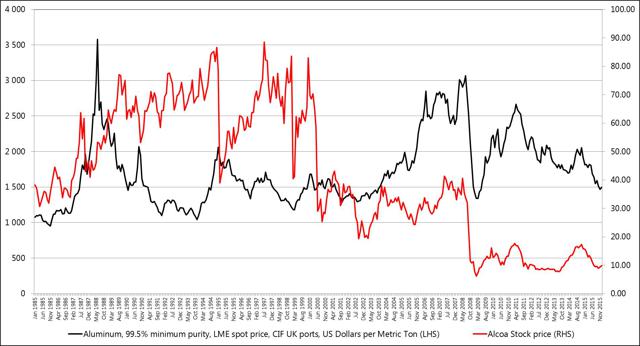 Click to enlarge
or Freeport-McMoRan against copper: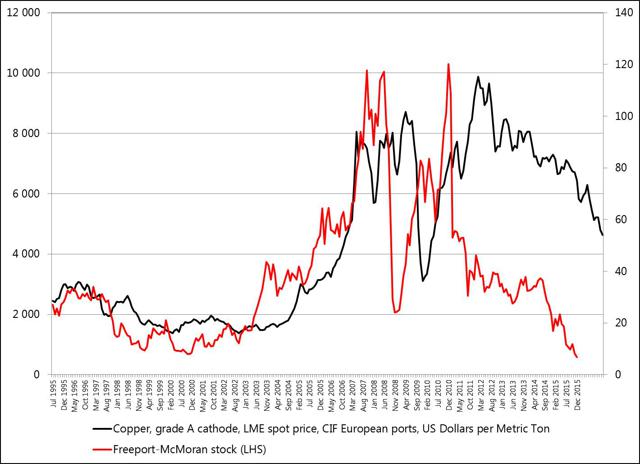 Click to enlarge
As for me it's time to Rio.
Disclosure: I am/we are long RIO, BHP.
I wrote this article myself, and it expresses my own opinions. I am not receiving compensation for it (other than from Seeking Alpha). I have no business relationship with any company whose stock is mentioned in this article.
Editor's Note: This article discusses one or more securities that do not trade on a major U.S. exchange. Please be aware of the risks associated with these stocks.