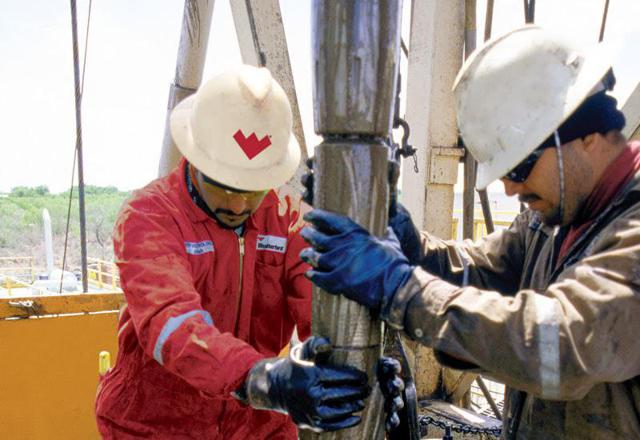 Click to enlarge
Source: capitolhillcubons.com.
Moody's junked Weatherford (NYSE:WFT) in October due to its weak cash flow to debt metrics. Fitch downgraded the oilfield services company on Monday from "BBB-" to "BB" with a negative outlook:
The downgrade reflects Fitch's lower and longer services recovery profile assumption resulting in the forecast leverage profile remaining above our through-the-cycle levels for a 'BBB-'/'BB+' credit over the rating horizon ... Fitch's base case currently forecasts 2015 debt/EBITDA of 5.6x compared to our previous April estimate of 3.2x. The difference is mainly a result of less than expected debt reduction and lower activity and pricing pressure during the second half of 2015. Leverage metrics are currently forecast to increase further to 6.4x in 2016 with incremental oil & gas price-driven leverage metric improvements thereafter.
The bond market appears to agree with Fitch, having driven up Weatherford's bond yields to as high as 11.5% -- over 900 bps above 10-year treasuries: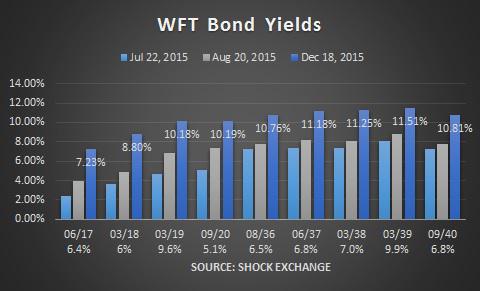 Fitch highlighted some major issues with Weatherford's credit quality. Below is my interpretation (all quotes taken from linked article cited above):
Heightened Liquidity and Refinancing Risks
The Negative Outlook considers the potential that an extended oilfield services downcycle could further heighten liquidity and refinancing risks. The one-year credit facility extension received in the second quarter of 2015 (Q2'15) and cancelled common equity and mandatorily convertible subordinated notes offering in Q3'15 suggests management may have to accept accommodative bank and capital market terms to preserve financial flexibility.
My interpretation:
In September, the company cancelled a proposed $1 billion capital raise to "pre-fund acquisitions." In my opinion, management may have tipped its hand that Weatherford is in need of capital. Including an estimated $1 billion capital hole, I believe WFT is worth $2.25. However, if Weatherford has to raise capital with oil prices sub-$30, the capital markets may not be so accommodative. Pricing for new equity could be punitive, if it gets priced at all.
Consistent Cash Flow Generation Challenged
The Outlook also reflects the effect that persistently low oil & gas prices could have on U.S. and international exploration and production (E&P) company capital budgets. Lower E&P activity levels will likely challenge the company's ability to consistently generate free cash flow ("FCF") to meaningfully pay down debt.
My interpretation:
Through September 2015 Weatherford's cash flow from operations, less capex, was negative; cash flow from operations was $383 million, while capex was $542 million. Oil prices sub-$30 could exacerbate the company's cash flow problems. RBC's Kurt Hallead expects a $500 to $600 million improvement in free cash flow in 2016. However, I would prefer to wait until Weatherford delivers before making any bullish bets on the stock.
Forecasted FCF and Maturities Profile Increasing Liquidity Risk
Over the next five years, Weatherford has $350 million in 5.5% senior notes due February 2016, $600 million in 6.35% senior notes due June 2017, $500 million in 6% senior notes due in March 2018, $1 billion in 9.625% senior notes due March 2019, and $800 million in 5.125% senior notes due September 2020...

Fitch's rating case forecasts that the company may need to draw on the credit facility to at least partially refinance the 2016 and 2017 maturities. Forecast FCF and the scheduled maturities profiles suggest the company will require access to its credit facility, particularly in the current challenged capital market environment. Fitch expects the company to renegotiate the existing credit facility during the first half of 2016 with some accommodation of terms likely.
My interpretation:
Though the company has $519 million of cash on hand, most of it is located in foreign markets where currencies may have depreciated against the dollar. If Weatherford has to continually tap its short-term credit facility to repay its subordinated debt, debt could potentially rise high enough to cause a breach of its debt covenant. Currently, debt-to-capitalization has to be less than 60%.
Also, Weatherford is monetizing its accounts receivable (A/R) and other short-term assets to sustain itself. These are assets short-term creditors would likely look to in order to be repaid. By my estimation, by year-end 2016 the company's liquid assets, less short-term payables may not be enough to repay short-term lenders:
By the end of 2016, I project liquid assets of $3.1 billion (cash, accounts receivable, other current assets) and short-term liabilities of $1.9 billion. That would leave net working capital of about $1.2 billion to repay JPMorgan's (NYSE:JPM) $1.7 billion loan. Moreover, this does not include the $600 million principal payment in 2017 due to bondholders below JPMorgan on the capital structure.
This could cause short-term lenders to delay or refuse to renew Weatherford's short-term lending agreement, which renews in the second half of 2016. Such an event could trigger liquidity strain for the company.
Covenants and Guarantees
The company's main financial covenant is a maximum debt-to-capitalization ratio of 60% (51.9% as of Sept. 30, 2015) contained in the revolver. The covenant, as defined in the credit agreement, does not have a non-cash asset impairment carve out with the exception of foreign currency translations. This may introduce covenant pressure given the potential impact that depressed oil & gas prices could have on stockholder's equity.
My interpretation:
Fitch's explanation of potential "covenant pressure" from a non-cash asset impairment is telling. For months I have been saying that Weatherford's goodwill and inventory could be impaired by $1.8 billion and $540 million, respectively. Such impairments could impact the company's debt covenants. I realize the asset impairment tests are subjective and the auditors have final say. That said, Schlumberger (NYSE:SLB) and Halliburton (NYSE:HAL) both reported double-digit declines in revenue from North America in Q4. If Weatherford reports similar results it could be another basis for the $1.8 billion in goodwill attributed to North America to be written off.
Is Fitch Downgrade the Final Straw?
The fact that the Fitch downgrade follows the Moody's downgrade could be damning for Weatherford. In addition, Moody's put the company on review for another ratings downgrade last week. The company has uncommitted short-term facilities of about $240 million; the Fitch action could cause these facilities to non-renew when they come due this year. This could cause Weatherford to have to tap its short-term lending facility again to replace this capital.
Also, counterparties may reduce their exposure to the company. I project Weatherford's accounts payable and other short-term liabilities of about $1.9 billion at year-end 2015. If counterparties reduce these amounts, it could hamper the company's cash flow or trigger liquidity strain. This is in addition to strain caused by foreign exchange issues and declining oil and gas E&P. A contraction by short-term lenders and/or counterparties could be the straw that breaks Weatherford's back.
Disclosure: I am/we are short WFT.
I wrote this article myself, and it expresses my own opinions. I am not receiving compensation for it (other than from Seeking Alpha). I have no business relationship with any company whose stock is mentioned in this article.