This Article was written by Michael Smertz, John Zhang, Garrett Finn and Bernardo Teixeira, from the NU Student Value Fund.
Following a very weak 2015 for Scripps Networks' stock (NYSE: SNI) it appears that this upcoming year will open an opportunity for value investors willing to purchase one of the highest quality media stocks for a straight up bargain. We believe that the negative sentiment surrounding this firm will likely change in the future as Scripps is correctly positioned to take advantage of the "young-adult" demographic and it has evolved to benefit from online streaming. Our objective in this article is to show you the reasoning behind our buy recommendation and some of the idiosyncratic risks investors face while investing in Scripps Networks.
Thesis Highlights:
Recent downturn creates an opportunity for value investors
Last year SNI's stock price decreased by over 26%. The decrease in price has been followed by a decline in some key operating metrics like revenue growth (2013: 9.7%, 2014: 5.3%, 2015: 3.4%) and operating margins (2013: 44%, 2014: 43%, 2015: 42%). Nonetheless we believe that the 26% collapse in price is uncalled for as the company still has a prosperous future ahead. If we assume that Scripps Networks will continue to grow its assets just below its five year average rate of 14%, and the firm's discount rates will remain close to 6% (SNI beta: 1.5, Equity Risk Premium: 2%, Risk Free Rate 3%) we can estimate that the market is pricing this stock for a steep decline in its return on invested capital (ROIC). As per our calculations the market is currently expecting ROIC to decrease from 17.7% (LFY) to 6.47% five years from today. Given some of the reasons we shall describe later we believe this is highly unlikely to happen.
Favorable demographics & engaged audience
Scripps possesses one of the most desirable audiences in the industry. Its favorable demographics enable the company to have one of the highest costs per thousand impressions (CPM) among cable networks. Networks like the Food Network and HGTV dominate the age 25-54 demographic. This audience is younger and wealthier, which leads to higher user engagement and brand loyalty. Scripps' audience will allow it to better weather a shift to over-the-top and alternative content distribution models.
Cost effective operating model that evolves with trends
One of Scripps' defining characteristics is its low cost of production. Comparing the budget of the Food Network to that of the Discovery Channel or HBO, production costs are noticeably lower. Owning almost all of the content of their non-international shows, management is able to prevent big losses and put forth some really outstanding financial metrics. Furthermore, many cable network stocks have been seeing losses in market share based on fears related to the rise of online streaming companies such as Netflix and Amazon. However, Scripps has been proactive in getting their content online. Scripps has already signed contracts for over-the-top services with Netflix, Amazon, Sling TV, and a long term contract with Verizon was signed in 2015. Further, Scripps is embracing the online "TV Everywhere" trend and leveraging the fact that it owns much of the content it produces by putting this media on a company-owned streaming site, ulive.com.
Cheap valuation opens an opportunity for value investors
While SNI is currently trading at a forward P/E of 12x, some of its closer competitors like AMC, DISCA and TWX trade at 42x, 16x, and 15x forward earnings respectively. In addition, SNI's current price implies a forward EV/EBITDA of 8.9x versus an industry median of 10x. Given Scripps' high operational quality and some other factors that makes the company fundamentally better than any of its competitors in the industry, we believe that current prices materially undervalues SNI. In our view the only firm that appears to be cheaper in the media industry is VIAB, but we believe that SNI has a greater likelihood of triumphing in the near future than VIAB.
SNI Comparable Multiples:

Source: Produced by the author using publicly available data
In order to quantitatively estimate the factors that would have to become true in order to justify Scripps current market price, we have used a reverse DCF model (for more information, visit my profile page). In this approach, we have identified what SNI's asset growth and return on invested capital would have to be for the next five years in order for them to be fairly valued today.
Presently, there are 19 street analysts that follow Scripps. The average expectation is that the company will grow its top line at around 13.6% this year and 7% in 2017. Assuming average analyst expectations are roughly correct and asset turns remain approximately the same as the historical average, this implies asset growth for the following two years will be in the range of 10-15%. Scripps' asset growth is further estimated in the graph bellow for 2017-2019.

Click to enlarge
Source: Produced by the author using publicly available data
If the asset growth forecast presented above is roughly correct, it would imply that in order to justify its current valuation, SNI's return on invested capital would have to decrease significantly. As you can see in the graph below in the yellow bar, the ROIC would have to decrease from close to 17.7% LFY to around 6.5%. In our view, the market is currently being overly pessimistic about Scripps' future, as ROIC rates are below historical averages and do not seem to fully price in all the growth opportunities that this company has.
In contrast if Scripps is able to deliver an ROIC displayed in the blue bars investors should expect to see an appreciation in market price of at least 40%.

Click to enlarge
Valuation Details

Click to enlarge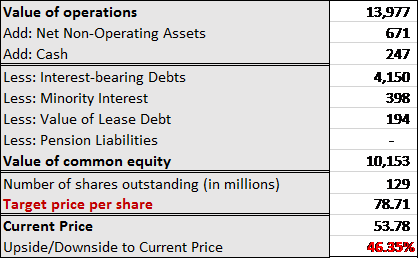 Source: Produced by the Author using publicly available data
Cost Effective operating model that evolves with trends
In an era where media distribution is rapidly changing, networks with high cost programming are running out of options. Many of Scripps' competitors such as Viacom have taken large losses in net income, while Scripps continues to increase its profitability. Scripps leads its competitors' EBITDA Margin with 42.1%, showing how efficiently it manages costs, comparing to an industry average of 29.6%. The company also has one of highest ROIC at 17.7% which is a testament to good management and innovation, showing its consistent investment in profitable ventures. The biggest reason why Scripps is able to keep costs so low is because the types of shows the network produces are extremely low budget. They are generally unscripted, cast low pay-scale talent, and utilize minimalistic or nonexistent sets. These factors all lead to low capital intensity and operating costs and enable the long-term profitability outperformance over its competitors.
| | | | | | | |
| --- | --- | --- | --- | --- | --- | --- |
| | SNI | VIAB | AMC | DISCA | TWX | CBS |
| EBITDA Margin | 42.1 | 25.1 | 15.7 | 36.6 | 26.4 | 22.1 |
| ROIC | 17.7 | 19.0 | 6.5 | 15.1 | 14.2 | 13.9 |
Low Programming Costs Benefits and Downsides
Low programming costs have resulted in Scripps possessing industry-leading margins and ROIC. The main downside to low production cost programming is that it leaves the door open for imitation and competition. Scripps uses lower cost talent and lifestyle content, in general, has low programming costs. While this bodes well for margins, it allows competitors the opportunity to inexpensively put out competing programming against Scripps. However, Scripps has remarkable viewer loyalty and ratings consistency. Management boasted the fact that 87% of U.S. households tuned into one of its networks during Q3 2015, showcasing its widespread popularity and the dominance it holds in the lifestyle space. (Source: SNI Q3 2015 Earnings Call Transcript)
Online Streaming
Many cable network stocks have been punished this year based on concerns about the decaying TV industry due to the rise of online streaming companies such as Netflix and Amazon. The immediate term concern is somewhat overblown due to the loyal and engaged audience of Scripps' most popular networks. Yet Scripps has been adapting and realizes that traditional TV advertisements will no longer be sufficient to generate revenue in tomorrow's economy. One way they have stepped up to the challenge of evolving their business model is by creating their own website in 2013 entitled "ulive.com" which features select episodes of all Scripps' top shows. This serves to give their audience a taste of some of their favorite shows and free advertising for their other networks.
Scripps has also made deals with online, subscription-based players such as Amazon and Netflix. The Amazon deal lasted for a year and was ultimately unsuccessful as demand on the site was not high enough to constitute the contract, but the Netflix deal with the Food Network proved successful and Netflix still retains some of the Food Network's programs. This is significant because it marks Scripps's first foothold in over-the-top offerings. However, management is still hesitant with these over-the-top contracts as it simply wants to utilize older episodes to draw new viewers to live programming. Scripps will also be a large player with Verizon's new Go90 Mobile app which provides TV Everywhere content directly to Verizon phones. This will once again allow Scripps to target a new audience of potential consumers as well as generating extra revenue, and is a great starting point for being a frontrunner in a new type of distribution content. More than 45 series will be included in the deal with Verizon and it is a multi-year contract so this will likely be the beginnings of an ongoing profitable partnership for Scripps. To summarize, cable networks will not be able to make as much money selling their content to over-the-top providers or utilizing the TV Everywhere distribution model. These methods both miss one of the dual revenue streams traditional television offers (Ad fees and affiliate fees). However, we believe that this fear attached to a perceived over-reliance on advertising is overblown for a few reasons, presenting an opportunity to invest on a dip in the stock price. Scripps owns all of its content. This means they are able to monetize it regardless of how consumers choose to access it. Whether this is through traditional cable, online at a company website, or an over-the-top service like Netflix, Scripps controls and can sell rights to its highly-demanded shows. As of now, Scripps is limiting almost all of its content to cable to TV Everywhere distribution. It does have a very restricted partnership with Netflix, where it posts a small amount of older content to reach viewers who would not have normally consumed lifestyle content. While the landscape of advertising is shifting, Scripps has invested and planned ahead and is structurally set-up to take advantage.
Favorable Demographics
Scripps is able to leverage its advertising revenue stream through top-notch viewer loyalty and demographics. This is accomplished through commanding a younger, and wealthier audience than the industry. Lifestyle content generally draws a more affluent viewership. Channels like Food Network, HGTV, and the Travel Channel are highly attractive advertising mediums for companies. HGTV is consistently ranked as the number one network among upscale women, and was recently ranked as the number one network for women aged 25 to 54. This success is exemplified by the high-single digit increase in CPM (cost per thousand impressions) so far in Q4. As the advertising market recovers from its most recent hiccup, Scripps is primed to take advantage of advertisers playing catch-up and paying premiums to showcase their products on Scripps' networks.
International Expansion
Scripps' recent acquisition of the Polish cable network TVN was made for a few reasons. First, Scripps, along with all other domestic cable content producers, is being faced with slowing advertising growth in the United States. The move internationally allows them to take content that has proven to be successful and apply it to a market that still has years of growth potential. Scripps is hoping to implement the same type of successful formula there as it has domestically, as well as with many of its existing joint ventures in Europe, Asia, and South America. This further diversifies the company's revenue outside of the United States. Another benefit of the acquisition is that it provides a hub for Scripps to expand further into Europe in the future. While Scripps has taken on significant leverage to finance this deal, we believe that the revenue diversification benefit and growth potential of this market and others abroad justifies the strategy.
Thesis Risks
One of most concerning risks for Scripps Network Interactive is cord-cutting. As the number of alternatives to traditional subscription television services increase, more and more customers are canceling their subscriptions to these services, and instead favoring combinations of broadband internet and IPTV, digital video recorders, digital terrestrial television broadcasts, or free-to-air satellite television. A recent study indicates that the number of cord cutters in North America is growing; in 2014, 8.2 percent of former pay TV subscribers surveyed by TiVo subsidiary Digitalsmiths said they ditched their service, an increase of 1.3% over the prior year. Furthermore, 45.2% said they reduced their cable or satellite TV service during the same time frame.
Companies in the entertainment/communications industries are making moves to shield themselves from this trend. Comcast has pivoted to embrace a more content-focused strategy, purchasing a minority portion of CNBC parent NBCUniversal in 2011 and taking full control of the company in 2013. Scripps Networks Interactive is also responding to cord cutting. They have made strategic investments in Tastemade, one of the largest and most well-known food content sites, and Refinery29, a site that makes content for young women. A big advantage that Scripps has is that they develop and own their own content, which they have been putting into bundles and "skinny bundles", and have licensed their content to Sling. Moreover, Scripps has been looking into their options when it comes to producing content on additional platforms outside of TV's, such as mobile phones. Finally, Scripps is inherently more shielded from the dangers of cord-cutting than many of their competitors. Its channels are some of the most important to the enjoyment of cable in their target audiences. Also, this loyal viewer-base predominately watches Scripps' content as it is shown live.
Conclusion
Given Scripps' attractive valuation, high operational quality, and growth opportunities in the networks industry we believe that Scripps is a solid buy. Our view is that the market is currently mispricing this stock and that value investors should take advantage of it.
Disclosure: I am/we are long SNI.
I wrote this article myself, and it expresses my own opinions. I am not receiving compensation for it (other than from Seeking Alpha). I have no business relationship with any company whose stock is mentioned in this article.