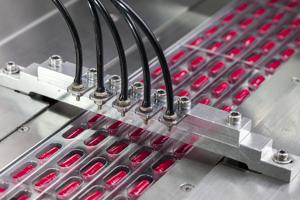 Investors searching for a reason for biotech market blues for once cannot point to lack of research and development productivity. Last year was another big one for FDA drug approvals, adding nearly $28bn in forecast sales five years after launch.
In terms of numbers, the 57 new small molecule and biological products authorised in 2015 is the best this century, although the fifth-year US sales estimate falls a little short of 2014's $29bn. However, that incredible benchmark was achieved thanks to the record-smashing hepatitis C pill Harvoni, so biopharma has every reason to be proud of its 2015 output (see tables below).
FDA approval analysis – the past decade
Year
No. of NMEs approved
No. of biologicals approved (CDER + CBER)
Total NMEs + biologicals
% chg in total new products
US sales 5th year post approval ($bn)
% chg in value added
2015
33
24
57
14%
27.7
(4%)
2014
31
19
50
43%
28.8
71%
2013
25
10
35
(19%)
16.8
22%
2012
31
12
43
23%
13.8
30%
2011
24
11
35
35%
10.6
(10%)
2010
15
11
26
(24%)
11.8
115%
2009
19
15
34
10%
5.5
(2%)
2008
21
10
31
19%
5.6
30%
2007
16
10
26
(10%)
4.3
(52%)
2006
18
11
29
4%
8.9
35%
One thing 2015 will not be able to claim is the same sort of clustering at the top that was the feature of 2014. Harvoni along with the immuno-oncology giants Opdivo and Keytruda account for more than a third of the fifth-year sales forecast of the class of 2014, whereas the top three drugs of 2015 account for a little more than a quarter.
And, while 2014 featured the talk of the town in hep C and immuno-oncology, the big three approvals of 2015 were in less hyped disease areas: Orkambi in cystic fibrosis, Entresto in heart failure and Repatha in hypercholesterolaemia. All of these won blockbuster forecasts on the basis of significant improvements on standard-of-care treatments– a survival benefit has been proven conclusively only with Novartis's Entresto.
Gilead Sciences (NASDAQ:GILD) appears in the top five for at least the fourth year running, this time with the HIV treatment Genvoya rather than one of its hep C offerings.
A breather for oncology
This analysis includes both the drugs and biologicals approved by the FDA's Center for Drug Evaluation and Research and the vaccines, blood and tissue products authorised by the Center for Biologics Evaluation and Research. Forecasts are based on EvaluatePharma's consensus of sellside analysts.
Given the focus on oncology in the past few years it is surprising that the only cancer-treatment entry in 2015's top five approvals is Pfizer's (NYSE:PFE) Ibrance, and that this is a small-molecule kinase inhibitor rather than the immuno-oncology drugs that marked 2014.
The coming couple of years should see a return to form for immuno-oncology, with Roche's (OTCQX:RHHBY) atezolizumab due to reach the US regulator this year, followed closely by AstraZeneca's (NYSE:AZN) durvalumab, Pfizer's avelumab and, potentially, Novartis's intriguing CAR-T project CTL019.
All told, nine new FDA-approved products look to be destined for blockbuster US sales in five years, including Repatha's rival Praluent and Novo Nordisk's (NYSE:NVO) long-acting insulin Tresiba. Five more are on track to hit that target within seven years, like Sanofi's (NYSE:SNY) own long-acting insulin Toujeo and Johnson & Johnson's (NYSE:JNJ) multiple myeloma drug Darzalex.
This is an unprecedented level of quality for the sector. Just two years ago seven potential blockbusters in a year seemed like a huge achievement, but pharma developers continue raising the bar (2013: The year of seven blockbusters, January 22, 2014).
Considering the numbers from the pre-patent cliff year of 2007 one can see how the innovation engine has come to life. This helps to explain why biotech has, until very recently, been such an attractive destination for investment.
Sustaining the prices that underlie all these forecasts is another matter. Until it becomes clear whether this can be done, biotech could be in for some volatile times in spite of the clear R&D wins.
To contact the writer of this story email Jonathan Gardner or Edwin Elmhirst in London at news@epvantage.com or follow @ByJonGardner or @EPVantage on Twitter