PDF Solutions (NASDAQ:PDFS), founded by CEO John Kibarian and Kimon Michaels in 1991, is a solutions provider in the semiconductor industry mainly in the areas of yield management and process control. The company's share price has fallen more than 50% in 2015 due to excess inventory at some of its foundry customers like GlobalFoundries and Taiwan Semiconductor (NYSE:TSM) in 28nm node.
However, 2016 should be a good year for the company with foundries shifting silicon production toward smaller nodes like 16nm and 14nm. Further, in the next three to five years PDF should see rising demand for its Exensio big data software platform, as the company adjusted the platform for making it compatible with the upcoming 10nm and 7nm nodes.
Business Overview
PDF Solutions' core business model involves offering semiconductor companies Design for Manufacturability (DFM) technology. DFM is a unique technology that helps semiconductor players enhance silicon yield. Since yield and profitability are closely tied in the semiconductor industry, the company's solutions help clients increase profits.
The company's Exensio software platform offers clients a wide range of solutions. The Exensio platform works by analyzing data collected from the entire ecosystem of the semiconductor industry. PDF's solutions help both fabless chipmakers and foundry operators (see the image below).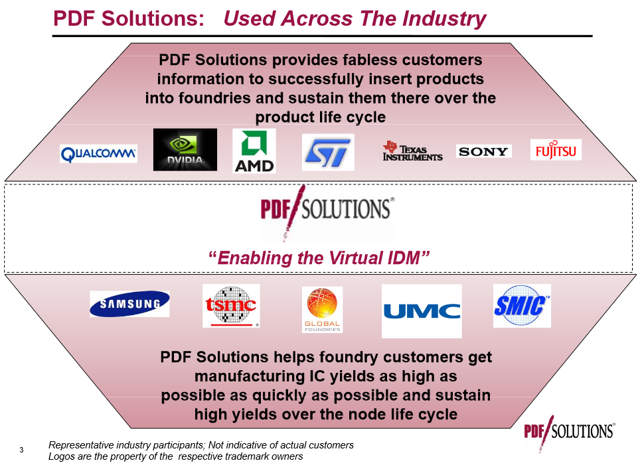 Image Credit: PDF Solutions
Exensio-Yield, part of the platform, provides solutions to the foundries to fine tune their equipment so that higher yields can be achieved. Using Exensio-Yield chipmakers can introduce chips not only at a rapid pace but also at a lower cost. Exensio-Control, which provides advanced process control, helps clients manufacture chips in high volume without sacrificing quality.
In addition, the Exensio software platform offers CV (characterization vehicle) electrical test chip solutions via Exensio-Test and Exensio-Char. These solutions are most widely used across the semiconductor industry.
PDF's Growth Opportunities
PDF generates revenues from two sources. First, it earns fee-based income by designing silicon yield solutions for fabless and foundry clients. The company calls it design-to-silicon-yield solutions revenue, or simply solutions revenue. Second, it earns "gainshare" performance incentives by helping clients achieve yield targets, which the company calls gainshare revenue. Since gainshare revenue is directly correlated to volumes of wafer production shipped by its clients, it is highly volatile.
In 2015, gainshare revenue growth remained below average levels due to a meaningful decline in volumes in the 28nm node. Chipmakers had record inventories in this node. The 28nm production will peak 2018, and by that time the standard foundry process will move toward 7nm. In the meantime, 16nm and 14nm nodes will see volume growth.
To take advantage of the situation, PDF management has shifted its focus on smaller nodes. It has started a 10nm ramp in the third quarter of 2015 and signed a number of contracts with Chinese players in the 10nm node. Volume will increase substantially in smaller nodes from this year. As a result, the company's gainshare revenue will grow significantly in the next three to five years.
Once 7nm becomes the industry standard, it's expected to be long-lived since it will be the last non-EUV node. EUV (extreme ultraviolet lithography), the next-generation lithography technology, will be employed beyond 7nm and in some cases in 7nm. However, EUV is still evolving and hasn't become commercially viable yet. As a result, 7nm based on non-EUV will continue to dominate the industry for a longer period of time. Since PDF has adjusted its platform for smaller nodes, its revenue from silicon yield solutions also will see stable growth in the next three to five years.
PDF Has Significant Upside From DFI Technology
PDF's stock has significant upside from its DFI technology. PDF's new Design for Inspection (DFI) technology helps clients monitor semiconductor processing utilizing the unused space on chips, which has the potential to yield better results compared to optical inspection. PDF has intellectual property for utilizing the unused space for test structures. Currently the company is conducting R&D for making DFI commercially viable. DFI has the potential to create a new revenue stream for the company. However, the stock hasn't yet priced in the company's opportunities in DFI.
Valuation
In the third quarter of 2015, PDF's design-to-silicon-yield solutions revenue was $17.8 million and gainshare revenue was $6.6 million. Adding the two components, PDF's total revenue for the quarter came in at $24.4 million.
Recently Taiwan Semiconductor said the company expects their market share for current 14nm/16nm production would rise to around 70% in 2016 from 40% in 2015. The company also expects to begin 7nm chip production in the first half of 2018 and 5nm chip production in 2020. This is a positive development for PDF. With the industry heading toward smaller nodes, I expect PDF's solutions revenue will rise at a CAGR of high single-digits in the next three to five years, while gainshare revenue is expected to rise at a CAGR in the mid-teens.
For full-year 2016, PDF's solutions revenue is expected to be around $77 million (factoring in 8% CAGR growth), while gainshare revenue would be around $31 million (factoring in 16% CAGR growth), making the projected 2016 total revenue $108 million.
In the last three years, PDF enjoyed an average EV/revenue multiple of 4x. The multiple expanded to 6.5x in 2014, when industry-wide production volume in the 28nm nodes were at the top level and contracted currently to 1.6x due to a drop in volume in 28nm, coupled with ongoing correction in stocks. However, for valuing PDF I would be comfortable with attaching an EV/revenue multiple in the range of 3x to 4x on its 2016 revenue, taking into account the company's revenue growth potential in DFI, as discussed above.
Applying an average multiple of 3.5x on the company's 2016 projected revenue of $108 million, its enterprise value arrives at $378 million. The company is debt free. Adding cash reserves of $126 million with the enterprise value, its market cap arrives at $504 million. With 31.43 million shares outstanding, PDF's share price equals $16, based on estimated one-year forward revenue. Currently the stock is trading around $10 and has 60% upside from here.
Competitive Landscape
PDF faces competition in the semiconductor yield management space from players like KLA-Tencor (NASDAQ:KLAC), Mentor Graphics (NASDAQ:MENT), Rudolph Technologies (NYSE:RTEC) and Synopsys (NASDAQ:SNPS). In the process control space the company faces competition from Applied Materials (NASDAQ:AMAT) and MKS Instruments (NASDAQ:MKSI). However, PDF's advantage is that it offers yield management, process control and test chip solutions via a common platform. This helps chipmakers reduce cost and increase efficiency. In addition, when PDF introduces its DFI solutions, chipmakers will get all the solutions under one roof. This will make PDF the most sought-after solution provider in the semiconductor industry.
Conclusion
I expect that PDF will announce a game-changer product within the next 12 months using its IP and innovative technology in the DFI field. The stock hasn't yet priced in the fact that when DFI will become another revenue stream for the company, PDF's revenue will increase substantially. This will act as a strong catalyst for the stock.
Disclosure: I am/we are long PDFS.
I wrote this article myself, and it expresses my own opinions. I am not receiving compensation for it (other than from Seeking Alpha). I have no business relationship with any company whose stock is mentioned in this article.