On Tuesday, Feb. 21, Comcast (CMCSA) announced a new streaming video service called Xfinity Streampix. This will initially only be available to Comcast cable subscribers. However, the service could also operate as a standalone service outside of the cable subscription package. Streampix is intended to directly compete with Netflix (NFLX) in the streaming video arena (Variety). At the same point Netflix signed a deal with The Weinstein Company for its film titles. In other words NFLX just signed up to increase its recurring costs significantly, while a new competitor emerged that could and likely will take 10% to 30% of its subscribers away from it almost immediately.
Streampix will come free with Comcast's top video package, or it will come at an extra $4.99 per month charge for lower level packages. This announcement came just weeks after Verizon (VZ) announced it would create a joint venture with Coinstar (CSTR) to provide online video and DVD rentals. Google (GOOG) and Amazon (AMZN) are also working on plans to launch their own online video services. Plus let's not forget HULU and Apple (AAPL).
It doesn't take a rocket scientist to figure out that NFLX is likely to lose customers to the above listed competitors. Thus far Netflix has had little competition in the video streaming arena. Now it suddenly looks like the world has descended on its niche. This will make it more expensive to acquire new customers. It will increase the turnover losses at Netflix. Already the costs of content have skyrocketed from the early prices Netflix was able to negotiate a few years ago. The overall results will be that Netflix will have a much smaller part of the overall pie both in the U.S. and elsewhere. This will mean all of the expensive content will be shared among fewer than forecast users. The Netflix margins will be low, or may even be negative. Remember it has already signed significant and expensive long term content deals.
Even before this announcement Netflix was forecast to lose money in FY2012 (-$0.23 per share). Then NFLX was forecast to improve to +$2.59 per share in FY2013. These estimates had already been coming down. Three months ago the average analyst forecast was for NFLX to make +$0.76 per share in FY2012 and +$3.76 per share in FY2013 (roughly $1 more in each case).
On top of that most of these estimate revisions still do not fully take into account the overall decrease in the world economic forecasts. In December 2011 the Asian Development Bank trimmed its FY2012 GDP estimate for the Asian Region to +7.2%. In January the World Bank lowered its world economic outlook for FY2012 from +3.6% to +2.5%. In seeming lock step the IMF lowered its FY2012 world economic outlook for FY2012 from +4.0% to +3.25%.
On top of the above, these lowered outlook revisions likely do not reflect the downward pressure the recently negotiated EU austerity will put on the EU and other worldwide economies. Many of these austerity measures have yet to be put into effect. Others have yet to even be negotiated. It seems we are in for a plethora of downward revisions to world economic estimates, especially estimates for the EU. These factors should all put further downward pressure on Netflix's earnings than is currently envisioned. The nadir of the EU recession will not likely come before the end of Q2 2012. The nadir may come a quarter or two after that. The EU recession (and its effects on the U.S. and others) could extend well into 2013 (or even beyond that). This will mean that Netflix will suffer, especially since it has just started a European business. This makes it a good short. This makes one think Netflix may indeed follow the path of others in the movie rental business such as Blockbuster and Hollywood Video. It makes Netflix a good short. Keep in mind IMF Chief Christine Lagarde's recent warning of a possible lost decade for the EU and possibly all of the western economies.
The two year chart of Netflix provides some technical direction to this trade.
Click to enlarge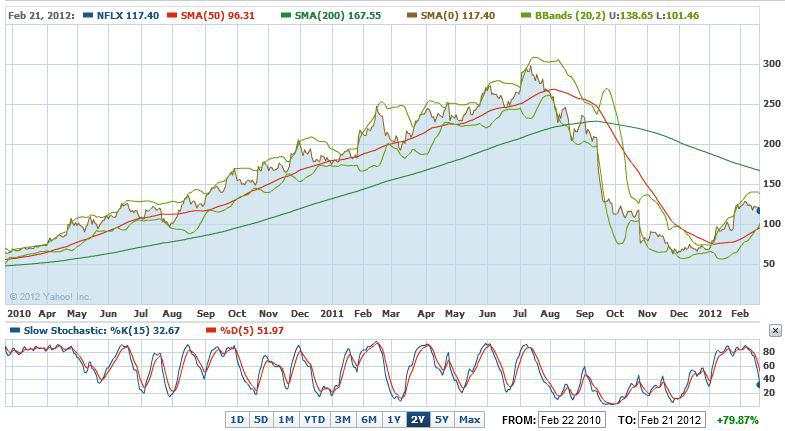 The slow stochastic sub chart indicates that NFLX is neither over bought nor over sold. The 200-day SMA is trending strongly downward. It is showing no signs of reversing. The 50-day SMA is headed upward. However, this is most likely a technical rebound. NFLX had journeyed far below its 200-day SMA. Technically it "had to bounce." It is no longer far below its 200-day SMA. It can now fall again, especially after the recent bad news from both Coinstar and Comcast. Keep in mind that both GOOG and AMZN are expected to follow these announcements with their own new service announcements. I wouldn't be surprised to see NFLX return to its recent low relatively quickly. The economic problems and the competition problems are immense. When you take into account that the overall market is over bought, you can easily see a significant down move in the near term.
If you do short this stock, you have to beware that is has significant short interest (21.8% of the float). This means that momentum traders and HFT traders can easily push this stock quickly upward. If you are going to short this stock, you need to have a strong stomach. You can choose one of two ways to short it. One way would be to short it very short term. You would sell it, then you could put in a stop to buy it back quickly if it starts to go up. You could also set a profit target, and you could move your upper stop loss down as NFLX fell. Another way is just to short it with the determination to have a strong stomach. The competition in this space is becoming too great for NFLX to possibly achieve the needed margins and growth that it has been forecasting. Plus the recent drop from near $300 has destroyed NFLX's supporters' egos. They can no longer assert that the stock will continue to go straight up. They now have to pay attention to the mundane realities of the business world. They have to sell NFLX when it performs badly, which is good for you if you plan to be short it.
Good Luck Trading.