Procter & Gamble (NYSE:PG) surprised me on Tuesday when it released a second-quarter trading update that is good news for the global economy.
One swallow doesn't a summer make but I think many bears might have grossly overestimated the risk of deflation in the U.S. as well as elsewhere in the world in 2016.
For the record, Johnson & Johnson (NYSE:JNJ) also released its quarterly figures on Tuesday - it missed revenue estimates but earnings were better than expected. Well, its trading update didn't impress me very much.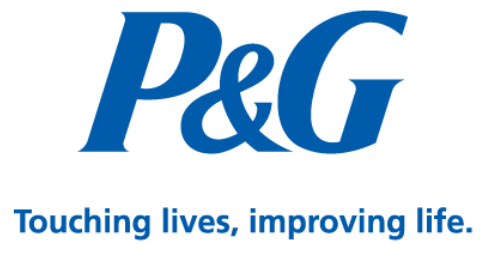 Growth
The most important news of all first:
"Organic sales, which exclude the impact of foreign exchange and acquisitions and divestitures, increased two percent," Procter said today. Core earnings per share were $1.04, an increase of nine percent, it added.
This was a fantastic debut for president and chief executive David Taylor, who got off to a great start.
As you might know, I revisited my PG investment case on 6 January, and now I wonder: was my wife right after all?
Rabbits
In my previous coverage this week I said that Procter really had no choice but to pull a rabbit out of its hat on Tuesday - and it did.
I am seriously tempted to join those in the bull camp now following a period during which I was not inclined to consider it fair value at $77 a share, the level where its stock currently trades.
But should I?
Reaction
Of course, I expected positive news on net earnings, but then it was not obvious that Procter would have been able to return to organic growth in this environment.
The chart below shows the reaction in the futures market before trading began on Tuesday.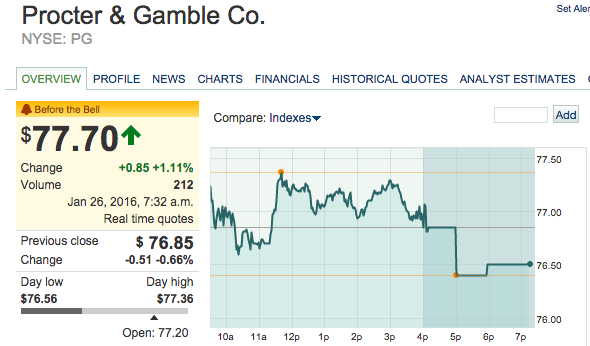 (Source: MarketWatch)
I appreciate the chart above doesn't say much about future trends, but if Procter had reported softer figures for growth and earnings, its stock would have likely been hammered before the market opened.
Price Matters
What's important, however, is to give a proper look to the table below, where I highlighted the price changes in Q4.
As Procter said, organic sales "increased two percent as a three percent pricing benefit more than offset a two percent reduction in organic shipment volume."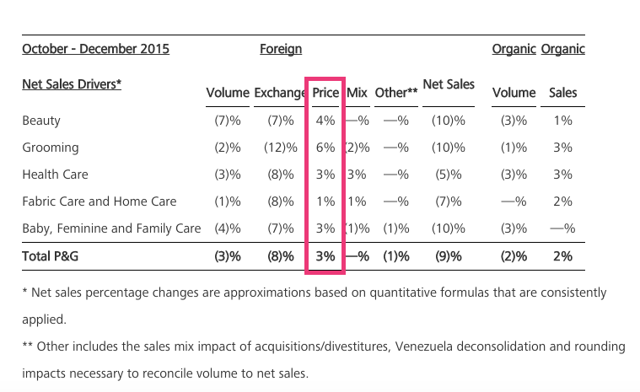 (Source: P&G 2Q results)
When you compare the table above to the set of data that Procter released in the first quarter, you'll notice that the impact from lower volumes and exchange rates are very similar, but Procter managed to increase prices at a steeper rate than in the previous quarter across all its divisions. It's worth considering that Q1 and Q2 were similarly challenging in terms of comparable figures year on year.
Inflation
There is talk that a recession could be around the corner, but if Procter and the likes manage to increase prices - and those increases become heavier over time - I doubt we'll have to worry very much about the economic outlook. Which is not rosy, I admit that, but our world could be less troubled than many think it is.
In fact, I think it's possible that the U.S. inflation rate, as gauged by CPI, may surprise a few investors this year, beating the projected range of between 1% and 2% after hovering around 0.5% in 2015.
"Volume growth was negatively affected by retailer actions to manage inventory levels relative to consumption trends in the markets most affected by currency devaluation and in markets where we have recently adjusted trade terms in certain sales channels," Procter added.
Retailers have become much more careful when it comes to inventory management over the past five years. Procter boasts a strong products portfolio, but this could be a key value driver for volumes going forward.
Keep an eye on how things develop there.
Earnings
Diluted net earnings per share from continuing operations rose 10% to $1.01, but even more impressive was the growth rate in currency-neutral core EPS.
A few other changes in some key financial metrics were pretty good, as the table below shows.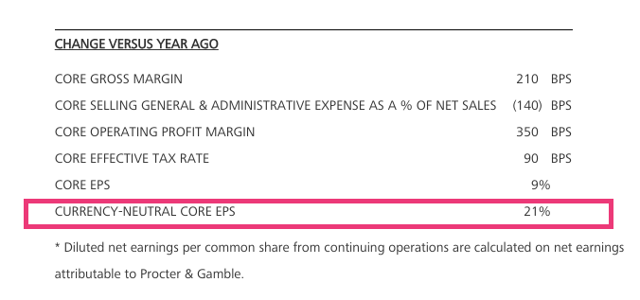 (Source: Procter & Gamble)
Today, Procter confirmed its guidance for 2016, which is shown in the table below.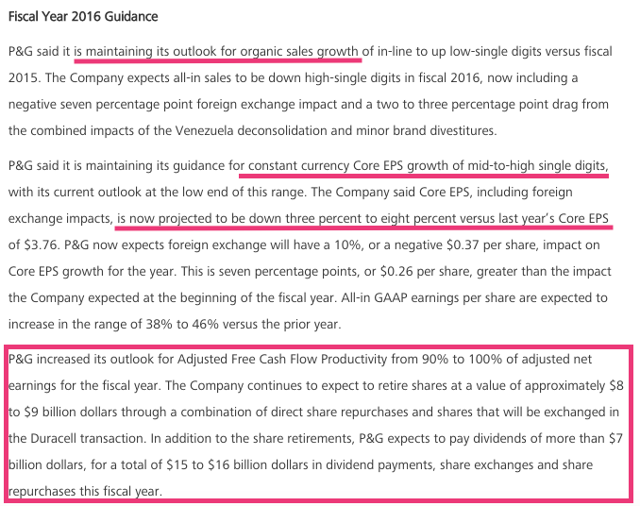 (Source: P&G 2Q results)
There are risks to annual earnings estimates.
My take?
Frankly, I find today's trading update very encouraging, but I am not prepared to buy PG stock at around $77-$78, although there are more things I like today than just its products.
Do I feel a bit stupid, then?
Well, not yet - I need to see higher organic volumes before I make up my mind.
Disclosure: I/we have no positions in any stocks mentioned, and no plans to initiate any positions within the next 72 hours.
I wrote this article myself, and it expresses my own opinions. I am not receiving compensation for it (other than from Seeking Alpha). I have no business relationship with any company whose stock is mentioned in this article.