Most recently share prices of streaming and royalty precious metals companies went steeply down. What is interesting, these shares were underperforming even the precious metals miners, which for many years have been one of the most hated stocks. To demonstrate this underperformance, I have created my own indicator, called "STREAM". It comprises the following streaming and royalty companies: Silver Wheaton (NYSE:SLW), Franco - Nevada (NYSE:FNV), Royal Gold (NASDAQ:RGLD), Sandstorm (NYSEMKT:SAND), Osisko Gold Royalties (OKSKF) and Altius Minerals (OTCPK:ATUSF). Below I present the chart showing the performance of STREAM against the broad precious metals miners market, represented by GDX: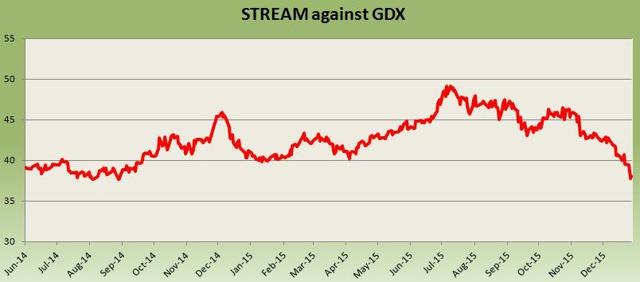 Click to enlarge
Source: Simple Digressions
As the chart shows, as a rule, the streaming and royalty companies were outperforming GDX (for example, the period June 2014 - July 2015). However, since July 2015 the streaming and royalty companies started to underperform GDX.
Well, in this article I do not want to discuss the reasons standing behind this underperformance (though it is an interesting issue for another article). Broadly speaking, I guess it should have had something to do with Silver Wheaton facing problems with the Canadian Tax Office or Royal Gold encountering the loss of streaming revenue from Rubicon Minerals. As a result, in 2015 share prices of these companies decreased substantially dragging other streaming and royalty companies down. In my opinion, this severe slump in share prices creates an interesting entry point to buy a few streaming and royalty companies. Therefore in this article I would like to present a simple model useful for a quick valuation of these companies.
Model
My model is based on a fundamental assumption that the streaming and royalty companies generate stable and fixed income for a very long time. It is the main difference between these companies and typical miners. Mineral resources, held by mining companies, deplete in the long-term but streaming and royalty companies are, theoretically, always able to find a mining company, which is suitable for an interesting stream or royalty agreement. Assuming that each streaming and royalty company may be regarded as a provider of a stable income for a very long time, simplifies the valuation process. After deducting costs of running the streaming and royalty business from revenue I am discounting the net income using the average cost of capital. As a result, after making the necessary adjustments related to the debt and equity mix, I may find the intrinsic value of each company.
Before I present my model using a specific example, below I am listing additional assumptions:
Income - in my calculations only streaming and royalty revenue is taken into consideration
Costs - costs of sales, general and administrative expenses and other operating costs are deducted from revenue (impairments, depreciation, depletion and amortization are, as non-cash issues, excluded)
The market value of debt is assumed at its book value
The market value of equity is equal to a company's market capitalization
Pre-tax cost of debt - I assume a ratio of 4.17% as the average cost of debt
Cost of equity: 9.54%, on average
Effective tax rate: 40% for U.S. companies and 26% for Canadian companies
Now, let me show how my model works, using Silver Wheaton as an example.
Silver Wheaton
Cash flow
In the third quarter of 2015 Silver Wheaton reported revenue of $153,251 thousand. The company also incurred the following costs:
Costs of sales: $46,708 thousand
Administrative expenses: $7,170 thousand
As a result, Silver Wheaton generated cash flow of $99,373 thousand (revenue less costs). On a per year basis it means that Sandstorm should make $397,492 thousand on the current streaming portfolio.
Cost of capital
Next thing, at the end of the third quarter of 2015 Silver Wheaton was holding debt of $647,000 thousand. The market value of the company's equity was $4,279,335 thousand (as of January 22, 2016). It means that debt and equity accounted for 13.1% and 86.9% of the company's capital, respectively (capital is defined as debt plus equity).
Cost of capital is calculated as:

Click to enlarge
Assuming cost of equity of 9.54%, cost of debt of 4.17% and the tax rate of 26% (Silver Wheaton is a Canadian company) the cost of capital is 8.69%.
Valuation
After discounting the infinite annual stream of $397,492 thousand by the cost of equity (8.69%) I find that Silver Wheaton's business is worth $4,572,901 thousand.
Then I have to find the intrinsic value of the company's equity. To do it, I subtract debt ($647,000 thousand) and add cash, held by Silver Wheaton ($80,512 thousand), to the intrinsic value of the company's business. As a result, I find that the company's equity is valued at $4,006,413 thousand. It means that one share of Silver Wheaton is worth of $9.91. Today the company's shares are trading at $10.58 so they are priced more or less at their fair value.
Valuation model
The table below demonstrates my valuation model, related to five streaming and royalty companies: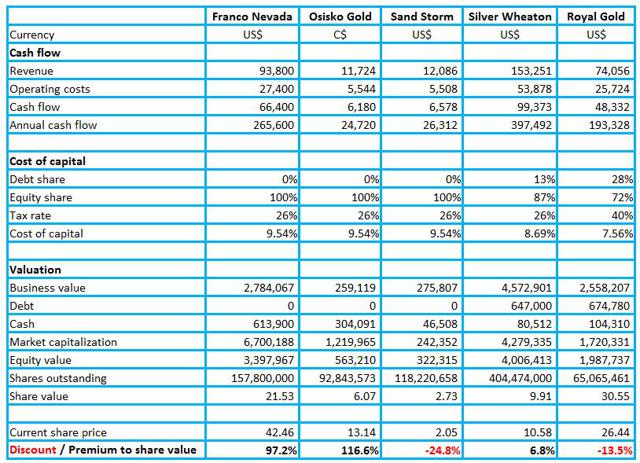 Click to enlarge
Source: Simple Digressions
Note:
Altius Minerals is not included into my calculations. Although most recently the company has reported the royalty revenue, there were periods when there were no such revenues. Simply put, Altius business model is different from a classic streaming and royalty company. Additionally, the company operates mainly in base metals and agribusiness (potash) sectors.
As the table depicts, two companies, namely Sandstorm and Royal Gold, are currently undervalued. Another one, Silver Wheaton, is valued nearly in line with its market value. Franco - Nevada and Osisko Gold are overvalued.
Comment
In my opinion, this model is quite conservative. It assumes no growth in revenue - in other words, each company should generate the fixed revenue over the years, based only on the current streaming / royalty portfolio. While this assumptions seems to be fair as long as big and established companies are concerned, it may underestimate new, growing companies, as, for example, Osisko Gold.
What is more, all values are calculated assuming today's relatively low prices of silver and gold. Any increase in precious metals prices will drive intrinsic values at much higher levels.
On the other hand, it assumes no problems with the execution of the ongoing streaming / royalty agreements. In the real world bad things happen (see the case of Royal Gold and Rubicon Minerals).
Summary
Most recently share prices of streaming and royalty companies went steeply down. In my opinion, this slump creates interesting opportunities to acquire shares of a few companies at a significant discount to their market value. The valuation model, described in this article, depicts two such companies - Sandstorm Gold and Royal Gold. Today their shares are trading at a discount of 25% and 14%, respectively.
Disclosure: I/we have no positions in any stocks mentioned, and no plans to initiate any positions within the next 72 hours.
I wrote this article myself, and it expresses my own opinions. I am not receiving compensation for it (other than from Seeking Alpha). I have no business relationship with any company whose stock is mentioned in this article.
Editor's Note: This article discusses one or more securities that do not trade on a major U.S. exchange. Please be aware of the risks associated with these stocks.