Apparently the time to let Greece go has not yet come. There is after all that pesky €14.5 billion in maturing bonds on its way on March 20. We have previously noted how tight the time table for the PSI debt conversion has become. Yesterdays decision by the eurogroup to give its placet to throwing another €130 billion at the problem still requires parliamentary ratification in all the countries that are under pressure from their electorates to stop keeping afloat what to many looks like a hopeless basket case.
Alas, we must not forget that what is really 'saved' is not Greece, but its creditors: the banks in the rest of Europe that have so flagrantly overtraded their capital in recent years with nary a thought given to the risks they took.
You might think that we are perhaps exaggerating, given the 'PSI' deal and the over 70% write-off it entails (PSI stands for 'private sector involvement').
Alas, there is more at stake than just the credit extended to the Greek government. For one thing, there are all the cross-border credit claims of foreign financial institutions to private sector creditors in Greece. If Greece were to exit the euro area, then a big problem would rear its head: how to pay debts contracted in euro terms in view of incomes received in a new drachma that presumably would crash against the euro?
We must assume that under such circumstances there would either be a wave of defaults, or a wave of lawsuits in case the government tried to interfere by re-denominating such credit claims (we're not sure that this would even be possible, but if it were tried, it would surely be contested). More likely it would be a mixture of the two, but no matter which way one looks at it, it would ultimately involve large losses.
---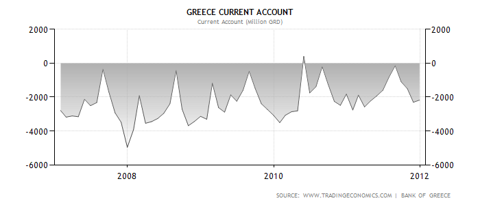 Greece's perennial current account deficit (this should be euros, not GDR as it says atop the chart)
---
As we have previously pointed out, the Greek current account deficit is actually a good sight better now than it looks in the aggregate – excluding oil imports and interest payments it has narrowed considerably and is back at levels last seen in 2004. This is among the several less well known 'under the surface' improvements that have become visible in the Greek economy and certainly represents an important development. As Greece's real effective exchange rate versus the rest of Europe has improved, various elements of the country's current account have seen a positive trend emerge in the course of last year. For instance, the service payments balance has been strongly positive as tourism income jumped. However, the accumulated current account deficits of the past continue to exist in the form of foreign credit claims.
Moreover, we have the infamous 'TARGET2' balances of the euro system, which have been used to finance the current account deficits of the countries that have experienced capital flight by domestic savers and have seen their access to credit from foreign private sector sources cut off.
As a look at the balance sheet of the Bank of Greece shows (download xls file), 'liabilities to monetary financial institutions of other euro area countries' amounted to € 105 billion at the end of 2011. This was down slightly from the € 109 billion record high recorded in November 2011, but still represents a rather significant chunk of money. It shows up on the asset side of primarily the German BuBa, the central bank of the Netherlands and the central bank of Finland as 'claims to MFI's in other euro area countries'. In the case of Germany's Bundesbank, its cumulative TARGET2 balances amounted to 55% of the assets on its balance sheet at the end of 2011.
---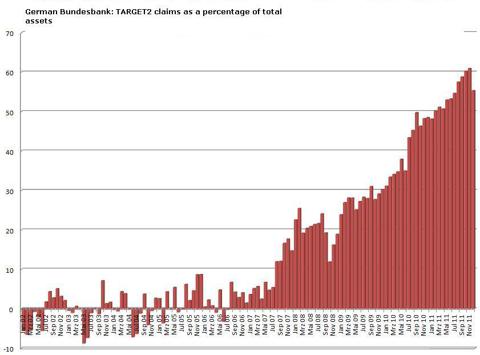 Via German site 'Querschüsse', the German BuBa's TARGET2 claims as a percentage of its total assets. After reaching a high of over 60% in November 2011, they have fallen slightly to 55%. In this Querschüsse article you can see several more interesting charts relating to the BuBa's bloated balance sheet – click chart for higher resolution.
---
Given that the deposits fleeing from Greece are as a rule landing as deposits in the banking systems of the euro area's 'core', this represents largely a shift in bank funding: as the commercial banks in the core gain funding from such deposits, their central banks are indirectly helping to fund the commercial banks in the countries that have lost these deposits via their TARGET2 claims to the national central banks of these countries, such as the Bank of Greece. This is no problem in principle, unless Greece exits the euro. Then the question of how to actually pay these claims will inevitably arise.
So you can see that there are a number of strong motives for the eurogroup to continue to support Greece and avert a default, in spite of the growing chorus of people who have indicated that they think that the timing for a Greek default and euro exit would be just right.
As an aside to all of this: euro denominated deposits that have fled from Greek banks to e.g. German banks would presumably escape a forced conversion to a putative new drachma. It follows from this that a reintroduction of the drachma would leave the remaining euro area's money supply permanently elevated.
Once again we can see that the euro has become akin to a roach motel. It was easy – way too easy in the case of Greece – to get in, but getting out is a different story entirely.
As Reuters reports, the latest bailout has been greeted with the skepticism it undoubtedly deserves. Meanwhile, Greece's ruling coalition seems almost certain to lose the upcoming election by a big margin:
Euro zone finance ministers sealed a 130-billion-euro ($172 billion) bailout for Greece on Tuesday to avert a chaotic default next month after forcing Athens to commit to unpopular cuts and private bondholders to accept deeper losses.

The agreement was hailed as a step forward for Greece, but doubts immediately emerged as to whether it would do much more than deal with its most pressing debt problems.

Greece will need more help if it is to bring its debts down to the level envisaged in the bailout and will remain "accident prone" in coming years, according to a deeply pessimistic report by international experts obtained by Reuters.

After 13 hours of talks, ministers finalized measures to cut Greece's debt to 120.5 percent of gross domestic product by 2020, a fraction above the target, to secure its second rescue in less than two years and meet a bond repayment in March.

By agreeing that the European Central Bank would distribute its profits from bond buying and private bondholders would take more losses, the ministers reduced Greece's debt to a point that should secure funding from the International Monetary Fund and help shore up the 17-country currency bloc.

The austerity measures wrought from Greece are widely disliked among the population and may present difficulties for a country which is due to hold an election in April. Further street unrest could test politicians' commitment to cuts in wages, pensions and jobs. Greece's two biggest labor unions called a protest in Athens on Wednesday.

An opinion poll taken just before the Brussels deal showed that support for the two Greek parties backing the rescue package had fallen to an all-time low while leftist, anti-bailout parties showed gains.

Anastasis Chrisopoulos, a 31-year-old Athens taxi driver, saw no reason to cheer the deal. "So what?" he asked. "Things will only get worse. We have reached a point where we're trying to figure out how to survive just the next day, let alone the next 10 days, the next month, the next year."

Parliaments in three countries that have been most critical of Greece's second bailout – Germany, the Netherlands and Finland – must now approve the package. German Finance Minister Wolfgang Schaeuble, who caused an outcry by suggesting that Greece was a "bottomless pit," said he was confident it would be passed.

"We have reached a far-reaching agreement on Greece's new program and private sector involvement that would lead to a significant debt reduction for Greece … to secure Greece's future in the euro area," Jean-Claude Juncker, who chairs the Eurogroup of finance ministers, told a news conference.

The euro gained in Asia after the bailout was agreed.

Some economists say there are still questions over whether Greece can pay off even a reduced debt burden, suggesting the deal may only delay a deeper default by a few months. Swedish Finance Minister Anders Borg said: "What's been done is a meaningful step forward. Of course, the Greeks remain stuck in their tragedy; this is a new act in a long drama.

"I don't think we should consider that they are cleared of any problems, but I do think we've reduced the Greek problem to just a Greek problem. It is no longer a threat to the recovery in all of Europe, and it is another step forward."

A return to economic growth in Greece could take as much as a decade, a prospect that brought thousands onto the streets of Athens to protest on Sunday. The cuts will deepen a recession already in its fifth year, hurting government revenues.

"We sowed the wind, now we reap the whirlwind," said Vassilis Korkidis, head of the Greek Commerce Confederation. "The new bailout is selling us time and hope at a very high price, while it doggedly continues to impose harsh austerity measures that keep us in a long and deep recession."
The views of the Greek taxi driver quoted above are probably more realistic than those of Sweden's finance minister. We have heard too many times by now that the eurocrats have managed to 'contain' the crisis, only to see it escalate again a short time later.
As to the complaints about austerity - it remains our position that austerity for Greece is unavoidable in any case. In fact, a Greek default and euro exit would probably mean even more fiscal austerity. There is absolutely nothing wrong with getting the government's spending down, but as we have stressed many times, we are very skeptical about the way in which the eurogroup has gone about this. There are a few small glimmers of hope that the introduction of supply side reforms in several countries (such as the French, Spanish and Portuguese labor market reforms) – if their implementation is not reversed due to political pressures – will bring about long term economic gains that will lower the imbalances in the euro area. The question is not whether these reforms are a good idea – they undoubtedly are – the question is whether they are coming too late.
In Greece the changing political landscape could easily upend all that has been agreed in this latest bailout package. While at least part of the unsound credit is going to be liquidated via the PSI deal, it seems to us that Greece needs a far more wide-reaching debt restructuring to be able to credibly recover.
Meanwhile, the ECB's decision to exchange its holdings of Greek bonds against new bonds that will be exempted from collective action clauses has been widely criticized in the European press. In fact, the entire cocktail of interventions and special measures the ECB has engaged in since the outbreak of the crisis is coming under scrutiny and ever more vocal criticism (as an example see this recent article in Austria's 'Die Presse'). The fact that the ECB has made all other creditors subordinated creditors in the case of Greek bonds is regarded as a dangerous gamble. What we find remarkable about this is that the story is no longer confined to just the financial press: it has taken wing, so to speak.