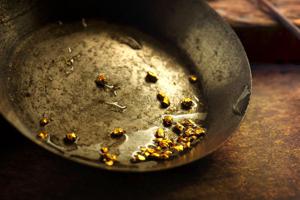 No matter what message the Fed conveys via its Monetary Policy Statement this week, it cannot help but to help gold. The Federal Reserve affects the price of gold for American investors via its impact to the U.S. dollar. It also impacts gold if it impacts riskier assets and capital flows to and from those assets and the safe haven asset in gold. The Fed could send either of two opposing messages to investors this week, but each should serve gold in one way or another.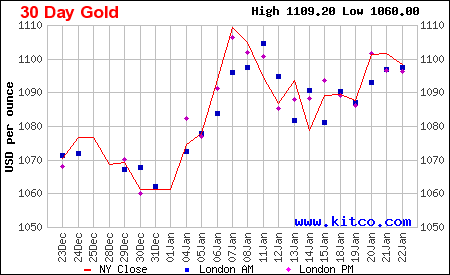 30-Day Chart of Spot Gold at Kitco.com
Gold has been gaining favor so far in 2016, I believe due to a critical shift in several fundamental factors at play for gold. One of the factors that I believe is turning in gold's favor is the Federal Reserve (or expectations for it) and its impact on the U.S. dollar. This week, this particular factor could have a profound impact on the value of gold.
In the days of the financial crisis, the Federal Reserve's extreme expansionary measures diluted the dollar and added relative value to gold. More recently, over the last two years, the Fed's shift toward monetary tightening measures has added relative value to the dollar and subtracted from gold.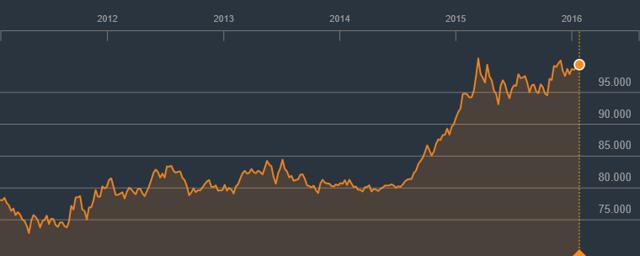 Click to enlarge
Dollar Index Chart at Bloomberg
Today, the Federal Reserve is on record projecting four interest rate hikes for 2016. Expectations for monetary tightening have helped the dollar to remain at an elevated level versus a pool of currencies in the dollar index. But these projections have also helped to impair the value of equities, mostly because of contention and concern about the actual state of the U.S. economy versus the Fed's perception of it. Volatility is prominent in today's securities markets, and that is not good for the economy.
The SPDR S&P 500 (NYSE: SPY), an ETF that tracks the market proxy index of the same name, is down 8.0% year-to-date. The economic relevance of such a correction in equity values is found in American investors' perception of their personal wealth. Today, just about everyone is invested in the market via pension plans and other retirement accounts. When we see our portfolio values are significantly lower in any given month, we feel poorer and we are. When we feel poorer, we are less likely to invest and to spend. It serves as a negative feedback loop for the economy, and so the Fed has good reason to avoid security market volatility as best it can.
This Wednesday, if the Fed acts via its Monetary Policy Statement to ease market concerns and soften interest rate expectations for this year, the dollar is likely to come off its highs. Such an event would add value to gold, which has been severely priced down to date due to the Fed's tightening direction and contrasting direction of central banks in Europe and Japan. So gold is helped if the Fed seems less hawkish.
But if the Fed does nothing to ease market concerns about interest rates, or not enough to ease them, then dollar strength would be reinforced. Normally we might expect such an event to price down gold, but I do not expect that to occur this time, at least not for long. That is because market doubt about the economy could limit the dollar's upside. For the market to accept higher interest rates, it must be comfortable with economic growth. The market is unsure now about the state of the U.S. economy and not perfectly comfortable with the Fed's perception of it. That uncertainty would be perpetuated by Fed inaction to appease it this week.
Also, equity markets are so volatile now that they are extremely sensitive to factors underlying stocks. If the Fed remains as hawkish as the market has perceived it to be until now, a desperate need for relief will not have been satisfied. I expect stocks could plummet on such a missed opportunity by the Fed. In the event of a shock to stocks and severe correction, or just a seemingly stubborn bearish environment, gold should see increased demand due to its safe haven characteristics.
| | |
| --- | --- |
| Precious Metals Relative Securities | YTD thru Jan. 25 |
| SPDR S&P 500 | -8.0% |
| SPDR Gold Trust (NYSE: GLD) | +4.6% |
| PowerShares DB Gold (NYSE: DGL) | +4.3% |
| Van Eck Merk Gold ETF (NYSE: OUNZ) | +4.7% |
| ProShares Ultra Gold ETF (NYSE: UGL) | +8.8% |
| Market Vectors Gold Miners (NYSE: GDX) | -2.5% |
| Market Vectors Junior Gold Miners (NYSE: GDXJ) | -6.5% |
| Direxion Daily Gold Miners Bull 3X (NYSE: NUGT) | -11% |
| Barrick Gold (NYSE: ABX) | +26% |
| Randgold Resources (NASDAQ: GOLD) | +5.9% |
| iShares Silver Trust (NYSE: SLV) | +3.0% |
| Global X Silver Miners ETF (NYSE: SIL) | -13% |
The table here illustrates how gold and silver have outperformed stocks this year because of changes I see in fundamental factors for gold. The outperformance is clear in the contrast between the loss in the SPDR S&P 500 and the gains in the SPDR Gold Trust and the iShares Silver Trust. The variation in performances between miners, miner ETFs and leveraged securities is something I'll focus a dedicated report to in the near future. What's most important to understand here is that if the factors underlying these changes in trend for gold and silver versus stocks are lasting in nature, as I expect they are, then all of the precious metal relative securities within the table will benefit over time.
This week, I expect the Fed to have a profound impact on gold and precious metals relative securities. If the Fed backs off its forecast pace for interest rate hikes this year, then the dollar should depreciate in value, which serves gold. If the Fed keeps to plan and makes hardly any notation of increased risk and simply reiterates recent statements, then the volatile equity market could plummet, which serves gold. Therefore, it would seem that the Fed cannot help but to help gold this week. I cover gold closely and invite relative interests to follow my column at Seeking Alpha.
Disclosure: I/we have no positions in any stocks mentioned, and no plans to initiate any positions within the next 72 hours.
I wrote this article myself, and it expresses my own opinions. I am not receiving compensation for it (other than from Seeking Alpha). I have no business relationship with any company whose stock is mentioned in this article.