True Gold(OTCQX:RVREF) has been perpetually undervalued by the market for two main reasons. The first is that True Gold operates in one of the poorest and most violent countries in the world, Burkina Faso.
Following a failed Coup in November of 2015 an election was held and Christian Kaboré won with just over 53% of the vote. There has not been any other coup attempts or other political instability since the election which is a positive sign but to be fair, it has only been a few months.
The second reason the market has undervalued True Gold is the price of gold has been falling for the past few years along with every other precious metal and most of commodities. While this fluctuation in gold prices does not usually affect exploration and development companies as they are not yet producing, this is now important to True Gold for one very exciting reason.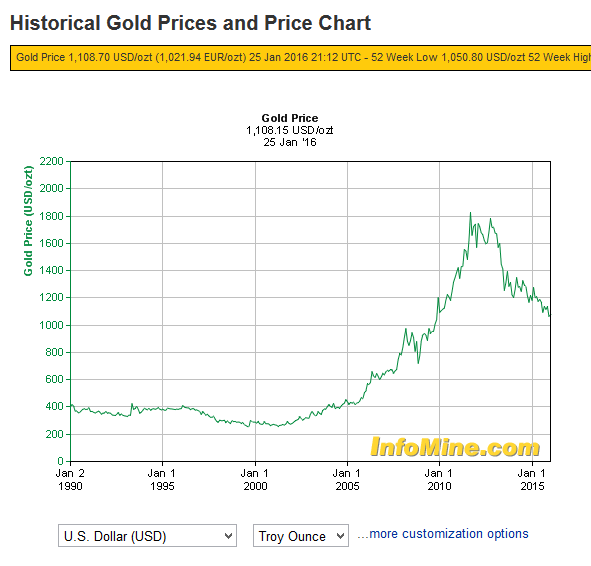 True Gold is set to pour its first bar of Gold around March 2016. Exciting news to be sure, so let's take a closer look at the company's valuation, its growth potential, some recent tragic events in Burkina Faso, and more.
Recent terrorist attack
In what can only be described as a terrible tragedy, just about a week ago Burkina Faso's capital city of Ouagadougou was attacked by a Al-Qaeda linked terrorist group. Over 29 people are now dead after a long siege and many scary moments.
At this moment it appears this tragedy did not have any direct impact on mine operations. This is different than what happend in early 2015 when the company had some equipment damaged and ended up writing down millions of dollars in damages after a group of angry locals who opposed the mine broke in and damaged equipment and delayed construction for months.
The election mentioned early is certainly very positive news but Burkina Faso is still by no means a stable country and the threat remains that overnight a civil war or some other event could break out and negatively impact the company's operations there.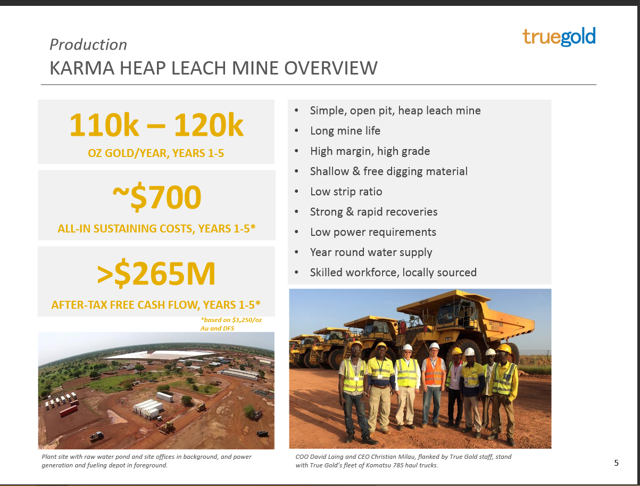 Click to enlarge
Karma Project is fully funded
As of the company's latest Q1 2016 presentation, the Karma mine is more than fully funded to completion. According to the company, they have around 40 million in cash and accessible capital from loans or lines of credit and the completion of the mine is only expected to take 24 million.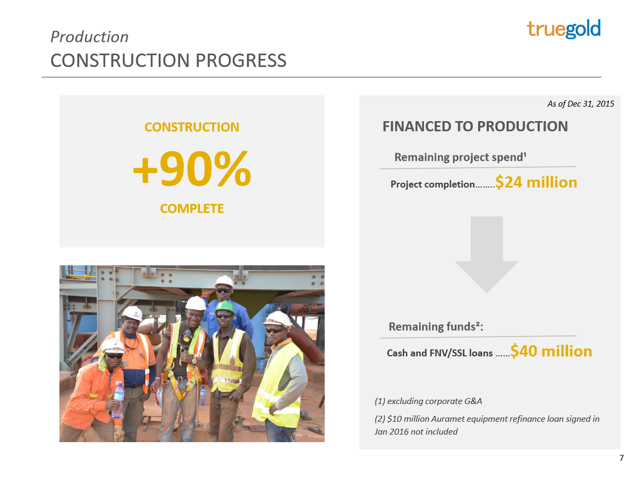 Click to enlarge
This extra capital is a great margin of safety because it allows the company to easily deal with any last minute production delays or hiccups and also have money to continue to drill and develop there other projects before having to secure more financing. If the commodity slump remains for awhile or even worsens financing might be tough to obtain for even the best companies but True Gold appears well positioned for the near future.
Super low cost structure for Karma Mine
Costs are important when you are producing something that fluctuates in price so rapidly like Gold or any other commodity. According to the company, their all in sustaining costs for the Karma mine is ~$700 oz. Gold sits at $1100 oz as of publication but was much higher four years ago. Even if Gold falls further the company is still able to make money at almost any conceivable gold price and this removes almost any doubt the mine will shut down or stop production for monetary reasons.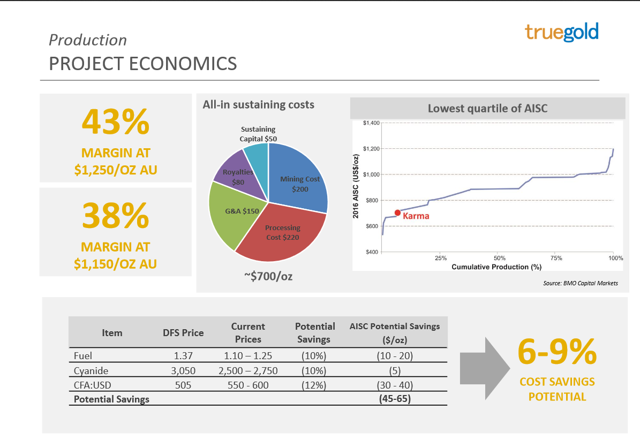 Click to enlarge
True Gold is further linked to the price of Gold because one of their financing requirements with Sandstorm Gold requires the company to deliver to them 20,000 ounces of gold for the first few years of the mine's production. The company will receive an amount tied to the current spot price at the time of delivery. Since the company has to deliver a certain amount of gold as part of this agreement rather than a certain dollar amount worth of gold, the higher the spot price at time of delivery, the better.
Valuation
True Gold currently trades on the US markets for $.18 a share with 398, 841,000 shares outstanding. Book value for the company is only $.12 a share and the company has 20 million in cash as of September 2015.
The Karma mine is expected to produce 110,000 to 120,000 ounces of gold per year for the first five years. At the current prices of $1100 per ounce and the company's costs at $700 per ounce, I value the shares are worth $.38 to $.40 per share.
The true potential value of the company's share could be much, much higher then that though. But that is where the remaining risk comes in. The company has identified many more places where it wants to and has continued exploring and drilling near its Karma mine in the so called North Kao deposit, among other places.
There is no telling how long the mine's life could be extended to but stellar results in this area could propel the price up substantially. The risk, though, is if none of these other deposits are able to work out then the substantial cost of constructing the Karma mine will only be for producing gold for a relatively short 8 to 9 years despite the incredible rate of return the mine does have.
Conclusion
True Gold is a mid tier producer in the making that is on the verge of pouring their first gold in late Q1 2016. Since the majority of mines planned are never actually completed all the way to production, with some estimates saying that up to 99% of mines, the fact that the Karma mine is overfunded and ready to go is a feat in and of itself.
The mine's incredible IRR and solid leadership with Mark O'Dea running things behind the scenes, True Gold has the highest potential of any mining stock in this vicious bear market. But the risk remain and True Gold is not for those close to retirement or with a queasy stomach. The very real risks of the mine's location and the political instability of Burkina Faso could derail the project overnight regardless of whether it is finished or not and investors would be helpless to do anything about it.
Because of these virtually uncontrollable risks and the uncertainty of True Gold's future past the initial Karma Mine in addition to my own inexperience with mining stocks and especially microcap mining stocks, I am limiting my personal investment to only a few hundreds dollars.
Disclosure: I am/we are long RVREF.
I wrote this article myself, and it expresses my own opinions. I am not receiving compensation for it (other than from Seeking Alpha). I have no business relationship with any company whose stock is mentioned in this article.
Editor's Note: This article covers one or more stocks trading at less than $1 per share and/or with less than a $100 million market cap. Please be aware of the risks associated with these stocks.