When investing in pharmaceutical stocks, there are few times more exciting than a PDUFA date. This date can represent the culmination of years of Research and Development expenses for a company. For shareholders it is a pivotal moment where they can see if a company's future is really as rosy as management has been painting it to be. Therefore, PDUFA dates can represent significant catalysts for investors, and can create a situation where investors can profit by correctly predicting the decision of the FDA. While I typically invest by buying a few months before the PDUFA date, and then selling right before the PDUFA, there are some cases where it could be advantageous for

shareholders to hold through the PDUFA date. I believe that one such situation is with Heron Therapeutics (NASDAQ:HRTX).
Heron is facing an upcoming PDUFA date for its drug Sustol. Sustol is an injectible treatment for Chemotherapy Induced Nausea and Vomiting (CINV), and the company is projected to have a PDUFA date of late February. It is important to note that Sustol has been reviewed by the FDA two previous times and was rejected. The company believes that it is now well positioned to obtain FDA approval after bringing in a new management team and conducting a recent Phase III trial. While there are indeed quite a few drugs on the market for chemotherapy induced nausea, Heron believes that it can find a niche for the product through helping to treat Delayed Chemotherapy Induced Nausea and Vomiting in patients with highly emetogenic chemotherapy. The company is not planning on confining Sustol to this niche market, and intends to also seek approval for the more common acute CINV designations as well. This chart from the company's website should help investors to get a sense as to the market for CINV drugs.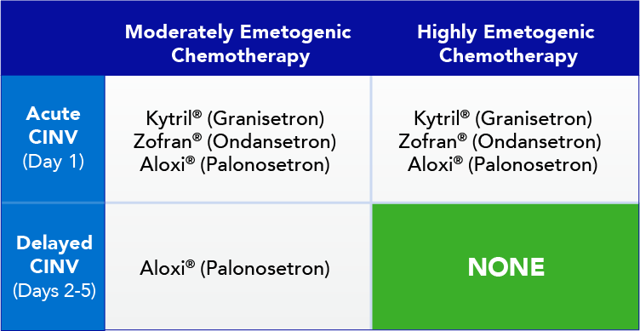 Sustol is likely to face substantial challenge in the marketplace, but may have also found a niche where it can be a valuable addition to hospital formularies and to helping patient outcomes. If Sustol did indeed find a niche, then the drug has the potential to substantially impact the share price of Heron over the long term.
Why Is This An Exciting Opportunity for Investors?
Heron's FDA decision date was recently pushed back by the FDA until late February. This gives investors time to get into Heron should investors believe that Sustol will be able to receive FDA approval. In this case, I believe that Sustol is likely to gain FDA approval, and could have the ability to increase significantly after FDA approval due to a high short interest against the stock.
Phase III Trial
The foundation of Heron's application to approve Sustol is its Phase III MAGIC trial, in which Sustol was compared to the standard of care: a 5-HT3 anatagonist (Zofran), fosaprepitant, and dexamethasone. This comparison should work out favorably for the company when it seeks FDA approval. In this case, Sustol was able to beat the current standard of care, and thus the trial should lay the foundation for the company to be able to obtain FDA approval. Even if Sustol is only equivalent to the current standard of care, that may be enough to obtain FDA approval.
The MAGIC trial enrolled over 900 patients, which were randomized to receive either Sustol or the control arm (which was the current standard of care). The patients were monitored for the presence of CINV, with particular attention paid to the duration of the response to a CINV drug, as well as to the number of patients responding to CINV treatment. The primary endpoint of the trial was to look at the number of patients who achieved a Complete Response by using Sustol when compared to the current standard of care. Sustol was able to show a statistically significant Complete Response Rate when compared with the control group, 64.7% of Sustol patients achieved a complete response when compared with 56.6% of patients in the control arm. One word of caution is that the complete response rate for the control arm appears to be slighly lower than what we have seen out of other trials for the Zofran containing regiment. I do not expect for this to harm the chances of the company to obtain FDA approval. The Complete Response Rate was not the only data point being measured, but was very important because doctors want to be able to give patients a drug that works the first time rather than having to keep trying to switch between drugs that are not very effective for the patient.
The secondary endpoints of the study also came back strongly in Heron's favor: the number of patients who achieved complete control was statistically significant in Sustol's favor, Sustol was able to be more effective than the control arm in terms of preventing patients from experiencing an onset of nausea and vomiting, and significantly more patients in the Sustol arm were satisfied with their therapy based on a quality of life questionnaire. All of the data points towards Sustol receiving FDA approval, as it performed better than the current standard of care. This trial should also be robust enough to give the FDA confidence in the results, and thus help to lead the way for Sustol to obtain FDA approval.
What Does This Mean?
With the data strongly in favor of Sustol, I would expect for the drug to obtain FDA approval. The company is seeking approval in both acute and long-term CINV, which would allow for the drug to not only go after an untapped niche in the market but might make Sustol the drug of choice for doctors because it would be the only one approved for all of the different types of CINV. The market for Chemotherapy Induced Nausea and Vomiting is quite large, with approximately 8 out of every 10 patients who receive chemotherapy experiencing CINV. This suggests that there is a very large potential patient population for Sustol. With so many market competitors, however, the challenge for Sustol will be to differentiate itself within the marketplace. This will be especially important considering that there are some drugs for CINV that are being sold by large pharmaceutical companies, which are likely to have larger sales forces that they are able to put towards their CINV drug. Sustol will have to quickly differentiate itself in order to be successful in the market. It does appear, however, as though Sustol may be able to differentiate itself with some peak sales estimates as high as $400 million.
Sustol FDA approval is also very important for the company as a whole. After its rather checkered past, it is important for Heron to be able to get on the right track through getting its first drug approved. This approval should help to give investors confidence in the management team and should help to provide the revenue that Heron will need in order to be able to continue the development of the rest of its pipeline of drugs.
Why Should Investors Get Involved?
Heron appears to be reasonably priced, especially relative to a few months ago. This entry point should allow for investors to find compelling value in Heron shares. Heron also has a very high short interest, which could create a short squeeze should Sustol obtain FDA approval. Currently, there are over 8 million shares short. With over 8 million shares short it would take over 10 days of average trading volume to settle all of the short positions. This could create a situation where shorts have to cover, which will drive up the market price of the stock. I would expect FDA approval based upon the promising Phase III data. In regards to a lower response rate than what has previously been seen in Zofran trials, I would expect for the FDA to still give approval and let doctors take that into account. Overall, it appears as though Sustol is well positioned to obtain FDA approval and that the new management team at Heron should be able to succeed.
Financial Position
One of the biggest factors to consider when looking at a stock is the potential for dilution. Especially in companies like Heron where they are conducting a lot of R&D in the hope of eventually obtaining FDA approval, investors need to very carefully consider the risk for dilution.
As of its most recent quarterly filing, Heron had $153 million in cash and cash equivalents. While Heron has been reporting net losses since its inception, this is normal for a company like Heron without any FDA approved products. Heron has been burning through its cash pile pretty rapidly, last quarter Heron spent $19.9 million in cash to fund its operations. This large of a cash pile should, however, give investors confidence that there is not an immediate risk for dilution and that Heron will have the working capital needed to fund its operations through at least the end of 2016. I would expect to see the cash burn rate move up slightly should Heron obtain FDA approval, as the company will then have to build out the sales and manufacturing infrastructure needed in order to market Sustol. This substantial cash pile should help to give investors confidence that there is no immediate risk for dilution.
Risk Factors
With any investment there comes a certain amount of risk, especially when trying to correctly guess the outcome of an FDA decision. In the case of Heron the main risk would be an FDA rejection. This would likely not only push the approval timeline back by at least a year, but could require additional clinical trials in order to obtain Sustol approval. The additional clinical trial would force the company to expend considerable time and resources that were not previously allocated towards Sustol approval. If an investor is deciding to hold after approval, another risk would be that Sustol is unable to succeed in the marketplace. This would cause for Heron to not have the revenue needed in order to turn itself profitable and could lead to a high chance of dilution over the long term. While every company has its risks, I still believe that the reward outweighs the risk for Heron.
Conclusion
With Sustol approval appearing to be likely, it seems as though Heron is poised to provide substantial value. My one reservation about this company is its previous history of being unable to obtain FDA approval, but as I mentioned, the MAGIC trial and new management team seem to have the drug on the right path towards FDA approval. In cases like this, it is important that investors research both the bear and bull cases in order to make a decision. In order to research the bear thesis, I believe that this article is a great starting point. While I typically do not advocate holding through an FDA decision, this stock could be different because of the short squeeze potential upon FDA approval.
Disclosure: I/we have no positions in any stocks mentioned, and no plans to initiate any positions within the next 72 hours.
I wrote this article myself, and it expresses my own opinions. I am not receiving compensation for it (other than from Seeking Alpha). I have no business relationship with any company whose stock is mentioned in this article.