When it comes to analyzing mREITs, the best analysis must be exceptionally recent to be entirely relevant. Due to the leverage in their structures, it is possible for huge movements to occur rapidly, and as a result, an analyst must continue to change their stances. Orchid Island Capital (NYSE:ORC) needs an update even though I published on the company only a couple of days ago. This is one of those situations where there was a material development that alters the thesis.
Prior Stance
On January 11th, I put a short rating on Orchid Island Capital because it was overvalued relative to the mREIT sector. That thesis has been playing out beautifully. A couple of days ago, I updated shareholders on how the trade was playing out.
In the second piece, I maintained my stance on the basis of the pair trade between ORC and CYS Investments (NYSE:CYS) having a moderate amount of alpha left in the trade. At the time, the pair trades of ORC with Annaly Capital Management (NYSE:NLY) or American Capital Agency Corp (NASDAQ:AGNC) had performed better. All of these pair trades relied on going short ORC and long the other mREIT to capitalize on the relative difference.
I'm also tracking the values for ARMOUR Residential REIT (NYSE:ARR), but specifically suggested avoiding that pair trade.
New Stance
Due to recent movements within the industry, I am ending my stance on Orchid Island Capital. As of my writing, the following prices were present in the market:
| | |
| --- | --- |
| Ticker | Price |
| CYS | 6.54 |
| NLY | 9.13 |
| ORC | 8.38 |
| AGNC | 16.62 |
| ARR | 18.41 |
At these prices, ORC is no longer a viable candidate to create a material amount of alpha through shorting.
Because my stance on ORC was reliant on it being a pair trade, the result is ORC suddenly moving from a short rating to a neutral rating.
In my opinion, CYS Investments remains attractively priced.
New Values
The following chart shows my estimates of the discount to book value as of about 11:55AM Eastern.

Click to enlarge
Getting an estimate of book value that is less than 24 hours old requires a bit of luck with some stability in the bond markets. We have that so far on the 26th. The rate movements have been relatively tame for the day, which allows me to provide a more immediate estimate. I want to remind readers that my goal is to be within about 2% of the book value. I won't always hit that, but it should be a rough estimate. ORC's BV may also be another 1% to 1.5% higher than I'm estimating, which would increase the discount by about that amount. Therefore my projected discount on ORC ranges from the model estimate of 26.49% up to about 28%. At that range and relative to the other mREITs, there is no justification for continuing a short stance.
LIBOR
I don't have real time LIBOR access in this analysis. I'm using LIBOR data from January 25th and checking the movements in treasury rates to look for changes that I would expect to be mirrored in LIBOR.
Returns
The following chart demonstrates the returns earned by an investor that bought shares in each of the mREITs at the last available prices when I prepared my analysis: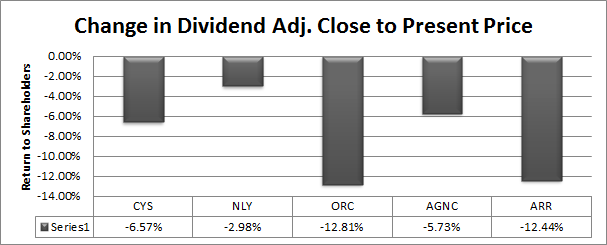 I was specifically not interested in ARR and suggested shorting ORC to go with a long position in CYS, NLY, or AGNC. Here is how those pair trades played out: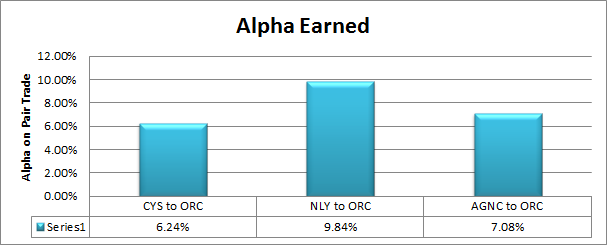 Since the idea I was most heavily supporting was the CYS to ORC trade (clearly NLY played out much better), I put together one extra chart showing the cumulative alpha that would have been represented at the closing price of each day and the alpha from closing the position at the middle of the day prices today.

Click to enlarge
To really hammer one point home, I had to title the graph accordingly. The days with no bars were days when the market was closed. This is a chart of cumulative alpha, not the alpha earned per day. When I was writing my last piece, the latest data was the end of day data for January 22nd. At the time, the alpha was only a little over 2%. Now the alpha is over 6%, which is a sufficient correction to warrant closing the trade.
NLY to ORC
One of the reasons I need to close the stance on ORC is because the NLY to ORC trade has completely played out, and I believe there is precisely zero alpha left there. It could very rationally be argued that another couple of percentage points could be squeezed out of CYS to ORC, but there is not enough margin of safety to warrant maintaining the trade. A short stance can only be justified, in my opinion, when there is a material amount of alpha to be earned.
Stance on Each mREIT
I'm now neutral on Orchid Island Capital, Annaly Capital Management, and American Capital Agency Corp. When my stance on ORC started, I was concerned about ARR trading back down towards their previous levels of discount to book value. It looks like that played out as well, therefore, I will go to neutral on ARR as well. Because I believe CYS Investments should trade at a similar discount to NLY and AGNC, I think it remains attractive. It isn't underpriced to the point of being a strong buy, but I think it has slightly better odds.
All pair trades that were previously proposed are no longer suggested trades. This is especially true for NLY to ORC, which is a trade that should be closed as quickly as possible assuming current prices remain available.
I voluntarily restricted myself from trading in ORC for the week. I have no positions in any of these stocks, but I could buy into any of the other 4 if we see another January 20th-style event where book value remains unchanged but prices fall by 10%.
Disclosure: I/we have no positions in any stocks mentioned, but may initiate a long position in CYS, NLY, ARR, AGNC over the next 72 hours.
I wrote this article myself, and it expresses my own opinions. I am not receiving compensation for it (other than from Seeking Alpha). I have no business relationship with any company whose stock is mentioned in this article.
Additional disclosure: Information in this article represents the opinion of the analyst. All statements are represented as opinions, rather than facts, and should not be construed as advice to buy or sell a security. Ratings of "outperform" and "underperform" reflect the analyst's estimation of a divergence between the market value for a security and the price that would be appropriate given the potential for risks and returns relative to other securities. The analyst does not know your particular objectives for returns or constraints upon investing. All investors are encouraged to do their own research before making any investment decision. Information is regularly obtained from Yahoo Finance, Google Finance, and SEC Database. If Yahoo, Google, or the SEC database contained faulty or old information it could be incorporated into my analysis.