Referencing the weekly homework and stock radar, I am highlighting a few of the charts below for potential trades in undervalued stocks.
After the first 90 minutes of action Tuesday morning, the enthusiasm was quickly sucked out of the market for the rest of the day. We gapped up on the "Greece is saved" continuing theme only for volume to fall off a cliff and the action become very boring to watch or trade.
The bears had a prime opportunity to catch the bulls off guard with the gap up. They had an opportunity to try to punish them. All they were able to do was bring us back to even on the day. With that being said, the momentum is still to the upside, so we must be cautious of a pullback, but still stick with the trend that continues to work.
Oil stocks have been outperforming lately as oil prices continue to rise. Even the most speculative of oil stocks are catching on fire. These can be very profitable and enticing to the individual investor, but you must know how to trade them correctly to keep risk minimal. Holding large speculative positions overnight could turn very profitable with the right amount of luck. However, they can turn very bearish in the blink of an eye, teaching you a hard lesson on how to manage portfolio risk. As long as oil stocks continue to work, I will stay highly leveraged to the sector while keeping a tight leash on any positions in case we finally receive the long-overdue pullback. What goes up must come down, but that doesn't mean it will come down just yet.
The momentum may still be to the upside, but you may want to think twice about recklessly buying just any stock that seems to be hot. The pullback will come when we least expect it, and I believe that for many, it is no longer expected.
Key Energy Services (NYSE:KEG)
Notes On Yahoo Finance Fundamentals:
KEG has a forward P/E of only 8, but has significant debt-to-cash of $773 million debt to only $35 million in cash. However, they are currently turning a profit and are expected to increase the yearly EPS by 79% this year. As of January 31, the short percentage of the float is just under 10% with a short ratio of over 3. That is a fair amount of short activity. Of the 16 analysts, the mean price target is $19.25, about an 18% increase from the current stock price with the most recent analyst price target upgrade on Tuesday to $19. I anticipate favorable odds of more price upgrades in the near future.
Annotated Chart and Trade Details :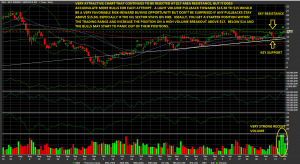 GLU Mobile (NASDAQ:GLUU)
Notes On Yahoo Finance Fundamentals:
GLUU has a forward P/E of 20 with strong cash of $32 million to zero debt. They have consistently beat EPS expectations by 70-80% over the past four earnings reports, implying the possibility of future earnings will continue to be impressive when compared to analyst expectations. As of January 31, the short percentage of the float is 16% with a short ratio of over 5, so they have plenty of shorts in this battle. Of the five analysts, the mean price target is $6.20, over a 50% increase from the current price.
Annotated Chart and Trade Details: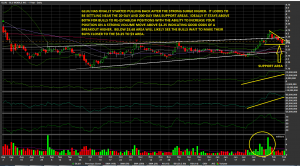 As always, do your own homework to see if you agree. Good luck out there.
Disclosure: I have no positions in any stocks mentioned, but may initiate a long position in KEG, GLUU over the next 72 hours.