One of my goals for 2016 is to increase my circle of competence. To do that, I need to step out of my investment comfort zone and go somewhere my mind has not previously explored. Today, I will be looking at a preferred stock.
That's right. Preferred stocks. I am sure you have all heard of preferred stocks before. And if I was to bet, I am sure the majority of you have totally ignored preferred issues. In fact, I bet some of you think of preferred stocks as that mysterious asset class that floats behind the almighty bond, yet still gets respect from the common.
In this report, we will be looking at Targa Resources Partners LP (NYSE:NGLS) preferred coupon NGLS-PA.
The Details
Let's have some fun and dig into NGLS-PA. NLGS-PA is 9.00% Series A Fixed/Float Cumulative Redeemable Perpetual Preferred Unit. Furthermore, the liquidation preference or call price is $25.00/unit redeemable at issuer's option on 11/01/2020 at $25/unit.

Click to enlarge
Source: Quantum Online
So what does all of that terminology even mean? Simply put, or in layman's terms, NLGS-PA is a security that has a coupon rate (think dividend rate) of 9.00%, that accumulates what is owned if it doesn't pay its owners and has no maturity date (yet can be redeemed if needed after a certain date).
Going into more detail, we can see that NGLS-PA unitholders will be paid monthly ($0.1875/month or $2.25/year) on the 15th of each month. When 11/01/2020 comes rolling around the corner, management will have an opportunity to call or redeem the security for its par value ($25/unit). If not redeemed, the security will accumulate the LIBOR annual floating rate plus a 7.71% spread. For more details into what happens if the company get acquired by another company, I suggest you visit the Quantum Online link above.
What Makes This Coupon Interesting?
What attracts me to NGLS-PA is that the preferred unit has crashed since being issued: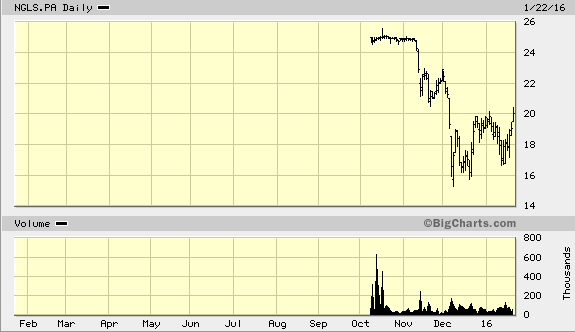 From a percentage standpoint, the company has fallen -20.00% from its par value. Most preferred stocks are not so volatile and rarely fluctuate from their par value. This is mainly due to the fixed income that investors can milk. Due to the lack of volatility, financial theorists who believe that an increase in volatility measures risk would state that preferred stocks are less risky.
What I find very attractive about NGLS-PA is that there is a 25% upside, based upon a reversion of the current price ($20/unit) to its par value, and coupled with an 11.25% yield. These are very attractive features with this security. I mean, I wouldn't mind getting paid 11.25% with a potential double-digit upside. In reality, this is an index beating play.
However, it's not that simple. What we need to do is find out how secure this security is. Thus, is there potential of default? To do the former, we need to dig into the company that has issued this preferred stock: Targa Resources Partners LP.
Targa Resource Partners was formed in 2006 to own a 2% general partnership interest in Targa Resources Corp (NYSE:TRGP). Moreover, the primary business purpose of the entity was to manage TRGP's activities and operations. As of September 30, 2015, NGLS owned a 10.6% interest in the company in the form of 3,772,397 general partner units, 16,309,594 common units and incentive distribution rights (IDRs). What is interesting is that TRGP recently announced that it will acquire all of NGLS by the end of 1Q16.
Due to the proposed merger, the combined companies will focus upon the gathering, compressing, treating, transportation and selling natural gas and oil related products. There are plenty of high-quality reports/articles written about NGLS and TRGP that explain the business model in a more in-depth form. If you want to read more into these companies, I suggest you read the following reports/articles.
Targa Resources: Meaningful Upside Potential With MLP Roll-Up
A 12.6% Yielder To Help Save Income Investors From The Dark Side
Targa Preferred: Good Credit Trading Like Dividend-At-Risk Equity
There are a few benefits to the preferred holders if the merger goes through. First, the IDRs will be removed. This will essentially cut the cost of capital and simplify the overall capital structure. Second, without the merger, there was an expected no growth in the distribution in 2018. Yet with the merger, they expect the distribution to grow 10%-15% annually going forward. Third, pre-merger, it was difficult for the company to maintain the distribution coverage. Going forward, if all goes smoothly, the company expects a $400mm-600mm incremental savings from the merger. Finally, it will help to provide a cushion for the business in terms of long-term growth and success if the low commodity environment persists.
So what I find to be the most interesting aspect about the preferred unit is in reality how small it is, compared on a relative basis to the entire business. With 5,000,000 preferred units outstanding at a $2.25/unit annum, NGLS pays out an easy $11,250,000 per year. Now compare this with the TTM FCF of $189mm. Thus, the money NGLS has to pay to preferred unit holders is only ~5.95% of the TTM FCF.
We can go even further to show you how minimal the preferred units are. Check out how much NGLS has paid on the common in the last three months and first nine months of 2015…

Click to enlarge
Source: 3Q15 Report
Based on the terms in the preferred structure, NGLS must pay all distributions to the preferred before they can pay any on the common. So in reality, if the common was cut, this would make the preferred issue even less risky than what it is now, ceteris paribus. If we look at the distributions paid on an annual basis, we can see that in 2014, NGLS paid >$495mm in distributions:

Click to enlarge
Source: 2014 Annual Report
Interestingly enough, there are no senior securities due for the next 24 months, which in my opinion, makes the preferred even more secure.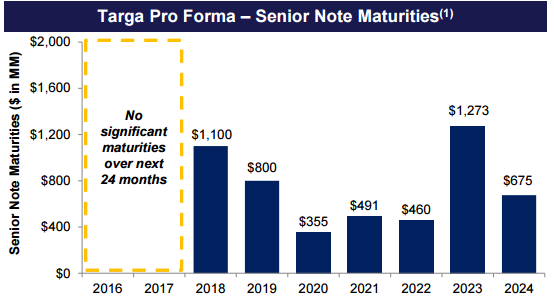 Source: Investor Presentation
The company also has a $1.6bn revolver that is untapped, which gives the company extra cushion in case there are liquidity concerns in the near term. Overall, I believe that there is plenty of liquidity going forward to continue funding the preferred units. In fact, with the undervaluation from the par value, the synergies realized from an expected merger and the overall absolute value of the coupon, I believe that the preferred units are decently safe for income investors.
Risks
The rig count in North American has decreased substantially. This is a decent sized risk for NGLS due to the fact that the company's revenues are derived essentially from rig activity. However, NGLS has a diversified customer base and has access to North America's strongest basins. Going even further, we can see that the majority of revenues >70% are derived from a fee-based business model. What this means is that NGLS really has low overall commodity price exposure. The picture below helps to explain the third party risk: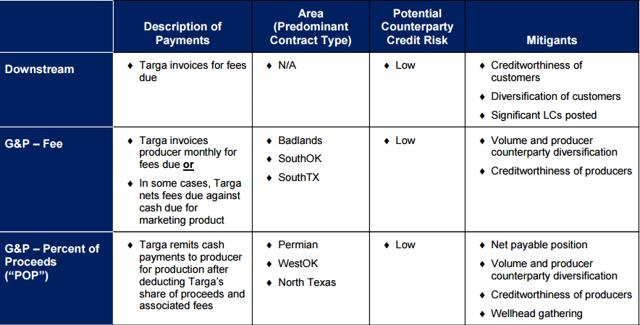 Click to enlarge
Source: Investor Presentation
Essentially, the risk is continual decline in customer volume/fees. This has potential to happen due to the low energy price environment. However, NGLS' current liquidity will help mitigate these risks.
Another notable risk is if more senior debt is raised. Preferred units are junior to all senior obligations. Thus if further senior debt is raised, fixed costs will go up and thus put pressure on the preferred units. However, due to the overall small size of the preferred units, this risk can be somewhat mitigated. $11.25mm is not a huge obligation to the company, which makes these preferred units attractive in my opinion.
A systematic risk is the increase in interest rates. Interest rates and fixed income securities are negatively correlated. Thus when interest rates rise, the value of fixed income securities falls. Making this risk even greater is that these preferred units are perpetual. However, since the company does have a fixed floating rate after the redeemable date, these risks are not as high as the counterpart security with no fixed floating rate.
Conclusion
Recently the share price of the preferred and common of NGLS have risen double digits (in percentage terms). I am attributing the double-digit rise to an increase in energy prices, an upgrade to a buy from a hold from Jefferies and a recent declaration of the dividend on the common. All three of these events are very bullish to investors in NGLS, with the latter two showing the stability of their business.
Cost savings from the merger and little long-term debt that needs to be serviced in the next 24 months coupled with a low absolute value of the preferred units gives investors an asymmetric risk/reward, skewed to the upside. In fact, the discount from the par value provides a decent margin of safety and may give investors a nice capital gain while they collect their 11.25% yield.
Disclosure: I/we have no positions in any stocks mentioned, and no plans to initiate any positions within the next 72 hours.
I wrote this article myself, and it expresses my own opinions. I am not receiving compensation for it (other than from Seeking Alpha). I have no business relationship with any company whose stock is mentioned in this article.