This is our second article which examines the value of the property still owned/leased by Sears Holdings (NYSE: SHLD). We relied on some third party aggregators of data to pull the tax and ownership information. We could have gone to each of the government offices, but we choose not to, as our initial research didn't suggest it was worthwhile.
We don't believe there is only one way to value any business. As far as Sears, in an ideal world we would have every property address listed, and know with 100% certainty the ownership status of that property and any mortgages outstanding. Then we would go and value every single property on a case by case basis. Unfortunately, we don't have that level of detail. We engage in the art of triangulation when trying to value any business. That is, we try to look at different sources of data to either confirm or deny our valuations. One method may suggest the value of a company is X and another method might be significantly higher or lower. We are comfortable with using averages. We are comfortable with trying different angles of value. In the case of Sears, we believe that in order to buy shares we must be convinced that the net valuation is significantly above its current price to warrant our purchase. We think of valuing a business a big giant puzzle, except we don't know what the picture is going to look like. We find pieces, and start trying to put the pieces together. If it fits into a nice clear picture we buy, if it doesn't we pass on the investment opportunity.
We would like to address one more point. We have received many positive comments, and a few negative comments with regard to our articles. The negative comments have primarily engaged in what we call "pivot" arguing which we think is flawed and dangerous. When confronted with facts that are counter to their investment thesis, these commentators will turn and bring up something we haven't addressed or suggest an alternative to the one we have provided. They rarely address our arguments head on or demand a level of detail from us that they themselves haven't engaged in.
This article takes a different approach than our last article did. As we mentioned in our last article, Macerich (NYSE: MAC) provides you a level of detail that no other REIT does. This article will focus on the properties that are located in the state of California, and that are owned or leased by Sears. Why California? In the Seritage (NYSE: SRG) documents they tell you that California represents the state with the most properties not including the Joint Ventures. We included the chart below for your reference.

Click to enlarge
Also, this chart is in reference only to the properties owned by Seritage and not the joint ventures, but when one adds the properties from the JVs, California still represents the largest number of properties.
Within Seritage there are 38 properties in California. There are an additional 5 properties located in California within the Joint Ventures. Thus, the total properties across both Seritage and JVs is 43. We can break this down another way. Those 43 properties are comprised of 36 Sears locations and 7 Kmart locations.
For this article, we chose to focus on locating Sears locations within California, and not Kmart. Sears tends to be at mall locations and probably on average have higher resale potential. (This represents an assumption on our part.) The Seritage/JV transaction offers us some data points on possible valuation metrics from which we can begin to value the left over real estate from.
How to find all the Sears locations in California?
First, we went to the Sears Holdings Real Estate website. By using the search tool, we looked for Sears locations, in California. You can see from the picture below that we got 75 locations.

Click to enlarge
These 75 properties became our starting point. As we went through the list we noticed that many of the stores listed are now owned by Seritage or the JVs. So we had to separate these properties out. This would leave any remaining Sears locations that are leased or owned by Sears. Next, to double check our work we went to the Sears store locator portion of their website, and looked to see if we were missing any store locations. We were then able to create a list of the remaining Sears locations within Sears Holdings. We provide a copy below. There are 40 stores listed on this chart.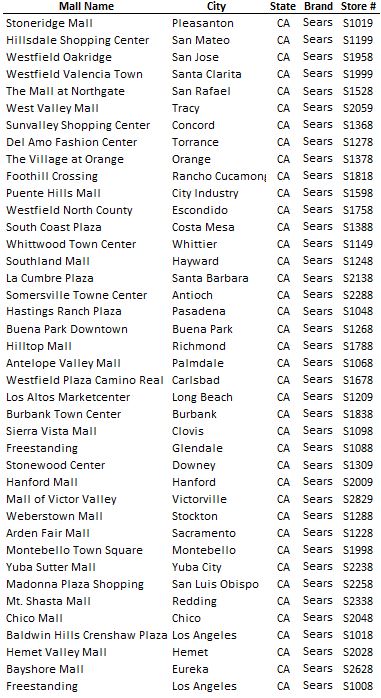 Which Properties Are Owned and Which Are Leased?
Once we had this list of remaining properties that are still within Sears Holdings, we had to determine which properties were owned by Sears or leased by Sears. The properties in Seritage represented majority owned properties, as there is only one property that is subject to a ground lease within Seritage.
In order to undertake this task, we began searching databases for tax records to determine who was listed as the owner. Obviously, some properties were easier to determine than others. So we will start with the easiest. There are 12 properties which are listed as being owned by Sears and the mailing address is to Sears headquarters. The picture below shows those 12 locations. Thus, we will conclude these locations our being 100% owned by Sears, and available to be potentially "monetized."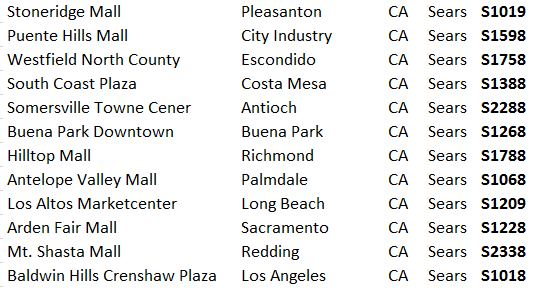 Next, we knew that from our Macerich research that four of the locations out of the remaining 40 were previously identified as being owned by Macerich. Those locations are listed in the chart below.

The next list is comprised of locations where the listed owner is someone other than Sears and the mailing address is someone other than Sears. Thus, this means that those locations are not owned by Sears, but rather leased by Sears. [Note: One issue with this approach might be that these only represent ground leases, and Sears could own the buildings and improvements.] The chart below lists the 15 locations below.
It is worth pointing out that as of right now we have identified 19 locations or almost half of the original 40 as being probably leased locations, and not owned by Sears. This would only leave 21 stores as potentially determined as owned by Sears. We have already found 12 of the owned stores. But this important to think about in terms of the Seritage/JV transactions. Between both the Seritage and Joint Venture transactions Sears raised $3.1 billion from the sale of stores. But in that original transaction as we mentioned above they sold 36 Sears locations. If Sears wanted to do another similar transaction it doesn't have another 36 Sears locations located in California left to sell. Right now it only would have potentially 21 locations. But we will move on.
If we are doing our math correct this leaves of us with 9 stores from our original list of 40 locations. The other 9 locations are subject to some interpretation as to who the owner is or isn't. Those locations are listed below. Following the chart, we provide the reader with a brief summary of the information we were able to locate, and how we ultimately decided to treat each property. This is definitely an area where readers can choose to conclude differently.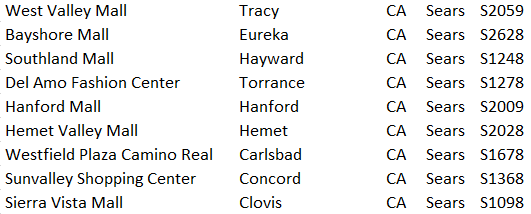 West Valley Mall: (Leased)
The West Valley Sears location has the owner listed as Tracy Mall Partners Sears General Growth as the owner and the address listed as Sears. We found a Bear Stearns mortgage security document which shows that Sears has a lease for the property. However, we were unable to determine if this lease is a ground lease, and Sears owns the buildings (see Sunvalley) or if it is the lease for the store. We will conclude this as a leased location.
Bayshore Mall: (Leased)
The Bayshore Mall Sears location located in Eureka, CA didn't have any owner listed in the database that we were using. It was the only location that did not have any information. However, we were able to locate this following document which suggested that the location is a leased location. Sears appears to be the largest tenant in the Bayshore Mall location. We conclude this to be a leased location.
Southland Mall: (Owned)
The Southland Mall Sears location listed Seaver Ira J & Edythe T Trs & Parkvan Associate as the owner with Sears' as the representative and Sears' address. We found this mortgage document which lists that the all the anchors EXCEPT for Sears are serving as collateral for the loan. We were unable to find out whether or not if this property is subject to a ground lease. So, we have decided to include this property as owned, because of our inability to conclude one way or another.
Del Amo Fashion Center: (Leased)
The Del Amo Fashion Center lists Fourth Saearsvale Properties Inc And Sears Roebuck and Co Lessee as the owner with the address to Sears headquarters. This property is probably the most inconclusive as there wasn't much information available. We found this article which suggested that Sears owns 20 acres of land in addition to its store; however, we don't believe this is the case. Mill Corp bought the Del Amo Fashion Center from a group of investors in 2003. We were able to locate a copy of the "Purchase and Sale Agreement" found here. On p. 1 of the document, it has the following line, "The balance of the Shopping Center is owned by Sears, Roebuck and Co. and Macy's West, Inc. or their respective affiliates, which are currently operating retail department stores on their respective parcels." Sears is also listed as an adjoining owner. But per p. 8 Mills was also buying an interest in Sears Ground Subleases. And on p. 36 of the document it shows that Sears has the right to rent the ground with extensions through June 30, 2079. Thus, in our opinion Sears owns the buildings and is subject to a ground lease. Thus, we are concluding that for our analysis this store should be treated as a leased location. Also, we should note that this ground lease probably has significant value, but it isn't within the scope of this article.
Hanford Mall: (Leased)
The Hanford Mall Sears location listed Sears Roebuck And Co Lessee as the owner with the representative being Passco Hanford Mall and the address was to Passco's office. We found this document that shows that Sears is one of the largest tenants of the Hanford mall, and that they pay rent. This could be for a ground lease only & Sears could own the building, or it could be that Sears leases the space. We decided to label this location a leased store.
Hemet Valley Mall: (Leased)
The Hemet Valley Mall Sears location listed Mcs Hemet Valley Center & Sears Roebuck & Co. as the owner, with the address going to the office of MC Strauss. We were unable to find any information on this property other than what we have provided. (We might have been tired of searching. J/k) We decided that, unlike the Southland location listed above, since the address was not to Sears' headquarters we decided that is should be treated as a leased location.
Westfield Plaza Camino Real: (Owned)
The Westfield Plaza Camino Real Sears location lists Sears Roebuck&Co Lf Plaza Camino Real as the owner and has Sears' address listed. There wasn't much to go on with this property other than we found several articles that say that most of the anchors own their parcels. Here is an example. Thus, we will conclude that this location is owned.
Sunvalley Shopping Center: (Leased)
The Sunvalley Shopping Center lists Taubman Land Associates as the owner with Sears as the representative and the address is Sears' headquarters. Morningstar, in this document says that Sears has a ground lease, but that it owns its own building and improvements. Also, this Kroll Bond Rating Agency press release says that Sears owns its improvements, but operate with a ground lease. We have decided to count this location as a leased location because there is only one building in Seritage deal that operates via a ground lease. The joint ventures have a one facility subject to a ground lease, and two retail facilities subject to leases. So 28 out of 31 properties in the joint ventures were previously owned by Sears, and not subject to leases. The Seritage transaction had 1 lease out of 235 total properties. Because the majority of properties that were transferred into the Seritage/JV were previously owned by Sears we are calling this location a leased one for our purposes. Readers can feel free to value this store differently.
Sierra Vista Mall: (Leased)
The Sierra Vista Sears location listed Landvalue 77 LLC L/F, OF Mc Garry Property Trust, and Sears as owners of the property. There was no address provided. We were able to locate a mortgage security prospectus which says that Sears does not own the store. Similar to other locations listed above, we don't know if Sears owns the building., but we know that they have a lease which expired Oct. 31, 2014 and contains six five-year renewal options. (We assume that Sears is renewed its option as they still list a store operating there.) Thus, we have labeled this store a leased location. There are two interesting asides that readers might find interesting. First, sales in 2005 for Sears were $198 per sq. feet, and the other anchor tenants were as follows: Target - $443 sq. feet, Gottschalk's - $229 sq. feet, and Mervyn's - $246. Second, this document also has data on the Mall of America location which says Sears doesn't own that location either as it is subject to collateral for the loan.
From this list of 9 locations we have determined the following: 7 are defined by us as being leased, and 2 are owned by Sears. And that means that from our list of 40 locations within California we have determined that 14 are owned by Sears, and 26 are leased by Sears. As we mentioned earlier, there were 36 Sears locations located in California that were sold in the Seritage/JV deal. Our analysis would suggest there are only 14 remaining locations, or 38% of the original amount.
Rough Valuation:
From this work we can then begin to answer the question of how much are these 14 locations worth. There are many options for doing this, but we usually start with some basic averages. Why? We think that in order to be interested in Sears, one would have to determine that the locations were worth so much in excess of debt that the value was a no brainer. We started with looking at the amount of money that Sears has been able to raise from the Joint Ventures and from Seritage. We determined the average selling price in each transaction, and then used those average selling prices to determine the value of the remaining 14 locations. We created the chart to below to help you keep track.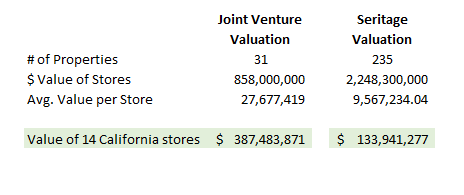 Thus, we can see that based on these transactions we would expect the value of the remaining Sears locations located in California to generate anywhere between $380 million and $130 million. This is hardly a lot of money, in light of some of the cash needs we mentioned in other articles.
We can even go one step further, and offer a hybrid approach by examining the original 36 Sears locations sold to in the Seritage/JV transaction. Five of the Sears locations located in California were sold as part of the Joint Venture transaction. This represents about 14% of the total Sears locations sold as part of the Seritage/JV transaction. And the other 31 Sears locations were sold as part of the Seritage transaction. This represents about 86% of the stores. If we assign the same percentages to our 14 Sears locations. Then we can value 2 of the stores at the Seritage average value, and 12 at the Seritage average value. This would mean that the 14 California locations for a total of $170 million.
Is this approach flawed?
We, unlike many of our contemporaries are more than willing to address the limitations of our valuation approaches. And we present them within the same articles, because it is how we think about analyzing the value of any business. We need to understand the strengths and weaknesses in any of our valuations approaches. The valuation above tells you what the market is willing to pay on average for a location that is still subject to a Sears location operating within it. These aren't shell locations. Shell locations or locations where Sears is exiting completely could be more attractive to the mall owners. Why? Because you could recapture space or redevelop the entire building/land at higher lease payments. For example, Sears sold its Cupertino, CA store for $102 million, and a store in West Hills, CA for $42 million. Sears exited both locations. (Note: We think the $102 million hasn't been transferred to Sears, and represents a possible cash infusion for this past quarter, because Sears sold the location in Oct. 2014, but was able to stay at the location for one year until Oct. 2015). Our guess would be the money wouldn't be transferred to Sears until they exited. We weren't able to find anything about the money being received by Sears, but we didn't spend too much time on it.) Both these locations were sold for significantly larger amounts than are valuation would imply. The West Hills location was located next to a huge new mall and redevelopment project owned by Westfield.
Estimates used for valuation should be done in a conservative fashion. And what that means in this case is that the properties might be worth more if they were empty. But that would also imply Sears would have to close all its locations. There are real costs with closing these locations, the value of excess of inventory would disappear as it is sold off, and thus, your net asset value calculation would have to account for the retailer disappearing. This is a major flaw we think bulls have failed to consider. They look at deals similar to the Cupertino and West Hills locations, and apply the value to all the locations without considering the fact that Sears will no longer operate at those locations. You can't have it both ways, as that is double counting the value of the real estate and the retailer.
Finally, Wal-Mart (NYSE:WMT), Macy's (NYSE:M) and JC Penny (NYSE:JCP) have all recently announced store closures. So, the value of big department stores maybe under pressure as a result of excess supply. Someone will inevitably argue that real estate is location specific. That is true to a degree. But you need to consider the perspective of the buyers. The large mall REITs can only do so many projects at one time, from a practical construction perspective and from a financing perspective. So, they will now have opportunities to do redevelopments with many other retailers who are closing stores within their mall locations. And thus, there is more competition for the money for redevelopment. So the Sears locations may be site specific, but the REITs aren't necessarily in a hurry to buy them back. They can deploy their capital in other areas. Offsetting this would be the idea that a struggling Sears location may a negative impact on their malls overall, so they would want to buy those locations back as soon as possible.
Conclusion:
There is no one proper way to value a business. But there are implications both positive and negative with making certain assumptions. Some critics will argue that our approach is too conservative because we didn't do a site by site valuation. Also, we have ignored the value of the ground leases for now. And we would agree with them. But we haven't found anyone who has done one either. And the reason they haven't done one is probably because of time and access to data. We are presenting our approach, and along with our article on the Macerich transaction we conclude that the pieces suggest there isn't much value in the properties left in Sears.
Disclosure: I/we have no positions in any stocks mentioned, and no plans to initiate any positions within the next 72 hours.
I wrote this article myself, and it expresses my own opinions. I am not receiving compensation for it (other than from Seeking Alpha). I have no business relationship with any company whose stock is mentioned in this article.