The current correction in equities presents great opportunities for fixed income investors. One of these opportunities is TANO (TANO), an exchange traded bond issued by TravelCenters of America (NYSEMKT:TA). Similar to any other bond, TANO has a defined maturity, coupon payment and par value (listed below).
TravelCenters of America is the largest commercial full service travel center in the U.S.A. While TA's travel centers are open to your average road-tripper, the majority of their customers are professional long-haul truck drivers. TA's travel center, much like a gas station, generates revenue from Fuel and Non-Fuel sales. Non-Fuel sales include truck repair services, restaurants and convenience store sales.
Issue Date: 12/9/2014
Maturity: 12/15/2029
Par value: $25
Coupon Payment: $2 (paid $0.50 per quarter; next dividend payment is Feb. 28th)
Current Price: $23.25 (as of 1/22/16)
Current Annual Yield = $2 / $23.25 = 8.6%
View the prospectus on SEC.gov
Sector Analysis:
Unlike Valero (NYSE:VLO) or Phillips 66 (NYSE:PSX) in the Oil & Gas Refining and Marketing sector, TravelCenters of America does not own any downstream manufacturing assets, such as refineries. TA is solely focused on the retail sale of refined petroleum products and related services/goods through its travel centers. Therefore, TA has been caught up in some of the selling in this sector since the beginning of November 2015. While TA does not generate revenues from refineries to offset the top line decline in crude oil prices, its Nonfuel services/products will help maintain a consistent level of net income.
Financial Analysis:
For the last nine months ended 9/30/15, TA had sales of $4.5 billion (abbreviated as "B") with Net Income of $29.33 million (abbreviated as "MM"). Much like any other service station, margins at TA are small. As crude oil prices have fallen, TA has seen a decline in top line revenue, BUT net income has increased due to the growth in Nonfuel services. For the nine months ending 9/30/14, TA had net income of $26.63MM on Revenues of $6.05B. Meaning, even with a 26% decline in top line revenue, TA saw a 10% increase in net income from $26.63MM (2014) to $29.33MM (2015). Adjusting for a one-time loss on extinguishment of debt, TA's 2015 Net Income grew by about 47%. This was due to the growth in Nonfuel sales (truck repair services, convenience store sales, etc). Nonfuel sales grew by 9.1% compared to the same nine month period 1 year ago, and Nonfuel services accounted for 69.25% of TA's gross margin for the nine months ended 9/30/15. Therefore, a sustained sub-$30 crude oil price should not adversely impact net income.
As the balance sheet below shows, TA has a strong balance sheet with $229MM of cash on hand compared to $230MM in long-term debt (which does not include lease liabilities). TA generated $141MM in cash from operations for the nine months ended 9/30/15. TA's purchase of travel centers they were leasing incurred an additional cash expense of $46MM. TA leases some of its travel centers from a related party, Hospitality Properties Trust (NYSE:HPT). We foresee even more free cash available going forward, and TA's balance sheet is positioned well for future acquisitions and debt service.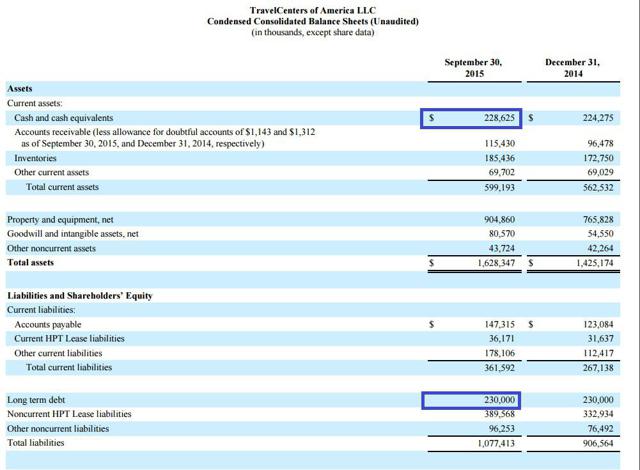 Duration Considerations:
The TANO bond matures on 12/15/2029; due to near-term price fluctuations, TANO is more appropriate for a portfolio with a time horizon of 10 years.
Answering the Contrarians:
The contrarian argument against a commercial full-service travel center would be the wholesale adoption of electrical vehicles in the commercial long-haul trucking industry. This would lead to a decline in TA's revenue as service and fuel sales would decline. Following in the footsteps of TESLA (NASDAQ:TSLA), BMW (BMAXY) showcased an all-electric 18-wheeler last year (2015), but this vehicle has a range of only 60 miles (not sufficient for long-haul trucking). Some analysts predict that it'll take about 10 years for advances in battery technology to allow an all-electric 18-wheeler to replace our current diesel variety. Add to this the long useful life of 18-wheelers -- they can last 10 years before having to be replaced -- and there is minimal risk of a disruption of TA's business model between now and TANO's maturity date.
Conclusion:
With the current broad sell-off oil- and gas-related equities, TA's bond, TANO, presents a great fixed income opportunity for a retirement portfolio. TANO's current price indicates that the market is inappropriately pricing in risks related to the decline in crude oil prices. TANO represents a low risk profile compared to its peers as it does not derive revenue from upstream exploration or production.
Disclosure: I am/we are long TANO.
I wrote this article myself, and it expresses my own opinions. I am not receiving compensation for it (other than from Seeking Alpha). I have no business relationship with any company whose stock is mentioned in this article.
Additional disclosure: There is risk of loss in any investment and past performance is no guarantee of future results.