As many dividend-oriented investors are aware, the recent market turmoil has resulted in even the most rock-steady dividend payers falling considerably. What's more, individual sectors have been getting punished as well, further enhancing drops across the broader market. Besides the obvious oil and gas sectors and other commodities, the Industrial sector has been having a tough time, the cyclicality of their business and the apparent slowdown across the world is creating what some are calling an "Industrial Recession," further hammering the share price of many very stable and successful companies. It is during these times that opportunistic and nimble investors begin hunting.
If you're reading this, you probably already know about David Fish's Dividend Champions List. For those of you looking for reliable dividend paying companies, he has done all the hard work for you -- you could probably throw a dart at the list and land on a winner. Another great resource I've recently invested in is Chuck Carnevale's F.A.S.T. Graphs, which has been an incredible tool so far. When hunting for my next "safe" investment, I employed both in tandem and then did my own due diligence, which led me to Emerson Electric (NYSE:EMR).
If you live in the United States, or any developed country, chances are high that you have a product in your home that Emerson Electric has directly or indirectly manufactured. They've been in business since 1890 and are headquartered in St. Louis, Missouri. If you have a few days, you can take a look at all the things they make, such as Closetmaid, RIDGID tools, and InSinkErator. For a very in-depth breakdown of the structure of the company, look no further than right here from a great author on SA. The financial portion is a bit outdated, but the history and structure of the company are incredibly thorough. Through thick and thin, Emerson Electric has been there, chugging right along and making quality products for quality people. The recent market downturn and macro headwinds facing industrial companies have brought EMR down considerably from their 52 week high of $62.75. I think it is fair to say there is plenty of blood in the streets here, but the buying opportunity is now apparent.
Emerson Electric has been steadily raising their dividend every year since 1957, giving them an incredible streak of 59 years. Right now we have a 4.4% yield that is paid quarterly in $.475 increments for an annual total of $1.90. Their last raise came in November of 2015 and while it was only half a penny a quarter, it was a raise nonetheless. The payout ratio hovers at a safe 50%, which should allow DGIs to rest easy at night. Their 5-year DGR is at a respectable 6.9% to help protect investors from almighty inflation. The dividend has only been this high one time before -- during the 2008-2009 recession, where it hit 5%+ for a short period. Even during that time, Emerson Electric still raised their dividend to keep the streak going. I don't foresee EMR not raising the dividend this year even during a rough time. They just aren't going to throw 59 years away, and I think they know what it would do to investor confidence.
Their balance sheet held just over $3B in cash with $2.5B in short-term debt and almost $4.3B in long-term debt. The debt held in bonds is pretty well structured, with the most recent bond coming to maturity in December for $250M at 5.1%; they are also trading with a lot of confidence in the company. Their credit rating of "A+" from Morningstar allows the company to add cheap debt should the need arise. They've been using their capital wisely and have turned in a ROE of nearly 30% even during a challenging environment. In FY15, which ended in September 2015 for them, they reported $3.99 in diluted EPS and forecast $3.05 for the next FY. Also in their last FY, they bought back over $2.5B in stock and paid down $3.7B in debt, further fortifying future EPS and preserving their great credit rating.
Emerson has its fair share of concerns associated with it. There is no secret that the energy sector has been getting walloped pretty violently lately and 2016 will likely be more of the same. We can hope for a sideways year at best with maybe a little upside in the second half for that sector. Emerson, like most industrial companies, has a good amount of exposure to this industry, and it is having a negative effect on their bottom line as drillers, shippers and refiners cut their capital expenditures and cease expansion. As a result, the company has forecast just $3.05 in EPS for FY2016. Of course, there is always the potential they could go either direction there.
They also do a good amount of business overseas, and the strong dollar has been hurting revenues, losing the company $2B year over year. Management has done a good job of remaining flexible in this environment, hedging foreign currency to the tune of $1.6B and 71 million pounds of copper and aluminum as commodities have also been getting hit. Investors with a shorter horizon may want to steer clear at this time until market conditions are more favorable for the cyclical industrial manufacturer. As oil finds itself a bottom and starts the inevitable slow rise up, EMR's business will tick up as well, and the U.S. dollar will not remain so strong forever.
The headwinds facing Emerson have done something remarkable for investors -- they have dragged the stock down into what is considered undervalued territory. In the last 20 years, this opportunity has only risen two other times.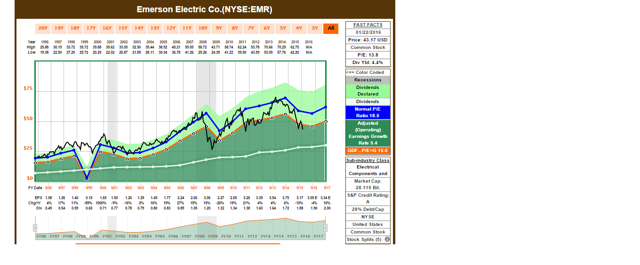 Click to enlarge
The above F.A.S.T. Graph shows EMR is currently undervalued when taking into account current and future estimated earnings. When it sat in undervalued territory each time before, it charged up the hill quickly and almost became overvalued. While the global and domestic situations were most certainly different during the previous drops, one would imagine that what is happening now will be temporary. Many will start to claim that this is a value trap, which they would have stated during the previous three drops. The case can be made that short term the company would be a value trap, but long term that is simply not the case. As we can see clearly in the above graph, this company has come back and maintained earnings growth following tough market conditions. I feel the bad news is mostly baked into the current price, and further bad news would do little to greatly alter the share price. Any positive signs for the business will serve the PPS well. EMR has an ace up its sleeve with the strong and proven dividend, and that cannot be left out of the equation.
Should conditions worsen and EMR find itself in truly dire straits, the company has an impressive portfolio of brands, products and services. During tough times, the company has employed spinning-off or selling parts of their business that do not sit within the core and/or are underperforming. Their most recent announcement to spin-off their network power business came during a strategic review, where the company decided to do so to bring EMR back to prominence as a top-tier industrial manufacturer. The spin-off, which is scheduled to be completed in September of this year, will create two separately traded companies. The sales for that portion of the business had been in steep decline, and investors had grown weary of the worsening bottom line. Although many may criticize the CEO David Farr for holding on too long and being too attached to a project, I take comfort in seeing the decision being made quickly and in response to shareholders' concerns. In recent years, we have seen companies that do a lot of things well struggle compared to companies who do one thing great. I see EMR trying to become that company who once again does one thing great.
Emerson has proven itself throughout history and has 59 years of dividend growth to boot. It hasn't been considered undervalued very often, and this is a great opportunity to purchase a well-diversified and well-managed company. Sure, there may be more downside, but there also may not be, and at the very least, we have a safe dividend that will grow. The headwinds that they face today are temporary, the company is not losing earnings because of mismanagement or outright neglect, and the fundamental strength of the business is still there. Before I invest my money, I take a step back and ask myself if I sincerely see the company I am considering existing and succeeding in 50 years. EMR was an easy "yes" for me. I hope you all enjoyed the article, and I look forward to the discussion in the comments. As always, good luck to you all.
Disclosure: I am/we are long EMR.
I wrote this article myself, and it expresses my own opinions. I am not receiving compensation for it (other than from Seeking Alpha). I have no business relationship with any company whose stock is mentioned in this article.