American Express (NYSE:AXP) reported fourth quarter and full year 2015 results on January 21st, and most market participants did not like at all what management was telling them: American Express fell twelve percent, on a day when the S&P 500 was up two percent. I think the market overreacted, results were not really that bad, and the current price drop thus provides a buying opportunity.
Numbers recap
American Express' revenues declined seven percent to $8.4 billion in the fourth quarter -- at first this sounds pretty bad, but the revenue number actually beat estimates by $50 million. This revenue number includes currency effects, and the comparable number for the prior year period also includes $720 million for the sale of American Express' Concur Technologies stake sale. When we adjust for these two items, American Express revenues grew four percent over the prior year's period -- this doesn't sound too bad any more.
American Express' net income dropped to $900 million, but when we adjust for certain items (e.g. one time charges) we get to net income of $1.21 billion for the quarter. Earnings per share totaled $1.23 versus $1.39 in the prior year's quarter. Estimates had seen earnings per share at $1.13, so American Express beat expectations by nine percent.
The positives
American Express' revenue performance (up four percent yoy when adjusting for currency and one time items) is very satisfying. When we look at the parts which make up the company's revenues, we see a couple of strong points: Interest income grew seven percent in the fourth quarter (to $1.89 billion), at the same time interest expenses fell, which lead to a $130 million net interest income gain (to $1.55 billion, up nine percent yoy).
Volume trends are positive as well: American Express total card billed business grew three percent to $273 billion in the fourth quarter, growth in the US (where margins are higher than in American Express' International business) has been even better, US billed business grew four percent. Total cards in force grew as well, increasing by five percent to 118 million, the number grew for the US as well as for American Express' International business.
The next positive is the company's strong balance sheet: American Express has $23 billion in cash, which is an increase of five percent over the prior year's quarter. For comparison, this is equal to 43 percent of the company's $54 billion market capitalization, a relative size that is even higher than the much cited high cash pile of Apple (NASDAQ:AAPL). Long term debt decreased by $10 billion over the last year (to $48 billion), I rate this as a positive, since management seems to position the company for times of higher interest rates by decreasing the company's leverage (which seems not unlikely after the FED's rate hike in December).
Shareholder returns remained very strong as well: American Express' dividend of $0.29 per quarter was increased by twelve percent over the last year and yields 2.1 percent right now (which is pretty much in line with the S&P 500's dividend yield). The bigger part of American Express shareholder returns is directed towards share repurchases though: The company has reduced its share count by five percent over the last year (981 million versus 1033 million in the prior year) -- a huge benefit for shareholders in the long term, since this ultimately pushes earnings per share growth rates a lot higher. Since American Express' share price has declined substantially over the last months (including today) I expect the company to ramp up the pace of share repurchases as long as shares trade at a low price in order to maximize the effect of each dollar spent on share repurchases.
The guidance
Management also announced guidance numbers for 2016 and 2017, according to management the company will earn about $5.40 to $5.70, which includes proceeds from the sale of the Costco (NASDAQ:COST) brand portfolio, which will close in summer 2016. Guidance for 2017 sees earnings per share of at least $5.60.
At first these numbers don't look bad, management calls for flat earnings in 2016 and an earnings increase in 2017, the market reacted negative to the fact that earnings per share would be lower when excluding the impact of the Costco portfolio sale. This point is true, if not for this one time effect earnings would be lower, but the fact that earnings per share for 2017 (which do not include any Costco proceeds) are expected to grow over the trailing number tells us that management does not calculate with a long term downtrend, rather it looks like the organic earnings decline of 2016 will be a singled out case and not the norm.
What does Buffett like about American Express?
There are a couple of points we know Buffett likes in his holdings, and American Express offers all of them: The company reports very high returns on equity (26 percent in the fourth quarter), which not only is one of Buffett's key metrics, but which also highly correlates with long term share performance.
American Express also is able to generate large cash flows, and at the same time the company holds a huge cash position on its balance sheet. This allows the company to return ample amounts of cash to shareholders (shareholder payout ratio of seven percent at the current price) and pay down debt and invest into the business at the same time.
We also know Buffett loves it when a company buys back large amounts of shares as long as the valuation is cheap, as is the case with IBM (NYSE:IBM) and American Express. This leads to a greater portion of the company's net income and assets for each share over the years and makes an investment with a given number of shares more valuable over time.
Since Berkshire Hathaway (BKR.A) (NYSE:BRK.B) holds about fifteen percent of American Express and the company's valuation is very low right now -- yet American Express offers all the things Buffett likes about a company -- I believe it is not unlikely that Berkshire Hathaway will increase its position in American Express over the next months. Buffett has bought more IBM in the last quarters when share prices were low, he could do so again with American Express.
Valuation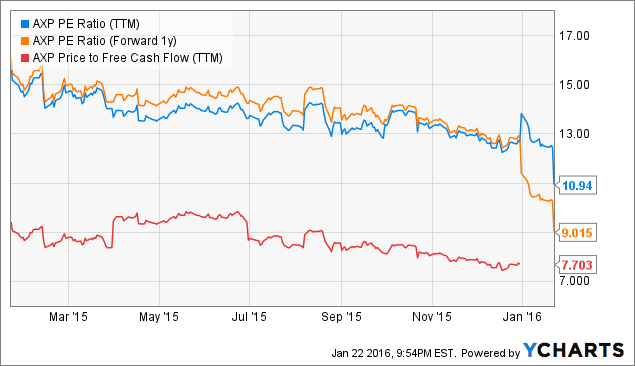 American Express' valuation has been low in the last weeks, and it is even lower after today's twelve percent share price drop. The company trades at just 10.9 times trailing earnings (versus 20 for the S&P 500), the forward earnings multiple of 9.0 is even lower. Both metrics show a huge valuation decline over the last year, making right now a good time to buy.
American Express' undervaluation is most visible when we look at the company's free cash flows, though: With a price to free cash flow ratio of just 7.7 the company offers investors a free cash flow yield of 13.0 percent, which means that the company could pay out a double digit dividend yield to its owners. The focus has been on reducing the share count and decreasing the debt load over the last years, but long term investors profit from these two trends as well and American Express will very likely continue to increase its dividend at a significant pace in the next years.
We can also use the Graham formula to determine a over- or undervaluation:
V= EPS*(8.5+2*G)*4.4/Y
wherein
EPS = earnings per share in the last twelve months
G = estimated EPS growth rate over the next 5 years
Y = yield on AAA corporate bonds
If we apply American Express' numbers and the current share price of $55, we can solve for the required growth rate over the next years:
$5.53*(8.5+2*G)*4.4/4.0 = $55
This gets us to a G of 0.3 percent -- in other words, American Express is fairly valued if the company increases its earnings per share by 0.3 percent a year in the future. Since the analyst consensus sees the five year growth rate at 7.5 percent, we can say that American Express looks undervalued right here.
When we additionally take the huge cash position of each share (around $23) into account, the undervaluation at the current price becomes apparent.
Takeaway
American Express grew revenues organically and beat estimates for the top and bottom line. The balance sheet is strong and keeps getting stronger, and at the same time shareholder returns remain high.
I believe that American Express looks attractive at the current price, and I wouldn't be surprised if Berkshire Hathaway uses the current share price weakness to increase its American Express position.
Disclosure: I/we have no positions in any stocks mentioned, but may initiate a long position in AXP over the next 72 hours.
I wrote this article myself, and it expresses my own opinions. I am not receiving compensation for it (other than from Seeking Alpha). I have no business relationship with any company whose stock is mentioned in this article.
Additional disclosure: The author is long AAPL.