I believe telecoms should be considered for any dividend investor's portfolio. Telecoms tend to have consistent earnings and cash flow. The industry tends to be oligopolistic, highly-regulated and also tends to have high barriers to entry.
Last week US telecom giant Verizon Communications (NYSE:VZ) reported its full-year earnings. I've been following Verizon on Seeking Alpha for awhile, and I've always favored this company for its superior 4G network coverage, which is generally believed to be the best in the country. This article covers Verizon's latest quarter, its recently-announced expectations for 2016, and most of all, the company's valuation and dividend.
Good full-year results
Overall revenue increased 3.6% on the full year 2015, and it increased 2.6% when not including the AOL acquisition. Adjusted earnings per share increased by a nice 7.7% over the same period. Total wireless revenue increased 4.6% on the year, with revenue from the legacy wireline business declining 1.8%.
Within wireline, EBITDA margins increased to 38.4%, up 5.8 percentage points year-on-year. Customer churn was a very low 0.96%, and the company added a net of 1.5 million customers to post-paid, wireless contracts in the quarter. 4G LTE devices increased from 80 million to 84.4 million, and now account for 79.2% of all Verizon's post paid connections. Long story short, Verizon continues to leverage the growth of its wireless business to drive profits. Rising margins in particular have driven bottom line profits higher.
Delevering decisions
Next year, however, Verizon expects earnings to level off. Wireless will continue to be an engine of growth, and, in fact, 5G testing will soon commence. However, earnings will reel from the sale of the company's high-margin enterprise landline operations to Frontier Communications. That sale should be offset by continued revenue and EBITDA growth in the wireless business. Proceeds of the wireline sale will go to pay down debt incurred from the Vodafone-Verizon Wireless acquisition.
This is an interesting development, because I previously thought that Verizon would delever as capital spending eased off with the end of the company's broadband buildout. However, demand for mobile data has yet to level off, and Verizon seems intent on launching 5G technology as a result. If so, this means continued high capital spending in the coming years.
Instead, Verizon has opted to sell non-strategic assets, such as the wireline enterprise business. For investors, this means earnings growth could be slow for the period in which Verizon is selling assets. However, continued growth in data consumption can only bode well for Verizon in the long run.
Valuation and dividend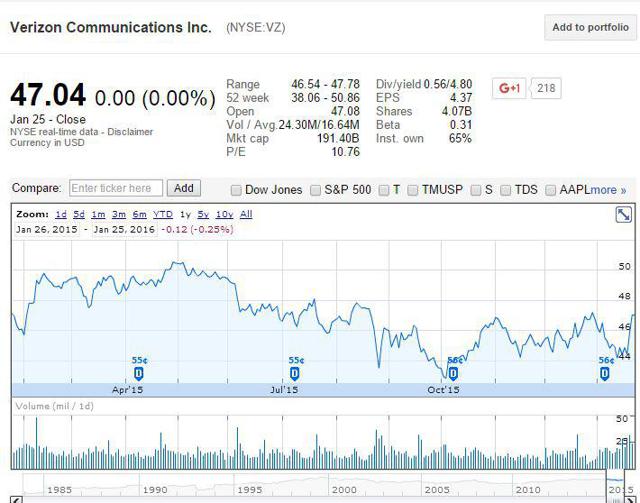 Click to enlarge
Courtesy of Google Finance.
Verizon is already priced inexpensively here, and I continue to recommend this stock for its consistent dividend, healthy yield and long-term dividend growth in the low-to-mid single digits. While shares are up a sharp 5% since the middle of the month, I still believe that Verizon is a buy for overall valuation reasons.
Currently Verizon trades at 11.8 times 2015 earnings. According to data from FAST Graphs, Verizon has traded at 15.3 times earnings over the last ten years. This means Verizon trades at a nice discount of 23% to fair value. I believe that the long-run upside will correlate with the discount seen today.
As of close of business Tuesday, Verizon yields 4.8%, and I think there is still some room for dividend growth. After all, in 2015 the dividend was only 58% of earnings per share. Since 2006, Verizon grew dividends by 3.3% compounded. Although next year's earnings are expected to be flat, the flat earnings is only due to asset sales. Therefore, I expect continued dividend growth of 3% from Verizon in coming years. Not counting acquisition of wireless licenses, Verizon generated ample free cash flow of about $21 billion by which to pay for the $8.5 billion dividend.
Over the next year, or maybe even two years, earnings growth may be slower due to continued non-strategic asset sales. I'm thinking that earnings growth may struggle to be greater than overall GDP growth. Even still, I think Verizon is priced very well for its situation, and the dividend makes this stock worth the wait.
Conclusion
All things considered, Verizon is a buy, but it's certainly not the only buy in the telecom space. I also like AT&T (NYSE:T) and Vodafone (NASDAQ:VOD), each for differing reasons. With Verizon, you'll get a solid dividend yield and a best-of-breed company trading at a discount.
Disclosure: I am/we are long VZ, VOD, T.
I wrote this article myself, and it expresses my own opinions. I am not receiving compensation for it (other than from Seeking Alpha). I have no business relationship with any company whose stock is mentioned in this article.