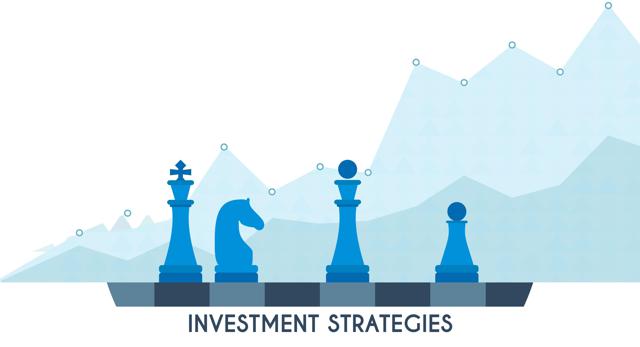 What is the Risk Rotation Portfolio?
I wrote an article last year on Risk Rotation, or Asset Rotation, strategies. In brief, the core principle in a Risk/Asset Rotation portfolio is to periodically move (or rotate) assets out of an asset with a higher downside risk to an asset that has a lower downside risk and higher upward momentum. Such a portfolio aims to provide much lower volatility and drawdowns while capturing similar (or better) returns as the broader market.
Why an "Income Focused Risk Rotation" portfolio:
I am going to expand the promise of such a risk rotation portfolio for income seeking investors. For some folks, especially in retirement, income is very important to pay the bills and they may not care so much for the "total return." But they do care for the safety of the principal and normally would not have the stomach for the kind of volatility that we have witnessed most recently or extreme drawdowns that S&P500 had during the 2008-2009 crisis (in excess of 50%). The portfolio that I am going to demonstrate here will be constructed, keeping two very important cornerstones in mind: 1) high income yield and 2) relative safety of principal. This portfolio will invest (and rotate) in 6 securities, including four high-yield CEF's (Closed End funds) along with long-term and short-term treasury funds. This portfolio will aim to provide approximately 6% income with the downside protection. Note that this is 2% less than my "8% Income portfolio," but with substantially less risk. This modified Risk Rotation strategy will provide the safety and limit the drawdowns, whereas a combination of CEF's will provide a high yield. The primary goals of this portfolio will be:
6% income yield (to withdraw every month).
Preservation or safety of capital/principal.
Much lower drawdowns than S&P 500 (probably 1/3rd of S&P 500 in times of crisis).
Potential for long-term capital appreciation
How to construct an Income Focused Risk Rotation portfolio:
We will use a combination of CEFs (Closed End funds) and Treasuries/CASH to construct this sample portfolio. I know some folks do not like CEF's due to their high fees, use of leverage, and sometimes unsustainable high dividend yields resulting in a return of capital. The arguments can be made on both sides, however, and so that discussion is out of the scope of this article. I may add that high fees can sometimes be justified by the use of leverage, if used effectively. In this portfolio, we are going to try using them to our advantage by being invested in CEFs during favorable times and moving to Treasuries and CASH at other times.
We will select 4 CEF's for our investments along with treasury funds TLT and SHY. SHY is being used as a proxy for CASH. Selection of our 4 CEF's is important as that will determine how much yield we are going to generate and also the capital gains that we can expect for the long term. The criteria for CEF selection are as follows:
The CEF has substantial history and favorable track record in maintaining it's NAV.
Provides at least an 8% or higher yield.
The dividend (or distribution) is paid monthly.
The yield is largely provided from the generated Income, rather than "return of capital."
The four CEF's should be from different "asset" classes to provide good diversification.
The reason we want CEF's with > 8% yield because for roughly 30% of the time our model will be invested in Treasuries and/or CASH, providing a much lower yield. By selecting CEF's with > 8% yield will balance out the low-yield periods and thus aim to provide an overall 6% income yield. The selected CEF's must pay dividends/distributions on a monthly basis since we will be moving in or out of them on a monthly basis and want to capture the monthly dividend before moving out of an investment.
With these criteria in mind, I selected the following CEF's. Each CEF should preferably be from a different asset class to have as much diversification as possible. The following list is not set in stone; one can use any other set of CEF's as long as they meet the broad selection criteria.
Plus Treasuries and/or CASH
iShares 20+ Year Treasury Bond (NYSEARCA:TLT)*
iShares 1-3 Year Treasury Bond (NYSEARCA:SHY)**
* TLT is a 20+ year Treasury fund and often times provide the inverse co-relation with stocks.
** SHY is a 1-3 year short duration Treasury fund and we will use as a proxy for CASH.
Please note our selection of KYN, an MLP fund that pays the distribution on "quarterly" basis, not monthly. I had to select KYN for this sample since none of the monthly paying MLP funds have a long enough history that could be tested going back to 2006. I wanted to keep an MLP fund to keep the asset class in our sample, and also to demonstrate how our strategy would keep us out of an MLP fund almost entirely during 2015. In a real life setting, we must select a monthly paying MLP fund to be able to capture the distributions.
The Strategy:
Every month, usually on the 1st or 2nd of every month, we will compare the performance of all the six funds (4 CEF's plus TLT, SHY) with a 62-days or 65-days (three months) look back period and have them sorted in the order of performance. We will follow the following steps:
Sell the funds from last month's selection (unless the new list was same as last month).
Withdraw the 6% income every month (usually 90-100% coming from dividends/distributions collected during the month).
Invest the rest of the allocable funds in three top performing funds.
60% in the top most performing fund
30% in the 2nd best performing fund
10% in the 3rd best performing fund
Repeat every month, on a fixed date of the month. It can be 1st or 2nd of the month or any other set date. Avoid any sudden/impulsive decisions and strictly follow the rules.
As you can see we will have a maximum of 3 sell trades and 3 buy trades every month, which will mean a maximum of 72 trades for the year (will be less in a real life situation). So this strategy is implementable only in a low-cost commission brokerage account. I personally use this strategy in an account which provides me a certain number of zero-commission trades every month. We definitely want to keep our transaction costs to a minimum.
How the strategy worked out in the past:
In my back-testing, I did go back to the year 2006 so as to include 2008-2009 financial crisis. I could not go back to 2001 due to the reason that many of the CEF's do not have that long of a track record. Also, it is important to note that the returns shown under column (4) & (6) below are calculated assuming we are withdrawing 6% income on a monthly basis (after adding the regular dividends). Columns (8) & (9) show the total returns after adding back the income withdrawn, but without re-investment.
Performance comparison: 6% Income CEF RRP Strategy vs. S&P500: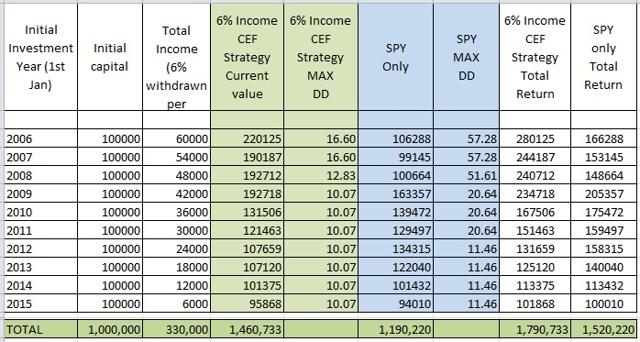 Click to enlarge
Image1: Performance/Returns - 6% Income CEF RRP Strategy vs. S&P500
The table above shows the performance/returns of the CEF Risk Rotation portfolio starting with the year 2006.
Row 3: Shows how the portfolio would have performed versus S&P500 if we had invested $100,000 on January 1, 2006 and remained invested until 12/31/2015, with the assumption of 6% monthly withdrawal rate.
Row 4: Shows how the portfolio would have performed versus S&P500 if we had invested $100,000 as of January 1, 2007 and remained invested until 12/31/2015, with the assumption of 6% monthly withdrawal rate.
And so on…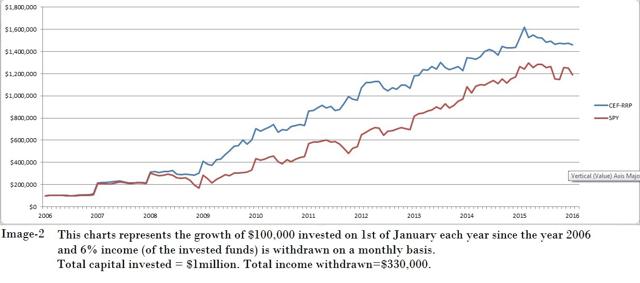 Click to enlarge
Potential Risks:
As the adage goes, "past performance is no guarantee of future success." The results shown above are based on back-testing. Even though the testing data goes back 10 years, there are some weaknesses that have been highlighted already in the results. As you may have noted the overall results (or total return) varies greatly based on when one invested the starting capital. For example, if one had started in the year 2006 through 2010, your results would be outstanding compared to S&P500. Even if you had started investing in 2007 just before the market peak and subsequent crash, the results would still be outstanding. However, the same is not true if one had chosen to put the initial capital staring 2012 or 2013; the results lagged significantly that of S&P500. However, the strategy still preserved the capital while providing 6% income. So, it appears that the strategy works better during the times of crisis, but lags during the bull-markets. One solution to address this problem is to invest regular sums of money in a staggered approach. This approach has been demonstrated in Image 2 above.
Concluding Remarks:
We are in the midst of market volatility and turmoil. No one knows for sure if this is a temporary roadblock in the path of continuing bull-market or the beginning of a bear-market. My belief is that any reasonable strategy with well-defined rules will be better than no strategy, especially during the uncertain times like we are witnessing today. In my opinion, the strategy that I have outlined above looks promising for income-seeking investors who also want a decent growth with lower drawdowns over a longer time-frame. Also, it is important to not place all of your eggs in one basket and depend entirely on any one strategy.
With the above strategy, I will have four different strategies (published on the SA), each with unique goals and risk levels. For regular updates and to keep track of these strategies, please consider following me. The other strategies can be seen here, here and here.
Full Disclaimer: The information presented in this article is for information purpose only and in no way should be construed as financial advice or recommendation to buy or sell any stock. Every effort has been made to present the data/information accurately, however the author does not claim for 100% accuracy. The portfolio or other investments presented here are for illustration purpose only and are in no way should be treated buy or sell recommendations. The author is not a financial advisor, please do your own due diligence.
Disclosure: I am/we are long NMZ,FFC, KYN.
I wrote this article myself, and it expresses my own opinions. I am not receiving compensation for it (other than from Seeking Alpha). I have no business relationship with any company whose stock is mentioned in this article.