By Bhavik Patel, Kevin Conde, Mallika Kapur
Operating Projections

Click to enlarge
Business Description
Founded in 1981, Michael Kors is an affordable luxury brand catering to adults looking for a sleek, modern, and polished style. It is an established brand in the United States, with 354 stores and a growing international base. Michael Kors saw $3.4 billion in revenue from domestic sales for 2015, equating to 80% of current revenue. The company directly competes in the affordable luxury market with Coach (NYSE:COH), Kate Spade (NYSE:KATE), Guess (NYSE:GES), and Ralph Lauren (NYSE:RL). Its target market ranges from middle to lower-upper class income earners, depending on the product section.
Michael Kors derives its revenue from three main channels: retail at 47.3%, wholesale at 48.8%, and licensing at 3.9%. For its retail segment, the company operates 526 retail stores, including standalone stores, concessions within department stores, and outlet stores. Full-priced retail stores and concessions encompass 373 stores, while outlet stores amount to 153 stores. The North American market has 354 locations, while the company's International market accounts for 183 locations. Furthermore, Michael Kors launched a new North American e-commerce site in 2015. For its wholesale segment, it operates 4,038 doors and sells to major Asian, European and North American department stores. Additionally, the company has issued exclusive geographic licensing arrangements in China and the Middle East.
Products
Michael Kors sells handbags, footwear, clothing, accessories, and small leather goods. The offerings are divided into two collections, the more affordable MICHAEL Michael Kors collection and the more expensive Michael Kors collection. Product prices in the Michael Kors line tend to range from $800 to $6000, whereas MICHAEL Michael Kors stays below a budget of $500 per item. This allows the company to target two portions of the market and gain greater market share by covering the full expanse of middle to upper class consumers.
KORS created its men's collection in 2002, and has made it a larger focus of the company's business in recent years as the men's market has grown. Currently, it operates 11 stores solely dedicated to selling men's products. The men's line seeks to target a young, urban, jet-setting individual, specifically focusing on clothing, watches, and leather. Prices range from $50 to $1500 and are comparable to those of competitors like Coach and Ralph Lauren.
A small, but growing, portion of the business is the licensing segment. Michael Kors sells licensed products, including eyewear, jewelry, watches and fragrances through third parties. Luxottica (NYSE:LUX) is the exclusive licensee of eyewear, and is focused on designing status eyewear, primarily sunglasses. Fossil is the exclusive licensee of both jewelry and watches, designing products that seek to complement other Michael Kors accessories and apparel. Finally, Estée Lauder (NYSE:EL) is the exclusive licensee of fragrances and beauty products.
Same-Store Sales Growth Initiatives
In 2015, Michael Kors' same-store sales saw a deceleration from its typical double-digit growth. In Q4 2015, it reported a decline in same-store sales of 6.7%, and has reported negative same-store sales growth ever since. This decline was attributed to overextension and a cheapening of the brand. Currently, the market is predicting that these declines will continue to hamper Michael Kors' growth. However, management is in the midst of turning around the business through a number of initiatives. These initiatives include new accessory lines, the Kors Concierge Service, a growing e-commerce website, as well as a new men's collection. We believe these initiatives will stem falling same-store sales and increase domestic revenues.
Accessories
Management has consistently noted that the decline in same-store sales is largely due to two factors: a saturation of the North American watch market, as well as a shift to smaller handbags, which causes a decline in the average selling price. Management is currently changing its strategy to address a shift towards lower-priced goods that are purchased more frequently. The first initiative is expanding the jewelry line and featuring this jewelry more prominently in stores.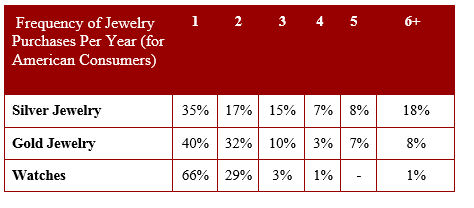 (Source: JCK Online)
Key Takeaway: Jewelry is purchased much more frequently on an annual basis. Since Michael Kors' target consumer is already very engaged with the brand, these increased purchases will stem the decline in same-store sales. Although most investors are concerned with the saturation of the North American watch market, it simply means that there is a consumer shift towards jewelry. This categorical shift towards jewelry has some advantages. Although jewelry ($55-500) sells for slightly less than a watch does ($195-600), jewelry is a more frequent purchase and will lead to more store visits and, ultimately, more spending. On average, Americans purchase about 3 pieces of jewelry a year compared to about 1.4 watches per year. Frequency of jewelry purchases is highlighted in the table above.
Handbags
Michael Kors has seen a categorical shift towards lower-priced wallets and handbags. The company's average product price fell about 15% during the last quarter, and 60% of that decline was attributed to a shift towards smaller handbags. The company is taking two initiatives to stem this decline. First off, it is raising prices on some of its smaller handbags so that they are on par with competitors' prices. This initiative will increase the average product price and thus lead to higher same-store sales. Additionally, the company is releasing its largest line of handbags yet with 22 new designs. These new handbag lines will entice new customers and drive current customers back to the higher-priced, larger handbags. This initiative will also increase the average product price and increase same-store sales.
Other Accessories
Lastly, the company is ramping up production and increasing selection for its other main accessory lines, including eyewear, perfumes, and footwear. We see this as a positive sign for same-store sales, because purchases in each of these lines occur quite frequently. In terms of eyewear, doctors recommend that patients get a new pair of eyeglasses every year or so. As Michael Kors already has a captive customer base, this introduction will lead to more frequent purchases.
In terms of perfume usage, 85% of woman wear perfumes, and most of them use them up frequently. Michael Kors' brand loyalty and new perfume lines will lead to more frequent in-store purchases.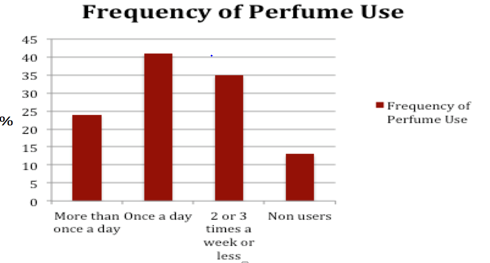 (Source: Mintel Survey)
Lastly, in the footwear segment, woman purchase about seven new pairs of shoes every year. With the imminent release of Michael Kors' athletic footwear line, the company will become a one-stop shop for women's shoe needs. Women will be able to purchase their leisure, fashion, and even their athletic shoes from Michael Kors. Again, these new initiatives are designed to entice loyal customers to get back into stores and start shopping again.
Demand for these Accessories
In a survey of the company's target customers, upper-middle class women ages 18-35, our study found that there is positive demand for these Michael Kors accessories. This affirmative demand shows that this release of accessories is not simply an attempt by management to bolster sales; it is a concrete response to demand for products from its target consumer.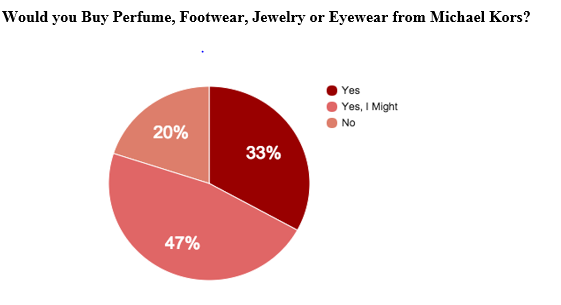 (Source: SurveyMonkey Survey)
Key Takeaway: Currently, same-store sales have declined in part because of the shift towards less expensive accessories. Management's acknowledgement of this fact, and the introduction of a wide array of more frequently purchased goods will spur sales and help combat the negative same-store sales growth. As the company addresses these trends, there will be a short downturn in growth and same-store sales. However, as these product lines are released, it will gradually lead to a normalization in both metrics.
Kors Concierge Service
Kors Concierge is a new initiative being rolled out in a select few North American stores, with plans to expand to all North American stores over the next few years. The premise of this plan is to equip sales assistants with devices, including iPads and electronic displays. Prior to this initiative, customers usually had access to only 40% of Michael Kors' wears in any store. If a customer did not find the object that was exactly to their liking (size, color, style, etc.), they would leave and either shop somewhere else, buy it from the Michael Kors' website, or buy nothing. The Kors Concierge allows prospective customers to access 100% of all items in stores. It also adds personalization and a premium service to the regular shopping experience. This service rollout will appeal to both online shoppers who enjoy the breadth of selection as well as in-store shoppers who like the experience of shopping, but dislike the lack of selection. In a retail survey by Loyalty 360, a marketing association, 80% of retailers surveyed said sales increased between 25% and 50% when product experts help customers. Additionally, over two-thirds of retailers remarked that if customers do not find what they want in five minutes or less, they will shop somewhere else. Kors Concierge will make sure that customers will find what they want quickly and efficiently, and prevent those customers from becoming unsatisfied and leaving. Lastly, according to the Daily Mail, most women take at least two trips to the store before purchasing a handbag. This personalized attention will make women more likely to purchase on the first visit, as opposed to leaving the store and forgetting about the product. Personalized attention will not only increase brand engagement, it will also lead to higher same-store sales.
Shift to E-commerce
E-commerce has been growing at astonishing rates. By the end of 2015, e-commerce sales had grown 100% year over year. Additionally, it has grown from a very small base to 7% of North American retail sales as of Q3 2015. The company expects e-commerce to reach about 20% of retail sales in the coming years.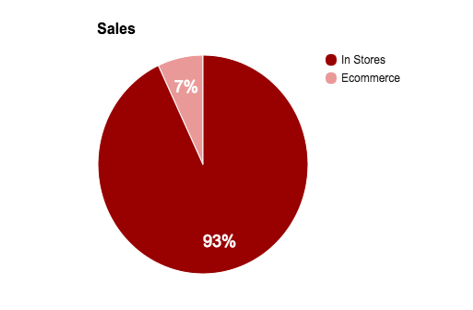 (Source: Michael Kors Q3 2015 Earnings Transcript)
Although Michael Kors only launched its in-house, online platform recently, the company has an advantage in its already huge online presence. Michael Kors has more Facebook likes, Instagram followers, and Twitter followers than any of its competitors. Additionally, the brand has won multiple awards, including Facebook's most engaged brand, Twitter's top living designer, and Instagram's top luxury fashion brand. Since social media is now such a huge component of brand engagement, Michael Kors' superior online following will allow for an easy transition into online purchasing channels. This is particularly key when trying to attract 18-35 year olds, who are more likely to be engaged with social media.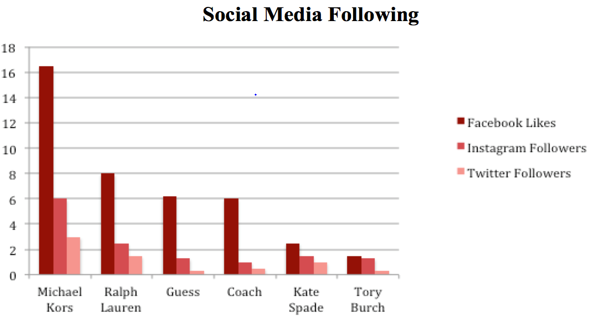 (Source: Michael Kors Investor Presentation, Facebook, Twitter, and Instagram)
As Michael Kors continues its international website rollout in all countries (except for China) over the next 18 months, we view same-store sales as an imperfect metric for measuring a brand's success in this day and age. Although a decline in same-store sales might point to a weakening business, it might just reflect a shift towards e-commerce channels. In a survey of young woman from 18 to 35 years of age, a sizeable portion of them stated that they preferred to shop online as opposed to in-person. As a result, a meaningful percentage of the declining same-store sales is due to this shift. E-commerce rollouts are a positive initiative that will allow people who live far away from a Michael Kors store to actually purchase the company's wares. Although it may appear as if e-commerce is cannibalizing retail sales, it is simply a channel shift and will lead to increased revenues.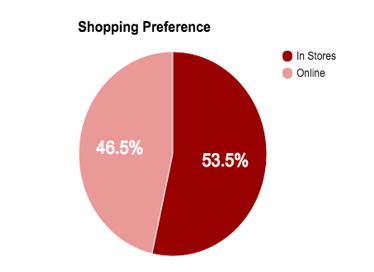 (Source: SurveyMonkey Survey)
Key Takeaway: Michael Kors sees huge opportunities in e-commerce; it should represent 20% of the company's retail sales over the next few years. It already has a strong online presence to make this happen. Investors should not place so much focus on same-store sales, because e-commerce is a huge element of the business.
Menswear Initiatives
The last initiative to increase same-store sales is the Michael Kors menswear collection. The American menswear market amounts to over $60 billion in revenue per year. Additionally, Coach, an industry peer, has a menswear lines which generates $700 million per year in revenue. Although management cites menswear as a $1 billion opportunity, it is more likely that it will be around $500-700 million - on par with Coach's businesses. On the demand side, men were very receptive to the idea of purchasing jackets, clothing, watches, sunglasses, and other accessories from Michael Kors. In a survey of fashion-conscious males of ages 18-35, they gave this response: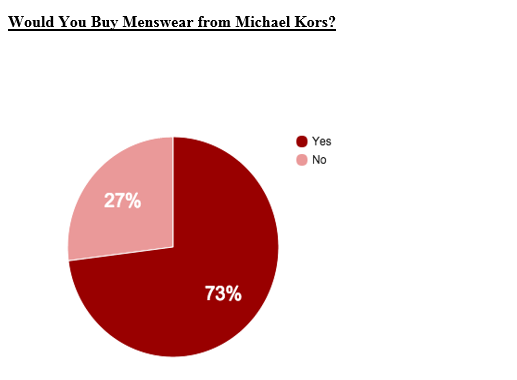 (Source: SurveyMonkey Survey)
Additionally, 90% of those men surveyed recognized the Michael Kors brand. Since it is already a well-known fashion brand, it will be easier than most to transition into a menswear line. Furthermore, Michael Kors has hired away Marcel Ostwald from Hugo Boss. This key hire will allow the company to brand this segment of its business as a menswear brand. As part of its menswear strategy, the company is rapidly expanding free-standing menswear stores, as well as introducing menswear goods in its current shops. This introduction into current stores will drive men - an entirely new target audience - into some of its stores. As more fashionably aware men become cognizant of Michael Kors men's line, they will purchase more, and this will lead to an increase in same-store sales.
Key Takeaway: The domestic market accounts for 80% of Michael Kors' business. Thus, the efforts to reverse the declining same-store sales growth is crucial for the business. Management has taken steps to re-excite old parts of the business, such as accessories and e-commerce, and has added new lines, including the concierge service and the men's line. An increase in same-store sales is the key component in the company's overall turnaround.
Middle Market Trap and Premium Brand Status
Michael Kors is trying to break out of the middle market. Furthermore, management has noted that the company has followed a Coach-like path (brand deterioration), and is attempting to adjust in order to maintain its premium brand.
Middle Market Trap
The middle market is a vast expanse of companies that cannot be identified as either high-end luxury (i.e., Burberry (OTCPK:BURBY), Prada (OTCPK:PRDSY), Louis Vuitton (OTCPK:LVMHF), Gucci, Hermes (OTCPK:HESAF)) or the low end (i.e., Target (NYSE:TGT), J.C. Penney (NYSE:JCP)). Previously, Michael Kors could be categorized in this large range of the middle tier. However, the market for middle-tier goods is shrinking, causing many companies to lose customers and revenue. Examples of this can be seen in American Apparel (OTCPK:APPCQ) (has just filed for bankruptcy), Abercrombie (NYSE:ANF) (has trouble maintaining existing customers and attracting younger consumers), and lastly, Coach (has seen brand dilution from overextension). The demand for middle market brands has fallen in part due to the widening gap between the rich and poor, which is measured by the Gini Coefficient. This statistic has been rising in the U.S. over recent years to an all-time high of 41.1, according to the World Bank. With a widening gap, there is less demand for products in the middle price range.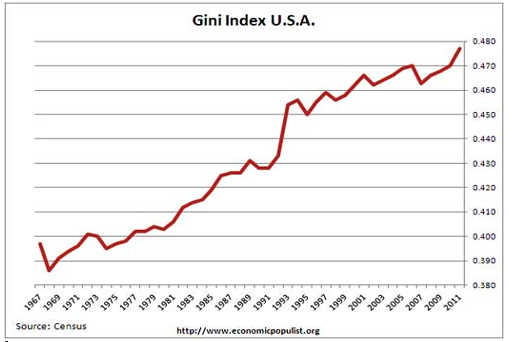 (Source: World Bank)

Click to enlarge
(Source: Proprietary Research)
Separation Strategies Work
Michael Kors was originally categorized in this middle ground. To combat this widening gap, the company has two lines of products: MICHAEL Michael Kors and Michael Kors. The first caters to the lower end of the spectrum of consumers, with products under $400, and was established in 2004. MICHAEL Michael Kors is well positioned to take advantage of this widening gap. The luxury line ranges with prices of $800-6000, and is thus considered an affordable luxury for the wealthy. This differentiation of the two lines allows the company to capture two completely different sides of the market and escape the middle market trap.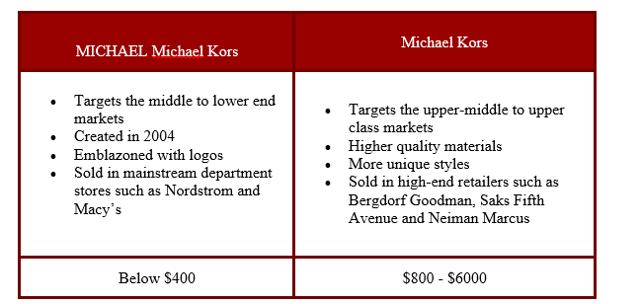 Click to enlarge
(Source: Michael Kors 2015 10-K)
Key Takeaway: Management is slowly transitioning Michael Kors business towards a more stratified customer base, helping it avoid the middle market trap. Past instances have shown that this strategy can be quite successful, if the company effectively differentiates the product offerings. Many other companies have shown that creating two lines of products does not dilute the value of either line, but rather, strengthens it. Although not commonly known, Coach owns Stuart Weitzman, a high-end shoe company. The Stuart Weitzman collection has been gaining popularity, especially on the red carpet. Hence, its association with Coach has not hindered its sales. Other companies that also use this strategy include Ralph Lauren and Marc Jacobs. To further differentiate the two brands and their markets, MICHAEL Michael Kors is sold in mainstream department stores such as Nordstrom (NYSE:JWN) and Macy's (NYSE:M), whereas the Michael Kors collection is sold in the finest luxury department stores, including Bergdorf Goodman, Saks Fifth Avenue, and Neiman Marcus (Pending:NMG).
Premium Brand Status and Coach Comparison
Many investors have compared Michael Kors to Coach, claiming that the company will follow in the latter's footsteps. Coach is a typical middle market brand, and like other middle tier companies, it has stagnated. With the middle market disappearing, Coach established more stores, in particular outlets, to combat falling sales. However, this brand dilution has hindered Coach as it attempts to enter the luxury market.
Investors are concerned that Michael Kors has expanded too quickly and tarnished its brand due to its vast expansion into the lower-priced outlet stores. Investors have likened the company to Coach, which overextended its brand and cannibalized its higher-priced products through massive outlet expansion. However, when one examines outlet versus full-priced stores, Michael Kors has been more prudent about restraining from opening these outlet stores. In recent years, it has even reduced the amount of outlet stores as a percentage of all stores. Meanwhile, Coach has continued to open outlet stores. Outlet stores total over 44% of all stores for Coach, further diluting its brand. Meanwhile, Michael Kors has decreased its outlet count to 29% of total stores, enabling the company to maintain a lower-priced option without losing its premium brand status. Additionally, management has committed to limiting outlet stores to under one-third of total stores.
Key Takeaway: Management has taken these active steps to ensure that the company maintains its premium status and does not overexpand.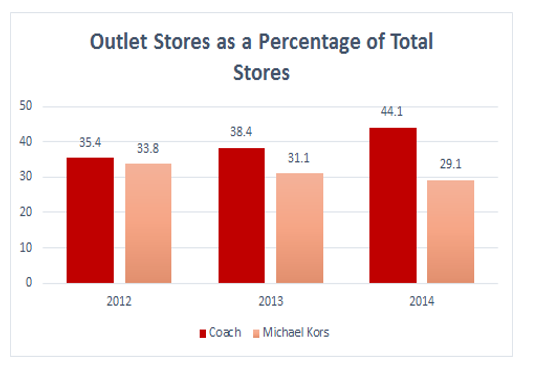 (Source: Coach 2015 10-K and Michael Kors 2015 10-K)
Curbing Markdowns
Additionally, Michael Kors has taken further steps to ensure the company does not become another Coach. Markdowns at premium stores have dropped from 15% of the products to 10%, keeping product prices higher. Markdown activity on the website dropped from 25% to 20%. Additionally, the average discounts on online stores have declined from 45% to 41%. One of the reasons Coach lost its appeal was because it became too accessible. This occurred because the company marked down its products too often, which allowed everyone to have a Coach bag. Michael Kors management has noted this and curbed that activity. Additionally, management has pursued this strategy in its wholesale segment. When the company noted a decline in department store traffic, it limited the number of products in that channel so that they would not be discounted later. This allows Michael Kors to maintain its allure as a premium brand.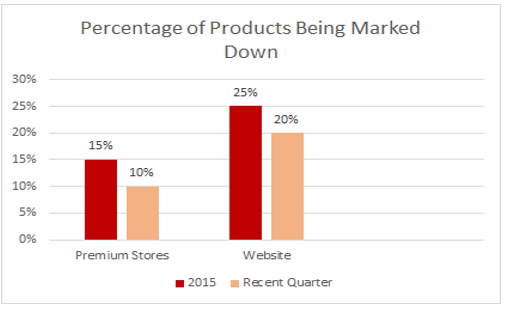 (Source: Seeking Alpha)
Innovative Products
Michael Kors, unlike Coach, has proven to be innovative enough to change its stance in the market. The company is working to break through this business cycle that most middle-tier handbag brands encounter. Using innovation and technology, it hopes to stay relevant and reinvigorate the market. In the past, the company was the first to incorporate technology into its handbags, for example, by creating smart phone slots in its wallets. It took this further with its lipstick tubes and small mirrors that also serve as phone chargers. Furthermore, Michael Kors collaborated with Duracell to design the Powermat (a wireless charging device). With the average trend lasting approximately four years, innovation is a key way that Michael Kors can differentiate itself from other retailers. The company is continuing with these innovations by moving into the wearable technology space with its watches. This foray will allow it to capture the fashion-conscious consumer who also wants a more practical device (like an Apple Watch). This innovation will allow Michael Kors to excite current customers and avoid stagnation.
Valuation
Key Takeaway: Michael Kors is undervalued on a cash flow basis. Additionally, the company's superior metrics make it a value play when compared to competitors. Currently, investors believe that this same-store sales downtrend will continue, and that it will be difficult for the company to turn around its core retail business. As a result, the stock trades at a valuation far below a close set of competitors. We believe Michael Kors is currently being treated as a failing business even though most of its operations, especially its international operations, are still quite robust.

Click to enlarge
(Source: Proprietary DCF)
Base Case

(Source: Proprietary DCF)
Our base case is a very conservative valuation, often modeling in scenarios below management's growth expectations. In our base case, Michael Kors continues to open North American stores over the next few years. We model in a roughly 3% decline in comparable store sales over the next few years. This decline includes e-commerce sales. Additionally, after 2017, we model in flat same-store sales growth and account for the opening up of men's stores that will drive North American store count and revenue growth. In Europe, we see continual store expansion and relatively flat comparable store sales growth (a weakening yuan will lead to a decrease in Chinese tourism). Japan will continue to see strong store expansion as well as a very modest increase in comparable store sales growth (15% this year and subsequent deceleration). Wholesale is predicted to decelerate as the shop-in shop conversions end. Further wholesale growth is driven by the e-commerce portion of department stores. Moreover, the licensing segment will increase modestly due to continual licensing of fragrances, eyewear, and jewelry. Furthermore, the Korean and South American licenses will continue to add revenues, approximating the sales growth rate of Michael Kors' forays in Japan and Europe (respectively). Lastly, we have modeled in a gradual return to normal growth rates for all of the company's segments. In terms of expenses, we predict a rise in SG&A, operating expenses, and depreciation expenses due to Michael Kors' rapid expansion into the menswear and international markets. We predict that these expenses will level off after 2017, but will still remain permanently higher. We expect a slight rise in tax rates, from 29% to 31%. This valuation also includes a slight multiple appreciation to the levels of competitors Coach and Ralph Lauren. We believe this scenario to be plausible due to Michael Kors' superior operating performance compared to these competitors. An exit multiple of 8x TEV/EBITDA gives us a valuation of about $57.20, implying 54.3% upside from current levels.
Bearish Case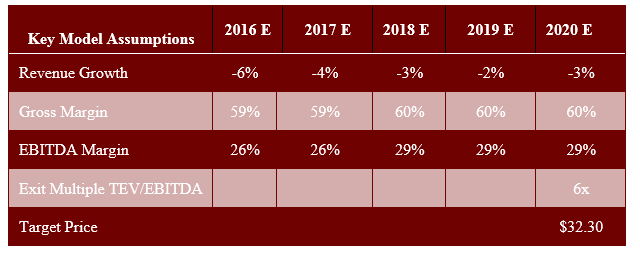 (Source: Proprietary DCF)
Our bearish case is a scenario where many of the company's initiatives fail to produce results. In the North American retail segment, this scenario predicts that Michael Kors follows a Coach-like model. Although the company continues to open stores until its target of 400 in North America, same-store sales decline close to 8% over the next few years, including the growth in e-commerce sales. In this model, Michael Kors' menswear efforts fail and the company ceases its forays into menswear. Additionally, e-commerce remains flat. European stores continue to open, but experience same-store sales declines of 3-5% due to a weakening yuan and sluggish economic growth in Europe. In Japan, Michael Kors continues to grow store count by historical numbers, but fails to produce any growth in same-store sales. Furthermore, Michael Kors executes its Korea and South American strategies poorly and fails to produce any results there. In both American and European wholesale, the shop-in shops fail to produce any increase in productivity, and mall traffic continues to decline due to currency fluctuations and a lack of tourism spending. In Asia, wholesale revenues continue to decline and remain flat due to economic turmoil in China. North American licensing revenues continue to decline as the watch market becomes saturated and remains flat in Europe over the next five years. On the expense side, SG&A, depreciation and capital expenditures continue to trend higher as the company continually opens new stores. Furthermore, EBITDA margins are lower after these first few years due to higher costs incurred by increased staffs, greater advertising expenses and other expenditures related to the Kors Concierge service. Additionally, tax rates rise to 32%. Michael Kors experiences no multiple appreciation and continues to trade at a 6.0x TEV/EBITDA multiple. In this case, the company executes its expansion extremely poorly, loses brand appeal, and sees continual revenue declines in all aspects of its business for the next few years. If this were the case, KORS' intrinsic value would fall to $32.30, a 12.9% decline from current levels. However, we believe this case to be extremely unlikely due to the brand's popularity, management execution, and performance metrics.
Bullish Case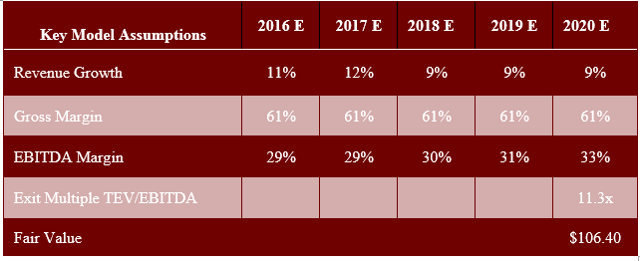 Click to enlarge
(Source: Proprietary DCF)
In this scenario, Michael Kors growth begins to return to normal. North American retail continues to open stores, with flat comparable store sales growth this year and 5% same-store sales growth afterwards due to increased accessories sales and introduction of the Kors Concierge and e-commerce initiatives. Moreover, North American stores are completed by 2017 (400), and the company begins to open up menswear stores, albeit at a slower pace than regular store openings. In Europe, Michael Kors continues to open up stores and sees comparable store sales growth of around 5%. In Japan, the company continues to open up stores according to schedule and also sees continual same-store sales growth. This same-store sales growth, however, decelerates as the Japanese market matures. Additionally, Michael Kors is able to successfully begin opening menswear stores during this time. In Korea and South America, Korea approximates the pace of Japanese expansion, and South America performs on par with the Japanese market.
In terms of wholesale, revenue continues to be driven by shop-in shop conversion and door expansion. Asia and Europe perform better, since many European and Asian wholesale doors have not been converted to shop-in shops. Lastly, licensing in both Europe and America show strong growth due to increased demand for new watch designs and strong demand for Michael Kors' new jewelry, fragrances, eyewear, and wearable technology. On the expense side, COGs remain the same. Operating expenses SG&A and capital expenditures increase in the near term due to overseas and e-commerce expansion. Long term, these expenses decline to a more normalized level. Furthermore, taxes remain at 29% as the company continually expands abroad and pays a tax rate that reflects greater international operations. Lastly, this model predicts a sizeable amount of multiple appreciation. In this case, Michael Kors multiple expands to 12.5x TEV/EBITDA due to its improved expansion and increase in same-store sales. 12.5 is the average TEV/EBITDA of Michael Kors' peers, including Ralph Lauren, Lululemon (NASDAQ:LULU), Kate Spade, Coach, and Williams-Sonoma (NYSE:WSM). In this situation, Michael Kors' intrinsic value is $106.40. This represents a 186% upside from the current share price.
Comparative Valuation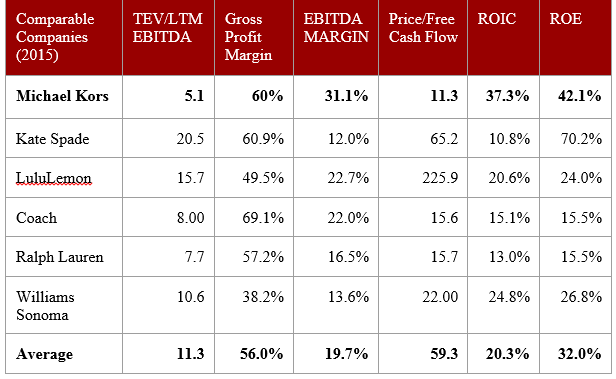 (Source: S&P Capital IQ)
We examined a broader competitor set in order to illustrate that Michael Kors is significantly undervalued when compared to competitors. In all of its operating metrics, the company has consistently performed far above its peers. Its return on equity, return on invested capital, and return on assets are all above 30%, and each is well above the average of its peers. Additionally, the company is highly profitable and has been able to maintain EBITDA margins and gross margins above the industry average. Despite this, KORS trades far below the industry average on an earnings and cash flow basis. In conclusion, Michael Kors sports superior operating metrics when compared to younger, growth-oriented companies such as Kate Spade and Lululemon, yet it still trades at a discount to seasoned, low-growth retailers such as Coach, Ralph Lauren and Williams Sonoma. These metrics indicate that even if Michael Kors' metrics decline significantly, it would still be undervalued. This current valuation represents a disconnect from the fundamentals of the business. This mispricing has occurred as Michael Kors transitions from a high-growth company to a more mature company.
Catalysts
A number of events will act as catalysts to allow Michael Kors to realize its fair value. These three events are the new advertising campaign, the Kors Concierge rollout and new accessory line introduction. The new accessory lines and new advertising campaign will work in tandem and increase same-store sales. Since we've seen demand for these new product offerings, we believe this campaign will entice new customers back into stores and increase the frequency of purchases. Additionally, we believe the Kors Concierge rollout will increase employee productivity and ensure that customers can find exactly what they want in stores. This will encourage brand loyalty and increased purchases (due to the larger selection and premium experience). All of these catalysts will lead to higher same-store sales. As these same-store sales increase, we believe that the market will readjust its view of Michael Kors and assign it a more reasonable share price.
Risks to Our Thesis
The chief risk to our thesis is that Michael Kors is already overextended and cannot capture old customers because it has permanently lost its allure. Historically, many companies that have overextended were never able to return to their former popularity. There is no doubt that Michael Kors has lost a portion of its target consumer due to overdistribution. However, a much higher percentage of consumers believe that Coach has lost its cachet. We believe that if Michael Kors institutes all of the changes discussed above, the company can prevent further brand destruction and maintain its customer base.
Another concern is margin contraction. Michael Kors maintains gross and EBITDA margins above industry averages. Additionally, in the near term, as the company rolls out several initiatives and new product lines, it will see some margin contraction that is inherent with any expansion. However, for the long term, even if expenses rise, we believe the company will be able to maintain these margins because of its new positioning as a luxury brand. In its development, Michael Kors is leaning more towards full-priced luxury stores. This segmentation initiative will allow the company to charge higher prices and increase margins. Additionally, Michael Kors' initiatives to stem discounting will allow it to get a higher price for each product, thus strengthening margins.
A third, more qualitative, concern is that the products fail to excite customers and fall flat. Although this is a legitimate concern, the company's track record in designing stylish, popular accessories and handbags assuages these doubts.
In the near term, a market downturn could have an effect on Michael Kors' share price. However, if this occurred, it would represent an opportunity to buy the stock at an even better price.
Summary
Michael Kors' latest results are misleading, as the company is in the midst of a transition. It is instituting many new products and programs to stem the decline in same-store sales.
Although the company sports far superior metrics to almost all competitors, Michael Kors remains grossly undervalued.
Disclosure: I am/we are long KORS.
I wrote this article myself, and it expresses my own opinions. I am not receiving compensation for it (other than from Seeking Alpha). I have no business relationship with any company whose stock is mentioned in this article.