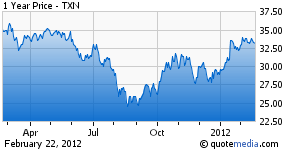 The semiconductor industry has been one that I have been trying to figure out for quite some time. I have become torn between names such as Qualcomm (NASDAQ:QCOM), Atmel (NASDAQ:ATML) and of course my new favorite, Texas Instruments (NYSE:TXN) - all of which make excellent bets because of their ties to the top selling Apple (NASDAQ:AAPL) products. However, of the three, I have grown fonder of Texas Instruments of late for no other reason than the fact that I think it presents the better value. Plus it also helps that the company has appeared to be on a bit of a roll recently - gaining share in markets such as amplifiers, power management and (oh by the way) did I mention it get slots in Apple products?
A few months ago, Texas Instruments revised down its fourth quarter guidance and cited overall chip weakness within the market. While not entirely specific, I wanted to know what it meant by this and it prompted me to also look at the overall chip sector where competitors such as Intel (NASDAQ:INTC) and Atmel had experienced similar concerns. However, I soon discovered that other tech companies outside of the sector, such as Cisco (NASDAQ:CSCO) - which does a lot of business within chips - had also shown sharp declines in sales while citing similar reasons.
This sent a signal to me that the issue was not only impacting chips and Texas Instruments was not alone. But today, seeing as there appears to be a slight uptick in IT spending, it might be time to anticipate that a bottom on both issues has been reached and aggressive investors should really give Texas Instruments a long look at current levels - especially after convincing the market that it was once again here to stay.
Earning Respect
Recently, upon the release of its Q4 and full year earnings results, it was once again time to assess the company's outlook after seemingly making a correct bet. I say this knowing pretty well that the company beat expectations that it had lowered a month prior. The fourth quarter included additional revenue from the acquisition last year of National Semiconductor, which was completed for $6.5 billion.
Analog chip sales, where it leads in the market, continued to account for the majority of the top line and climbed a respectable 7% to $6.4 billion. But it was not the fact that it exceeded those numbers that should excite investors, but the fact that it put forth an outlook that implies that the company should be able to rebound from a disappointing 2011. And several analysts agree and cited the fact that inventory correction within the overall chip industry is now over.
What lies ahead
For the coming year, analysts are projecting modest sales growth and total sales of nearly $13.9 billion. The consensus earnings projection for 2012 is currently $1.89. This trend may likely pick up by the end of the year leading into 2013. By then totals are expected to approach the area of $15 billion for annual growth in excess of 8%, with earnings per share growth of more than 31% to $2.48 per share. As noted previously, the company is well in position to capitalize from its partnerships with Amazon (NASDAQ:AMZN), Research In Motion (RIMM) and more importantly Apple.
For further evidence of why Texas Instruments should be considered, recently Canaccord Genuity technology analyst Bobby Burleson noted that he expects to find more evidence of recovery in the semiconductor field. Mr. Burleson also added the following:
Based on improving conditions in the supply chain, we believe semiconductor stocks are likely to trade higher near term as investors begin to bake in a more substantial recovery by Q2. We are overwhelmingly Buy rated on the group, with a particularly positive stance on names with potential for rebounding margins, improving dividends, and product cycles in counter cyclical drivers like.
I have no choice but to agree with Mr. Burleson on this. But I can also concede while I am pretty bullish about the company's prospects, it is not entirely void of risk - and that really goes for all semiconductor stocks.
Summary
There are many who will proclaim that at $33, the stock is relatively expensive at current levels when comparing its recent earnings and free cash flow valuations. However, investors who were aggressive and bet correctly when the company issued its warning in the fourth quarter of 2011 are glad that they did as 2012 looks extremely promising. Though the company continues to be on an impressive run by climbing almost 20% on the year so far, I still maintain my near-term price target of $35 and a 12 month target of $40.