New Residential Investment Corporation's (NYSE:NRZ) stock price may be struggling in a difficult market, but the company certainly isn't. New Residential Investment, a mortgage investment company that I made a big position in my $100,000 high-yield income portfolio last year, continues to shine in 2016.
Earlier in January New Residential Investment's management said that its Board of Directors authorized a $200 million buyback which could not come at a better time. Since the stock market, and NRZ for that matter, have declined sharply in the first three weeks of the year, the buyback makes a lot of sense for the company, which can repurchase stock below book value, and for shareholders, too.
But the new repurchase authorization, and the fact that NRZ can be bought for less than accounting book value are not the only reasons to buy the stock.
Another dividend hike?
New Residential has increased its dividend twice in 2015, and it did so in a challenging market for mortgage investment companies. And 2016 is also shaping up to be a good year for New Residential which raises hopes that the company will continue to grow its dividend. Why?
Because New Residential released preliminary fourth quarter results on Tuesday that demonstrated continued core earnings strength. Higher core earnings in the fourth quarter therefore raise hopes that the investment company will increase its dividend payout in the first quarter of 2016. But first things first.
New Residential said that it expects GAAP earnings of $0.43-$0.47 per diluted share for the fourth quarter. More important than GAAP earnings, however, are core earnings. And New Residential's Q4-15 core earnings are expected to hit somewhere in the range of $0.49-$0.53 per diluted share. This would be an improvement over third quarter core earnings of $0.49/share yet again. New Residential's streak of record core earnings throughout 2015 is remarkable.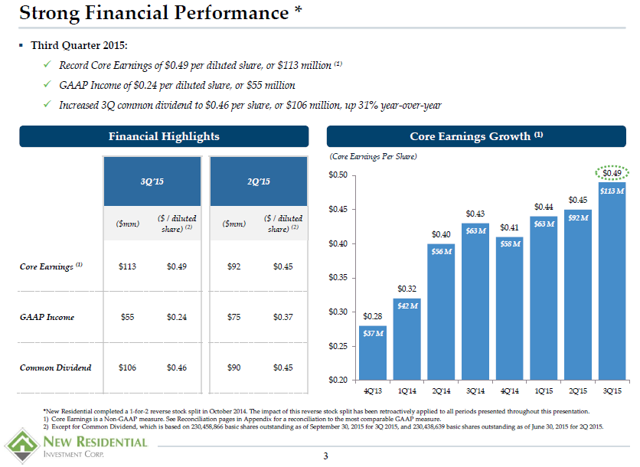 Click to enlarge
Source: StockCharts.com
In a piece I penned a week ago, "New Residential Investment Corporation: Buy The Massacre?", I contended that the company was likely to report record fourth quarter earnings. The implications here are obvious: Since New Residential projects core earnings to be equal or greater than $0.49/share, the company may decide to raise its dividend again. For the fourth quarter the company declared a dividend of $0.46/share. With core earnings much higher than the dividend rate, I can imagine that New Residential will announce a new $0.47/$0.48 dividend payout for the first quarter of 2016.
Your Takeaway
New Residential's management has an excellent record of letting investors participate in core earnings growth through dividend hikes. Since Q4-15 core earnings may even exceed Q3-15 core earnings, there is a good chance that New Residential will hike its dividend yet again in the first quarter. NRZ sells for 87 cents on the dollar and for a ~17% yield while core earnings are covering the dividend and then some. Buy for income.
Disclosure: I am/we are long NRZ.
I wrote this article myself, and it expresses my own opinions. I am not receiving compensation for it (other than from Seeking Alpha). I have no business relationship with any company whose stock is mentioned in this article.