We believe the appointment of Stefan Larsson as the successor to Ralph Lauren as chief executive officer of Polo Ralph Lauren Corporation (NYSE:RL) has the potential to revitalize this iconic brand and create fantastic shareholder gains in 2016.

Click to enlarge
We wrote recently about how we see fast-fashion being the best place for fashion retailers to be right now and for the foreseeable future as retail trends change. We put the lack of fast-fashion available at brands like The Gap (NYSE:GPS) as the reason that these brands are struggling, and why retailers such as H&M (OTCPK:HNNMY) are recording increasingly higher levels of revenue and market share.
So where does this leave Ralph Lauren? Well, being a premium brand, it is not a company that we would think of when we consider fast-fashion options, but in the last few months it has put a new chief executive officer at the helm by the name of Stefan Larsson.
Stefan Larsson was brought in when Ralph Lauren (the person) stepped down as chief executive officer from the company he founded in 1967, and we were incredibly excited to see him join the company.
The reason for our excitement is that Mr Larsson comes to Ralph Lauren after 15 years with fast-fashion juggernaut H&M and, most recently, as the president of The Gap's fast-fashion brand Old Navy which we see as the one true shining light in The Gap's arsenal.
Stefan Larsson has a proven track record of driving growth and profitability, and we believe this will continue to be the case with him in charge of Ralph Lauren. We see him doing this through improvements in the supply chain and his global operational knowledge. But we also, like many market-commentators, hope to see Ralph Lauren start offering fast-fashion.
We would love to see the company release a fast-fashion brand like Gap did with Old Navy. As we stated in the previous article Old Navy produces three times more revenue than The Gap despite it having far less stores in its network. This for us is a clear indication of what a fast-fashion brand could do for Ralph Lauren. While we have been pleased with the performance of the company this year, we feel it could grow at a greater pace in the future if it can capitalize on the modern retail habits.
The big question we think the market has is how do you mix a premium brand like Ralph Lauren with fast-fashion? For us fast-fashion isn't just about new designs coming in from the catwalk to the shop floor quicker, it is about affordability and availability. Premium fast-fashion would be an interesting concept, but slightly alienating to the average consumer.
The company is generating strong levels of free cash flow and has a healthy balance sheet highlighted by its current ratio of 2.8 and quick ratio of 1.48. We feel this level of liquidity would provide the company with more than adequate resources required for launching a new brand.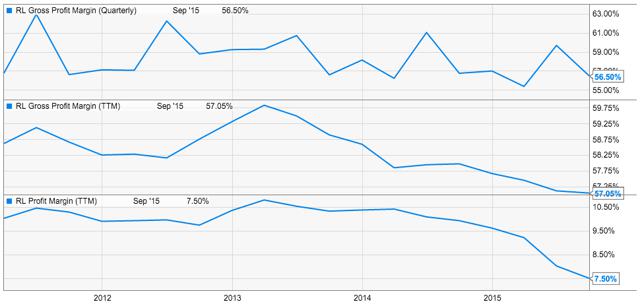 Click to enlarge
(Source: Ycharts)
Margins have been trending downwards in recent years, as shown above, but we have confidence that these will start to improve now. On the Q3 call management stated that the company is beginning to benefit from the "initial phases of the SKU and style rationalization, lower negotiated source income cost, increased full­price sell­throughs and mix benefits." We expect that gross margins will expand in the next twelve to eighteen months as the company starts to see the full effects of these benefits.
The effect on the bottom line should be increased earnings in the next fiscal year after a drop during this year. We see the company achieving earnings per share of $6.98 on revenue of $7.61 billion for fiscal year 2016, compared with the $7.88 it produced a year previously. A very disappointing drop, but things have picked up quickly and we're highly encouraged by this.
It is in the next fiscal year that we expect things to really improve. We believe the full effects of the factors listed above will be felt by then and the company will see gross margin expand back up toward the 59% mark. As revenue continues to increase we see Ralph Lauren's bottom line hitting the $7.90 mark on revenue of $7.97 billion.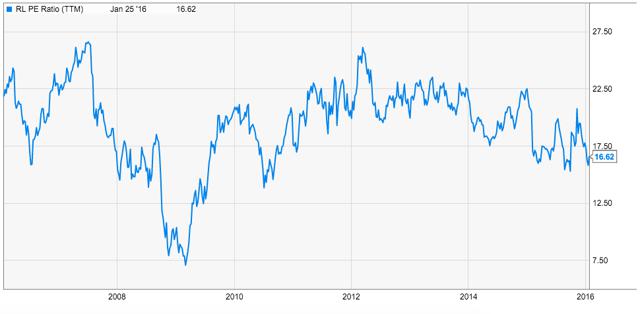 Click to enlarge
(Source: Ycharts)
In terms of valuation we see 17.5 times earnings as about right for the company in the current market conditions. As you can see above this is a fairly reasonable and conservative multiple for the stock to trade at, with the potential for significant upside.
Based on our earnings forecast for March 2017 of $7.90 and the price-to-earnings ratio of 17.5 we have a one-year price target $138.25. This would be a fantastic return of 29.7% from the last close price of $106.53.
Takeaway
We continue to see fast-fashion as the way forward for ageing brands like Ralph Lauren and The Gap. The appointment of Stefan Larsson gives us great hope that his experience with H&M and Old Navy will be the start of the revitalization of Ralph Lauren. In the short to medium term we see earnings growing at a strong rate due to operational efficiencies, providing shareholders with a great return on investment. The long term future is what excites us most and we look forward to learning more about it hopefully in the end of year call this April.
Disclosure: I/we have no positions in any stocks mentioned, but may initiate a long position in RL over the next 72 hours.
I wrote this article myself, and it expresses my own opinions. I am not receiving compensation for it (other than from Seeking Alpha). I have no business relationship with any company whose stock is mentioned in this article.