While economic data has seemingly been missing expectations left and right, Tuesday's report on Consumer Confidence for the month of January actually surprised to the upside. While economists were expecting the headline reading to come in at a level of 96.5, the actual reading came in at 98.1.
The chart below shows headline Consumer Confidence going back to the start of 2009. As shown, while this month's reading is still well off the cycle high of 103.8 from January 2015, it is still above the long-term average of 93.4. The Fed may be raising rates, economic data may be weak, and the stock market's performance may be putrid, but consumers remain positive.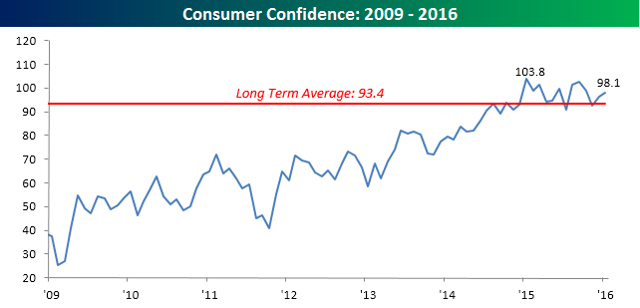 Click to enlarge
Within each month's Consumer Confidence report, respondents are asked their opinions and plans on a number of issues like purchase plans, vacation plans, and their views on equities and interest rates. Two metrics that stood out in this month's report concern investor sentiment towards stock prices and interest rates.
Regarding stock prices, just 28.7% of respondents expect stock prices to rise in the next six months, which is the lowest level since August 2013 (top chart). Even though investors may be bearish on the equity market, though, they aren't expecting interest rates to decline. As shown in the lower chart, just 5.4% of those surveyed by the Conference Board expect interest rates to decline. This metric hasn't been that low since March 2000.