First time I wrote about Transcat (NASDAQ:TRNS) was June 18, 2014. The stock did not do very well since that time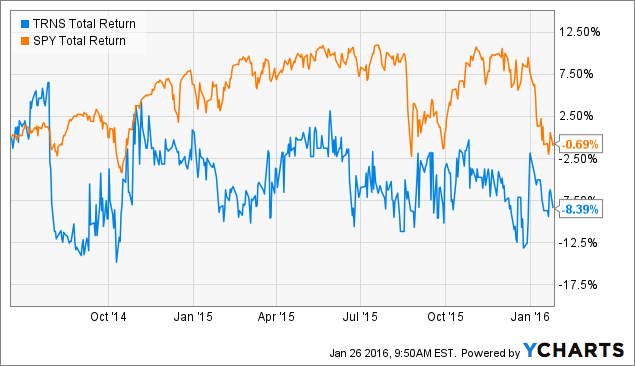 TRNS Total Return Price data by YCharts
Meanwhile the underlying business keeps progressing: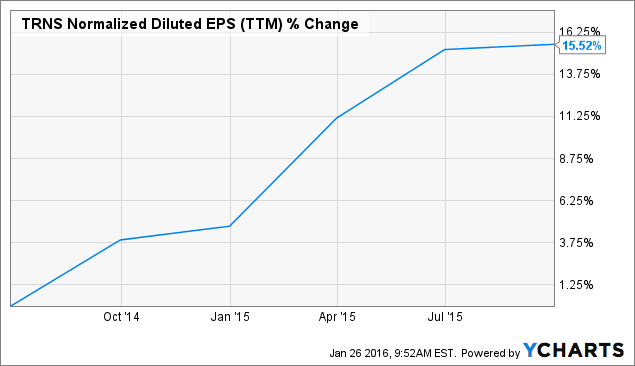 TRNS Normalized Diluted EPS (NYSE:TTM) data by YCharts
The reason I like the company is because it essentially consists of two segments. The shrinking "core distribution business" obscures the healthy growth rate of the service segment which is slowly taking over and becoming the "new core". If you are interested make sure to read up on my previous coverage: Key Takeaways From The Transcat Earnings Call, Transcat's Services Segment Reaches Inflection Point, Management Continues To Agressively Pursue Its Growth, Transcat's Service Segment Has Reached An Inflection Point.
The company recently reported earnings. Revenue declined 3% but the important service segment did show 10%+ revenue growth and the legacy distribution segment was really soft due to the oil and gas slowdown. The service segment is close to overtaking the distribution segment, nearing 50% of revenue, which bodes well for the future growth rate of both earnings and revenue.
On the recent earnings call Lee Rudow (NYSE:CEO) showed himself as quite optimistic on future growth:
We expect double-digit revenue growth in our Service segment through a combination of acquisitions and consistent organic growth. Our acquisition pipeline remains strong, and our position as a leading U.S. and Canadian provider of calibration services continues to strengthen.

Looking further out, our strategic plan is structured to enable growth to 175 million to 200 million in revenue within the next five years and more importantly to achieve double-digit EBITDA margins at that revenue level.
If we take his comments at face value and assume for a moment they are realistic. Which I think they are given the two track nature of the business. That would mean at an absolute minimum an EBITDA of $17.5 million in 5 years. With Transcat trading at 7x EV/EBITDA currently it would translate into roughly an EV of $122 million in 2021 or a CAGR of 10.21%. I should note that 7x EV/EBITDA isn't a generous multiple.
I get to a respectable 10.21% by taking the bottom end of management's guidance both on revenue and margins. To give you an idea where Transcat is with its margins (and why its acquisitive strategy is probably a good thing); operating margins at Transcat are 5.6%. Meanwhile, the Test & Measurement segment at Danaher Corporation (DNHR) achieves operating margins of ~20%. Scale should slowly improve operating margins and EBITDA margins resulting in revenue growth but even more EPS growth.
Even though Transcat's shares did not really go anywhere since I started writing about it, I think it remains an attractive solid business and ultimately the market will give it credit if it keeps growing EPS at the rate it did since I started covering it.
Disclosure: I/we have no positions in any stocks mentioned, and no plans to initiate any positions within the next 72 hours.
I wrote this article myself, and it expresses my own opinions. I am not receiving compensation for it (other than from Seeking Alpha). I have no business relationship with any company whose stock is mentioned in this article.
Editor's Note: This article covers one or more stocks trading at less than $1 per share and/or with less than a $100 million market cap. Please be aware of the risks associated with these stocks.