In a recent article on Hecla Mining (NYSE:HL), I had focused on the company's gold segment and told investors why the company is well-placed to benefit from a potential improvement in gold prices this year. But, apart from gold, which accounts for 42% of Hecla's revenue, silver is another key segment that investors need to focus upon. This is because Hecla gets 29% of its revenue from the silver market, so it is important to focus on the prospects of this market and see whether Hecla's assets are strong enough to take advantage of the silver market.
The silver market will recover
Silver prices have shown some strength of late on the back of the global volatility in the stock market. Looking ahead, it is likely that silver prices will continue to get better as the year moves on due to three consecutive years of supply shortfall in the end market. For instance, in 2015, the silver market deficit stood at 57.7 million ounces, and the situation could get worse as production is anticipated to fall further this year.
As per Capital Economics, silver output will drop 3% in 2016, or by 6.3 million ounces, on the back of mine closures. On the other hand, the demand for the metal will rise due to an increase in both physical and industrial demand that could lead to a 20% upside in pricing by the time 2016 ends. For instance, solar power will play a key role in higher industrial silver demand going forward as silver consumption by this sector grew 17% last year.
Overall, industrial silver is almost three-fifths of the silver market, and this share should continue growing due to the boom in the solar industry, which is expected to grow 25%-50% in the U.S. itself this year. Hence, as the installation of solar panels increases, so will the demand for silver in this segment. So, due to increasing demand and lower supply, the silver market's dynamics will get better going forward and pricing will improve.
More importantly, Hecla Mining is well-placed to take advantage of an increase in silver prices due to its high-grade mines and the infrastructure improvements that it is carrying out.
Hecla's silver portfolio will be a tailwind
As shown in the chart given below, Hecla Mining has witnessed robust production and reserve growth in the silver segment. Of course, the weakness in silver pricing has taken a toll on its margins, but the company has been able to maintain a decent liquidity position and has a strong silver production portfolio.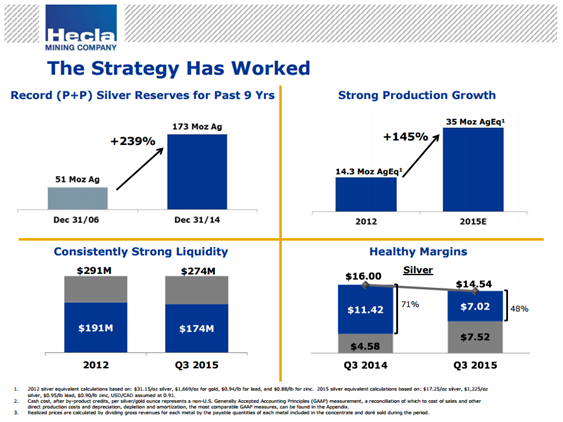 Source: Hecla Mining
As seen above, Hecla has significantly grown its silver reserves for the last 9 years from 51 million ounces at the end of 2006 to 173 million ounces at the end of 2014. Further, there has been a notable growth in production of over 145% from 2012 to 2015. Looking ahead, Hecla should be able to sustain its strong silver profile since it has higher grade assets than its peers, as shown in the chart given below: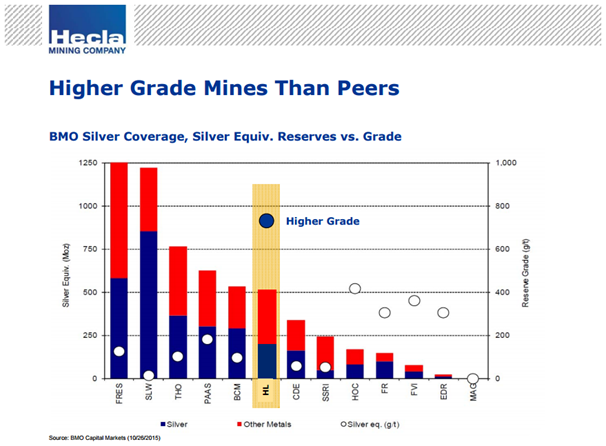 Source: Hecla Mining
As a result of these higher grade assets, Hecla will be able to improve its cash flow profile going forward due to higher production at lower costs. For instance, at the San Sebastian mine, Hecla has completed the preliminary economic assessment that delivered positive results. It is anticipated that the project will generate free cash flow worth $43 million in the next year and a half 8 million ounces of silver production. The good thing about this project is that it requires just $6 million in capital investments, generating an IRR of 400%.
Additionally, at the same time, Hecla is improving its performance at the Lucky Friday mine, which had struggled in the previous quarter on the back of higher costs. Lucky Friday's cost profile was negatively impacted by weak production, but Hecla has now installed new ventilation fans at the mine, which will allow it to access to stope 16, which carries higher grades. As a result of improved access to these higher grades, Hecla will be able to increase its production at lower costs.
Conclusion
Thus, apart from gold, Hecla is also on track to benefit from an expected improvement in the silver market. The company has been improving its infrastructure in areas where it has previously struggled, while the high-grade nature of its assets will allow it to improve production at lower costs. So, driven by both gold and silver prospects, Hecla Mining should be able to deliver a strong performance going forward, which makes the stock a good buy at its current levels.
Disclosure: I/we have no positions in any stocks mentioned, and no plans to initiate any positions within the next 72 hours.
I wrote this article myself, and it expresses my own opinions. I am not receiving compensation for it (other than from Seeking Alpha). I have no business relationship with any company whose stock is mentioned in this article.