Uncertainty and fear are plaguing the markets right now. As a result of the current market hysteria, share prices of some of the most consistent market performers are being dragged down. Yes, bloated company valuations and optimism can justify the negative downward moves for some companies. However, other companies share prices have been dragged down by the overall market even though operations remain smooth. WhiteWave Foods (NYSE:WWAV) represents one of these opportunities.
WhiteWave Foods an organic and natural food company was spun off from Dean Foods (NYSE:DF) in 2013. Since the company went public, it has seen its shares rise from about $16 per share to a high of $52.53. WhiteWave Foods share price increased 11% in 2015. Most of the gains were from the first half of the year though, as the stock fell for the second half of the year and has continued to fall into 2016. Let's better evaluate White Wave to paint a clearer picture as to what is dragging the share price down and if the shares represent a buying opportunity.
Let's first start by analyzing WhiteWave's growth. WhiteWave has been a huge growth by acquisition company, meaning much of the growth is attributed to WhiteWave buying out other brands. WhiteWave's current earnings growth rate is 18%, about 11% of which is represented by organic growth year over year. Organic growth numbers remain solid, which shows that WhiteWave is not just a flash in the pan, and that even when acquisitions slow the company should still perform well from a growth perspective. However, just keep in mind that if and when WhiteWave does stop acquiring other companies, earnings growth may dip a little.
WhiteWave has some great growing brands with international reach into Europe and China. Silk and So Delicious are dominating the plant based beverage market. Alpro is the top plant based beverage brand in Europe. On top of the most common brands, they also have brands such as Horizon Organic, International Delights, Earth Bound Farm, Wallaby, and Vega. All of these are surprisingly well distributed in not only organic marketplaces but supermarkets such as Costco (NASDAQ:COST) and Walmart (NYSE:WMT).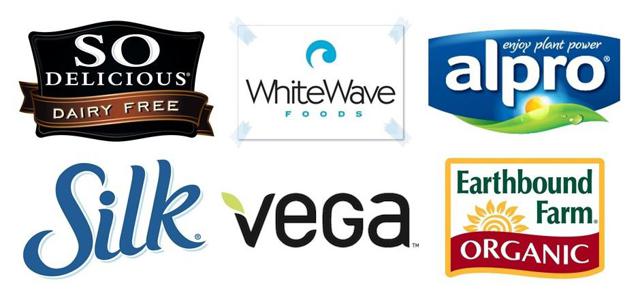 Click to enlarge
Examining the fundamentals of WhiteWave, the company is currently trading around $36 per share which gives it a PE ratio of about 42. When compared to other PE ratios of non-cyclical consumer companies, WhiteWave's PE is high. However, because it carries a high growth rate, the high PE can be justified. The PEG ratio settles in around 1.88 which is well below many of the other well established non-cyclical consumer food companies.
| | | | |
| --- | --- | --- | --- |
| Company | PE | Forward PE (1 yr) | PEG |
| WWAV | 42 | 31 | 1.88 |
| PEP | 29 | 21 | 3.08 |
| HSY | 38 | 21 | 2.55 |
| GIS | 26 | 20 | 2.93 |
| KO | 27 | 21 | 3.46 |
Although the valuation may look a little high at the current moment, we recently added WWAV to our portfolio. We feel that when the market becomes increasingly volatile, people are going to look for stocks that provide comfort. WhiteWave offers comfort because even in the worst possible economic conditions, people are still going to eat. The shift from a conventional diet to a more plant based and organic diet is a trend that is rather new and will only continue to pick up momentum over the next few decades, as consumers become more health conscious.
There is also the speculation that WhiteWave could be a takeover candidate for a larger company looking to add growth to its portfolio. There have been whispers over the past few years that if Coca-Cola acquired WhiteWave, it could help revamp their product portfolio and add much needed growth to the struggling soft-drink beverage giant. The acquisition appeal behind WhiteWave is very credible and adds value to the company to support its share price.
Conclusion:
Recent market weakness has provided an opportunity for investors to buy shares of WhiteWave 32% below its 52-week high. WhiteWave provides safe growth in a volatile market as many investors will invest in safer less speculative companies going forward. The healthy and organic market trend should continue for years to come and WhiteWave is very well positioned to benefit from growth in this area. Finally, the speculation that WhiteWave could be acquired by a larger company in need of growth make this company one of the better stocks to own going forward.
Disclosure: I am/we are long WWAV, PEP.
I wrote this article myself, and it expresses my own opinions. I am not receiving compensation for it (other than from Seeking Alpha). I have no business relationship with any company whose stock is mentioned in this article.