Best Buy Co. (NYSE:BBY) stock has declined considerably over the past week, following the release of weak holiday comparable sales (comps) results attributed to mobile and computing segment. We believe that the decline is more of an overreaction from investors, as the weak holiday comps have not really altered the course of direction for the company. Best Buy continues to drive market share, margins tend to be relatively better and an overall balanced investment outlook is set for 2016 as management aims to offset any spending with greater saving. Backed by these factors, we would continue to rate the stock as Market Perform with target price of $36 per share, representing an upside potential of 33% from Monday's closing of $27.05.
A Sneak Peak Of Weak Holiday Comps & Its Aftereffects
The holiday comps reported decline of 1.2% YoY (1.4% decline ex installment billing), well below consensus estimates of 0.5% growth. As observed by most of the other retailers in industry, we believe that the sales were mostly skewed towards the later end of December. The disappointing holiday comps were followed by weak top line performance during 3QFY16, pushing stock to trade near its 52 week low.
Nonetheless, we believe that Best Buy should not be judged by the lower comps headline alone as that would neglect the brighter side of their story. The consumer electronic (NYSE:CE) segment which contributes almost 65% of Best Buy's domestic revenues, managed to stream in 4.3% comps growth. The growth outlays improvement on both one and two year basis. Without ignoring, the CE segment comps growth has turned in at a time when CE industry as a whole reported 4.8% decline in sales during the holiday season, according to the NPD Groups weekly. This allows us to put things in perspectives and judge the drop in comps in a situational and a more contextual manner.
Specific to the CE segment, we believe that Best Buy locked in greater market share in TVs overall and performed relatively better in 4K High Definition TVs. The Appliances segment comps were up 13.4% YOY accelerating on a two year basis, while the Entertainment segment comps improved sequentially by 0.5% YoY. The major contributing factor to push holiday comps downward has been Computing and Mobile phones segment, reporting comps decline of 7.2%. Our estimates suggest that if we exclude comps decline of Computing and Mobile segment, the overall holiday comps would have been up in low mid-single digits.
Moving forward, we expect TVs to continue to drive CE segment comps and Best Buy to continue to uphold very strong market share in this segment. The appliances segment will continue to gain market. However, the positive impact will be offset by the continuous decline observed in Services, and Computing and Mobile Phones segment. Despite deteriorating top line, the pricing for most of the categories is expected to remain steady. That being said, the services segment remains an exception, where the company is reinvesting in price. We don't expect any significant increase in attachment rates during the current quarter, but this could definitely be a big opportunity for BBY to tap in 2016. The figure below illustrates our forecast for domestic and international quarterly comps.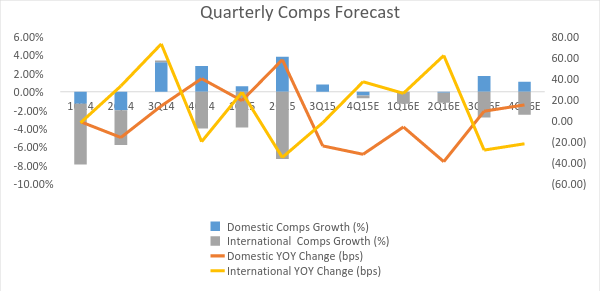 Margin Decline Is Less Than Expected
We believe that the decline in holiday comps has not really shaken up current quarter's margins as Best Buy still expects fourth quarter margins to hold up well. For the fourth quarter, the company expects EBIT margin decline in the range of 15-30 basis points (bps), lower as compared to Best Buy's prior guidance of 25-30 bps decline and Street's expectations of 30 bps decline.
We believe that company's expectation of relatively lesser decline in margins is split evenly between gross profit and Selling General & Administration (SG&A) expenses. The gross margin improvement is attributed to changes in mobile warranty plans, mix shift to large screen TVs and away from tablets and vendor funding shifting out of COGS.
For SG&A expenses, we do take into the account on-going investments undertaken by Best Buy on growth initiatives and cost associated with restructuring Canada but at the same time it is important to take into account management's perspectives that these additional costs will be offset by savings/benefits from their initiatives. Forward looking, we assume flat to low-single digit in SG&A expenses. The figure below illustrates our forecast for operating margins.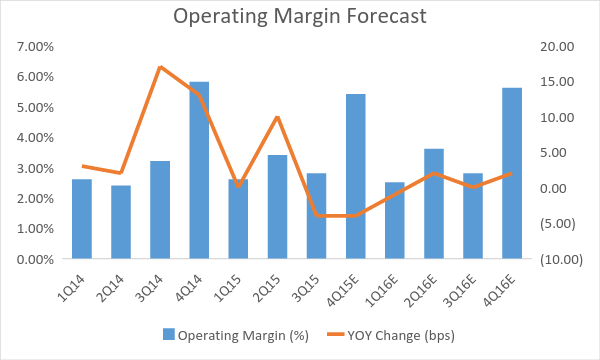 BBY Trading At Significant Discount
At present, Best Buy is trading down at price EBITDA multiple of 3.5x (vs historical average of 5.52x), a level that we believe would be if Best Buy was going into financial distress. We do acknowledge that Best Buy should trade at some discounted value until top line and product visibility improves, but the present level reflects more of an overreaction than fundamental weakness overall. Given Best Buy's cash flow generation model that has allowed it to aggressively buy back shares, we see a much clearer capital return policy forthcoming as the required key catalyst for Best Buy.
Financial Valuation
The following is an excerpt of the financial performance of Best Buy. All the figures below are given in $ million except for percentages.
| | | | | | |
| --- | --- | --- | --- | --- | --- |
| Metrics/ Years | FY10 | FY11 | FY12 | FY13 | FY14 |
| Revenue | 49,747 | 44,813 | 41,729 | 40,611 | 40,339 |
| Revenue growth | 1.02% | -9.92% | -6.88% | -2.68% | -0.67% |
| EBITDA margin | 7.03% | 6.91% | 5.13% | 5.15% | 5.31% |
| Depreciation/revenue | 1.77% | 2.00% | 2.08% | 1.73% | 1.63% |
| Capital spending/revenue | 1.50% | 1.71% | 1.84% | 1.35% | 1.39% |
| Changes in working capital/revenue | 2.84% | -1.79% | -0.79% | 0.47% | -0.21% |
| FCFF | 466.2 | 2377.7 | -82078.2 | 855.4 | 1513.0 |
Source: Company 10-Ks
In order to derive financial valuation, we have taken into account the above-mentioned factors and extrapolated recent past averages to forecast future trends. The table below summarizes the key assumptions for projections till 2019.
| | | | | | |
| --- | --- | --- | --- | --- | --- |
| Metrics/ Years | FY15E | FY16E | FY17E | FY18E | FY19E |
| Revenue growth | -1.60% | 1.40% | 1.90% | 2.10% | 2.40% |
| EBITDA margin | 6.05% | 5.93% | 5.75% | 5.55% | 5.62% |
| Depreciation/revenue | 1.48% | 1.45% | 1.39% | 1.62% | 1.55% |
| Capital spending/revenue | 1.51% | 1.55% | 1.56% | 1.53% | 1.48% |
| Changes in working capital/revenue | -1.78% | -1.62% | -0.69% | 1.36% | 1.01% |
With regard to capital structure, the company has 15% debt on its books. Using the discounted cash flow (DCF) valuation method, assuming terminal free cash flow to firm (FCFF) growth of 1.5% and WACC of 7.72%, the enterprise value turns out to be $20.86 billion. Assuming 342.72 million outstanding shares, the intrinsic value of stock is $36 per share.
Disclosure: I/we have no positions in any stocks mentioned, and no plans to initiate any positions within the next 72 hours.
I wrote this article myself, and it expresses my own opinions. I am not receiving compensation for it (other than from Seeking Alpha). I have no business relationship with any company whose stock is mentioned in this article.