Introduction
Macy's Inc. (NYSE:M) is a famous department stores company that has more than 800 stores mostly in the US region. Its main core competitors are TJX Companies (NYSE:TJX), Kohl's (NYSE:KSS), J.C. Penney Corp (NYSE:JCP), Dillard's (NYSE:DDS), Belk (OTCPK:BLKIB), and Saks Inc. with revenue figure of $30.3B, $19B, $13B, $6.8B, $4B and $3.2B, respectively. Macy's has incurred about $27.6B in LTM revenues which makes it a market leader.
Despite the fact that the company is suffering a decline in revenue growth due to the last year's US dollar appreciation (tourists spent less money visiting high-end department stores), there are still mostly positive things to say about the company.
First of all, it has shown high profitability and growth metrics. According to Diagram 1, the company has shown above-average revenue CAGR and demonstrated a solid net income growth. Its operating efficiency ratios (e.g. operating margin and net profit margin) are four times higher than its competitors'. Hence, the ROA and ROE metrics are also at excellent levels. Its ROA is 5.9%, while the after-tax cost of debt is less than 3%. This presents an opportunity for increasing leverage in order to boost ROE, which is even now four times higher than the industry's average.
Secondly, since 2010, Macy's management has implemented a strategy for increasing shareholders' wealth by focusing on ROE. As you can see in ROE decomposition in Diagram 2, the return on equity has increased approximately fourfold: from 7.5% to more than 28%. The first years of growth were focused on increasing asset turnover and net profit margin. When the market became saturated in 2015 and USD really took off against other currencies, the company started increasing the financial leverage ratio by raising more debt on the one hand and cashing out its real estate by making spin-offs, on the other. The proceeds can be spent on closing unprofitable stores (which will make the net profit margin rise) and dividends & buybacks.
Thirdly, the company has always made significant amounts of buybacks and paid rich dividends (see Diagram 3). Moreover, it has always been doing so at an increasing and a stable rate. The real estate spin-offs can also provide additional stock dividends for shareholders. We think this strategy is good from a tax point (the company does not pay taxes unless it makes a carve-out; see more information about it here) and from a macroeconomic point (shareholders can sell the distributed stocks and invest the proceeds into assets, which are not affected by the rate hikes and currency swings).
Finally, the company's operating cash flow is rising (see Diagram 4). The biggest part of the growth is funded by net income. Also notice that the company shows good cash flows despite changes in working capital, and does not have a significant amount of accrual accounting. We see this as a good sign of earnings quality, so you can fully trust the reports.
Diagram 1.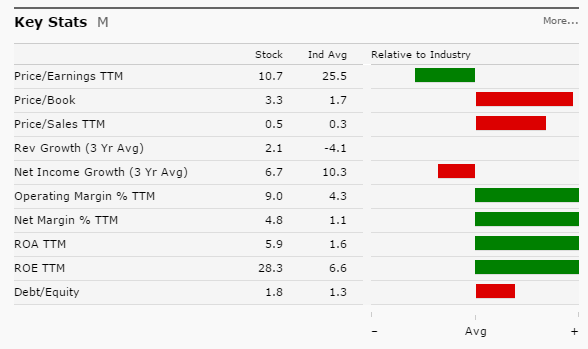 Source: Morningstar.com
Diagram 2.

Source: Company's annual report
Diagram 3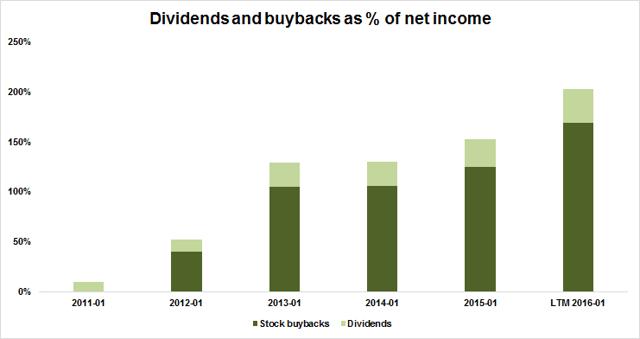 Source: Morningstar.com
Diagram 4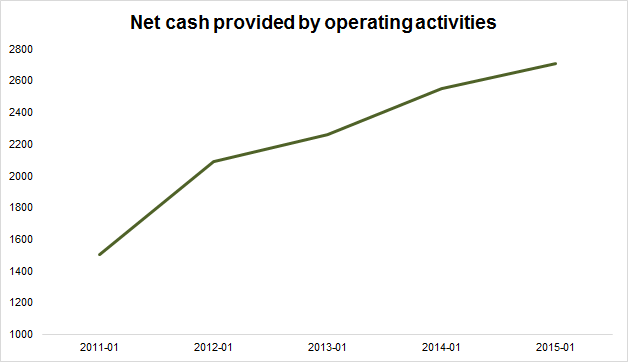 Source: Morningstar.com
Unfortunately, investors mostly look at growth metrics and do not take large asset bases into account when making investment decisions. As you can see from Diagram 5, Macy's stock price has gone down by around 45% during the last year, while S&P 500 has increased by ~1.4%. Nevertheless, the company does its best to make the business model work better. The focus on omni-channeling and the increasing popularity of Macy's website are some of the key factors pointing to that.
According to this information, we are being optimistic about Macy's future. However, let us provide you with our DCF and comparative analyses to determine the stock's fair value.
Diagram 5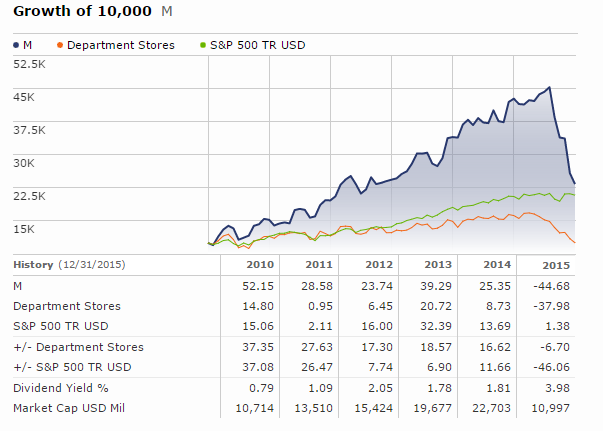 Source: Morningstar.com
Discounted Cash Flow Analysis
Our discounted cash flow model can be downloaded in the Excel file format, which you can access with this link. In Diagram 6, you can see how different metrics of are expected to change during the forecast period. During the modeling process, we had to make several assumptions, which can be examined by the readers in the "Assumptions" tab of our Excel file. We would like readers to notice that they are rather conservative in the Base case. Revenue CAGR projections for the next 7 years are set to be at 2% level, while the last 5 year result is 3%.
Our model shows that, after subtracting the market value of debt, minority interest and adding back cash and investments, the market value of equity is circa $33.2B in the Base scenario. Consequently, the fair value per share is $97. It is more than 130% higher than the current share price ($41 per share).
Diagram 6.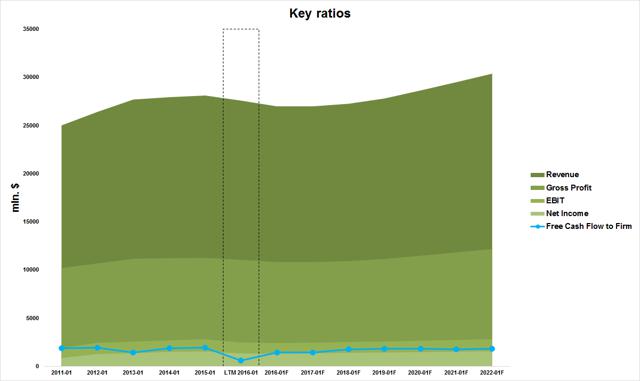 Source: infographics by Societe Financiers
Sensitivities
The sensitivity tables are presented in Diagram 7. We find the suitable price range for the stock to be between $86-$110 per share. This price range represents a 107% - 166% upside potential for the stock.
Diagram 7.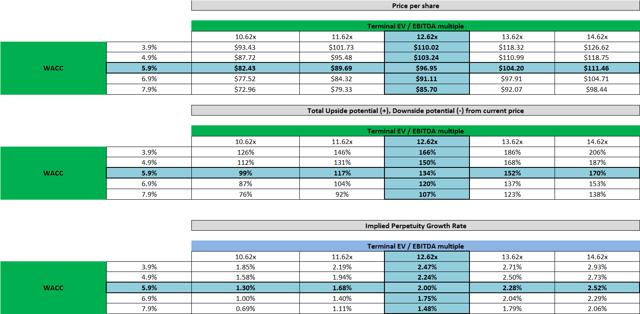 Source: DCF model by Societe Financiers
Comparative Analysis
Our comparative analysis's results are presented in Diagram 8. Most ratios show that the stock is undervalued. Specifically, the current P/E ratio implies a 100% upside opportunity, on average. However, the P/BV ratios states that the stock is overvalued by up to 60%. We think that book value does not provide for at least two factors: 1) the company's ROE is very high, so it will bring about a higher book value per share in the future and 2) the book value is artificially undervalued because Macy's real estate is valued much higher than its cost (i.e. assets are not market to market).
As for the EV/EBITDA multiple, the current level is 6.2x, which is below the industry's average of 7.9x (according to Damodaran). Please pay special attention to the fact that the entire department stores industry has been in a downtrend over the past year. Hence, the current undervaluation is even more sever after accounting for this fact.
Diagram 8.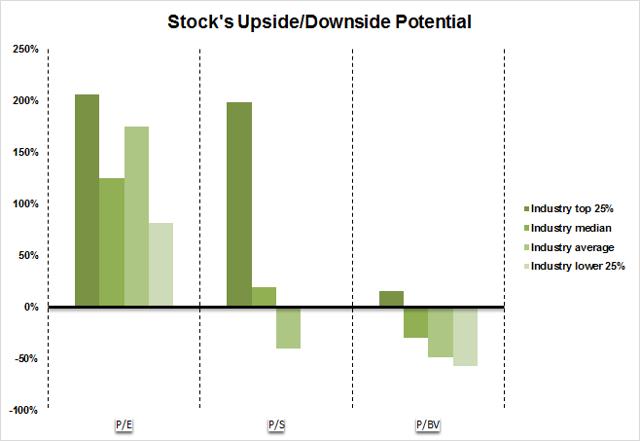 Source: infographics by Societe Financiers
Opinion
Macy's is a leader in the department stores market in US. Its market leadership helps the company keep high efficiency. Its historical operating and growth ratios are at the top of the peer list, especially the ROE, and the company does its best to grow them even in the difficult macroeconomic environment.
Both the DCF and the comparative analyses show that the stock is undervalued. Consequently, we recommend going long with this stock and set a target price range between $86 and $110 per share for the next twelve months. This price range is translated into a 107% - 166% upside potential.
Risks related to our opinion
Macy's Inc. bears currency risks, interest rate risks, macroeconomic, and geopolitical risks. Since these risks are mostly unpredictable, we recommend investors to hedge their positions using different financial instruments. Our valuation of the company is based on current and medium-term business trends and does not include the probability of a force majeure. On the other hand, by using our Excel model, you can change the key parameters in line with your personal assumptions and expectations.
Disclosure: I/we have no positions in any stocks mentioned, and no plans to initiate any positions within the next 72 hours.
I wrote this article myself, and it expresses my own opinions. I am not receiving compensation for it (other than from Seeking Alpha). I have no business relationship with any company whose stock is mentioned in this article.
Additional disclosure: Societe Financiers is an investment research team focused on long-term, long- and short-only ideas. Our research objective is to cover equities in various regions, such as North America, EMEA, Asia, Australia, and Emerging Markets. Readers should consider whether any advice or recommendation in our research articles is suitable for their particular circumstances and, if appropriate, seek professional advice, including tax advice. The price and value of investments referred to in our research articles and the income from them may fluctuate. Past performance is not a guide to future performance, future returns are not guaranteed, and a loss of original capital may occur. Fluctuations in exchange rates could have adverse effects on the value or price of, or income derived from, certain investments. Certain transactions, including those involving futures, options, and other derivatives, give rise to substantial risk and are not suitable for all investors. Transaction costs may be significant in option strategies calling for multiple purchase and sales of options such as spreads.