Introduction
Skechers Inc. (NYSE:SKX) is a sports apparel company operating in more than 160 countries with LTM revenues of $3B. Its stock saw a significant decline in its market value three months ago. The main reason for this was the fact that the company had missed revenue expectations by about $20M only. After that, stock never went above $32.26 per share. The current stock price is $27.48, which is quite close to the three-month low of $25.32 (see Diagram 1).
Although we do not support the investors' overreaction to the revenue target failure, we understand that the decrease in market capitalization had every reason to occur. The company, which had been trading at a P/E of 35x and EV/EBITDA of 19x had to demonstrate outstanding growth for a significant period of time to be priced at such a premium to the market. During the last two years, Skechers did show excellent markets penetration results. On the other hand, this does not immediately translate into high top line growth.
A few more words about the excellent results. As you can see in Diagram 2, the three-year average growth was much higher than industry's average. However, the net income growth has been negligible, while the industry's average CAGR is more than 14%. It is the first point of concern.
The second point of concern is the reasons why the net income growth has been so low. Take a look again at Diagram 2. The operating margin is 1.1 points lower than the industry's average, while the net profit margin is even worse - it is 1.5 points lower than the industry's mean. As a result, ROA and ROE are also below their corresponding industry averages, the while D/E level is almost the same as the industry's. The low profitability can be explained by the company's international expansion as most currencies have devalued relative to the USD over the past year.
We do not see any reasons for the trend's reversal in the USD dynamics in the short-term, so revenue growth figures should be discounted accordingly. Skechers showed an 18% growth rate in 2013, a 29% growth in 2014, and is going to finish fiscal 2015 with 30% growth in the top line (according to our estimates). The next years' results should be less optimistic but still quite high. We forecast revenue CAGR to be at an average of 13.3% during the next seven years.
In view of this information, we think that the stock may be currently undervalued because of the recent sell-off. We are going to test this hypothesis by performing DCF and comparative analyses.
Diagram 1.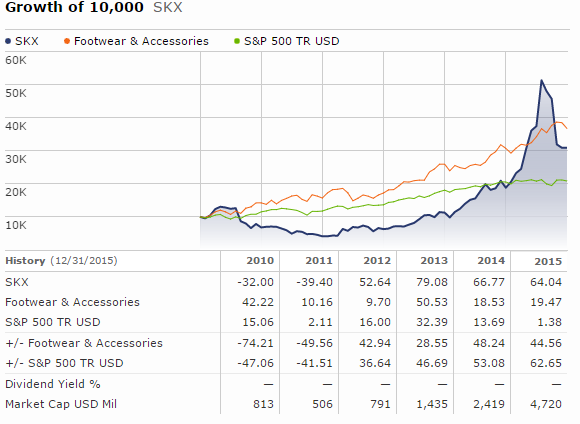 Source: Morningstar.com
Diagram 2.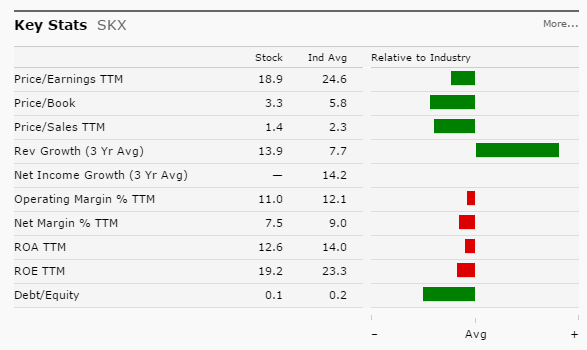 Source: Morningstar.com
Discounted Cash Flow Analysis
Our discounted cash flow model can be downloaded in the Excel file format, which you can access with this link. In Diagram 3, you can see how different metrics are expected to change during the forecast period. During the modeling process, we had to make several assumptions, which can be examined by the readers in the "Assumptions" tab of our Excel file.
Our model shows that, after subtracting the market value of debt, minority interest and adding back cash and investments, the market value of equity is circa $3.7B in the Base scenario. Consequently, the fair value per share is around $24, which is about 12% lower than the current market price ($27 per share).
Diagram 3.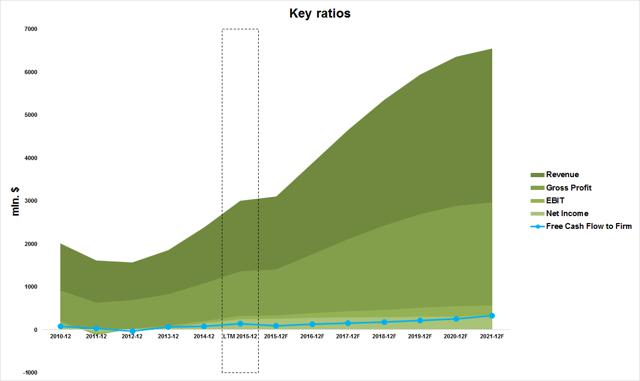 Click to enlarge
Source: infographics by Societe Financiers
Sensitivities
The sensitivity tables are presented in Diagram 4. We find that the suitable price range for the stock is between $22 and $26 per share. This price range represents a 4% - 19% downside risk from the current price levels.
Diagram 4.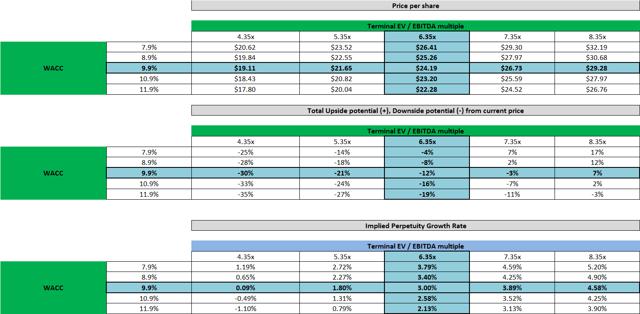 Click to enlarge
Source: DCF model by Societe Financiers
Comparative Analysis
Our comparative analysis's results are presented in Diagram 5. The results are quite mixed but the multiples mostly show a 30% overvaluation, on average. However, the current EV/EBITDA multiple is 9.9x, while the industry's average is 17.3x (according to Damodaran's data tables). Hence, the EV/EBITDA multiple shows a significant undervaluation in this case. Nevertheless, the entire Shoe industry looks overvalued because an EV/EBITDA multiple of 17x+ is more common for high-tech software companies or other high growth industries. The Apparel's industry EV/EBITDA is more rational being slightly higher than 10.0x. It seems that this ratio is clearly more reasonable.
Diagram 5.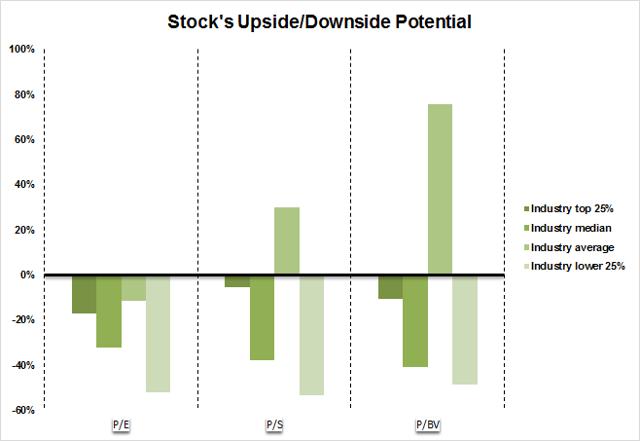 Click to enlarge
Source: infographics by Societe Financiers
Opinion
Although Skechers is likely to show high growth in the future, operating inefficiency and the potential for currency devaluation make the investment rather risky. The DCF and comparative analyses show that the stock is overvalued or at least fairly priced. Hence, we issue a HOLD recommendation on this stock and set a target price range between $22 and $26 per share. This price range is translated into a 4% - 19% downside risk for long investors.
Risks related to our opinion
Skechers Inc. bears currency risks, interest rate risks, macroeconomic, and geopolitical risks. Since these risks are mostly unpredictable, we recommend investors to hedge their positions using different financial instruments. Our valuation of the company is based on current and medium-term business trends and does not include the probability of a force majeure. On the other hand, by using our Excel model, you can change the key parameters in line with your personal assumptions and expectations.
Note: we apologize for making a typo in the 2nd paragraph of the article which could potentially lead to misunderstanding. Our special acknowledgment to equitywonk for detecting the mistake.
Disclosure: I/we have no positions in any stocks mentioned, and no plans to initiate any positions within the next 72 hours.
I wrote this article myself, and it expresses my own opinions. I am not receiving compensation for it (other than from Seeking Alpha). I have no business relationship with any company whose stock is mentioned in this article.
Additional disclosure: Societe Financiers is an investment research team focused on long-term, long- and short-only ideas. Our research objective is to cover equities in various regions, such as North America, EMEA, Asia, Australia, and Emerging Markets. Readers should consider whether any advice or recommendation in our research articles is suitable for their particular circumstances and, if appropriate, seek professional advice, including tax advice. The price and value of investments referred to in our research articles and the income from them may fluctuate. Past performance is not a guide to future performance, future returns are not guaranteed, and a loss of original capital may occur. Fluctuations in exchange rates could have adverse effects on the value or price of, or income derived from, certain investments. Certain transactions, including those involving futures, options, and other derivatives, give rise to substantial risk and are not suitable for all investors. Transaction costs may be significant in option strategies calling for multiple purchase and sales of options such as spreads.