Company Introduction
Regal Entertainment Group (NYSE:RGC) is the largest motion picture exhibitor in the United States. As of Q315, it owned 7,357 screens in 571 theatres across 46 states and had over 218 million annual attendees. To put that into perspective, the total number of screens accounted for ~20% of the total Box Office screens in the whole of the North American Box Office.
(Source: Regal Entertainment Group -Fiscal Q315 Investor Presentation)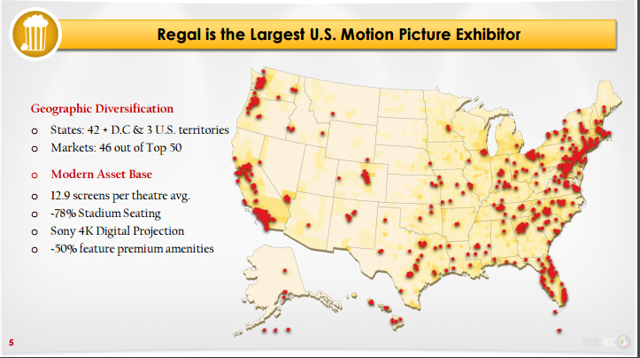 Click to enlarge
Industry Introduction
Regal Entertainment Group is in the consumer discretionary sector and its sub-industry classification is under the movies and entertainment industry. The movies and entertainment industry has been negatively impacted by increased competition from non-traditional distribution outlets. Video streaming sites like Netflix, Hulu and Amazon Instant Video have been undermining broadcast television, cable channels and there is growing concern that they might also undercut growth in movie theatres.
But despite these threats, the data shows that the industry is actually growing. The growth has been slow, but it's there. I compiled and analyzed gross box office data dating back to 2000, 15 years of long-term box office trends show an industrial average growth rate of ~3%. Industry box office revenues grew from ~$7.57 billion in 2000 to ~$11.4 billion as of 2015.
(Source: Authors analysis with data from Box Office Mojo, Studio Market Share -Overall Gross revenues from 2000-2015)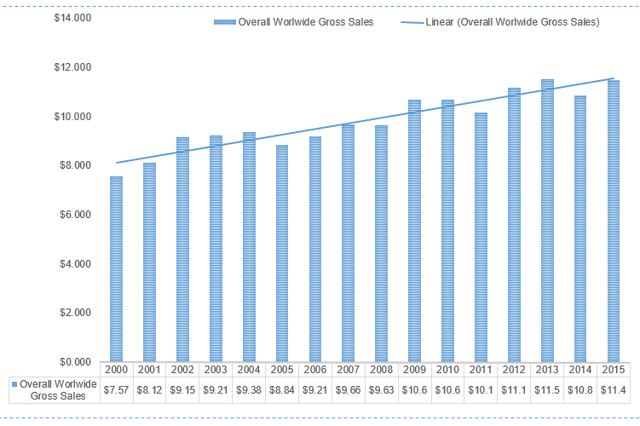 Click to enlarge
This 3% growth is good for a ~$11 billion industry (by revenues) but it could be better. This is what makes Regal Entertainment a unique case. Being the largest U.S. motion picture exhibitor and constituting 20% of North American screens, the company benefits from industry growth because of its size. Therefore, as the industrial revenues grow, Regal Entertainment will also grow.
Short Interest In Regal
According to Morningstar, since 12/15/2015, shares short in Regal have risen by 6.37%. Shares short as a percentage of float is 25.86%. Now in isolation, this is less concerning since it's below 40%. But it is worrisome if you look at its competitors.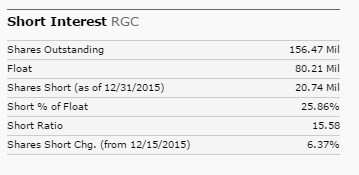 AMC short percentage of float is 9.24%.
Cinemark short percentage of float is 2.27%.
Carmike short percentage of float is 5.41%.
The higher short interest in Regal implies that the overall market sentiment surrounding Regal's stock price is very bearish. In the last month, there has been a 6.37% increase in the number of people who believe the stock will decline.
Why The short Interest
Stagnant industrial revenue growth. As mentioned, box office revenues have only risen by ~3% in the last 15 years. Regal is the largest U.S. motion picture exhibitor, meaning its size can be a huge disadvantage when the whole industry declines. Stagnant growth with rising wages and rising utility costs affect the biggest theatre chains the most.
Bearish investor sentiments. The herd mentality applies to bearish sentiments. If most people are selling, they might know something that you don't. It forces people to sell as well, especially if you cannot identify the negative sentiments. It's normal and logical. It is hard to be a contrarian in the actual moment.
Reduced dividends. Six years ago, Regal Entertainment's dividend per common share was $2.12, which is ~11% higher than the current dividend per share of $1.88. This is not as good as 2010, but it is an improvement to 2011. Since 2011, dividends per common share grew 123% (though part of it was due to buybacks).
Diminishing marginal returns. The rapid increase in the number of screens has not translated to more customers. For instance in 2010, Regal had 6,698 screens with 224.3 million attendance. By 2014, they grew the total number of screens by ~10% to 7,367 screens and yet attendance fell by ~2%. This explains why their revenue per store is lower than some competitors like Cinemark and Cineplex.
Reasons To Love Management
In a mature market, it is quite essential to identify management with an eye for asymmetrical opportunities. The end-goal of these asymmetrical opportunities should be to return value to shareholders. The most common use of cash such as buybacks and dividends are not always the best ways to create long-term shareholder value. But if used with other value-creating initiatives, buybacks and dividends become more attractive.
That is why Regal Entertainment Group's use of FCF to make valuable acquisitions and provide special dividends is a good gauge of management's commitment to giving back to shareholders.
(Source: Regal Entertainment Group -Fiscal Q315 Investor Presentation)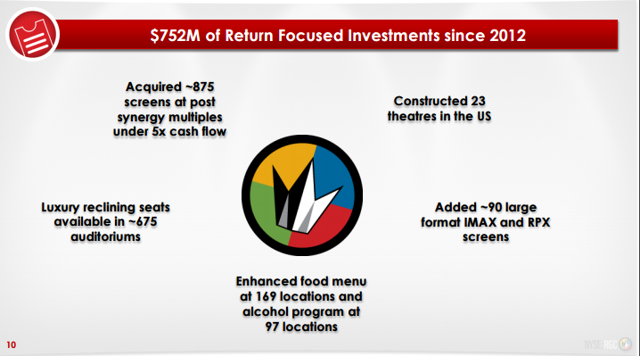 Click to enlarge
Management has been focused on initiatives that benefit shareholders in both the short and the long-term. They have been utilizing their FCF to make acquisitions that have allowed the company to grow its asset base. They have constructed 23 theatres in the U.S., acquired ~875 screens and they have started enhancing their menus to generate more revenues (this is good because concessions have the highest margins than admissions).
In addition, the company has found innovative ways to return capital to shareholders through special dividends and dividend hikes as shown below.
(Source: Regal Entertainment Group -Fiscal Q315 Investor Presentation)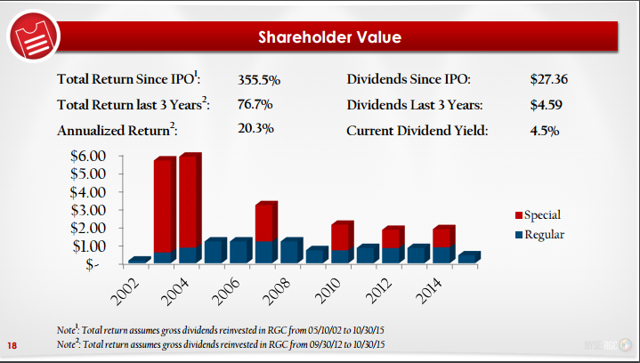 Click to enlarge
The Size & Scale Advantage
Looking ahead - growth by scaling: Regal Entertainment has ~571 locations. According to projections, it expanded its food and alcohol assortments in 185 (~32% of its total locations) and 135 (~24% of total locations) locations, respectively. Meaning that revenues from concessions will increase as it scales its food and alcohol assortments in the other 68% and 76% of the remaining locations, respectively.
(Source: Regal Entertainment Group -Fiscal Q315 Investor Presentation)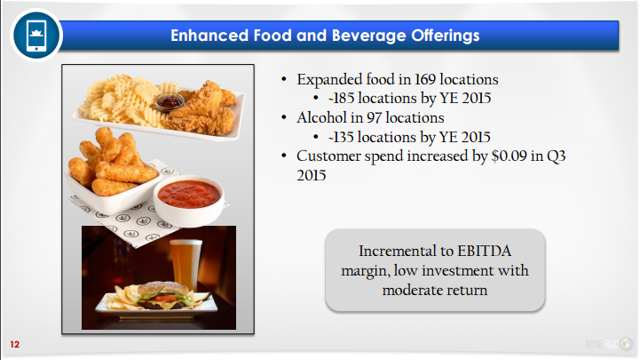 Click to enlarge
Going forward, other than scale, Regal's growth is going to come from its size. Movie studios like Disney have been able to negotiate a huge chunk of box office receipts. This is because the list of studios that produce blockbuster movies is very small. The top studios are the same names year after year. This has given them great leverage to negotiate for a larger chunk of the ticket sales from movie theatres like Regal.
(Authors analysis with data from Regal, Regal Entertainment 2014 10K)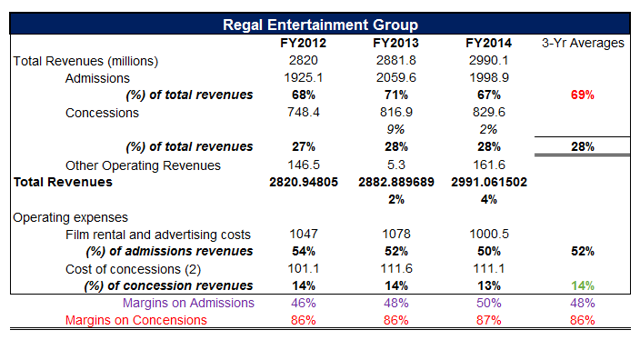 Click to enlarge
This is what gives Regal Entertainment another competitive advantage. Because of its size, studios want their movies to show in Regal Entertainment locations. This gives Regal the power to mitigate margin compressions that arise when studios want to get a larger share of the ticket sales from movie theatres than the industry average.
Economies of scale: with more than 500 locations, Regal has the capacity to buy corn, sodas or nachos in bulk and increase margins by negotiating lower purchasing costs for concessions.
Increased revenues from turnover - Development of private labels. The same change that happened in grocery store chains can happen with movie theatres. They can eliminate middlemen in concessions such as candy or sodas (with exceptions of brands like Coca-Cola and Pepsi) and start to make their own. That way they can have more control over production costs and subsequently margins. In the long-term, some of these private brands, if well marketed, can become nationally recognized brands.
Bringing excitement to a stagnant market: As mentioned before, revenue growth has been slow and the bargaining power of major studios is depressing margins for movie theatres. There is a lot movie theatres can do in the concession space to drive growth in a stagnant market. This is likely to bolster investor confidence in the space.
(Source: Regal Entertainment Group -Fiscal Q315 Investor Presentation)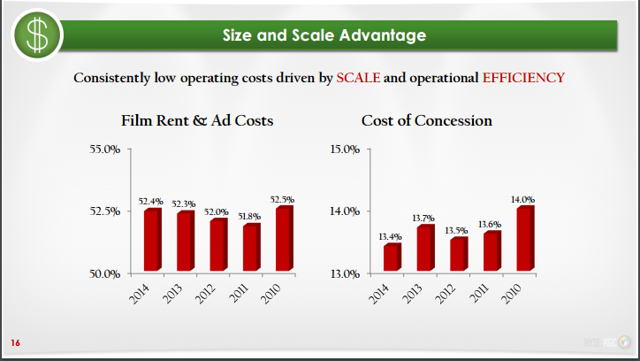 Click to enlarge
Value Creation From Accretive Acquisitions
As of January 2015, Regal Entertainment had the following stakes:(RGC's 2014 10K Page 53).
20.1% interest in National CineMedia, LLC. (NASDAQ:NCMI) National CineMedia which operates the largest digital in-theatre advertising network in North America representing over 20,100 U.S. theatres screens (of which approximately 19,200 are part of National CineMedia's digital content network). Revenues were ~$3.9 million. It has a market cap of $917.52 million. The mean price target for analysts in the name is $18.38/share, which implies ~23% upside to its current trading price of $14.92/share.
46.7% interest in Digital Cinema Implementation Partners, LLC. It facilitates the deployment of digital cinema infrastructure to movie theatres in the United States, Canada and internationally. The company predicts that it will roll out its satellite-distribution system to 32,000 movie screens at 3,000 locations by 2018. The company's proprietary equipment is installed in ~1,700 locations and on 22,000 screens.
50% interest in Open Road Films. As of December 31, 2015, Open Road Films grossed $70.2 million with a 0.6% market share in the $11.493 billion market.
32% interest in AC JV, LLC
14.6% interest in Digital Cinema Distribution Coalition (OTCPK:DCDC). DCDC provides next-generation satellite and terrestrial distribution technologies. Capable of supporting feature, promotional, pre-show and live content distribution into theatres.
The company estimates that the carrying value of its investment in these entities as of January 1, 2015, was ~$288.2 million. If National CineMedia surges by 23%, Regal's stake in CineMedia alone would account for ~79% of all the aforementioned investments. This means that the investments are paying off.
With regards to growth, Regal's 50% stake in New Road Films offers the greatest potential. This is because it is backed by players with the capital that could allow them to acquire blockbuster franchises. One blockbuster franchise with potential for a sequel has potential to skyrocket Open Road Cinema valuations and Regal's 50% stake in the company.
I could only get data on two of the five aforementioned ventures Regal is involved in: National CineMedia and Open Road Films. National CineMedia's 2014-12 revenues were $394 million and Open Road Films' 2014 revenues were $70.2 million. The revenue relative to Regal's stake is $79.194 million and $35.1 million or a total of $114.294 million or ~an equivalent of ~26% of Regal's revenues or an equivalent of ~12% of Regal's market capitalization. This means that if revenues from two of its five ventures can be as much as ~12% of Regal's entire market cap, there is growing value in these investments. Even if Regal's stock price is being punished, the value from its investments is not and this is going to be another way the company will be able to grow long-term shareholder value.
Source: (Authors analysis with data from Box Office Mojo, Studio Market Share -Overall Gross revenues from 2000-2015)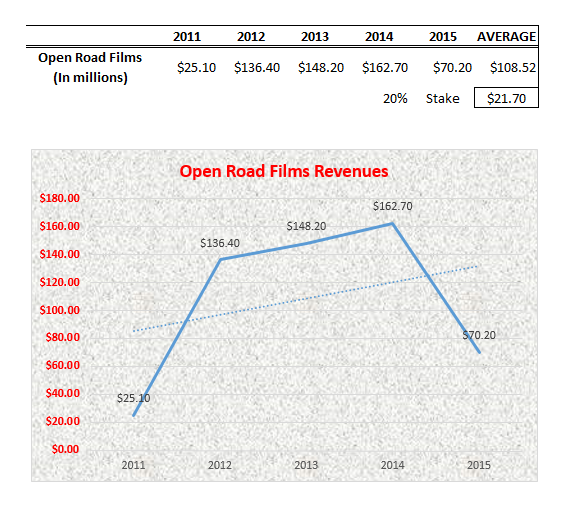 (Source: Authors analysis with data from Morningstar)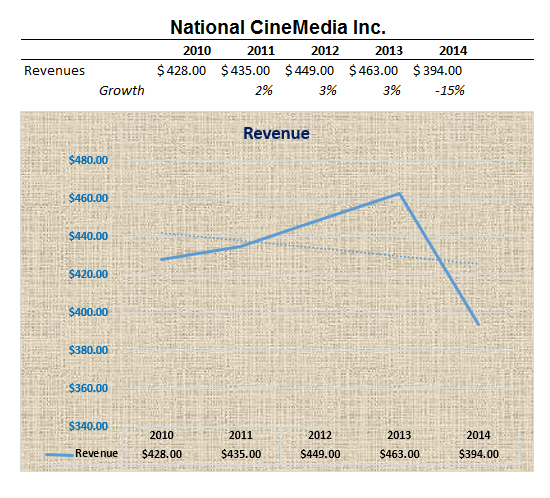 Thesis Risks
High cost without revenues: Regal is rolling out luxury recliner seating and upgrading its asset base to 3D screens. These are necessary costs to transition the film industry to digital formats but these costs might not translate to increased revenues. This might cause margin contractions as they continue to roll out the new initiatives without revenues to show for them.
High concession prices might not always work: Enhanced concessions menu might not resonate with people. The prices of concessions are getting higher and higher and people might prefer other alternative sources of entertainment at the same price. Food at the theatres is getting expensive and at some point people might not be willing to spend as much on food.
The health trend is a challenge: Adding more food to the menus might cause an uproar in the theatres having more calorie offerings on their menus. People like to talk about calories and eating health. Because Regal is a public company, any headline risk can be an image and a stock price problem for the company.
Advantage as a disadvantage: The financial benefits might not reap as much benefit from its size and scale. Failure to reap benefits from on-going economies of scale and failure to capitalize on further opportunities for industry consolidation might rise operating costs at the expense of margins.
There is the inherent volatility of box office revenues. The revenues are dependent on great movies. But video streaming sites like Netflix are producing in-house shows whose episodes have the same excitement and quality as blockbuster movies. This makes it harder to convince people to leave the comforts of their homes and go to the movies.
Lack of frequent mega-franchises such as The Avengers, Star Wars or James Bond. The growing streaming cornucopia offered by video streaming sites is a threat especially now that they have started providing their own content. Therefore, if the movie industry cannot continue to provide top-notch movies, the video streaming might gain more momentum from their loss.
Conclusion
The movie theatre industry has survived its share of problems. The emergence of cable, VCRs, the internet, DVDs, Netflix and Redbox.
(Source: Regal Entertainment Group -Fiscal Q315 Investor Presentation)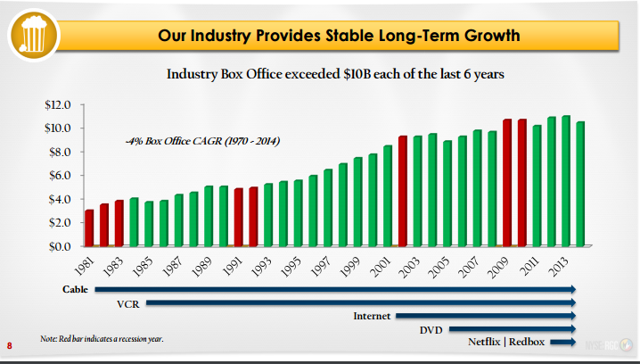 Click to enlarge
But over the years, the movie theatre has transformed from just being about watching a movie. It is a time out. It is one of the most affordable out of home entertainment options. Time people spend with friends, kids and other people close to them. It is a global cultural trend that is unlikely to vanish any time soon.
Regal Entertainment Group's management is open to different ways of unlocking long-term shareholder value, including a potential sale. This is important because as its different investments continue to grow in value and as the company continues to grow both organically and inorganically, potential spinoffs will be necessary to make the company focused and unlock substantial shareholder value.
The contrarian rationale here is that because the market direction is bearish it means that everyone has been selling and the stock has hit its lows (it's trading at ~2% above its 52-week low) and it is likely to move higher from here.
Disclosure: I/we have no positions in any stocks mentioned, and no plans to initiate any positions within the next 72 hours.
I wrote this article myself, and it expresses my own opinions. I am not receiving compensation for it (other than from Seeking Alpha). I have no business relationship with any company whose stock is mentioned in this article.