Banana Republic (NYSE:GPS) is less than 50% converted to Transition/Spring content and continues to offer an additional 60% discount on Women's Fall/Winter product. These additional savings equate to discounts in the 75% to 85% range and the floors do not appear to be getting any lighter in prior season inventory levels. The Women's front room is converted to T/S product, but much of that product is already being offered at 30% to 40% discounts. The markdown and margin hit for the 4th quarter looks to be painful and the kick off of Spring '16 does not look to be starting smoothly.
Express (NYSE:EXPR) is over 80% converted with Key Item driven color stories. These guys were very aggressive in their clearance of Fall/Winter product by offering the inventory in bins on the front feature tables for a little over a week. That move appears to have chewed through a significant amount of prior season inventory clearing the way for a clean conversion and a crisp new floor set. Clearance inventory is now relegated to a hand full of floor fixtures and a couple of back walls. Both Men's and Women's are now in a very healthy forward position. Express pictured below.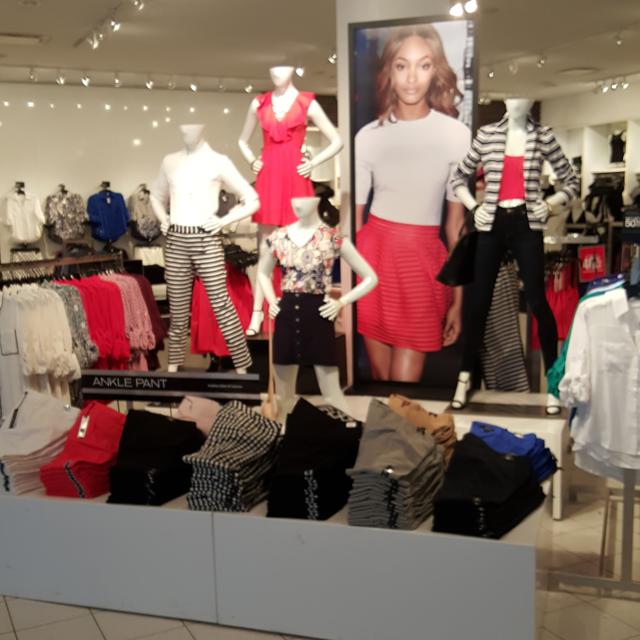 Click to enlarge
The balance of the mall continues to be a very mixed bag with conversion rates anywhere between 25% at Sears (NASDAQ:SHLD) to 100% at Anthropologie (NASDAQ:URBN) and Lululemon (NASDAQ:LULU). I noted last week that Lululemon was unique in that they had removed all clearance inventory from the selling floor. Pretty much every other store in the mall will continue to offer some level of clearance in some remote corner of the store. In Anthropologie's case, I am defining 100% conversion as the removal of Sale product from the "normal" selling floor. There is a tiny alcove at the back of the store where Sale product is still offered. It constitutes less than 5% of the total selling square footage. On the "normal" selling floor, I did not find one sale sign or sale-stickered garment.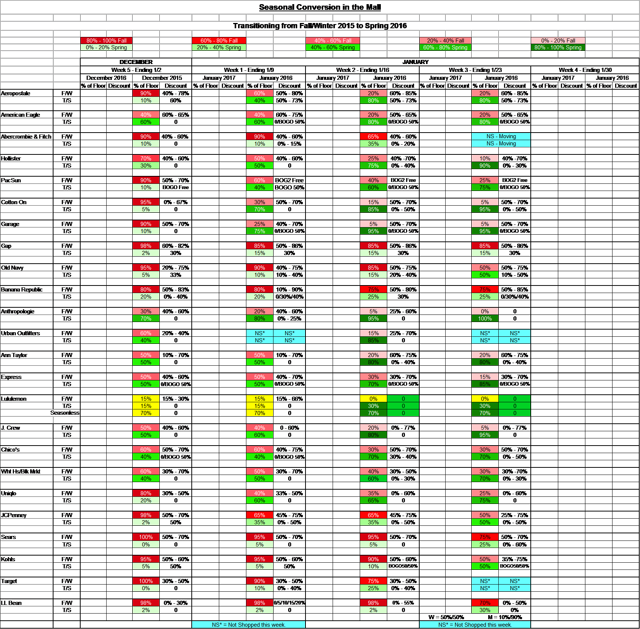 Click to enlarge
Aeropostale (NYSE:ARO) is making good progress in their conversion. But, we've seen this movie before. Last August I wrote glowing reports that ARO was "rounding the corner" with a solid conversion to Back To School, only to watch the floor deteriorate back into disarray over the course of September and October. That quarter (Q3) did not end well. But again, credit where credit is due…for the moment. At the moment the conversion is clean and organized around Key Items…polo's, hoodies, and denim on the Guys side. The Girls side has good presentations of stretch denim, t's, polo's and active/yoga. The active/yoga looks like it is very high risk with its profusion of bright colors and patterns, so I'll be keeping an eye on the pricing. The yoga pants have already gone from $18 to $10, but if it was a tightly bought fashion delivery that was intended to have a very short life span, then it's a smart move. ARO Guys pictured below. The opening presentation is anchored by Key Item denim with good Color Management in the polo's. Very low risk and yet still very appealing.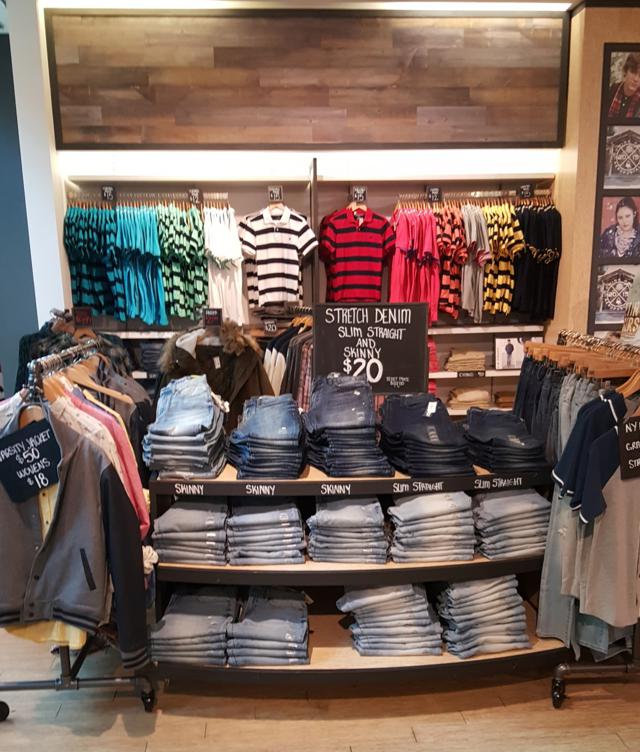 Click to enlarge
Abercrombie & Fitch is moving locations in this mall so they will be closed until February 3rd. The picture below shows the Girls side as they convert into novelty tops and short shorts. The Guys side is still hungry for color…lots of navy and gray…again…still.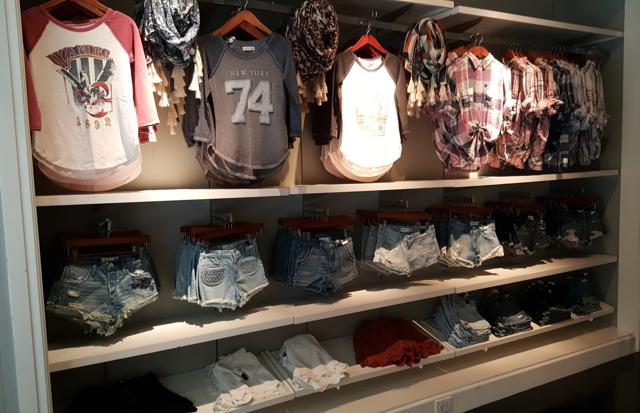 Click to enlarge
The Gap seems to be taking forever to execute their Transition/Spring floor set, but I expect to see it later this week. This is the floor set we've been told to be on the lookout for...new and improved Gap. I am eager and hopeful. Old Navy is making good strides in executing their floor set. They are about 50% along the way with some fresh new product. It's Key Item/Key Category driven with no surprises so far.
Lastly…LL Bean continues to impress. They are about 50% converted in Women's and about 10% converted in Men's. In the chart is summarized that to the 30% overall. What is amazing is that they are still at ticketed price in many Fall/Winter products. In Men's flannels they own 8 patterns. One is marked down while 7 remain at the ticketed price. You'd think other retailers could emulate this level of surgical action in the name of margin preservation. A chamois shirt that was regular price at the beginning of the week was marked down 12% and almost gone by the end of the week. The ticketed price must be regarded as highly legitimate. It's a model not likely to be emulated any time soon.
Conclusion: As I write this on the morning of January 26th, GPS is up almost 5% on today's strong read on consumer confidence. Retail stocks in general are having a great day. It is curious to me that GPS would get that kind of lift, however temporary, from a good piece of macro news. There must be a lot of underlying good will that GPS will figure this all out, because there is nothing currently on the floor to evoke applause. Maybe that changes by weeks end.
Disclosure: I/we have no positions in any stocks mentioned, and no plans to initiate any positions within the next 72 hours.
I wrote this article myself, and it expresses my own opinions. I am not receiving compensation for it (other than from Seeking Alpha). I have no business relationship with any company whose stock is mentioned in this article.
Additional disclosure: Articles I write for Seeking Alpha represent my own personal opinion and should not be taken as professional investment advice. I am an experienced apparel merchant, not a registered financial adviser. This article endeavors to give timely and ongoing color to the unfolding retail experience, not financial advice.
Editor's Note: This article covers one or more stocks trading at less than $1 per share and/or with less than a $100 million market cap. Please be aware of the risks associated with these stocks.