Nike (NYSE:NKE) has stated its intent to hit $50 billion in sales by 2020. With current sales at around $30 billion, what are the chances of them meeting this ambitious goal? It implies an averaged-out growth of at least $4 billion year-over-year, but what really stacks the odds against them is the fact that over the past five years they've only been able to add $10 billion.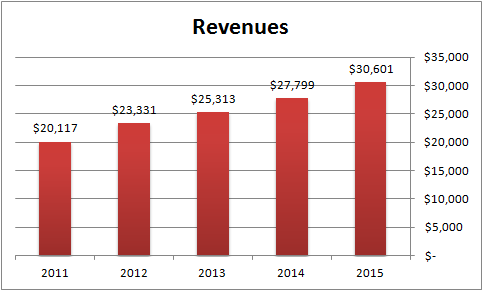 Source: Nike Annual Reports
Can they double this over the coming five years? How realistic is it, considering that the natural course for a mature company's growth is to slow down as the company gets bigger. Nike is already the dominant player in the sports footwear and sports apparel segments, but the industry itself is highly fragmented. In the sports footwear segment alone, which represents 60% of Nike's business, the company has less than 10% of market share of a $190 billion market.
In sports apparel, Under Armour is quickly closing the gap as the Number Two player in North America and doesn't show any signs of stopping.
In my previous article on Nike, I spoke about several key factors that predicted their future success as a strong company to invest in and grow with. I still stand by my words, but in this article I'd like to talk about why I think they have a good shot at hitting that goal, ambitious though it might be.
According to Mark Parker, CEO of Nike, women's business and the Jordan brand will be the key drivers for future sales expansion. I'd like to explore that in greater detail
Nike's China Turnaround
Nike's had a lot of trouble in China over the past several years. Since the boom in business around the Olympics back in 2008, they've been struggling to keep their heads above the $2 billion level. A sales pace drop in a massive market like China is bound to hit the bottom line hard, but things have changed, it seems, with Nike hitting the $3 billion mark in 2015 in the PRC.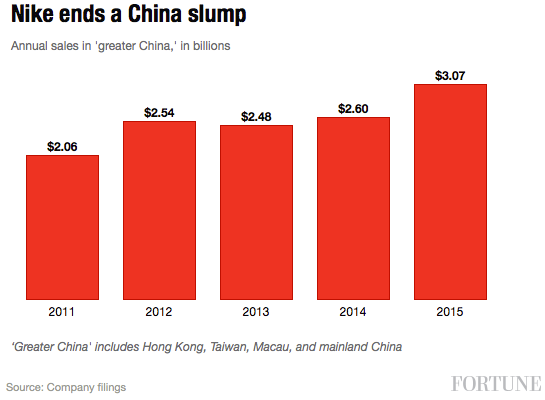 The key ingredient in this success formula seems to be their Jordan brand and its performance in China. Nike's long-time brand ambassador Michael Jordan recently visiting the country and fighting a case against copycat manufacturing is part of this heavy push in Asia's most populous nation.
Let's not forget that Nike doesn't just make shoes - they sell their brand as much as their products, and the most powerful weapon in their sales arsenal is brand recognition. If they can effectively fight rip-off companies and keep driving their numbers up on the strength of the Nike brand, I believe they have a real shot at $50 billion by 2020.
The main takeaway for investors here is CEO Parker's confidence that the Basketball segment, of which Jordan is the flagship brand, will do very well in China in the coming years. A quick look at their growth in this segment shows that the trend is already being set.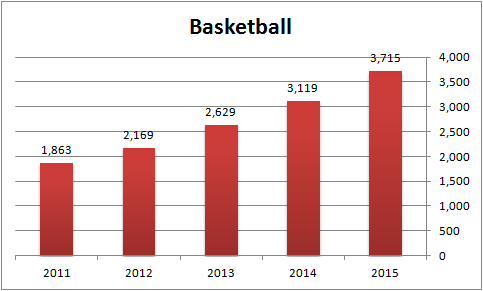 Source: Nike Annual Reports
Nike's Women's Segment
The other segment that has been showing promise is Nike's Women's segment, which saw revenue climb by more than $1.2 billion in the last two years.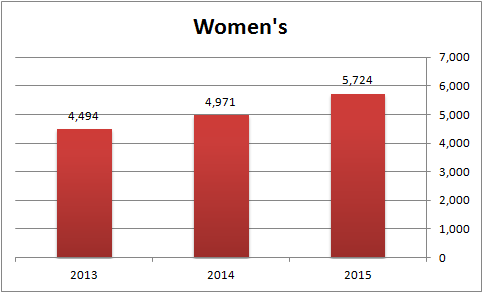 Source: Nike Annual Reports
Today, Nike's women's business is worth nearly $6 billion, having grown quickly in the past three years. Still, it shows no signs of slowing down. In fact, Their target is to nearly double women's business by 2020 - taking it to $11 billion, while online sales are projected to grow sevenfold to hit $7 billion.
Nike's Marketing Spend
Nike's central theme has been to serve the athletes, as stated in its mission statement: "To bring inspiration and innovation to every athlete in the world." The cost of that mission runs into the millions each year as Nike keeps reminding its customers - new and old - that because the best athletes in the world (at least, the ones it sponsors) use Nike products, they support athletes all over the world who aspire to be the best.
To analyze that in detail, we need to get into their SG&A over time. That component is divided into two parts: demand creation and operating expense. The former is what accounts for, in part, payments to endorsees, and is dependent on the contract each endorsee has with the company. If the endorsee has a good season, they're typically paid more - and the opposite is also true.
The other portions contributing to demand creation expenses are advertising and marketing.
When a company intends to grow quickly over the next few years, the first thing you'll notice is that their marketing, advertising and sponsorship expenses go up significantly, and that's what we're seeing happening with Nike.

Source: Nike Annual Reports
You can clearly see that they're stepping up to the plate for something big over the next few years. The latest in their "acquisition" of sports personalities comes in the form of LeBron James, with whom they've signed their first ever lifetime deal. They first had James sign up with them on a seven-year contract for $90 million in 2003, but this one outdoes anything Nike has ever done before. Of course, the deal with Michael Jordan is understood to be a "de facto" lifetime agreement - and one that's helped the brand hit $2.2 billion in annual sales as of October 2015 - but this never-before formal agreement with James is a clear indication that Nike intends this partnership to be as big as or even bigger than the 30-year partnership with Jordan.
There's been a lot of criticism - even on SA - surrounding increases in Nike's SG&A as a percentage of revenue, but that's coming from their operating expenses rather than the demand creation side of things. The additional expenditure has primarily gone towards improving their digital capabilities and operational infrastructure.
Nevertheless, their spending on endorsements is probably the biggest driver of growth, as we've witnessed in the past 30 years that Michael Jordan has been on board. Despite the fact that they've been spending more on demand creation, when you look at it as a percentage of revenue, you can see why that expense is justified. I'll go one step further and say that they should be looking to increase their spend in that direction.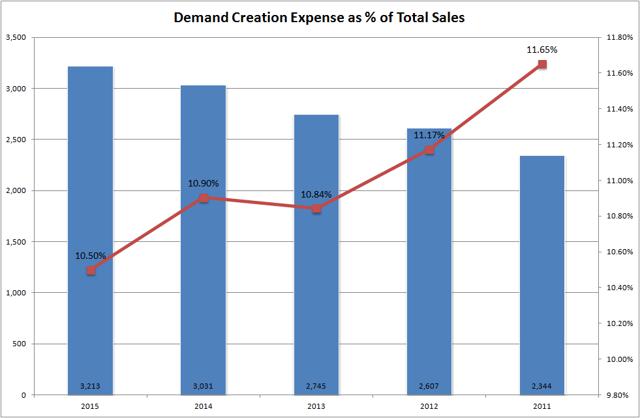 Source: Nike Annual Reports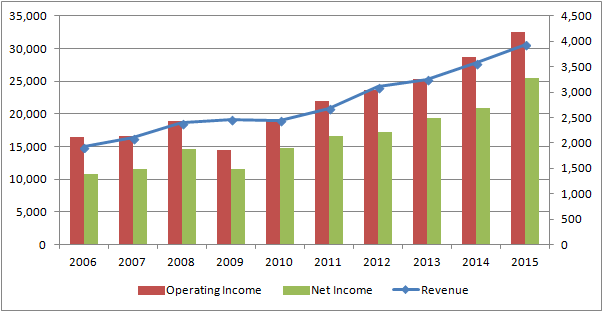 Source: Nike Annual Reports
Investor-speak: What about that $50 Billion?
The essential takeaway is that if they can maintain a revenue growth rate greater than 10% for fiscals 2016 through 2020, $50 billion by 2020 is in the bag for certain. If they can show spurts of higher growth through that period, $50 billion suddenly becomes a realistic proposition.

A major contributor to that growth will be the China market, and the big question now is whether the downturn in Chinese consumer spending on "non-essential" goods such as sports attire and sports footwear will impede Nike's growth plans.
From that perspective, Nike is very clear on how it wants to position itself for the future. Though not directed specifically at China, this comment from Parker encapsulates the company's plans for its women's business:
"We see this as not a fitness trend for women - that is, short term like a fashion trend - but we see this as a lifestyle shift"
Another major driver of Nike's position in China is the fact that Adidas is catching up to them in terms of market share. To counter that threat, Nike has proposed opening 1000 women-focused stores over the next five years - something that Adidas has already started doing with great success.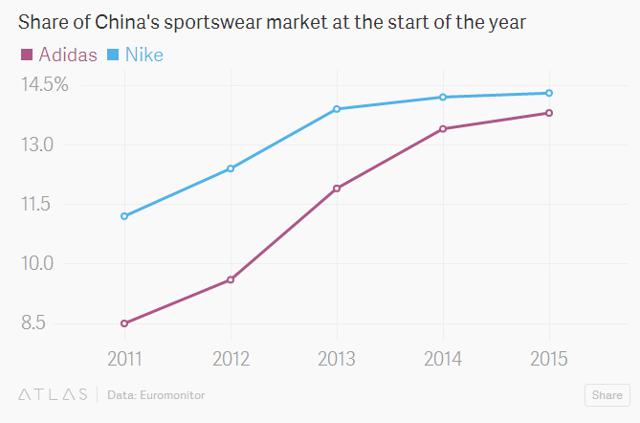 Source: QZ
I believe these factors will ultimately "collude and conspire" to create a momentum that Mark Parker has accurately got a pulse on. Investors should keep adding to their position whenever there's a price drop. These entry points will present themselves several times over the next five years, so there's plenty of opportunity to get in.
Disclosure: I/we have no positions in any stocks mentioned, and no plans to initiate any positions within the next 72 hours.
I wrote this article myself, and it expresses my own opinions. I am not receiving compensation for it (other than from Seeking Alpha). I have no business relationship with any company whose stock is mentioned in this article.