Medivation (NASDAQ:MDVN), after hitting $70 per share (split-adjusted) in March, has been pressured downward to its current price of ~$35, representing a market cap under $6 billion and a 52-week low. Granted, the market and biotech in general have been getting hammered lately, but it is hard to explain Medivation's exaggerated drop, as sales of its blockbuster prostate cancer drug Xtandi have already achieved over a $2 billion dollar a year run rate, overtaking the majority market share from its rival Johnson & Johnson's (NYSE:JNJ) Zytiga. In fact, JNJ released earnings yesterday detailing further market share loss. With Xtandi moving further upstream in prostate cancer treatment, patients remaining on the drug longer, continued uptake by urologists and Baby Boomers aging, its sales will only continue to grow. Some analysts argue that sales have not accelerated as much as anticipated in the urology segment, even though Xtandi has only been approved for this indication for a little over a year. I would argue that the Xtandi quarterly sales growth chart looks anything but stagnant.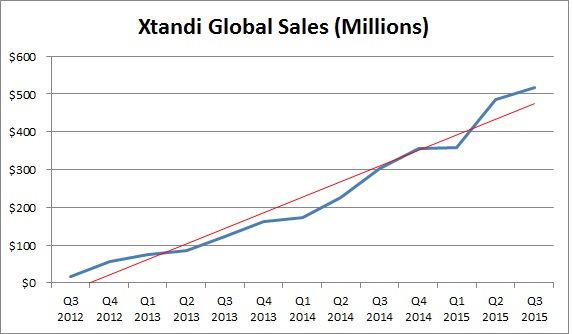 *Created in Microsoft Excel
Nonetheless, during the J.P. Morgan Healthcare Conference a couple weeks ago, Medivation vowed to go after the urology market more aggressively. The recent publication of the TERRAIN data in the Lancet Oncology journal detailing the efficacy of Xtandi over Casodex will allow the former to expand its label further upstream in treatment. In addition, results from the STRIVE trial comparing Xtandi to Casodex in non-metastic castration resistant prostate cancer published yesterday in Journal of Clinical Oncology illustrated a significant increase in PFS of 19.4 months compared to 5.7 months. Again, these results will move treatment further upstream, where the majority of patient volume is. Management expects label expansion to occur in the second half of 2016, which will significantly increase sales in the urology segment and further differentiate Xtandi from Zytiga.
However, the main critique of Medivation has always been that they have no drug pipeline, and investors rely solely on Xtandi sales for earnings. A multi-billion dollar drug is nice to fall back on, but there is inherent risk if issues with the drug were to arise or new competitors emerge. Management has addressed these concerns by using the money coming in from Xtandi to not only move the blockbuster drug into other cancer indications like breast and liver cancer, but also progress other candidates towards FDA approval. The fact is Medivation has quite an extensive late-stage pipeline. The acquisition of BioMarin's (NASDAQ:BMRN) PARP inhibitor, Talazoparib, gave Medivation a low-risk, late-stage drug already in over 15 clinical trials and a Phase 3 breast cancer trial. In addition, Medivation will initiate its registration Phase 2 trial for their immuno-oncology drug Pidilizumab in diffuse large B-cell lymphoma. Recent discovery that the antibody does not target PD-1 delayed the enrollment until paperwork is updated, which is expected to be completed next month. I will explain below why the drug not being a PD-1 inhibitor is actually good news and differentiates the antibody from competition.
Importantly, both Talazoparib and Pidilizumab are fully owned by Medivation. Management has proven with Xtandi that you don't necessarily need to be first to market to capture the lion's share of business. You need to have a best-in-class drug with a beneficial side-effect profile and ease of use. By investing in drugs expected to be applicable in a wide variety of tumor types, Medivation has positioned itself nicely for growth. To add additional diversification to its pipeline, the company also announced it has initiated a Phase 1 clinical trial of its in-house developed SREBP inhibitor, a potential regulator of cholesterol and lipid biosynthesis. Recent discoveries suggest SREBP inhibition can be a novel strategy to treat a wide variety of metabolic diseases, such as type II diabetes, insulin resistance, fatty liver, and atherosclerosis.
The stock is a steal at current levels. Investors simply will not find a company on the market with a billion-dollar drug and a lower market cap than Medivation. Analysts place huge price targets on other biotech companies like Incyte (NASDAQ:INCY), Vertex (NASDAQ:VRTX), BioMarin, etc., who have similar or less annual revenue and earnings as Medivation, but 3-4 times the market cap. Mainly, they cite their potential pipelines as the reason for the lofty targets. However, I have not heard a single analyst factor in any pipeline asset of Medivation into their estimates. This seems absurd to me, since Talazoparib is in Phase 3 for breast cancer and scheduled to complete enrollment in the second half of 2016, and Pidilizumab is slated to enter a registration Phase 2 trial in the next couple of months. Not to mention the numerous other clinical trials these drugs are in, the wide variety of clinical trials for Xtandi in early-stage prostate cancer, and the initiation of a Phase 3 clinical trial in triple negative breast cancer (TNBC). Throw in the company's new SREBP inhibitor and secret BET inhibitor program, and you would think analysts would recognize the potential of the pipeline or at least mention it when reviewing the stock. In my opinion, Medivation appears to be grossly undervalued on Xtandi alone, and investors should factor in additional upside for its mature, low-risk pipeline. These factors make the company a prime acquisition target for any pharma company wanting to expand its pipeline, while also acquiring a billion-dollar blockbuster drug. As I've stated in previous articles, history is on Medivation's side, as there has never been a biotech that has had a billion-dollar drug and hasn't been acquired or gone on to become a huge behemoth in the industry.
Xtandi to be the First Targeted Therapy in Triple Negative Breast Cancer
Medivation has numerous clinical trials in place that will continue to move Xtandi further upstream in the prostate cancer treatment regimen. Management expects label expansion to occur in the second half of this year which will include the superior TERRAIN results detailing PFS of 15.7 months, compared to only 5.8 months on Casodex. Investors are fairly comfortable with Xtandi's dominance in the prostate cancer market, and this should only increase. The question then becomes what other androgen-sensitive cancer types can be targeted to expand Xtandi revenue.
Medivation is close to moving the drug into a Phase 3 trial for TNBC treatment, which, as I've written about previously, has a billion-dollar potential. Dr. Traina from Memorial Sloan Kettering Cancer Center described the Phase 2 data as the most exciting data ever seen in TNBC.
The Phase 2 open-label, multicenter trial evaluating Xtandi as a monotherapy in advanced AR+ TNBC enrolled 118 women. There was no limit to the number of prior treatments received to enroll. All women had some level of AR expression by antibody staining. In addition to antibody staining to determine AR status, a gene expression signature relating to AR positive status was also developed to further increase sensitivity and accuracy to identify those patients most likely to respond. Approximately half of the 118 women qualified as diagnostic positive, based on the AR gene signature profile. Once selected for AR status, the results were better than any drug ever targeting TNBC.
In the trial, 39% of diagnostic positive patients had a clinical benefit at 16 weeks, and almost all sustained that benefit at 24 weeks. This compares to only 11% at 16 weeks in the diagnostic negative cohort and 6% at 24 weeks. The mPFS for patients, regardless of how many prior treatments they had, was nearly double in the diagnostic positive group at 16.1 weeks. Perhaps the most impressive is the mPFS in those patients who had one or less prior therapies, which was ~50% of patients. In the diagnostic positive group, there was an outstanding 40.4-week mPFS, compared to only 8.9 weeks in the diagnostic negative group. The 40.4-week mPFS is as good as any drug to-date in TNBC for front-line treatment.
Response

Dx+ (months)

N=56

Dx- (months)

N=62

CBR16, %

39

11

CBR24, %

36

6

mPFS, wks

16.1

8.1

mPFS frontline

40.4

8.9

mOS

21.3

7.5
The exploratory analysis demonstrated that median overall survival to-date for diagnostic positive advanced TNBC patients treated with Xtandi was 21.3 months (95% CI: 12.0-21.3), compared to 7.5 months for diagnostic negative advanced TNBC patients (95% CI: 4.8 - 11.2).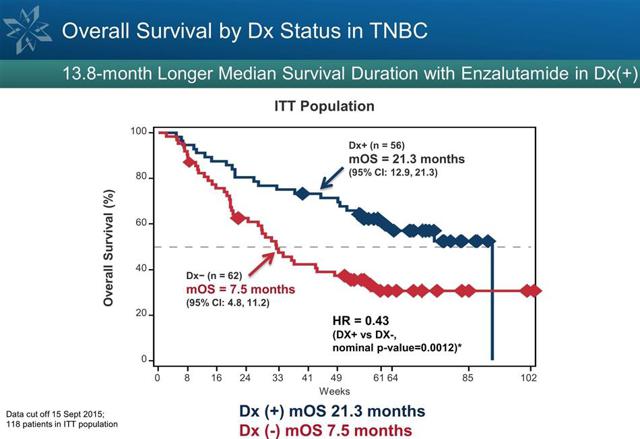 *2016 Corporate Presentation
Based on the significant increase in PFS and OS seen in the Xtandi group, Medivation has partnered with NanoString (NASDAQ:NSTG) to produce the AR gene expression profile for the registration trial to be launched in 2016. Importantly, no therapies have ever been shown to increase OS in TNBC. Xtandi will likely be the first, and will take a significant chunk of this market.
Xtandi is in late-stage trials in other forms of breast cancer as well. Enrollment is complete in the Phase 2 trial evaluating Xtandi in combination with exemestane, versus exemestane alone in 247 women with advanced breast cancer, which is ER+ and/or PR+ and HER2 normal with a primary endpoint of PFS. Top line data is expected to be released in the second half of this year. In addition, enrollment is nearing completion in a Phase 2 breast cancer trial testing whether adding Xtandi to Herceptin will provide any incremental benefit for women who have progressed. The trial will evaluate Xtandi in patients who are HER2 amplified and AR+. The primary endpoint of the trial is clinical benefit rate, defined as complete response or partial response or prolonged stable disease of at least 24 weeks.
Besides 3 breast cancer subtype clinical trials, Medivation is also enrolling a clinical trial studying Xtandi in liver cancer. Enrollment will begin this quarter for a Phase 2 trial evaluating the drug in approximately 140 patients with advanced hepatocellular carcinoma, which represents more than 80% of all liver cancer cases. The primary endpoint will be overall survival. Interestingly, it was also presented at ASCO that Xtandi had clinical activity in AR positive pancreatic cancer in a Phase 1 trial.
With all the prostate clinical trials underway to move Xtandi further upstream in treatment, several breast cancer trials, and now a pancreatic and liver cancer trial, it's easy to see how it will become a $5-billion-a-year drug by 2020.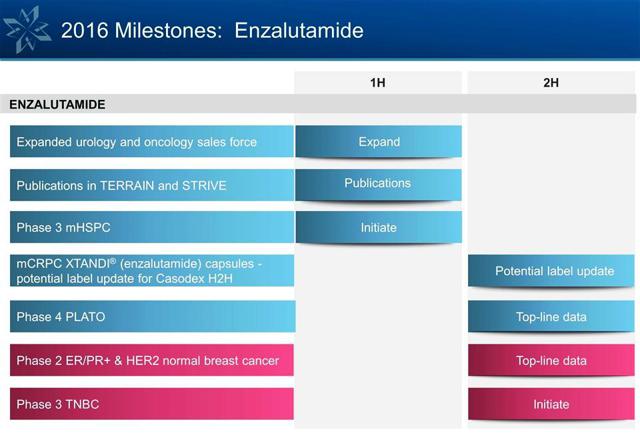 *2016 Corporate Presentation
Immuno-modulatory antibody Pidilizumab
There has been significant chatter since the JPM conference where management revealed Pidilizumab's primary mechanism of action is not PD-1. This resulted in the 8-K filing yesterday, where the drug was put on partial clinical hold until the paperwork is updated to reflect this. This is a minimal delay, as no patients had yet started treatment, and management stated all paperwork would be updated by next month. Therefore, the trial will likely begin enrolling in March. Importantly, the specific mechanism of action of a drug does not need to be elucidated for FDA approval.
Pidilizumab was generated against a lymphocyte cell line, which is believed to positively impact the immuno-modulatory effects of the antibody. The data indicates that the drug is associated with enhanced maturation and survival of T lymphocytes, which may improve adaptive immunity, as well as activation of natural killer cells, which may improve innate immunity.
Publications from Dana-Farber and MD Anderson have illustrated significant clinical activity in Phase 2 studies. In an international Phase 2 study analyzing diffuse large B-cell lymphoma progressing after autologous transplant (AHSCT), PFS was 72% at 16 months following treatment with Pidilizumab in 66 patients, meeting the primary endpoint. Among the 24 high-risk patients who remained PET positive at the conclusion of salvage therapy, the 16-month PFS was 70% (90% CI, 0.51-0.82). Among 35 patients with measurable disease after AHSCT, the overall response rate (CR+PR) after Pidilizumab therapy was 51%. Importantly, researchers noted that 24 hours after treatment with the drug, there was a significant increase in the numbers of PD-L1 activated helper T-cells, which was sustained for at least 16 weeks. So, although Pidilizumab is not a PD-1 inhibitor, it is certainly eliciting an immune response.
In another study, Pidilizumab was combined with Rituxan in 32 patients with relapsed follicular lymphoma, producing a 66% response rate, including complete responses in 55%. The bottom line is that the drug works.
The registration trial in diffuse large B-cell lymphoma will be an international, open-label, Phase 2 trial expected to enroll approximately 180 patients with an incomplete response following salvage therapy or autologous stem cell transplantation for relapsed or refractory CD20+ diffuse large B-cell lymphoma, transformed indolent lymphoma or primary mediastinal B-cell lymphoma. This is a high unmet medical need, and will likely receive fast-track status. Management is also considering the initiation of clinical trials for Pidilizumab in other hematological malignancies, such as multiple myeloma. Again, Medivation has another drug in Pidilizumab which looks to be applicable to a wide variety of cancer conditions.
The fact that it is not a PD-1 inhibitor is good news, in my opinion. For one, analysts always critiqued the drug saying Medivation was too late to the game for PD-1 inhibitors. The fact that the antibody has a novel mechanism of action reduces the competition and makes the drug more attractive. In addition, the majority of people do not elicit a response to PD-1 inhibitors. Patients refractory to PD-1 inhibitors may still respond to Pidilizumab, or it could be used in combination. Although the exact mechanism of Pidilizumab is not currently known, we do know that patients are responding to the drug, and it is eliciting an immune response.
Talazoparib is the Best-in-Class PARP Inhibitor
Medivation got a steal when it acquired Talazoparib from BioMarin for $410 million upfront and up to $160 million in milestone payments. Royalty payments upon FDA approval is only in the mid-single digits, allowing Medivation to keep most drug revenue for itself. With the recent rejection of BioMarin's DMD drug by the FDA, the company is probably wishing it didn't give up this drug.
Similar to Xtandi, Talazoparib will be applicable to numerous tumor types. Currently, the drug is in over 15 clinical trials in various tumor types, including breast, ovarian, acute lymphoblastic leukemia, Ewing sarcoma, small cell lung cancer (SCLC), prostate cancer, pancreatic cancer, and endometrial cancer.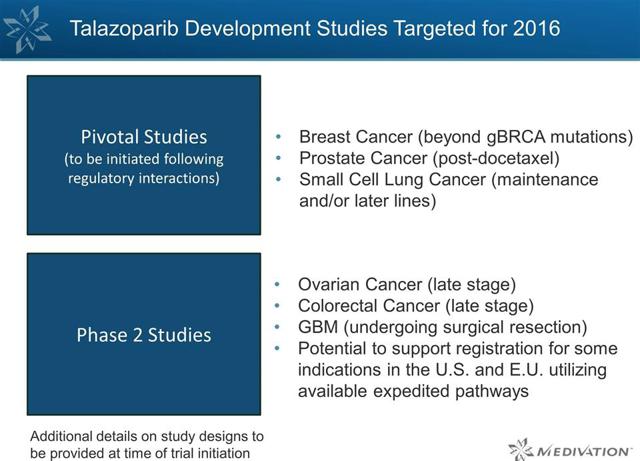 *2016 Corporate Presentation
Data from the Phase 1 clinical trial, in which Talazoparib was tested in patients with DNA repair gene mutations like BRCA1/2, was so convincing, BioMarin skipped immediately to Phase 3 for breast cancer. In ovarian patients, 82% (23/28) experienced clinical benefit greater than 24 weeks, and 44% (11/25) had confirmed RECIST responses (CR, PR). Data for breast cancer patients were similar, with a clinical benefit of 67% (12/18) and a RECIST response rate of 50% (7/14). Median PFS is estimated to be 31 weeks in this cohort. Interestingly, in SCLC, there were 2 patients with partial responses as well.
The 430-patient EMBRACA Phase 3 study is being conducted at 126 locations, and compares Talazoparib to physician's choice in patients with locally advanced and/or metastatic breast cancer with germline BRCA mutations. This study is expected to finish enrollment in 2016. The primary objective will be PFS as monotherapy. Talazoparib is also being investigated in several investigator-sponsored trials across multiple tumor types.
Medivation management has made it clear that they see clear advantages with the company's newly acquired drug in potency and side-effect profile compared to other PARP inhibitors in the clinic. Talazoparib is the most potent PARP inhibitor in development, and in head-to-head preclinical studies, it has been shown to be superior to other PARP inhibitors in a phenomenon known as PARP trapping - an effect that is correlated with a superior ability to kill cancer cells.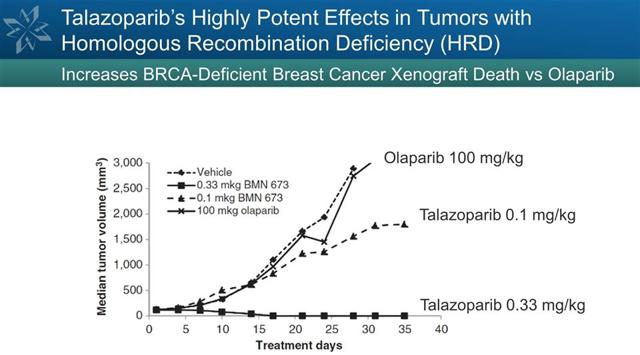 *2016 Corporate Presentation
This is evident by the fact that Talazoparib is a single pill a day, while the FDA-approved Olaparib (NYSE:AZN) is 16 pills a day.
The PARP inhibitor market is also poised to expand as other genes involved in DNA repair, in addition to BRCA 1 and 2, like ATM and PTEN are shown to affect the efficacy of PARP inhibitors. In accordance, the NCI started a clinical trial with Talazoparib in March entitled "Talazoparib Beyond BRCA Trial", where 12 additional genes are tested for mutations to determine responsiveness to the drug. Likewise, testing for tumor mutations and not just germline mutations will further increase the eligible population for the drug.
Secret BET inhibitor Program
You rarely hear Medivation discuss its BET inhibitor program. The company licensed the technology from OncoFusion Therapeutics to develop BET bromodomain inhibitors. These inhibitors bind downstream of the target for hormonal therapies in mCRPC, and have been shown to be effective in androgen-resistant preclinical models. Therefore, one possibility is patients could be treated with BET bromodomain inhibitors following androgen treatment failure or in combination with Xtandi.
Importantly, this month, an article was published in the prestigious Nature journal, entitled: "Response and resistance to BET bromodomain inhibitors in triple-negative breast cancer". The authors found that TNBC was particularly sensitive to BET inhibition, inhibiting cell growth and tumor growth in animal models. This discovery gives Medivation's BET inhibitor program another indication besides prostate cancer.
Novel SREBP Inhibitor Program
In the last earnings call, Medivation announced the initiation of a Phase 1 clinical trial for its new in-house developed SREBP inhibitor. SREBP is a transcription factor that regulates the biosynthesis of cholesterol, fatty acid, and triglycerides. SREBP modulates the expression of multiple metabolic proteins, like PCSK9, a target of Regeneron's recently approved antibody for hypercholesterolemia and atherosclerotic cardiovascular disease, and HNG-CoA reductase, the target of all statins. Therefore, SREBP is a novel therapeutic target and strategy to treat a wide variety of metabolic diseases, such as type II diabetes, insulin resistance, fatty liver, high cholesterol, etc.
Medivation revealed that the company has conducted preclinical studies illustrating that its SREBP inhibitor lowered triglycerides, cholesterol, glucose, insulin, and weight in animals. It also reduced fat in the liver in animal models of NASH. If SREBP can succeed in just one of the many mechanisms described, it could be another blockbuster for the company. Although, not in the cancer wheelhouse of Medivation, SREBP adds a new disease indication to its drug portfolio and moves the company another step forward to being a well-rounded biotech.
Conclusion
Medivation's blockbuster prostate cancer drug, Xtandi, continues to increase market share and is currently on pace to bring in over $2 billion annually in 2016. Xtandi alone is a drug pipeline. There are numerous trials ongoing to move the drug further upstream in the prostate treatment spectrum, and label expansion is expected to occur this year. The recently published TERRAIN and STRIVE data will facilitate treatment upstream. In addition, the drug is expanding into additional cancer indications. such as breast cancer and liver cancer. It is the only drug demonstrating a survival benefit in TNBC to-date. Medivation's best-in-class PARP inhibitor, Talazoparib, is in a Phase 3 clinical trial and a wide variety of other tumor studies. Likewise, Pidilizumab will enroll a registrational study in B-cell Lymphoma this year. Add on the company's BET inhibitor and new SREBP program, and Medivation looks very undervalued. Investors should stay patient. At current levels, it is highly likely an acquisition offer will be forthcoming. Importantly, there has never been a biotech company with a drug doing over a billion dollars in sales that was not acquired or has not gone on to become a huge biotech behemoth. Continue to accumulate.
Disclosure: I am/we are long MDVN.
I wrote this article myself, and it expresses my own opinions. I am not receiving compensation for it. I have no business relationship with any company whose stock is mentioned in this article.