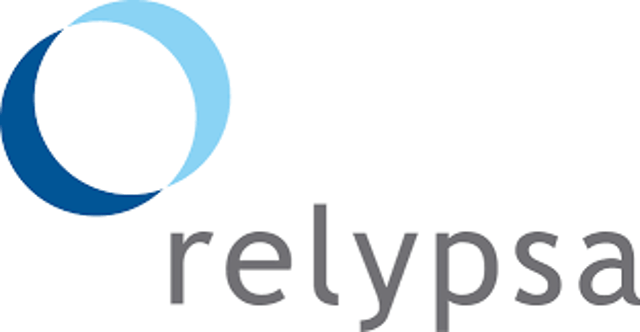 A few weeks ago, I read an article by Bret Jensen: Relypsa: Buyout Appears Imminent. I tend to shy away from investments in fledgling pharmaceutical companies. My investment philosophy requires a corporation with a track record, not a company with a possible, perhaps attainable, seemingly viable, we are in the process of, kinda/maybe cure for some dreaded disease. The concept smacks of gambling to me. However, as I read Mr. Jensen's article, my interest was piqued.
For those of you unfamiliar with Bret Jensen, he is a prolific contributor to SA who specializes in pharmaceutical companies. I have earned a considerable sum of money by following his articles.
Mr. Jensen's piece informed readers that Relypsa (NASDAQ:RLYP) received recent FDA approval for its first commercialized product. The company's new drug, "Veltassa," is designed to treat hyperkalemia.
He also noted that a rival company, ZS Pharma (NASDAQ:ZSPH), recently acquired by AstraZeneca (NYSE:AZN), will soon bring a competing product, "ZS-9," to market.
According to Jensen, Relypsa is considered to be grossly undervalued by analysts following the stock and has a number of potential suitors that might purchase the company at a premium.
Jensen's articles tend to provide readers with an overview of companies. The information for an investment decision was sorely lacking. My initial due diligence efforts revealed the following questions that must be answered before considering an investment:
What is hyperkalemia? Is the condition of great enough severity and is the patient population large enough to sustain demand for Veltassa?
I learned there is a current treatment for hyperkalemia, Kayexalate. How does treatment with Kayexalate compare with treatment with Veltassa?
As mentioned in Mr. Jensen's article, ZS-9 is expected to debut on the market later this year. How does ZS-9 compare to Veltassa.
I discovered a prospective fourth treatment for hyperkalemia, RDX022, is on the horizon. What are the prospects for the approval of RDX022. Can it compete with Veltassa?
Veltassa was approved with a dreaded black-box warning. How might that affect sales?
Are there additional drugs in Relypsa's pipeline?
Are rumors for an acquisition of Relypsa by an established pharmaceutical company worthy of credence? If so, can one ascertain a reasonable range for the price to be paid?
What are analyst's assessments of Relypsa's value/prospects?
Is there insider activity of relevance to prospective investors?
Read on as I answer each of the above concerns. I will endeavor to employ the language of the investor rather than the physician, albeit with abundant links for those wishing to access more technical information.
What is hyperkalemia?
Simply put, hyperkalemia is an elevated level of potassium in the blood. A normal potassium level measures from 3.5-5.0 mEq/L.
Symptoms associated with hyperkalemia are fairly nonspecific and often include malaise, heart palpitations and muscle weakness. When arrhythmias occur, or when potassium levels exceed 6.5 mEg/L. emergency lowering of potassium levels is needed.
Hyperkalemia is a common cause of life-threatening heart rhythm changes, or cardiac arrhythmias. Among patients exhibiting potassium levels above 8.5 mEq/L, hyperkalemia often causes respiratory paralysis or cardiac arrest.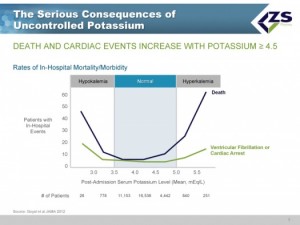 Chart: ZS Pharma investor presentation
Hyperkalemia develops when there is excessive production or ineffective elimination of potassium. It is a common condition among patients suffering from Chronic Kidney Disease (CKD).
The figure most often cited for the US patient population is 3,000,000. In addition, there are approximately 500,000 hospitalizations involving hyperkalemia each year; however, as you will see as we progress, there is reason to believe the number of patients that could benefit from Veltassa may be significantly greater.
Kayexalate
The current standard of care for hyperkalemia includes the use of Kayexalate. Kayexalate has been used for 50 years and is normally combined with sorbitol. Serious and sometimes fatal bowel problems have been reported with the use of Kayexalate including loss of appetite, nausea, vomiting, and in rare cases, colonic necrosis.
Perhaps just as important, the use of Kayexalate is poorly tolerated by patients and despised by hospital staff, as it often induces diarrhea on a large scale. Furthermore, Kayexalate is rarely used to control chronic hyperkalemia.
After due research, I believe that with the advent of Veltassa and ZS-9, physicians will discontinue use of Kayexalate.
It is important to note that there are those among the medical profession that view Kayexalate as ineffective in the treatment of hyperkalemia.
(For an excellent podcast on the subject of Kayexalate's efficacy, go to this link. When the page appears, access to the podcast can be a bit confusing. Simply scroll to the bottom of the page and click the bar under, Here Is Audio).
Veltassa versus ZS-9
As stated above, ZS-9 Pharma is hot on Veltassa's heels. It is anticipated that the FDA will approve ZS-9 in May of this year.
Not all details of clinical trials regarding ZS-9 are available; however, we know that half of all patients studied developed an Adverse Event. Nonetheless, ZS-9 appears to be generally well tolerated by patients.
ZS-9 appears highly effective in rapidly reducing and controlling potassium levels in patients. In contrast to Veltassa, it appears as if ZS-9 is the superior choice for the treatment of acute hyperkalemia. On a site provided by Relypsa, there is the following cautionary statement: Limitation of Use: Veltassa should not be used as an emergency treatment for life threatening hyperkalemia because of its delayed onset of action.
It is important to note that 7.7% of patients in the ZS-9 study developed peripheral edema and 4.2% required treatment with a diuretic. This is significant in that a very large percentage of patients treated for hyperkalemia have chronic kidney disease (CKD). Peripheral edema and the accompanying treatment for the condition can result in worsening kidney function.
Of great interest is the finding that ZS-9 results in increases in blood pressure in 7% of patients. ZS's hypertension threshold was 180/105mmHg, a rather low bar to hurdle.
Once again, the overwhelming majority of the targeted population consists of patients with CKD and/or advanced heart disease; therefore, prescribing a medication that causes an increase in blood pressure certainly would be contraindicated.
Veltassa, on the other hand, is known to lower blood pressure levels. The blood pressure reduction on Veltassa is extremely significant, with an average improvement of up to 17/9. Considering the consequences of blood pressure measures on patients with CKD and/or heart disease, this bodes well for the adoption of Veltassa as the preferred treatment for chronic hyperkalemia.

Chart: SA contributor White Coat Mafia
The most common side effects involving use of Veltassa:
| | |
| --- | --- |
| Constipation | 7.2% |
| Hypomagnesemia | 5.3% |
| Diarrhea | 4.8% |
| Nausea | 2.3% |
| Abdominal discomfort | 2.0% |
| Flatulence | 2.0% |
I believe investors can conclude, assuming other information regarding ZS-9 does not change that medication's profile, that ZS-9 will be the drug most prescribed for immediate treatment of acute hyperkalemia. It is my position that Veltassa will likely garner the market for chronic treatment of hyperkalemia due to the possibility of greater incidences of edema and the danger of increased hypertension in patients prescribed ZS-9.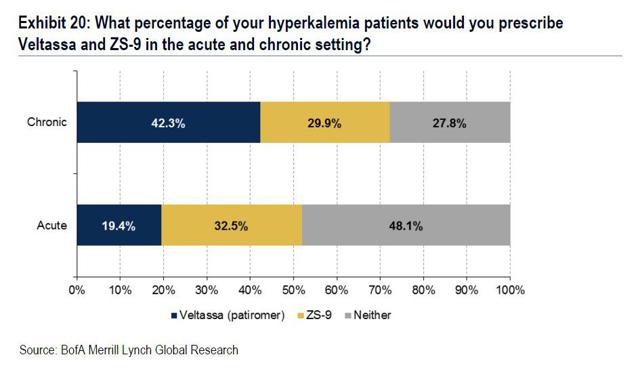 RDX022
During my due diligence study, I discovered a fourth potential treatment for hyperkalemia RDX022. Ardelyx (NASDAQ:ARDX), the developer of RDX022, describes the drug as a re-engineered form of Kayexalate. The company states that RDX022 should not create sodium-related side effects. In other words, the expectation is that RDX022 will have no negative effects on patient blood pressure levels.
Phase 3 clinical trials are expected to proceed in the second half of 2016, and the company intends to pursue a 505-b-2 approach with the FDA (the 505-b-2 is designed to help avoid unnecessary duplication of studies already performed on a previously approved drug).
Veltassa's black-box warning
When Veltassa first received the black-box warning, there was a degree of angst expressed by followers of the stock. It should be understood that many medications with similar warnings have been embraced by physicians. Veltassa will not interfere with medications commonly prescribed for medical conditions associated with hyperkalemia, provided the proper interval between dosing is followed.
WARNING: BINDING TO OTHER ORAL MEDICATIONS Veltassa binds to many orally administered medications, which could decrease their absorption and reduce their effectiveness. Administer other oral medications at least 6 hours before or 6 hours after Veltassa. Choose Veltassa or the other oral medication if adequate dosing separation is not possible.
Relypsa's product pipeline
All of Relypsa's current products are in the "discovery phase." There is no reason to believe that Relypsa will produce a product in the near future other than Veltassa.
Buy-out rumors and possible value of Relypsa if acquired
In December of 2015, AstraZeneca acquired ZS Pharma for $2.7 billion. It is important to note that AstraZeneca acquired ZS Pharma before FDA approval of ZS-9. Other suitors dropped negotiations for ZS Pharma due to that company's insistence that the FDA approval could not be a prerequisite to complete the deal. Therefore, it is reasonable to assume that AstraZeneca would have offered a higher price had the FDA approved ZS-9 prior to the acquisition.
As Relypsa has 41.7 million shares outstanding, an offer equal to the ZS Pharma acquisition would value Relypsa at approximately $64 per share. To provide a range of values one might be best served by reviewing analyst's appraisals of Relypsa.
Relypsa currently has roughly $250 million on its books while ZS Pharma held approximately $200 million in cash at the time of the acquisition by AstraZeneca.
Analysts' valuations and possible suitors
A perusal of the chart below, excluding the bearish Morgan Stanley analyst's appraisal, provides an average price of approximately $52 per share.
| | | | | |
| --- | --- | --- | --- | --- |
| 1/05/16 | BTIG Research | Initiates Coverage on | Buy | 45.0 |
| 12/17/15 | H.C. Wainwright | Initiates Coverage on | Buy | 63.0 |
| 11/09/15 | Cantor Fitzgerald | Maintains | Buy | 42.0 |
| 11/05/15 | Guggenheim Securities | Initiates Coverage on | Buy | 46.0 |
| 10/22/15 | Wedbush | Maintains | Outperform | 75.0 |
| 8/13/15 | Morgan Stanley | Initiates Coverage on | Underweight | 15.0 |
| 8/11/15 | Stifel Nicolaus | Maintains | Buy | 48.0 |
| 8/10/15 | Stifel Nicolaus | Maintains | Buy | 55.0 |
| 7/07/15 | Cantor Fitzgerald | Initiates Coverage on | Buy | 42.0 |
| 1/09/15 | Stifel Nicolaus | Maintains | Buy | 55.0 |
CHART: BENZINGA.COM
Merck (NYSE:MRK), GlaxoSmithKline (NYSE:GSK), Sanofi (NYSE:SNY), and even AstraZeneca have received press as possible bidders for Relypsa. The report concerning AstraZeneca provided a price of $46 per share.
Obviously, this is all mere speculation. It is reasonable to assume, however, that now that Veltassa is on the market, the first quarterly report following the drug's introduction could result in a significant change in value of any acquisition.
Insider activity
There has been significant insider activity regarding Relypsa during the last 90 days. Most of the activity is of the type one would normally expect from the board members of the average company. However, over a period of several days in December, Orbimed Advisors LLC, an owner of over 10% of Relypsa's shares, sold 500,000 shares of Relypsa. Although at first sight that might appear alarming, that total represented roughly 6% of Orbimed's holdings. Furthermore, Orbimed purchased 500,000 shares of Relypsa in October of last year at a price less than half that of the shares sold. Consequently, it is reasonable to interpret the December sale as normal profit taking.
| | | |
| --- | --- | --- |
| | 3 MO. | 12 MO. |
| # of Shares Bought | 55,000 | 646,750 |
| # of Shares Sold | 605,750 | 2,202,985 |
| Total Shares Traded | 660,750 | 2,849,735 |
| Net Activity | (550,750) | (1,556,235) |
Chart: Derived from NASDAQ.COM
Important additional information
The primary patient populations affected by hyperkalemia are those afflicted with chronic kidney disease (CKD), diabetes mellitus (DM), and chronic heart failure (CHF). It is common for patients suffering from these conditions to be prescribed RAAS inhibitors. Over 50% of CKD Stage 3b and Stage 4 patients are prescribed RAAS inhibitors to control hypertension. 5.7 million Americans are diagnosed with heart failure. Over half of heart failure patients are prescribed RAAS inhibitors.
Due to the propensity of RAAS inhibitors to increase serum potassium levels, several published guidelines have suggested that physicians should reduce and possibly discontinue RAAS inhibitors in order to manage the risk of hyperkalemia in CKD and heart failure patients. It is estimated that up to 38% of patients with heart failure and up to 55% of patients with both heart failure and CKD are being administered a sub-optimal dose or none at all, and nephrologists reported that at least one-third of patients who would benefit from RAAS inhibitors receive a sub-optimal dose or none at all.
Herein lies the cornerstone for my investment in Relypsa. I believe it's likely that Veltassa will be embraced by physicians as a means to allow the expanded use of RAAS inhibitors at levels needed for the management of CKD, DM and CHF.
I direct readers to the articles provided by physicians/SA contributors White Coat Mafia and Dr. Rodney Samaan. I find White Coat Mafia's rebuttal of Morgan Stanley's bear thesis and Dr. Samaan's perspective of Veltassa from a physician's point of view of particular value.
Conclusion
While conducting due diligence on Relypsa, I made the decision to take a large position in the company. I readily admit that my lack of experience in the pharmaceutical space leaves me a bit apprehensive regarding this investment.
Additional disclosure: This information is provided for guidance and information purposes only. This information is not intended to provide investment, tax, or legal advice. The information contained herein has been compiled from sources deemed reliable and it is accurate to the best of my knowledge and belief. However, I cannot guarantee its accuracy, completeness, and validity and cannot be held liable for any errors or omissions. All information contained herein should be independently verified and confirmed. Readers are advised that the material contained herein should be used solely for informational purposes.
Disclosure: I am/we are long RLYP.
I wrote this article myself, and it expresses my own opinions. I am not receiving compensation for it (other than from Seeking Alpha). I have no business relationship with any company whose stock is mentioned in this article.