Kimberly-Clark (NYSE:KMB) has been an interesting and confounding stock to follow in the past few quarters. On the one hand, you've got a dividend king that continues to pay a very nice yield but on the other, you've got a multinational with some very serious risks to growth and an expensive valuation. Still, it seems the former has clearly won out as KMB continues to trade very near its highs, something very few stocks can claim after the global stock rout that began 2016. I've been cautious on KMB in the past but it's been a while since I visited the consumer products giant so in this article, I'll take Q4 results and see if I can make sense of the company's valuation.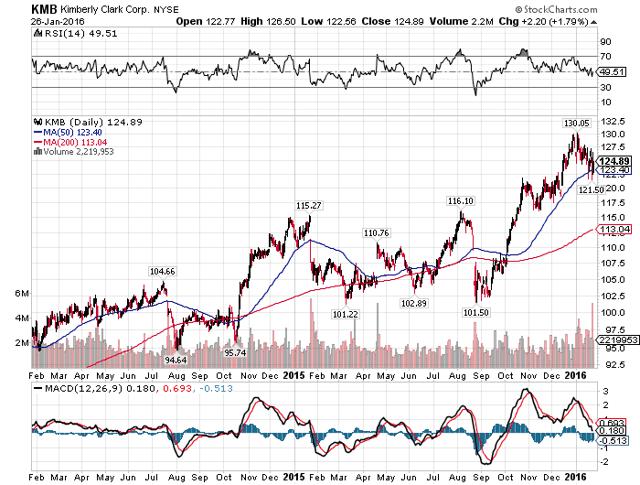 Click to enlarge
KMB, like most any other multinational, has seen some imposing headwinds for revenue in the past few quarters as the strong dollar continues to take its toll. KMB isn't exactly a high growth business in the first place so when a high single digit (or more) level of revenue is removed before it even gets started, I hesitate to pay up for an already expensive stock. I'll concede KMB is valued more upon its dividend than its earnings but to be fair, how long can that last?
KMB's top line was hammered once again by the strong dollar as total revenue fell 6% in Q4. Organic sales rose 5% - which is a very strong number - but the dollar reduced revenue by 11% during Q4. That is a horrendous headwind for KMB and if the Fed has anything to do with it, that headwind will likely get worse before it gets better. KMB's organic revenue growth is better than many multinationals - particularly in the consumer space - but it will never be high enough to grow its way out of a double digit currency headwind. That means that for the foreseeable future, KMB's revenue growth is almost certain to be negative. Barring some unforeseen shock from the Fed where it suddenly begins to become more accommodative again, the dollar's strength is here to stay at least for a while and that is very bad news for KMB.
KMB did see some margin improvements in Q4 as its cost savings are bearing fruit and some leverage was gained on higher organic sales growth as well as lower input costs. According to guidance, we can expect some similar levels of gains in 2016 as commodity costs remain low and organic growth chugs along at 3% to 5%. That is certainly a positive for KMB's earnings but will it be enough?
At 19 times forward earnings, KMB seems to be pricing in more EPS gains than I can come up with for 2016 and 2017. Analysts have KMB growing EPS at 6.4% in 2016 but if we walk through the way it may accomplish such a feat, the picture is murky at best. Sales growth is expected to come in at negative 1.2% this year but the company's own guidance was for a range of flat to negative three percent. Organic sales growth is supposed to be 3% to 5% and forex is guided to remove 5% to 6% from the top line. That level of organic sales growth is going to be challenging to hit considering the strength we saw in 2015 and the guidance for forex is roughly half of the impact it had last year. That seems quite bullish to me and considering just how bad forex translation was for KMB in 2015, it is in no position to be so bullish. Will KMB hit -1% revenue growth? Maybe, but it could also very easily see -3% or -4% if organic growth slips and/or the dollar moves substantially higher, something that is very possible if the Fed sticks to its schedule to hike rates this year. I think the bias for KMB's revenue in 2016 is down as guidance was rather bullish despite obvious headwinds.
Lower input costs should help margins but at 6.4%, EPS growth for 2016 is no slam dunk either. If the company is around negative 2% revenue growth, it would have to grow margins enough to make up the difference minus the small impact of the buyback. KMB guided for $600 to $900 million in buybacks, good for ~1.5% of the float at the midpoint. That means margin expansion needs to add at least 7% to EPS growth by itself or KMB has no shot at hitting its EPS target this year. With adjusted operating profit growth guided for just 2% to 5%, that seems like a very long shot indeed. The odds of KMB actually hitting 6%+ EPS growth in 2016 are very low given the inputs needed to get there and that makes KMB very expensive.
The dividend increase this year is guided to be around 5% so that would imply something like a 2.9% forward yield once it is announced. That is a strong yield but can certainly be bested if one tries. There are many dividend stocks that pay in excess of three percent in a wide variety of industries with much better valuations; where is the draw for investors with KMB?
I'll concede that KMB's business is performing ex-forex better than many other consumer goods companies right now. At a time when flat or negative organic revenue growth is becoming somewhat normal, KMB stands above the rest with its mid-single digit gains. However, the rest of the company's inputs to EPS are simply too weak considering the enormous headwind it has with the strong dollar. The company's current valuation has no room for error but I fear that as KMB begins to report earnings in 2016, it will have no choice but to lower guidance. And at 2.9%, the new yield after the dividend raise isn't enough to justify owning it. I can't recommend shorting KMB because it has exhibited far too much strength in the past few months but I also can't recommend owning it here. I think you can wait for a lower price as the euphoria from Q4 earnings wears off and investors begin to realize estimates for 2016 and 2017 are too high.
Disclosure: I/we have no positions in any stocks mentioned, and no plans to initiate any positions within the next 72 hours.
I wrote this article myself, and it expresses my own opinions. I am not receiving compensation for it (other than from Seeking Alpha). I have no business relationship with any company whose stock is mentioned in this article.