Our elevation portfolio has had a good start. We started with $100k and have paper gains (which I will show in a screen-shot below) on both or Wal-Mart position (NYSE:WMT) and on our Mcdonald's (NYSE:MCD) earnings trade which as a result of Mcdonald's powerful earnings numbers will be a full winner in a matter of days. I have received a few e-mails on why the portfolio is not selling covered calls on Wal-Mart. Well first of all with Wal-Mart trading at just over $64 a share and with a current p/e ratio of just over 13, the stock is still trading at 2010 valuations which had almost 20% less turnover figures. Furthermore the retailing giant will announce earnings in 22 days meaning implied volatility will continue to rise which hinders profitability for option sellers. Therefore the takeaway here is that any spike in the share price in the near term should outperform income from writing calls but we will manage the position carefully as we will do with all our positions.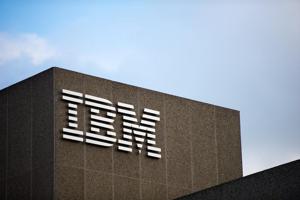 On to IBM (NYSE:IBM) which announced an earnings beat in its fourth quarter earnings despite sales dropping by 8% and net income falling by over a billion compared to the fourth quarter in 2014. The stock sold off from the $130 handle down to $120 but is making a comeback back towards $123 as I write. I just think the fundamentals of IBM will eventually put a floor under the stock for the following reasons
Firstly the company's "Strategic Imperatives" division only grew by 16% last quarter which was a good bit behind 2015 growth rates of 26% in this division. Management are putting the drop down to seasonality and have stated that this division will return to high level growth in the first quarter of 2016. If management is right and this business line can return multiple quarters with growth levels approaching 30%, I think the market will look differently towards the stock. Why? Well the market is forward looking and since the lack of hardware growth is already priced into the stock, Strategic Imperatives has to take the lead and outperform in 2016. Therefore take revenue and earnings guidance for 2016 with a pinch of salt. It will be outperformance in IBM's growing business's which will move this stock going forward.
Secondly and within the strategic imperatives businesses is the cloud which grew revenues to $10.2 billion last year (increase of 57% taking into account the System X sale). Revenues here should grow higher considering the amount of small players in this space (that may be struggling) and the fact that IBM currently has over $8 billion in cash currently on its balance sheet in case it want to pounce.
Thirdly, if we look at the bottom line over the entire period of 2015, EPS rose by 13% to $13.48 or $1.07 billion in net income. This illustrates to me underlying momentum which is why the long share price decline this stock has suffered may be over.
The company is presently paying out a dividend yield of 4.24% which I believe will receive another generous hike this year. Why? Well along with the net income hike, the company ended up with free cash flows of $13.23 billion in 2015 which means there is plenty of room (low pay-out ratio in the 30's) to keep raising the dividends ($4.85 billion was paid out to shareholders as dividends last year)
Furthermore look at the fundamentals of the stock over the last 10 years. The last 2 years have predominantly been difficult due to the strong dollar and asset sales but a longer term view across all of the company's core metrics illustrates to me that this company is a good income bet at these levels.
Years Of Dividend Increases
20 Years - Pass
Free Cash Flow
$13.23 billion (10-Year Trend Is Up) - Pass (Very Important For Dividend Investors - Dividend Currently Is 3.2%)
Revenues
$81.74 billion (10-Year Trend Is Down) - Fail
Profit Margins
18.7% - (10-Year Trend Is Up) - Pass
Price History of the stock
Up 50% in the last 10 years excluding dividends - Pass
Healthy balance sheet
Total assets = $110 billion (10-Year Trend Is Up) - Pass
Competitive Advantage

Intangible Assets
Iconic Image
Economies Of Scale
Customer Switching Costs - Pass

Resistant to recessions?
Earnings Per Share actually increased in the great recession between 2007 and 2009 - Pass
The one metric where it doesn't have positive growth is its top line growth but as discussed earlier, divestitures (which was the right thing to do for certain businesses to low profitability) and dollar strength have been the main instigators for negative growth in its top line.
On the valuation front, I refuse to believe that IBM is a value trap. All of its valuation multiples are at 10 year lows and equity jumped to $14.42 billion in 2015. Furthermore long term debt dropped to $33.43 billion which means the company's debt to equity ratio has now dropped to 2.35. This is the one metric that has to be watched with this company. If I were to divide the company's total liabilities by its equity, the figure would be 6.65 (some analysts use total liabilities to calculate debt multiples) so it is undoubtedly high but the trend is coming down. We will watch the company's balance sheet closely on a quarterly basis.
The long term weekly chart shows that the stock has strong support at the $115 level. Therefore we will initiate a position (as shown in the portfolio screen shot below and hold this stock going forward. The stock goes ex-dividend on the 8th of February.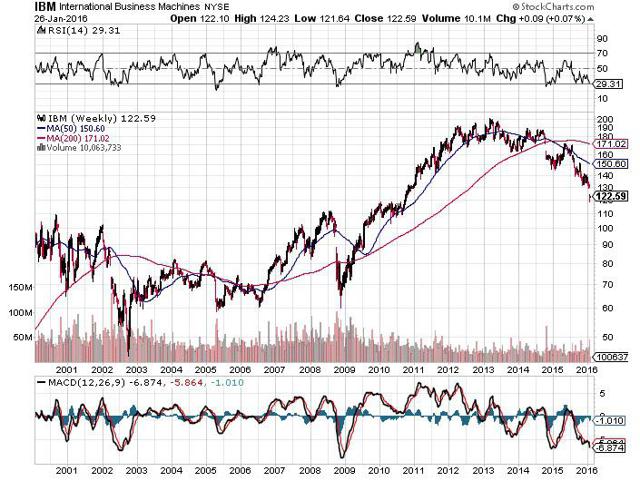 Click to enlarge

Click to enlarge
To sum up, this portfolio will be all about increasing trade activity amongst some overvalued dividend growth stocks like Mcdonald's so that over time we can pump more capital into our lower valued dividend growth stocks who by nature should be paying higher dividends - IBM. We need to do this to keep the portfolio diversified as this increases our reward potential going forward as income portfolios are all about share count which we will increase substantially over time
I'm going to be adding a good few Dividend stocks to the elevation portfolio over the next several weeks. It's imperative that they are not correlated and don't all have similar valuations to ensure income is brought in every month to over time increase our share count. Follow along by pressing the "Follow" button above. Action: Buy IBM. Let's see how quick we can get this to $20k in annual income.
Disclosure: I am/we are long IBM.
I wrote this article myself, and it expresses my own opinions. I am not receiving compensation for it (other than from Seeking Alpha). I have no business relationship with any company whose stock is mentioned in this article.